Black seeds, scientifically known as Nigella sativa, is a common kitchen ingredient with a pungent, bitter, and peppery flavor with nuances of the aroma of oregano and nutmeg. They are also called onion seeds, fennel flower seeds, black caraway, Roman coriander, and kalonji.
Dry roasted black seeds are added in Mediterranean and Indian cuisines to flavor curries, side dishes, and stir-fried vegetables. Even in baking, these seeds are used extensively in naans, flatbreads, and sweet and salty cookies.
Since ancient times, people have used these seeds and its oil to treat ailments. With virtually no side effects, the healing power of black seeds is far-reaching.
In addition, these seeds have been touted as an analgesic, antispasmodic, antioxidant, antimicrobial, anti-inflammatory, carminative, anti-ulcer, antihypertensive, and anticholinergic.
Nutritional Content of Black Seeds
Nigella sativa is rich in essential fatty acids, vitamin B, fiber, carotene, and iron. Most of the health benefits are attributed to the bioactive compounds in the seeds – thymoquinone (TQ), thymohydroquinone (THQ), and thymol. (1)
Nutritional value of black seeds per 100 grams:
| Nutrient | Quantity | Amount |
| --- | --- | --- |
| Energy | kcal |  400 |
| Protein | g | 16.67 |
| Total lipid | g | 33.33 |
| Carbohydrates | g | 50 |
| Iron | mg | 12 |
Benefits of Black Seeds
Black seeds can address a diverse array of health issues. Outlined below are 10 health benefits of black seeds on the human body.
1. Lowers high blood pressure
The antihypertensive effect of black seeds helps people in dealing with high blood pressure.
A study published in Fundamental & Clinical Pharmacology corroborated the daily use of Nigella sativa seed extract for 2 months in lowering the blood pressure of patients with mild hypertension. (2)
As an added benefit, black seeds help decrease low-density lipoprotein (LDL or the "bad" cholesterol) levels and help boost overall heart health.
How to consume:
When suffering from hypertension, take 100 to 200 mg of Nigella sativa extract twice a day
2. Controls type 2 diabetes
Aside from reducing fasting blood sugar levels and insulin resistance, regular intake of black seeds can increase beta-cell function in the pancreas and can help control diabetes.
Researchers have studied the effect of black seeds on glycemic control in patients with type 2 diabetes.
According to a 2010 study published in the Indian Journal of Physiology and Pharmacology, a daily dose of 2 grams of black seeds might be a beneficial way to manage blood sugar levels in patients with type 2 diabetes. (3)
The study observed reduced levels of fasting blood glucose, insulin resistance, and HbA1C for a period of 12 weeks.
How to consume:
To a cup of black tea, add ½ tsp of black seed oil. Drink this concoction every morning
Note: When taking black seeds for diabetes, keep tabs on your blood sugar levels to avoid them dripping down to dangerously low levels.
3. Promotes liver health
Black seed oil can also promote liver health. A properly functioning liver helps eliminate toxins from the body.
In a 2013 study published in the European Review for Medical and Pharmacological Sciences, black seed oil showed improvements in the liver and kidney. (4) The study found that aside from being protective to the liver and kidney, black seeds reduced the toxicity induced by bromobenzene.
However, further research is required to identify the bioactive ingredient behind this mechanism.
How to consume:
Include black seeds in your diet to improve your liver function and prevent its damage.
4. Boosts memory
The antioxidant, anti-inflammatory, and neuron-protecting properties of black seeds can improve your memory and give a boost to your brain health.
According to a 2013 preliminary small human study published in the Journal of Ethnopharmacology, people who took two 500 mg capsules of pure ground black seed powder every day showed improved cognition, memory, and attention compared with those who took a placebo. (5)
How to consume:
Eat ½ teaspoon of ground black seeds twice daily or take a supplement after consulting your doctor.
5. Treat asthma
In a 2010 study published in Phytomedicine, black seed oil showed a relatively potent anti-asthmatic effect on asthmatic airways. (6)
Black seed oil contains thymoquinone, which helps reduce inflammation in the air passages, reduce the intensity of asthma symptoms, and promote recovery.
This oil is also effective in inhibiting excess mucus secretion and treating sore throats, acute sinusitis, and tonsillitis.
How to consume:
Add a few drops of black seed oil to a pot of hot water. Cover your head with a towel and inhale the vapor for 5 minutes. Repeat as needed.
Soak a few drops of black seed oil onto your handkerchief and inhale the aroma time and again.
6. May help with diarrhea
Black seeds may help treat stomach problems such as diarrhea, colic, gas, and constipation.
According to a 2012 study conducted on mice and published in PLoS One, black seed extract alleviated the symptoms of allergic diarrhea. (7)
How to consume:
To a cup of plain yogurt, add 1 teaspoon of ground black seed powder. Eat this twice a day until the problem resolves.
7. Can heal eczema
You can exploit the emollient property of black seed oil to treat eczema. The anti-inflammatory properties of this oil can help relieve the redness, itchiness, and inflammation of eczema.
According to a preliminary study published in the Journal of the European Academy of Dermatology and Venereology in 2013, topical application of black seed oil has therapeutic benefits on eczema. The researchers observed an improvement in the quality of life and a decrease in severity of hand eczema. (8)
How to consume:
Apply black seed oil directly on the affected skin twice daily until required to treat eczema.
8. Enhances skin complexion
Regular use of black seed oil can help improve skin complexion by inhibiting melanin production. This, in turn, protects the skin from sun damage.
In addition, its antioxidant, anti-inflammatory, and moisturizing properties help in skin regeneration and promote healthy, glowing skin. (9)
How to consume:
You can use this oil to massage directly on your skin or take it orally to restore the natural health and vitality of your skin.
9. Treats hair loss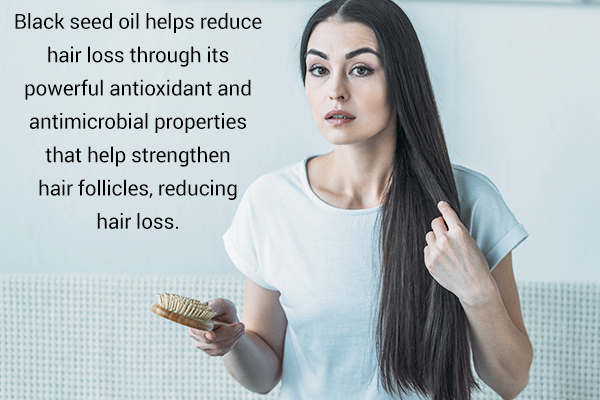 The moisturizing properties of black seed oil protect hair from damage, speed up hair growth, and promote healthy hair. Black seed oil helps reduce hair loss through its powerful antioxidant and antimicrobial properties that help strengthen hair follicles, reducing hair loss.
Additionally, its antifungal property prevents infections that cause hair loss. (10)
How to consume:
Mix an equal amount of black seed oil and olive oil and warm the mixture. Apply this onto the bald patches and leave it on for 30 minutes. Give your hair a good wash. Do this twice a week.
10. Reduces cancer risk
According to a 2012 study published in Biochemical Pharmacology, the thymoquinone in black seeds has the potential to reduce inflammation and kill cancerous cells by scavenging free radicals. (11)
Black seeds are effective in reducing the risk of several types of cancer, including breast, brain, oral, cervical, and colon cancers.
Note:
Limit your dietary intake of black seeds to between 2 and 3 teaspoons a day.
For topical application, dilute the black seed oil with a carrier oil such as olive or sesame oil.
Although the FDA has approved black seed oil, it does not regulate the sale of supplements. Scrutinize the labels for a USP seal or ConsumerLab seal to check for the components of the supplements and herbs.
How to Use Black Seeds?
Popularly used in Middle Eastern and Indian cuisines, black seeds are used as a flavoring agent to add a taste similar to herbs.
To reap the miraculous benefits of black seeds:
Roast the seeds and sprinkle it over your bagels, biscuits, naans, and breads.
Add these seeds to your regular meals.
Use these seeds to season your fries, curries, salads, and soups.
Use black seed oil.
Prepare a mix of crushed roasted black seeds and blend them with roasted and crushed cumin, mustard, and fennel seeds. Use this as a seasoning in your dishes.
Risks and Precaution
Although black seed oil seems to have a healing process that can tame inflammation, reduce blood sugar, and promote liver health, there is some evidence regarding its side effects. It is advised to take precautions in certain cases:
When taking medication – Always consult a doctor before using black seed oil. The doctor will inform you about the possible drug interactions.
Pregnant or lactating women – Talk to your doctor before using black seed oil.
Topical application – Black seed oil can cause allergic rashes in some people when used topically. Always perform a patch test before use.
When using on sensitive parts – Keep black seed oil away from your eyes, nostrils, and other sensitive parts of your body.
Swallowing black seed oil can lead to digestive problems, such as an upset stomach, constipation, and vomiting.
Final Word
Despite their small size, black seeds are a steal from nature's bounty with potential health benefits. Aside from being used as a flavoring agent, black seeds and black seed oil can be used in your daily routine to garner desired outcomes.
With all the pros, there are a few cons that need to be measured while including black seeds in your diet. Always consult a doctor if you are on medication, pregnant, or breastfeeding should you wish to explore the benefits of black seeds.
Was this article helpful?