The avocado fruit, native to Central America, has found its place of glory in many households. Favored as a breakfast fruit or dip, avocado has many health benefits including being a source of healthy fats. In addition, it is a rich source of beneficial polyphenols and fiber. (1)
But just like most other fruits, avocado seed and peel have many nutrients beneficial for health, if not more. They are the storehouse of tannins, flavonoids, and phenolic compounds that give them their many useful benefits. (2)
Top Health Benefits of Avocado Seeds
Here are some of the health benefits consuming avocado seed can offer you.
1. Can lower blood pressure
High blood pressure is one of the most common ailments of the modern world. A lot of studies have been undertaken to identify useful plant sources that can help in lowering blood pressure with little to no side effects.
In Nigeria, alternate medicine practitioners make use of avocado seed extract to treat high blood pressure. (3)
In animal studies, avocado seed extract was found useful in reducing blood pressure due to its rich potassium content. (3)
What's more, the glycosides in avocado seeds are useful in protecting blood vessels from damage due to high blood sugar, which can contribute to high blood pressure as well. (4)
2. Helps with diabetes management
The phytochemicals, vitamins, minerals, and antioxidants in avocado seed all contribute to its beneficial effects in managing blood sugar levels.
Animal studies have found avocado seed extract to reduce not only blood sugar levels by increasing uptake by the cells but also the oxidative damage and inflammation associated with diabetes. (5)
3. Can lower cholesterol levels
Avocado is full of healthy fats that can improve cholesterol levels. Avocado seed extract and flour also have cholesterol-lowering abilities.
In animal models, a major decrease in cholesterol levels was observed when 125–500 mg/kg body weight avocado flour was consumed. It also led to improved HDL (good cholesterol) levels. Avocado oil extracted from avocado seed was also useful in lowering cholesterol levels. (6)
4. May protect from kidney damage
Avocado seed with its antioxidant capacity can also protect the kidneys against oxidative damage.
The intake of cyclosporine in the case of organ transplants to prevent the body from rejecting the transplanted organ can result in increased levels of urea, uric acid, and creatinine – all markers of impaired kidney function. (7)
In one study, avocado seed protected the kidneys from this damage and also enhanced the ability of cyclosporine to suppress immunity in the case of organ transplants. (7)
Though there is no study to validate these results, avocados can exert a protective effect on the kidney in general due to their antioxidant content.
5. Exerts antimicrobial effects
Studies that evaluated the components of avocado seed found it to have antimicrobial activity against Salmonella typhimurium and Staphylococcus aureus. (8) This ability is also useful in preserving food.
6. Offers antiparasitic effects
Avocado is used as a natural remedy to ease diarrhea and dysentery caused by intestinal parasites. Avocado seeds are even more potent in treating parasite-induced diarrhea. (9)
7. Benefits the skin
The polyphenolic compounds in avocado seed support healthy skin. In a recent study, daily consumption of avocado resulted in improved skin firmness and thus reduced the signs of aging. (10)
Avocado seeds can be dried and powdered to be used in DIY skin care. The dried powder can be used as a scrub or can be mixed with rose water or other liquid ingredients to make a face mask.
8. May help fight cancer
Avocado seeds also provide some cancer-protective effects by guarding the body against oxidative damage.
The polyphenolic compounds within the seed have also been observed to stop the growth of cancer cells by interfering with their growth and multiplication process. (11)
How to Consume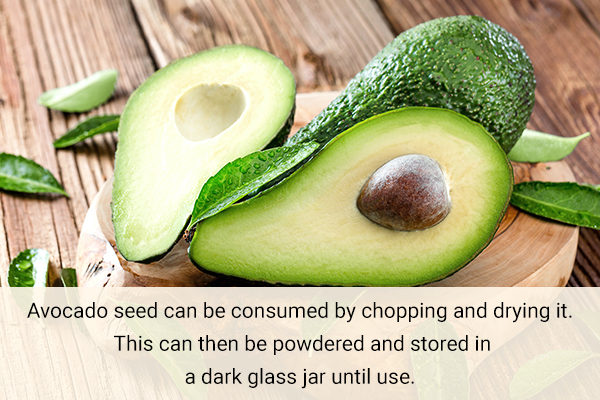 Avocado seeds can be consumed by chopping and drying it. This can then be powdered and stored in a dark glass jar until use. (9)
The powder can be added to bread, flatbreads, or other baked goods, smoothies, soups, and oats.
Precautions to Consider
Avocado seeds need to be further studied for their effectiveness in humans, especially their ideal dosages. These seeds are toxic at high doses; thus, it is not recommended to overconsume avocado seed powder. (12)
Most-Asked Questions About Avocado Seeds
Can I boil avocado seeds in water to drink it?
Most studies have been done using avocado seed powder, and though you can prepare tea by boiling chopped avocadoes seeds in water, the efficacy of it hasn't been studied.
Who should avoid avocado seeds?
Pregnant and lactating women and children should avoid consuming avocado seed due to the lack of studies surrounding it.
Final Word
Nature has provided a lot from its bounty – avocado being one such gift. Not only the fruit but its seed is also rich in many nutrients and can be beneficial to health – from lowering blood pressure, managing blood cholesterol levels, and curbing oxidative damage to fighting microbes and parasites.
Caution must be observed not to overconsume avocado seed powder to protect the body from potential side effects.
Was this article helpful?