When we speak of citrus fruits, oranges and lemons immediately come to mind. But there is yet another mouthwatering fruit that is often underestimated for its citrusy potential: the grapefruit.
Characterized by a divinely succulent taste that is tart and tangy in equal measures, with a tinge of sweetness to it, grapefruit can just as well contend for the position of your new citrus favorite.
Some would say that the pungent flavor of grapefruit can take some getting used to, but don't let the naysayers deter you from giving it a try. There's much more to grapefruit than its flavor and inherent juiciness. Much like other citrus fruits of its ilk, grapefruit has been in good standing with health experts for some time now.
Grapefruit juice makes for a deliciously invigorating tonic that can provide a concentrated source of antioxidants and vitamins that may help boost immune health. Grapefruit is also high in fiber and naturally low in calories, which can provide a satiating effect beneficial for weight loss.
From its juice to its pulp and peel, every part of this nutritious delight holds some benefits. No wonder, grapefruit is known as the "citrus of paradise" due to its unique health-promoting and disease-preventing properties.
Benefits of Grapefruit
Here are the 8 health benefits of grapefruit.
1. Aids in weight loss
A 2015 rat study from the Journal of Medicinal Food found rats supplemented with grapefruit extract for 5 weeks gained less weight compared with rats not on the supplement. (1)
The fiber and water content of grapefruit even aid in reducing hunger pangs. This fruit can also help absorb and reduce the starch and sugar in the body.
A 2015 rat study published in Academic Journals reports that grapefruit juice decreased the body weight gain in obese rats from the first week until the end of the study and also decreased food consumption without affecting brain noradrenaline level. (2)
A 2011 study published in Nutrition & Metabolism found that enjoying a pre-meal snack of grapefruit, grapefruit juice, or water is an effective weight loss strategy for obese adults. (3)
An easy way to add grapefruit to a weight loss diet is drinking a glass of grapefruit juice or half of a fresh grapefruit before your meals.
2. Stabilizes blood sugar
The flavonoid known as naringenin in grapefruit increases the body's sensitivity to insulin and also helps maintain a healthy body weight. (4)
A 2010 study published in the Cardiovascular Journal of Africa found that grapefruit, by virtue of its rich flavonoid content, is beneficial in the management of degenerative diseases such as diabetes and cardiovascular disorders. (5)
Note: Grapefruit is not suitable for people taking certain medications such as statins and calcium channel blockers. Therefore, consult your healthcare team before adding grapefruit to your diet.
3. Boosts immunity
Some, but not all, studies suggest that regular intake of vitamin C may reduce the duration of colds. Because grapefruit is a good source of vitamin C, eating grapefruits regularly may help lower the risk of common cold. (6)
The vitamin C in grapefruit works as a powerful natural antioxidant and scavenges harmful free radicals. This, in turn, helps the body develop resistance against pathogens that cause common colds and other infectious diseases. It may even help shorten the duration and lessen the symptoms of infectious diseases. (7)
Vitamin C also helps in the maintenance of healthy connective tissue and aids in early wound healing. (8)
Grapefruits also aid in reducing inflammation in the body because of the high amounts of antioxidants. This may mean grapefruits may be helpful for people suffering from conditions such as asthma, osteoarthritis, and rheumatoid arthritis.
4. Protects heart health
A 2015 study published in the American Journal of Clinical Nutrition found that those who ate the most fruits and vegetables had a 15 percent lower risk of developing heart disease. Those having the highest vitamin C levels in their blood plasma had even more reduced rates of heart disease. (9)
The high potassium content in grapefruits works as a vasodilator, which means it helps the blood vessels and arteries relax. This, in turn, reduces blood pressure and lessens the risk of heart attacks and strokes.
A 2012 study published in Stroke: Journal of the American Heart Association reports that eating higher amounts of a compound in citrus fruits, especially oranges and grapefruits, may lower ischemic stroke risk. In fact, women who ate high amounts of grapefruit had a 19 percent lower risk of ischemic stroke compared with women who consumed the least amount. (10)
5. Lowers bad cholesterol
Grapefruits are a rich source of several flavonoids. The predominant flavonoid hesperidin in grapefruits has been shown to boost "good" high-density lipoprotein (HDL) cholesterol and lower "bad" low-density lipoprotein (LDL) cholesterol and triglycerides. (11)
A rat study published in the Journal of Food and Drug Analysis found that the administration of grapefruit juice to rats fed a high-cholesterol diet caused a significant reduction in plasma total cholesterol, triglyceride, and LDL cholesterol levels and an increase in HDL cholesterol levels. (12)
Another way grapefruit can lower blood cholesterol is with fiber. The soluble fiber in grapefruit prevents cholesterol from entering your bloodstream during digestion, which in turn inhibits hardening of the arteries and lowers the risk of several cardiovascular conditions and high blood pressure.
6. Improves skin health
As this citrus fruit is rich in vitamin C, it is also good for your skin health. Vitamin C is essential for the production of healthy collagen, which is needed to keep your skin plump and smooth. (13)(14) Also, its antioxidant nature combats the body's cell aging triggered by harmful free radicals.
Plus, the mild acidic nature of grapefruits helps fade spots from your skin by reducing the excess production of skin pigment. (15)
The potassium in grapefruits protects the skin against harmful ultraviolet (UV) sunrays, which in turn reduces premature signs of aging such as wrinkles and age spots.
How to use:
Drink fresh grapefruit juice on a regular basis to attain good skin.
To exfoliate your skin, make a mask with the juice of ½ grapefruit, 1 tablespoon of honey, and ½ cup of ground oatmeal. Apply this mask on your face, allow it to dry, and then scrub it off with wet hands. Use this mask once a week.
Note: Although consuming grapefruit is good for your skin health, don't go overboard as overconsumption of grapefruit may come with a risk of melanoma (a form of skin cancer). (16)
7. Fights gum disease
Vitamin C is essential for healthy gums, which help keep our teeth firmly in place. As grapefruits are a good source of vitamin C, they play a key role in fighting gum disease. A healthy gum line is important for strong teeth.
A study published in the British Dental Journal found that daily consumption of grapefruits reduced gum bleeding among those who suffer from gum disease. This was due to the increase in their vitamin C levels, which aids in the repair of gums. (17)
Simply include 1 to 2 grapefruits a day in your diet to prevent and possibly even reverse damage caused by gum disease.
8. Protects against cancer
Grapefruit helps reduce the risk of cancers of the stomach, colon, bladder, breast, and esophagus.
The rich antioxidant property of grapefruits combats free radicals, harmful substances that cause damage to the cells in the body and are ultimately responsible for deadly diseases such as cancer. (18)(19)
Another study published in Carcinogenesis suggests that consumption of grapefruit or limonin may help suppress colon cancer development. The isolated citrus compounds naringin and limonin would protect against azoxymethane-induced aberrant crypt foci by suppressing proliferation and elevating apoptosis through anti-inflammatory activities. (20)
Nutritional Content of Grapefruit
Refreshing and delicious, grapefruits are rich in vitamin C, a powerful antioxidant. They also contain vitamin A, potassium, folate, thiamin, vitamin B6, calcium, iron, copper, phosphorus, and magnesium, as well as several phytonutrients and flavonoids. Like other citrus fruits, grapefruit has a high water content.
It poses numerous health benefits for your heart health, skin, and blood pressure. Moreover, grapefruit has a glycemic index of 25, which is considered low. This indicates that it does not drastically affect your insulin and blood sugar levels after eating.
Nutritional value of grapefruit raw per 100 grams: (21)
| Nutrient | Quantity | Amount |
| --- | --- | --- |
| Water | g | 88.06 |
| Energy | kcal | 42 |
| Protein | g | 0.77 |
| Total lipid | g | 0.14 |
| Carbohydrate | g | 10.66 |
| Fiber | g | 1.6 |
| Sugar | g | 6.89 |
Minerals
| Mineral | Quantity | Amount |
| --- | --- | --- |
| Calcium, Ca | mg | 22 |
| Iron, Fe | mg | 0.08 |
| Magnesium, Mg | mg | 9 |
| Phosphorus, P | mg | 18 |
| Potassium, K | mg | 135 |
| Zinc, Zn | mg | 0.07 |
Vitamins
| Vitamin | Quantity | Amount |
| --- | --- | --- |
| Vitamin C | mg | 31.2 |
| Thiamin | mg | 0.043 |
| Riboflavin | mg | 0.031 |
| Niacin | mg | 0.204 |
| Vitamin B6 | mg | 0.053 |
| Folate | mcg | 13 |
| Vitamin A | mcg | 58 |
| Vitamin E | mg | 0.13 |
Indeed, grapefruit is quite evidently a nutritional powerhouse that can benefit your body in more ways than one.
How to Pick a Premium-Quality Grapefruit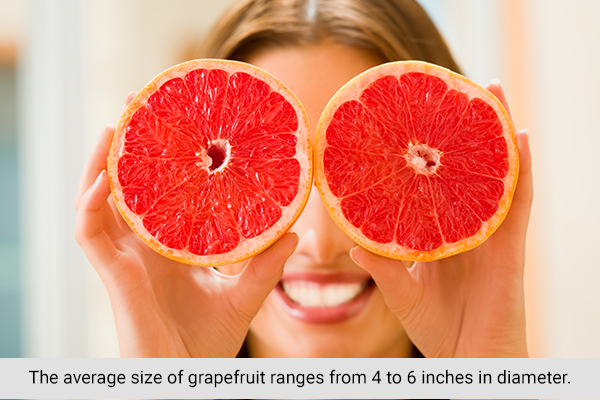 When you go shopping for grapefruits, look for a batch that has ripened fully simply by observing some of its properties:
Size: The average size of grapefruit ranges from 4 to 6 inches in diameter. The plumper the fruit is, the juicier will be its flesh. Thus, it's best you choose those varieties that feel heavier for their size.
Shape: Look for oval-shaped fruits with a slightly flattened bottom and top. Perfectly round grapefruits are likely to be underripe and bitter, whereas oddly shaped or lumpy ones are usually overripe.
Feel: Another indicator of ideal ripeness is the texture of the fruit skin, which must be smooth and thin sans any bruises or cuts. The fruit should be firm all around, as soft or puffy spots suggest that the flesh inside is going bad.
Gently squeeze the fruit to see if the skin yields or not. A superior-quality grapefruit will compress slightly on squeezing, but the skin should bounce back to its normal shape as soon as you release the pressure.
Color: As a general rule of thumb, a yellow rind suggests that the grapefruit has reached peak ripeness.
How to Store Grapefruits
Storing grapefruits at room temperature allows for better air circulation and can keep the quality of the fruit intact for up to a week. However, make sure that the fruit is not exposed to direct sunlight.
If you want the batch to last longer, stash them in the refrigerator crisper or in a cool, dry place like a basement. This can help extend their shelf life by an additional week or two.
Whether or not you plan on eating its peel, rinse the grapefruit thoroughly under cool water to wash off any grime and germs that may reside on its surface. Ensuring the cleanliness of your food is the first step towards healthy eating.
By getting rid of any external dirt and bacteria, you will prevent the edible flesh within from getting contaminated.
How to Eat Grapefruit
To enjoy fresh grapefruit, just slice it horizontally and scoop out sections of the halves with a spoon.
The flesh comes intertwined with membranes, which can be separated with a sharp knife, a special curved-blade grapefruit knife, or a serrated grapefruit spoon. Before digging your teeth into the flesh, get the seeds out of the way by removing them with a spoon.
Grapefruit can also be eaten like its sweeter cousin, the orange, by simply peeling it with your hands.
Alternatively, you can take the skin off by making a vertical incision with a knife that starts from the top and runs across the entire circumference to end back up at the top on the other side. Repeat the same cuts that you are left with four sections of similar size.
Make sure that the incision is superficial enough to just cut through skin and not into the membrane. Once peeled, you may choose to slice the fruit into smaller portions.
Ways to Enjoy Grapefruit
If you are bored with your regular glass of orange juice for breakfast, have a glass of grapefruit juice instead.
Grapefruit can give a unique spin to the crowning jewel of Mexican cuisine, the salsa. Simply combine diced chunks of the fruit with cilantro and chili peppers, and you have yourself a delectable dip.
Grapefruit sections can add a zesty and tangy spunk to green salads. It can also be used to impart a tropical touch to your boring salad bowl. All you need to do is combine chopped grapefruit pieces, cooked shrimp, and avocadoes and serve them on a bed of romaine lettuce.
Risk and Precautions With Grapefruit
It's best to refrain from grapefruit consumption if you happen to be on any of the following medications:
Most calcium channel blockers
Indinavir
Immunosuppressants
Some statins
Benzodiazepines
Carbamazepine
Grapefruit, particularly its juice, is known to inhibit the secretion of a certain enzyme in the intestines that goes by the name of CYP3A4. This particular enzyme is required by the body to metabolize the above-listed drugs. Because the drugs are not broken down efficiently, they continue to pile up in the body to potentially dangerous levels.
Thus, consuming these drugs along with grapefruit is strictly prohibited to avoid the risk of toxic poisoning.
Otherwise healthy individuals who are not on any of the mentioned meds should also not get swept away by the health perks of grapefruit. Granted, it is a great value addition to your diet, but moderate and well-calibrated intake is key.
It's better to aspire to an overall healthy and balanced diet, rather than place undue weight on a single food item.
Additional Tips
Always buy grapefruits that are firm and springy to the touch.
For higher nutrient value, choose the pink and red varieties.
Store grapefruits at room temperature before juicing to get the most out of them.
If your grapefruit juice is too bitter or sour, add the juice of green apples or carrots to improve the taste.
As grapefruit may interact with certain medications and make them less effective, it is recommended to consult your doctor before including this fruit in your daily diet.
Final Word
The multiple health-promoting benefits of grapefruit have earned it a permanent spot on breakfast tables around the world. Being a powerhouse of vitamins and minerals, it can replenish energy levels in your body and provide a perfect start to your day.
Although grapefruits grace the markets throughout the year, their peak season is from winter through early spring. There are pink and white varieties of grapefruits available, which may come with or without seeds, and you can take your pick according to your own preference.
Was this article helpful?