Garlic, or Allium sativum, belongs to the onion genus and has been used medicinally since ancient times. Garlic was prescribed in the Codex Ebers for helping cure various ailments and improving circulation as well. (1)
The root bulb of garlic is made of multiple cloves or bulblets of garlic and has a strong flavor and odor. Garlic bulbs can be used in many forms for cooking or medicinal purposes – dehydrated, fresh, and steam-distilled oil.
Nutritional Value of Garlic
When the garlic is cut, chewed, or crushed, it releases an enzyme known as alliinase, which interacts with alliin to produce allicin, giving out the odor. (2)
Alliinase can be deactivated by heat, due to which cooked garlic is less potent. Besides alliin, garlic also contains various other sulfur-containing active compounds, including sulfoxides, thiosulfinates, diallyl sulfides, and polysulfides, ajoenes, vinyldithiines, certain amino acids, and proteins.
Additionally, garlic contains vitamin B6, manganese, copper, vitamin C, calcium, phosphorus, zinc, folate, and selenium. (3)
Types of Garlic
Garlic generally has two types: (4)
1. Hardneck
The central stalks of this type of garlic are hard and woody, extending to the basal plate situated at the bottom of the bulb.
2. Softneck
This type of garlic has a non-woody pseudostem, which is made of overlapping leaf sheaths. Softneck garlic is what is mostly available in grocery stores.
Other types of garlic include:
Creole garlic: The uncommon garlic bulb is rosy or purplish, distinguishable from the intermittent rosy hues of the hardneck varieties.
Black garlic: It is created using high humidity, heat treatment, and especially prolonged aging, which turns the garlic cloves black.
Elephant garlic: This variety of garlic is related closer to leeks than to garlic itself and produces very large cloves.
Health Benefits of Garlic
These are some of the benefits of garlic.
1. May help in lowering the risk of cardiovascular disease
Multiple studies demonstrate a positive effect of garlic on the prevention of cardiovascular problems. (5) This is chiefly supplemented by garlic's properties that help:
Manage blood pressure (6)
Garlic may be effectively used as an adjunct treatment for lowering lipid levels and improving fibrinogen in hyperlipidemia. (7)(8)(9)
In several studies, garlic supplements were found to be effective in managing blood pressure and cholesterol levels. (10)(11)(12)(13)(14) However, more large-scale studies are required to establish their overall potential for cardioprotection.
2. May aid in blood sugar regulation
Garlic is one such food that may help in diabetes and is now gaining popularity due to its prevalent over-the-counter use.
Garlic use could help reduce glucose and lipid profile levels. Therefore, it could therapeutically be effective for patients with diabetes and cardiovascular disease. (15)(16)(17) However, more large-scale human trials are needed to conclude its efficacy, safety, and usage.
ALSO READ: Healthy and Harmful Foods for Diabetics
3. May provide relief from colds and flu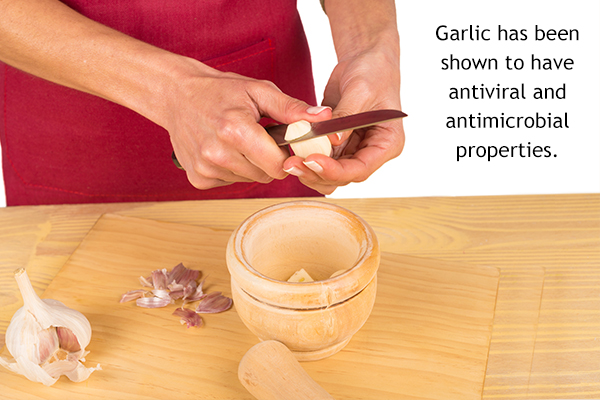 Garlic has been shown to have antiviral properties that may help alleviate the common cold. (18)(19) However, there is a lack of clinical trials that support the usage of garlic for curing and preventing the common cold.
4. May protect against microbial infections
The antiviral, antibacterial, and antifungal properties of garlic have been extensively researched. However, most of these studies involve the use of garlic supplements, rather than its food form, and there is a lack of human trials to support their use. (20)(21)
5. May improve bone health
Oxidative stress plays a significant role in the development of osteoporosis.
A study found that the use of garlic tablets for their phytoestrogens and antioxidative effects can help lower oxidative stress indices in menopausal women with osteoporosis. (22) However, more studies are needed to support this claim.
6. May lower the risk of cancer
Studies report the role of dietary supplements such as aged garlic in exhibiting anti-cancer effects. (23)
Allium vegetables and their components are found to affect all stages of carcinogenesis. Additionally, they influence multiple biological processes that can alter the risk of developing cancer. (24)
Note: Further studies are needed to obtain clearer evidence on the anti-cancer activity of garlic.
7. May prevent cognitive decline
Aged garlic extract may be a potential agent for the prevention of cognitive and learning memory deficits such as in Alzheimer's disease. (25)(26) However, it is vital to conduct further direct human studies to establish the relationship between cognitive decline and intake of aged garlic extract.
How Is Garlic Used?
Garlic can be used in multiple forms, including:
Raw
Cooked
Dried
Powdered
Raw garlic cloves can be used for making oils and liquid extracts, and powdered forms can be made into tablets and capsules.
Garlic in Cooking
Garlic has been used as a flavoring agent for centuries. It is often used for flavoring soups, salad dressings, stews, and spreads. While the cloves are popularly used, garlic leaves may also be added to various dishes. Oriental cooking generally uses flowering scapes.
You may also find garlic in the form of pickles or as a flavoring in salt and oil. Dehydrated forms are also available commercially.
Selecting and Storing Garlic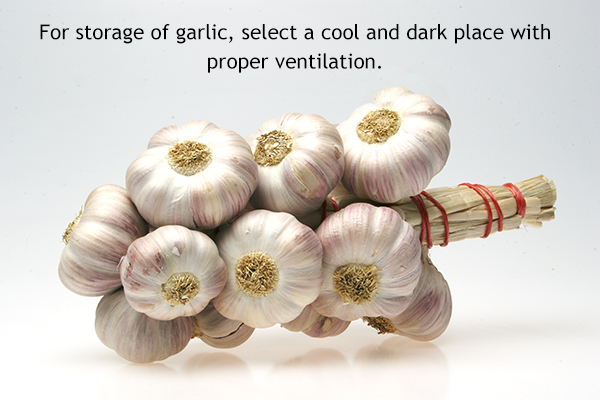 Fresh garlic has a high concentration of active ingredients. Here are some tips to select the best garlic bulbs:
Select bulbs that are plump looking and have tight skin.
Avoid picking garlic with loose or frayed skin.
It should not be moldy, dried out, or sprouting.
Do not pick bulbs that are visibly damaged and have soft or discolored patches or bruising.
For the storage of garlic:
Select a cool and dark place with proper ventilation.
Store garlic as whole bulbs or peel the individual cloves and keep them in an airtight container inside the refrigerator.
When kept outside, garlic can sprout within a few days and, therefore, should be used quickly. However, sprouted garlic can be planted in a pot and allowed to grow.
Properly stored, good-quality garlic can last for months. To further increase the shelf life of garlic, you can:
Cure the garlic under the sun for a few hours.
Deep-freeze the garlic cloves.
Roast a batch of garlic without peeling the cloves. After roasting, cut the tips of the bulb and squeeze out the softer flesh. Store roasted garlic in an airtight container for up to a week in the fridge or for several months in the freezer.
Safety of Garlic
When ingested as a food or flavoring, garlic is generally safe for most adults. However, in some cases, garlic consumption may cause heartburn, allergic reactions, upset stomach, and odor, especially with raw garlic.
Moreover, applying raw garlic to the skin can severely irritate and burn the skin. While garlic is likely to be safe when taken in food amounts by pregnant women, its medicinal use can be harmful. For children, the use of garlic as medicine for a short period is possibly safe.
Drug Interactions
Before taking any supplement, including garlic, you should first consult your healthcare team, especially if you are taking medications.
Garlic is known to inhibit the action of some medications such as saquinavir, which is used for treating HIV.
Garlic can act as a blood thinner similar to aspirin. Therefore, it should not be used when you are taking an anticoagulant such as warfarin.
It is recommended to avoid garlic consumption at least 1 week before surgery.
Most-Asked Questions About Garlic
Can garlic be taken on an empty stomach?
It is believed that consuming garlic on an empty stomach helps in reaping its maximum benefits. However, it should be taken in moderation. Eating large amounts of garlic, especially on an empty stomach, can cause flatulence, gastrointestinal problems, and an imbalance of the gut microflora.
Does garlic aid weight loss?
A few in vitro and animal studies support the use of garlic for weight loss. (27) However, dietary garlic is not sufficient, and an excess of garlic consumption may be harmful.
While the use of garlic oil for its anti-obesity effects has been tested in animal studies, there is a need for further studies to reach any conclusion. (28)
What are garlic leaves used for?
The flowers and leaves of garlic, found on the head, are occasionally used for consumption. They have a milder flavor in comparison with the bulbs and are often eaten while they are still tender and immature.
Final Word
Garlic is an excellent flavoring agent and is used in many dishes around the world. There is significant evidence to consider garlic as a potential primary or adjuvant therapeutic agent in treating various disorders.
However, more standardized studies are required to establish the benefits of garlic. Before consuming garlic medicinally, it is best to get individualized guidance from your healthcare team.
Was this article helpful?