Certain foods can help make you feel full without adding to your calorie load, whereas others can have the opposite effect. Foods that are rich in fiber, protein, and complex carbohydrates provide early satiety but take longer to digest.
The body breaks them down slowly, which leads to a gradual release of blood sugar that keeps you satisfied for longer. Similarly, water-rich foods are also extremely filling and hydrating, while being low in calories.
Factors That Increase Appetite
An increase in appetite can be caused by many things including stress, hormonal fluctuations, nutritional deficiencies, blood sugar imbalances, poor diet, and inadequate sleep.
Changes in physical activity and even environmental temperatures may also affect hunger levels. Processed foods and simple sugars lead to blood sugar spikes and crashes that cause the body to crave more sugar and carbohydrates. Meals that are unbalanced either will not fill you up or will leave you hungry an hour later.
Stress and lack of sleep affect the hunger hormone ghrelin and the satiety hormone leptin, leaving you hungrier and less full throughout the day and craving unhealthy foods.
How Weather Affects Your Appetite
During the winter, many people will naturally experience increased appetite as the body wants to store more fat for protection from the cold weather. This phenomenon reverses in the summer as the desire for food will decrease.
Individuals have different responses to exercise; some see a reduction in appetite, but others see an increase. The response may also vary based on whether they performed cardio or a strength workout.
Satiating Foods for Appetite Suppression
The best way to control your appetite is by eating meals that have a balance of fiber, protein, and fat. Eating meals that are too low in any of these nutrients will likely leave you feeling hungry and looking for more food.
Fill at least half of your plate with fresh non-starchy vegetables, such as broccoli, cauliflower, kale, spinach, zucchini, or mushrooms, to provide volume and fiber.
Include either plant or animal-based protein, such as beans, lentils, legumes, eggs, poultry, or fish.
High-fiber whole grains can also be included, such as wild rice, quinoa, or potatoes, if you include the skin.
Add some healthy fat from avocados, olives, nuts, seeds, or oils to balance out your plate.
What often happens is if people prepare a meal or eat in a hurry and skip one of these groups, they will not feel full and will end up overeating throughout the day. Eating meals at regular times also allows hunger and satiety hormones to remain balanced and even boosts digestion.
Herbal Teas and Herbs to Avoid Overeating
Research has shown drinking green tea lowers ghrelin levels, reducing hunger, and aiding in weight loss. (1)
Fennel and fenugreek tea consumption were each found to suppress the appetite in overweight women. (2) Yerba mate is an herb that has shown some promise in reducing hunger. (3)
Can Lean Cut Meats Suppress Appetite?
Protein from lean meats such as chicken, fish, and plant sources increases satiety as part of a balanced meal. However, research is mixed on whether long-term high-protein diets can help with appetite control.
One study found no differences in hunger between diets with 10% and 30% protein after individuals consumed either diet for 4 weeks. (4) Other studies have found high-protein breakfast consumption reduces daily hunger. (5)
It is also worth noting that when individuals are eating for stress-related reasons, there was no difference between hunger after eating high-protein meals and hunger after eating high-carbohydrate meals. (6)
Balance is key, so include protein at your meals, but you do not have to overindulge to get the benefits. Aim to be mindful and stress-free when you eat.
Are Nuts a Filling Food Item?
Foods high in fat, such as nuts and seeds, are high in calories for a small volume. Many individuals that consume nuts as a snack end up eating too many because they don't feel full quickly.
Fats are good at keeping you feeling full longer, but their small volume is often not satisfying on its own. They are best paired with other foods, such as vegetables, as part of a balanced meal.
If you include nuts on a salad or as a side to a meal, then the fats can aid in balancing your blood sugar and keep you satisfied longer after you're done eating.
Drink Water Before Meals to Help You Eat Less
Drinking a glass of room-temperature water before a meal may reduce the amount you eat because the fluid helps fill the stomach. Liquid-based foods such as soups and smoothies can be more filling for the same reason. Some research, however, has shown this may be less effective in obese and overweight individuals. (7)
Hydration is important for numerous reasons and it assists in digestion, so it is encouraged to drink water throughout the day regardless of if you find it helps suppress your appetite.
The Efficacy of Fad Diets for Reducing Appetite
A variety of popular fad diets are promoted by saying they reduce appetite, but often they only work short term or have negative side effects.
There are potential risks with such diets, and you should talk to a nutrition or health professional before making a change if you have any current health conditions or are on medications.
The most success with long-term health and weight loss goals typically comes from eating whole foods in balanced portions at scheduled mealtimes. Even calorie counting falls short if your meals are imbalanced or low in foods that will keep hunger at bay.
Medicines to Curb Appetite
Over-the-counter appetite suppressants are available, but they are often ineffective, and many come with risks.
Weight loss and appetite suppressants are some of the most common supplements to be mislabeled and may contain harmful ingredients, not on the label or be misrepresented in other ways.
It is best to talk to a nutrition or health practitioner about these options and try lifestyle changes first.
The Satiating Effect of Fiber-Rich Foods
Fiber helps keep you full in two ways. Insoluble fibers add bulk to your meal, fill your stomach, and make you feel full. Foods high in this kind of fiber include brown rice, legumes, and many vegetables.
Soluble fiber dissolves in water and slows down digestion, which stabilizes blood sugar and keeps you feeling full long after a meal. Oatmeal, nuts, beans, and many fruits are high in soluble fiber.
ALSO READ: 5 Health Problems Linked to Fiber Deficiency
Best Ways to Suppress Appetite Naturally
Here are a few tips to eat less without going hungry:
To suppress your appetite naturally, ensure you are sipping on water throughout the day and before meals.
Eat balanced meals with appropriate amounts of vegetables, protein, and fats, and ensure carbohydrates are high in fiber.
Limit processed foods such as chips, crackers, and white bread and foods high in added sugars such as candy and desserts. These sugary foods cause your blood sugar to increase and fall rapidly. When it falls, your body will crave more sugar.
Reduce alcohol consumption and add stress reduction techniques into your daily lifestyle.
Sleep is essential to regulating your hunger and satiation, so prioritize quality rest time.
The Importance of Breakfast in Appetite Control
Eating a healthy balanced breakfast with protein, fat, and fiber keeps you full and energized throughout the morning and often helps curb cravings in the afternoon.
The results vary by individual, but research shows that eating breakfast tends to increase physical activity and decrease food consumption later in the day. (8)
Do Heavy and Rich Food Items Like Avocado Suppress Appetite?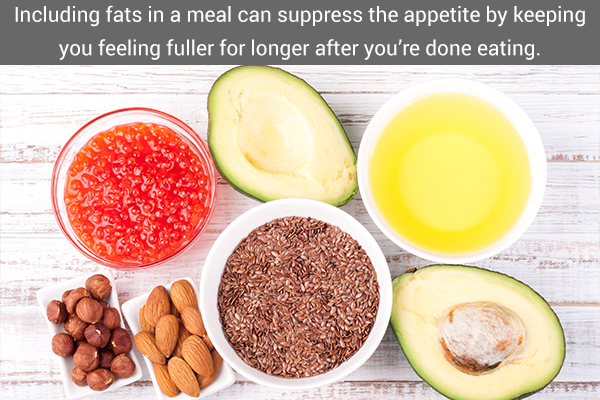 Including fats in a meal can suppress the appetite by keeping you feeling fuller longer after you're done eating.  You may find this happens after a heavy meal at a restaurant or eating comfort foods at home.
Healthy fats, such as avocados, olives, nuts, and seeds, will keep you full but without the heavy feeling of processed foods. Healthy individuals tend to overeat more with high-fat meals versus high-carbohydrate meals, so it is important to include quality fiber choices and balance your meals rather than relying on one food source. (9)
Expert Tips to Manage Your Appetite
In addition to the tips mentioned above, eating mindfully and chewing food thoroughly allow your body to feel fuller, make a meal more satisfying, and often reduce total food consumption.
Ensure that your meals are flavorful and satisfying and include healthy ingredients.
People can become hungry not because they need more calories but because their body is craving missing nutrients that are found in better-quality foods.
Also, if your meal is bland or unappetizing to you, you may find you continue to crave something else simply because it did not satisfy your need for specific tastes.
If you do not like vegetables, this may mean you need to try cooking them in different ways or add different spices to help you enjoy them.
If you are stressed or eat for emotional reasons, changing the food alone will not solve the problem. Seek support to resolve the underlying stress and emotional issues to allow you to have a healthy relationship with your food.
Final Word 
There are plenty of foods that can make you full quickly and keep you satisfied for longer to reduce your overall appetite. Plan wholesome meals with such low calorie, high nutrition items that can give you greater satisfaction while eating less.
Was this article helpful?