New mothers have several objectives to meet when it comes to their health and that of their babies. They are:
Recover from childbirth
Keep themselves and their babies well-nourished and healthy
Get back to pre-pregnancy shape
Maintain the quality of breast milk
All these are actually pretty simple to achieve, provided new mommies eat a healthy diet. Certain nutrients are in higher demand at this time, especially if moms are breastfeeding.
They may have to look into supplementing with iron, vitamins, selenium, and magnesium, among others, with recommendations from their doctor. However, these won't make up for a healthy diet. (1)
New moms must eat healthy to recover from childbirth and to breastfeed their newborns. If you have just given birth, here are some foods to include in your diet.
1. Legumes
Some new mothers may experience constipation, particularly if surgical interventions took place. Many women are prescribed laxatives, stool softeners, and mineral oil to ease their discomfort. (2)
Fiber-rich foods, such as beans, peas, and lentils, may help alleviate constipation. (2) They are also great sources of iron, calcium, magnesium, folate, and zinc, which new moms need to avoid nutrient deficiencies. (3)
If you are new to beans, start slow to prevent digestive discomfort. Eat 1–2 tablespoons of beans a day, and increase by 1 tablespoon each week.
2. Berries
New moms may be prone to infections, and other ailments as their immune systems are weakened by childbearing, labor, and the demands of breastfeeding. (4) They are also often sleep-deprived; thus they need the extra boost from nutritious and health-promoting foods such as berries.
Berries are great sources of antioxidants and polyphenols – nutritional compounds that support the immune system and ward off inflammation. (5) If fresh berries are not in season or unavailable in your location, go for the frozen kind.
3. Ginger
Ginger has been used as a remedy for centuries in Asian cultures, (6) and it is believed to help new moms recover from childbirth.
Ginger has potent anti-inflammatory components and helps strengthen immunity to keep moms healthy. It is known to soothe an upset stomach and bloating, which often occur in women recovering from labor.
Some studies also reported greater milk production in nursing mothers taking ginger supplements. (7)
4. Nuts, Seeds, and Their Butter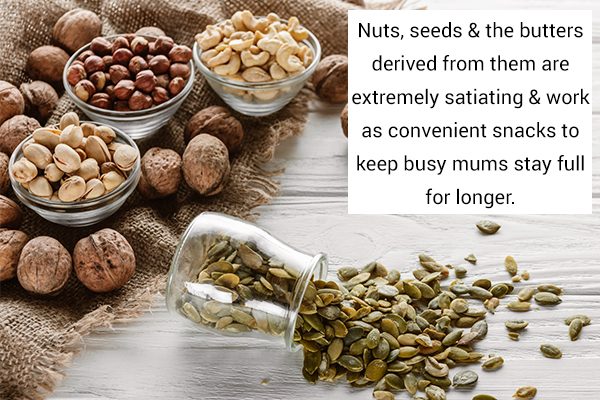 Including small amounts of nuts and seeds and their butter in the diet of new moms will pay back with great health benefits.
Not only are they rich sources of vitamins, minerals, antioxidants, fiber, and healthy fats, but they are also filling and satiating, keeping busy new moms full for longer. (8)
This effect is highly beneficial as time is a high-valued currency during the first few months postpartum, and women often find it hard to find time for a healthy snack or meal.
5. Leafy Greens
Green leafy vegetables, such as spinach, collard greens, arugula, kale, and Swiss chard, are excellent sources of iron, calcium, vitamin C, and vitamin A. (9) These nutrients are potent antioxidants that support the immune system and the eye and brain health of both the mom and baby.
Green leafy veggies are easy to eat uncooked. They can be quickly prepped by sautéing for a few minutes with herbs and spices. You can also consume them as a drink. Just blend them with fruits for a nutritious smoothie.
6. Sprouted Bread and Cereals
New mothers are busy, and having a toast or bowl of cereal is an easy, fast, and convenient way of filling up the tummy. However, to ensure that you are getting a variety of healthy nutrients, go for the sprouted varieties.
Sprouted bread and cereals are high in fiber and protein, low in carbohydrates, and high in vitamins, minerals, and other nutrients, which are important for new moms. (9)
7. Sweet Potatoes
Rich sources of fiber, beta-carotene (precursor of antioxidant vitamin A (10)), vitamin C, potassium, manganese, and choline, sweet potatoes should be a staple in any kitchen.
Simply bake, microwave, or steam sweet potatoes, and they are ready to go. You can add them to soups and stews or make a mash or casserole. You can also top them with a little almond butter or tahini for an extra boost of nutrition and flavor.
8. Fish
Fish, particularly the fatty types such as salmon, herring, and sardines, are rich sources of essential fatty acids omega-3 and 6, which are needed for healthy immunity, brain, and nervous system. (11) New moms need to reload their fatty acid stores that were used up during pregnancy and breastfeeding.
However, fish intake must be kept to a minimum (no more than twice a week) as high amounts of mercury, and some chemical residues are found in deep-water fish, such as swordfish, mackerel, tuna, Chilean seabass, and shark.
Mommies on a plant-based diet should consider taking algae-based EPA and DHA supplements, which do not contain any fish-derived components. (11)
9. Dried Fruits
Dried fruits such as prunes, dates, raisins, and apricots provide iron, magnesium, and fiber.
They are easy to prepare – chopped up on top of your oatmeal or cereal bowl, added to baked products, or mixed with nuts and seeds in a homemade trail mix as a quick and filling snack.
Dried fruits are naturally sweet and will satisfy your sweet craving. Because they are dehydrated, keep in mind that they have a high concentration of sugar and are therefore quite calorie-dense. So limit the amount you prepare to avoid overeating.
10. Flaxseeds (Ground)
Flaxseeds provide protein, fiber, magnesium, and omega-3 fatty acids. In order to enjoy all the benefits of flaxseeds, they need to be ground first. Otherwise, they may bypass digestion and leave the body with no effect.
Flaxseeds are known to improve digestion (12) and reduce the risk of cancer, heart disease, and type 2 diabetes. (13) Adding ground flaxseeds to oatmeal or cereal, mixing them into a smoothie, or sprinkling them on top of salads are all great ways to incorporate them in a new mommy's diet.
Expert Answers (Q&A)
Answered by Ms. Stacy Roberts-Davis (Registered Dietitian)
What are the best fruits to eat while breastfeeding?
Avocados, berries, watermelon, melon, carrots – these are all good for a breastfeeding mother.
What foods should a new breastfeeding mother avoid?
I would like to say eat what you want, but generally, your diet should also depend on the needs of your baby.

Limiting coffee, tea, and chocolate could help if your baby is not sleeping well due to the caffeine. Limit gassy foods if your baby is irritable and gassy.
What vitamins and minerals are mostly needed by a new mother?
Moms should continue taking multivitamins. Calcium, zinc, magnesium, B vitamins, and phosphorus are all important.
Is there any truth to the advice "drink ample amount of water to increase breast milk production"?
What lifestyle tips can help new mothers to cope better?
Take care of yourself. Relax and do not stress if your body cannot produce enough breast milk. Stress can slow down production. Meditate, massage, or exercise – whatever makes you feel good.
Final Word
The nutritional needs of new moms are different from those of other people, as they need to recover from pregnancy and childbirth and replenish their depleted stores of nutrients. However, the concept of eating a diet based on healthy whole foods stays the same.
Eating a rainbow-type diet with lots of vegetables, fruits, whole grains, and legumes does the trick of keeping new moms healthy and energized during the times of caring for their babies.
Was this article helpful?