Eating healthy is one of the most important but often overlooked aspects of skin health. What you put in your body will have a bearing on how it works. And the skin is the largest organ of the human body and reflects its internal health.
The right kind of foods will nourish and energize your body, which will make your skin glow, whereas the wrong kind of foods will render your body slow and malnourished, which amounts to dull-looking skin.
But making the distinction between healthy and unhealthy foods is the tricky part, and this article will help you with that. There's a list of essential nutrients that you need to derive from your diet in recommended amounts to facilitate various biological functions in the body needed for good health.
But certain nutrients are more useful than others for specifically improving the condition of your skin through different mechanisms. Some nutrients help build or repair skin, some help moisturize it, while others protect it from free radicals, UV radiation, pathogens, and other irritants.
The lack of these skin nutrients in the body is associated with the onset and progression of various dermatological ailments such as acne and dermatitis, as well as premature skin aging. This underlines the importance of consuming a well-balanced diet that consists of diverse but nutritious foods to attain beautiful, smooth, spotless skin.
In fact, a number of studies have shown that dietary interventions that aim to supply these essential nutrients can significantly enhance the structural and functional integrity of damaged skin. (1)
10 Foods to Eat for Beautiful and Flawless Skin
The following foods are rich in nutrients that can help address different kinds of skin problems when consumed as part of an overall wholesome, well-balanced diet.
1. Freshwater fish
Freshwater fish such as salmon, sardines, and herrings are rich sources of lean protein, omega–3 fatty acids, (2) zinc, coenzyme Q10, and vitamin E. Each of these nutrients comes with its own skin benefits:
Omega-3 fatty acids replenish skin moisture to keep it smooth and supple. They also help reduce inflammation.
Vitamin E is a powerful antioxidant that fights free radicals, which wreak havoc on skin cells to cause inflammation and premature skin aging. Free radicals are unstable molecules that can damage the DNA of skin cells. This kind of cellular degradation can even induce skin cancer if left unchecked. The sun's UV rays are one of the biggest sources of free radicals that cause age spots, wrinkles, and fine lines, among other skin problems, but vitamin E can help reduce and reverse this skin damage. Moreover, vitamin E can curb the itching, redness, and other inflammatory symptoms associated with psoriasis, dermatitis, and eczema. (3) This vitamin also promotes collagen synthesis in the body. Collagen is the primary structural protein in the skin that keeps it strong and elastic. Thus, better collagen synthesis leads to faster skin regeneration and wound healing.
Coenzyme Q10 helps build new skin cells and repair the damaged ones to keep your skin young, smooth, and blemish-free.
How to consume
Freshwater fish are consumed after cooking, and there are several different ways to cook them. You can have them grilled, fried, or in a curry. Try different recipes that use freshwater fish as the main ingredient.
Alternatives
Edible oils such as olive oil; nuts such as walnuts, brazil nuts, and almonds; and seeds such as flaxseeds, pumpkin seeds, sunflower seeds, and chia seeds are rich in plant-based omega-3 fatty acids called alpha-linolenic acid, vitamin E, and minerals such as zinc and the antioxidant selenium.
2. Pomegranate
The antioxidant activity of pomegranate is quite high, even more than that of red wine and green tea, due to the presence of antioxidant compounds both within the fruit and in its rind.
These compounds include hydrolyzable tannins, anthocyanins, and ellagic acid and its derivatives, all of which can improve the skin through the following mechanisms:
Decrease inflammation
May boost collagen production, which promotes skin healing both at the dermal and epidermal levels (4)
Protect the skin from the harmful solar radiation (5)
How to consume
Eat fresh pomegranate seeds by themselves or add them to yogurt, oatmeal, breakfast cereals, salads, or even ice cream.
Blend the seeds to prepare fresh pomegranate juice.
Make smoothies with pomegranate seeds.
3. Colorful bell peppers
Green, orange, yellow, and red bell peppers get their pigment from an organic compound called beta carotene, which is converted to vitamin A inside the body.
Colorful bell peppers are also richly endowed with antioxidant vitamins such as vitamin C, along with other skin-enhancing plant pigments. Of all the varieties of bell peppers, the red ones pack the most vitamin C.
The nutrients in bell peppers benefit the skin in the following ways:
Beta carotene and vitamin A boost collagen production to facilitate faster skin renewal and healing. This helps fade scars, pigmentation, and wrinkles, evening out the texture and color of your skin while also keeping it firm and elastic.   
Beta carotene exerts photoprotective effects by fighting against the free radicals generated by the sun's UV radiation. (6)
Beta carotene helps reduce erythema or redness caused by sunburn by curbing the underlying skin inflammation. (6)
How to consume
Add chopped bell peppers to your gravies, noodles, soups, and other culinary preparations, lightly sauté or grill them and use them as side dishes, or mix them in your salads. Make sure to wash bell peppers thoroughly, whether you are eating them raw or adding them to your cooked dishes.
Alternatives
Pigmented fruits and vegetables usually have high beta carotene content, but maybe not as much as bell peppers. Nevertheless, you can consume the following foods to meet your beta carotene requirement in the absence of bell peppers.
Vegetables that are orange or yellow, such as winter squash, pumpkin, and tomatoes
Fruits that are orange or yellow, such as apricots, oranges, mangoes, papaya, and cantaloupe
Orange root vegetables, such as carrots and yams
Leafy greens, such as spinach, kale, broccoli, sweet potato leaves, and sweet gourd leaves
4. Avocados
Avocados are chock-full of strong antioxidants including vitamins E and C, polyhydroxylated fatty alcohols (PFAs), and healthy unsaturated fats, all of which can do wonders for your skin in the following ways:
The fats bind moisture to your skin to keep it hydrated and strengthen your epidermal barrier. Well-moisturized skin not only provides a tighter defense against external irritants, but it is also more elastic and thereby less prone to wrinkles and fine lines. (7)
The antioxidants scavenge free radicals that cause photodamage and premature aging.
Vitamin C promotes collagen production and skin repair. It also exhibits vital antioxidant properties that reduce free radical-induced oxidative damage on the skin cells. (8)
PFAs reduce skin inflammation and the damage done by the UVB radiation of the sun. (9)
How to consume
Eat avocados raw with some salt and pepper.
Smear avocado on your toast like a bread spread.
Use avocado as a salad dressing.
Use avocado to prepare a simple dip such as guacamole, which is best served with crunchy vegetables such as celery, carrots, cucumbers, or low-carb whole grain chips.
5. Dark chocolate
Dark chocolate contains a higher percentage of cocoa powder and lower percentage of added sugars than regular chocolate, which makes it slightly bitter but far healthier. However, this does not mean that you can eat it as much as you want.
Like all nutritious foods, dark chocolate is healthy so long as it's consumed in recommended amounts. The main ingredient of dark unsweetened chocolate is cocoa, which is blessed with several bioactive compounds including polyphenols, flavonoids, and phytochemicals such as theobromine. These compounds can enhance your skin quality in the following ways:
Keep the skin well hydrated
Improve the skin's protective barrier
Stimulate blood flow to the skin
Work as antioxidants to neutralize the damaging effects of free radicals on the skin, which are primarily unleashed through unprotected sun exposure (10)
Help improve skin elasticity to delay the appearance of wrinkles, fine line, and other signs of aging (11)
Theobromine is known to curb tissue inflammation, which manifests as itching, redness, and other types of skin irritation.
How to consume
Eat a small piece of dark chocolate by itself.
Grate dark chocolate over your oatmeal or any other breakfast cereal such as porridge.
Mix dark chocolate in your warm milk.
Eat dark chocolate with ice cream or citrus fruits to balance out the bitterness.
Add dark chocolate to your baked goods.
Alternatives
If dark chocolate is not available, you can get your dose of cocoa from cocoa butter or cocoa beans.
6. Green tea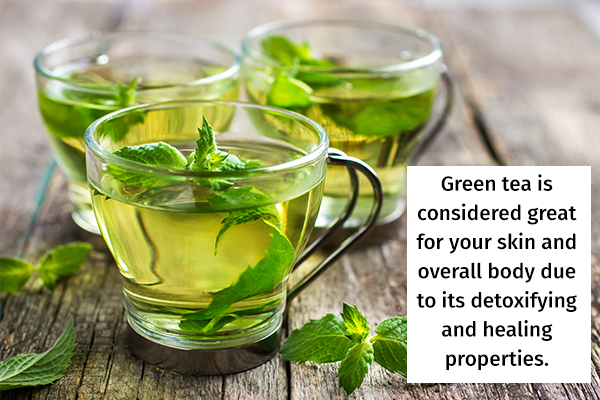 Green tea is considered great for your skin and overall body due to its detoxifying and healing properties. It is full of catechins, which are natural phenolic compounds that exhibit strong antioxidant, anti-inflammatory, and anticarcinogenic properties.
Epigallocatechin-3-gallate (EGCG) is the most abundant catechin found in green tea, along with other epicatechin derivatives and carotenoids. These nutrients can promote skin health in the following ways:
Protect against photodamage that tends to induce premature aging
Curb skin inflammation triggered by exposure to the UVB rays of the sun (12)
Increase nutrient and oxygen delivery to the skin through enhanced blood flow, known as microcirculation (13)
Help protect, repair, and renew damaged skin cells to improve the overall texture and structure of your skin
How to consume
Green tea can come in tea bags or as loose leaves. All you have to do is to steep the tea leaves or tea bag in a cup of hot water for a few minutes, covering the cup with a lid. Don't add sugar or milk to the tea, as these ingredients can lessen the efficiency of its bioactive compounds.
Alternatives
Other food items that are good sources of catechins and their derivatives include fava beans, apples, guavas, black grapes, blackberries, pears, almonds, brewed black tea, broad beans, cacao beans, and pecans.
7. Soy
Soy is replete with plant-based chemicals called isoflavones that behave like the hormone estrogen within the body and can benefit your skin in many ways.
Genistein and daidzein are the main isoflavones found in soy and are known to exhibit the following skin-enhancing effects:
Improve skin elasticity by increasing the number of elastin and collagen fibers, thus minimizing or delaying the appearance of fine lines and wrinkles (14)
Reduce skin dryness
Promote the formation of new blood vessels from existing ones to deliver more oxygen and nutrients to the skin tissue (15)
Help build new skin cells that add thickness to the deeper layers of the skin (dermis) for stronger structural integrity (15)
How to consume
Incorporate soy in a variety of dishes, including stews, soups, or chilies.
Add soy derivatives such as tofu, tempeh, soy butter, or soy milk to your daily diet.
Roast raw green soybeans for a healthy snack.
Alternatives
Besides soy, lentils, beans, and peas are also good sources of isoflavones. Small amounts of isoflavones are also found in cereals, potatoes, milk, and beer.
8. Spinach
Green leafy vegetables are extremely nutritious and considered good for your skin, and spinach is generally considered the best one in this regard.
Spinach is brimming with various skin-enhancing nutrients, most notably vitamins E, C, K, and B and minerals such as calcium, potassium, iron, and magnesium. It also contains zeaxanthins, unsaturated fatty acids, and plenty of water.
These nourishing components improve your skin in the following ways:
Prevent cellular damage and promote skin repair
Prevent premature aging (16)
Prevent skin tumors
Improve microcirculation in the skin
Even out the skin tone
How to consume
There are several ways in which you can consume spinach, but the best way to derive its unadulterated nutritional goodness is by blending it into a smoothie.
Pair spinach with artichoke for greater skin benefits. Artichoke contains a flavonoid called silymarin, which fights acne and keeps the skin blemish-free.
Alternatives
Other green vegetables that are good alternatives to spinach are kale, collard greens, broccoli, and Brussels sprouts.
9. Berries
Berries such as blackberries, strawberries, blueberries, and cranberries are rich in flavonoids and polyphenols that are inherently antioxidant in nature. (17)
These succulent, pigmented berries also contain considerable amounts of skin-enhancing vitamins, especially vitamin C, which is a vital antioxidant besides being a catalyst for collagen synthesis.
The nutrients found in berries exhibit the following skin benefits:  
Vitamin C stimulates the production of collagen, a structural protein needed for building and repairing skin cells. Thus, increased collagen in your skin via vitamin C can make your skin smooth, firm, and elastic. (18)
The antioxidants remove free oxygen radicals and decrease oxidative stress within the tissues. Oxidative stress is the source of a great deal of cellular damage that manifests in the form of inflammation, wrinkles, fine lines, and even cancer.
How to consume
Enjoy these juicy berries on their own as a healthy between-meals snack.
Add berries to your breakfast cereals, pancakes, waffles, or yogurt.
Use berries in baking goods.
Blend berries into a smoothie with low-fat milk and papaya.
Consume berries with dried, roasted nuts.
Alternatives
Some other foods that are similar to berries in terms of nutritional value and skin benefits include:
Citrus fruits such as lemon, lime, and oranges and kiwi fruit, which have abundant reserves of vitamin C.
Tomatoes also contain considerable amounts of vitamin C and another skin-protective antioxidant called lycopene.
10. Yogurt
Yogurt is full of protein and healthy bacteria, or probiotics, that help maintain a healthy gut microbiome.
Your gut is naturally populated by both good and bad bacteria that exist in perfect equilibrium to facilitate proper digestion and gut functioning. A healthy gut corresponds to healthy skin.
But unhealthy lifestyles, poor diet, certain medications, and some medical conditions can lead to an overgrowth of unhealthy gut bacteria, thereby disrupting the natural order of things. This hampers your digestion along with other body functions and paves the way for several skin problems.
Consuming probiotic foods and supplements will repopulate your gut with healthy bacteria so that they become proportionate to the unhealthy strains. The healthy bacteria keep the unhealthy ones in check, thus reinforcing this gut balance.
Yogurt is one of the best dietary sources of probiotics that can restore balance in your gut microbiome. Probiotics play a critical role in improving your skin health through the following properties: (19)
Reduce inflammation associated with acne, dermatitis, and other skin conditions.
Moisturize the skin to prevent dryness and flakiness (20) and indirectly avert premature skin aging (Dry skin is more prone to wrinkling or creasing since it's less elastic.)
Prevent the overgrowth of harmful bacteria that are responsible for skin infections such as acne
Minimize UV-induced skin damage, which is mainly caused by unprotected sun exposure.
How to consume
There are many varieties and flavors of yogurt available, but the healthiest one is low-fat yogurt without any added sugar or flavors. Consume it directly or sprinkle some soaked and sprouted quinoa seeds on top of it for a bit of crunch. These seeds are rich in riboflavin and help make your skin more elastic.
You can add fruits such as small papaya chunks, oranges, or dark grapes to your yogurt.
Another excellent way to consume probiotics is by pairing them with prebiotics such as garlic, leeks, and asparagus.
Alternatives
Other rich dietary sources of probiotics include miso, kombucha, kimchi, and sauerkraut.
Final Word
Skin care is not limited to topical products and beauty remedies alone, but most people approach it with this myopic understanding, which is why they fail to get sustainable results.
Skin care is actually a multidimensional concept that requires a consistent skin regimen with suitable topical products along with a nutritious diet and healthy lifestyle. The products you apply to your skin only provide topical nourishment and protection, but healthy foods can help strengthen and repair it from the inside. Even the best creams, lotions, and serums will prove ineffective in the long run if you don't nourish your skin from within.
In fact, the benefits of most topical skin care products usually subside when you stop using them. This is because these products mostly heal your skin on a superficial level.
But the nutrients you consume can help rejuvenate your skin down to its cellular level. Also, meeting your nutritional needs facilitates the smooth functioning of various organ systems to create an environment conducive to good health. A healthy body is an essential prerequisite for healthy, glowing skin.
Different nutrients can help address different kinds of skin damage. So, you may want to customize your diet plan with the help of a skin specialist or nutritionist to include foods that will address your skin issues.
Was this article helpful?