Healthy eating is important at every meal – be it breakfast, lunch, or dinner. A nutritious diet promotes good health, stable energy levels, a healthy weight, and longevity.
This – coupled with an overall healthy lifestyle that includes proper stress control, getting enough quality sleep, and having fulfilling social interactions – can improve your physical, mental, and emotional well-being.
Below are a few pre- and post-dinner tips that can help you eat better and facilitate proper digestion.
1. Don't Get Too Hungry
If you let yourself get too hungry before dinner, you risk overeating. If you are too hungry, you often forget to check in with the body and to notice a sense of pleasant satisfaction and satiation.
You eat too fast and end up getting too full, sometimes still feeling hungry in your head, since the fullness signal from the stomach to the brain takes an average travel time of 20 minutes. (1)
So, plan accordingly: if your lunch is around 12:30 pm and your dinner is scheduled at 7 pm, ensure to grab a small but satisfying snack at around 3:30–4:00 pm.
A handful of nuts or an apple with a tablespoon of nut butter, a cheese stick with a few whole-grain crackers, or a cup of low-fat Greek yogurt with berries and sunflower seeds – these are just a few examples of hunger-beating snacks that are also rich in nutrients your body will thank you for.
2. Plan Your Meal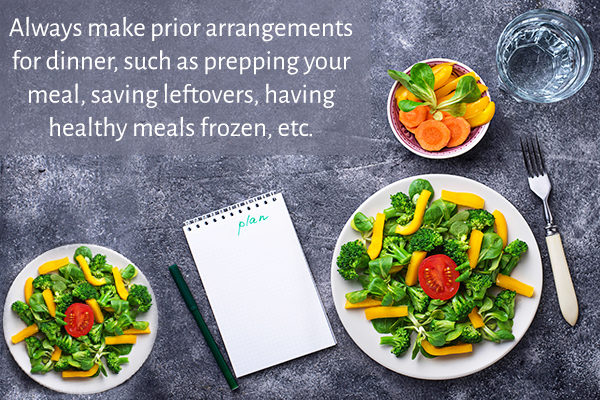 Everybody knows the phrase, "if you don't plan to fail, don't fail to plan."
If you did not make prior arrangements for dinner, such as meal prepping, saving leftovers, and having healthy frozen meals, you are likely to arrive home hungry and raid the fridge and cupboards for ready-to-eat foods, which are not always healthy choices.
You may find it hard to wait for a healthy, nourishing meal that takes time to prepare and instead eat some unhealthy snack or fast food meal for instant satisfaction. So, it's always wise to have a ready-to-eat healthy dinner available at home to avoid such urges.
3. Plan It Light
You are at the peak of your ability to burn energy in the first half of the day. Therefore, more calorically dense foods should be eaten at breakfast and lunch, keeping it light for dinner.
Your metabolism slows down as the day progresses, making it harder to digest and metabolize a heavy dinner properly.
Excessive carbs and sugar from desserts, as well as large amounts of starchy sides such as pasta, rice, and white potatoes, would not have a chance to get burned for energy and will be converted into fat at nighttime.
At dinner, ensure to have a green salad; a small amount of complex carbs such as brown rice, winter squash, sweet potatoes, or wholegrain pasta; and 3–4 ounces of lean protein such as fish, poultry, lean cuts of beef, or tofu.
4. Drink Warm Water
Drinking warm liquids has a soothing effect on your stomach and digestion. It will also give you a sense of fullness to prevent overeating during the meal.
Allow at least 30 minutes before sitting down to your meal to avoid excessive dilution of digestive enzymes and compromised digestion.
Sipping a little water during your meal is okay. Do not gulp it as this may make you feel bloated and may interfere with digestion. Having some warm water 30 minutes after a meal is also beneficial to aid digestion and nutrient absorption. (2)
5. Make it Pretty
Setting the table for dinner may take a few extra minutes, but it is worth it! Take out the dinner plates, silverware, and cloth napkins, light up a candle, and turn on your music of choice. Remove all distractions – TV, phone, and tablet.
Take a minute before eating to tune in to your body – take note of your physical sensations, thoughts, and feelings. Express gratitude for what makes you feel good, for the food on the table, and for your company.
Eat slowly and mindfully. Keep tuning in to your body – are you still hungry, and how does the food make you feel? Mindful eating with intention and paying attention to your body are proven to reduce overeating and improve overall satisfaction with the eating experience.
6. Avoid Drinking Alcohol
While a glass of wine at dinner may not bring up any adverse effects, having a few too many will have consequences.
Alcohol makes you sleepy initially, misleading you into believing it will help you sleep. However, alcohol promotes cortisol release in the body, leading to awakening in the middle of the night.
A study found that alcohol consumption, through the mechanism of cortisol release, also contributes to high blood pressure, decreased immune function, and changes in metabolism. (3)
7. Wait Before Going to Bed
Meals can often make you sleepy and lethargic. Many people are tempted to lie down and avoid any physical movement after eating.
However, the recommendation is to avoid taking a horizontal position or, worse, going to sleep right after dinner. Your body needs time to digest the food before turning into sleep mode.
If your meal were on the heavier side, it would be difficult for you to fall asleep due to the excessive fullness and discomfort in your digestive system.
Light activity is best after a meal – a short brisk walk, doing dishes or other house chores, watering the plants, or ironing and folding clothes.
8. Take a Walk
Walking will help with intestinal motility (the movement of the food down your digestive tract), which aids proper digestion and nutrient absorption.
A Japanese study found that walking after a meal may also help those looking to lose some weight. Take a short walk around the block, walk your dog, or make a family tradition to walk together after dinner. (4)
9. Avoid Intense Exercise
It is better not to interfere with your body's efforts to digest your dinner by walking into a boot camp class.
The heavy workout will promote the release of adrenaline and will divert blood flow from your digestive organs to your working muscles, making you feel uncomfortable and bloated.
Circulating adrenaline in your blood will keep you alert and prevent you from going to sleep easily. A light walk is a suitable option before bedtime and will calm your systems and will ease you to sleep.
10. Brush Your Teeth
Not only is brushing your teeth, the number one hygiene practice to prevent cavities and gum disease, but it is also a great hack to stop you from eating more after dinner.
Most people would not want to go through the hustle of brushing, rinsing, and flossing all over again. Brushing the teeth tends to remove any food tastes from your mouth and give you a fresh sense, resulting in a reduced desire to eat some more after dinner.
Final Word
When it comes to dinner, there are some considerations to keep in mind: the time of the meal, the amount of food, and activities before and after the meal.
As you prepare to wind down for the night, it is best to have a light meal not too close to bedtime, have healthy dinner options on hand, and avoid sweet foods and heavy exercise, among others.
These seemingly trivial habits can have a subtle but significantly positive influence on your health and well-being.
Was this article helpful?