Dieting refers to the practice of consuming foods in a restricted and balanced manner, often with a goal of living healthier, managing weight, or treating diseases.
There seems to be a growing health consciousness around the world that has led to the introduction of various types of diets that cater to different age groups and fitness needs. For example, a DASH diet is suitable for hypertensive patients, while a Mediterranean diet can be used for weight loss and maintaining good health.
The younger generation is particularly taken by this trend, with around 14% of girls and 8% of boys reported to be on a diet in 2014. (1)
Eating healthy and portion control are the two basic tenets of dieting, rather than starving yourself to become skinny. Extreme diets may provide quick weight loss, but they can damage your health in the long run.
Besides, there is more to dieting than just weight loss. For a diet to deliver sustainable results, it must fulfill your body's basic nutritional needs while cutting unwanted or excess calories. Each diet is designed differently and has its own benefits and goals. People must choose the one that suits their food preferences and addresses their body needs.
Moreover, the same diet may not yield the same results for everyone, despite how strictly it is followed. Your body may respond better to certain diets than others. Thus, it is very difficult to rank these diets to find out which one is the best. 
eMediHealth conducted a survey among registered dietitians (RDs) and registered dietitian nutritionists (RDNs) for their expert views on the topic. A total of 37 experts took the questionnaire to help clear the misconceptions around different diets.
In general, the experts highly recommend incorporating healthy eating habits into the lifestyle rather than following a particular diet for a short period.
Methodology
This dieting survey was conducted online by eMediHealth, which is a virtual platform for evidence-based and expert-reviewed health information.
Different questions regarding dieting patterns and their popularity and success were answered by 37 RDs and RDNs from the United States.
The questionnaire included the following multiple-choice and single-choice questions to get a view of their expert opinion on different aspects of dieting:
Do people generally keep a check on their sugar intake?
Do people often choose foods based on their health benefits?
What are the major deterrents to healthy eating?
What motivates people to go on a diet?
Which diet plan has the highest success rate?
Which intermittent fasting method is most preferred by Americans?
Is it okay to have cheat days while following a diet?
Are fad diets popular among your patients?
Which fad diet promises the best results?
Which diet plan is best suited for teenagers?
Which diet is best suited for people above 40 years of age?
Which gender is prone to be more diet-conscious/health-conscious?
Is it safe for pregnant women to go on a diet?
Which diet can prove to be detrimental to health in the long run?
Which of the following food item(s) or ingredient(s) should people best avoid?
The responses were then collected and compiled to come up with statistical outcomes, which were further evaluated to produce generalized key findings.
Limitations
The results of this survey should be analyzed keeping in view the following assumptions and biases:
The survey findings are based on the answers of a fairly small expert pool comprising of only 37 RDs and RDNs from the same country and therefore cannot be representative of the general population. 
The answer choice may be restricted as most questions were broad and not all possible responses can be included.
The RDs and RDNs drew on their personal knowledge and experience while answering the questions, rather than citing evidential data.
There are various technical and practical challenges that can compromise the accuracy of online surveys, such as the absence of an interviewer, less engagement or cooperation by the participants, survey fraud, delayed response, etc.
Results
Managing sugar intake is seldom a concern for most people.
Given that excessive sugar consumption is one of the key causes of weight gain, diabetes, and other health problems, one would assume that people looking to get fit would be increasingly concerned about their sugar intake. But the experts suggested otherwise.
Thirty-two out of the 37 experts reported that only some of their patients were mindful of their sugar intake, while the remaining 5 claimed that their patients had no control over their sugar consumption.
By and large, there was a consensus among the participants that people are mostly unaware of the importance of regulating one's sugar intake for weight management and better health outcomes. 
People generally do not choose their foods based on their nutritional value.
Many factors can influence a person's food choices, such as taste, availability, cost, nutrition, etc. A truly health-conscious person would include only the most nutritious foods in his/her diet, but most of the experts confirmed that their clients did not pay much heed to this principle of healthy eating. 
However, 13 out of the 37 experts reported that, in their experience, people usually give precedence to the health benefits of food over other factors when choosing what to eat.
You are as healthy as the foods you eat, but still, most people neglect their diet to fulfill other priorities. 
Many factors can contribute to and reinforce unhealthy eating. The majority (78.38%) of the surveyed dietitians and nutritionists believed that diet figures very low on people's priority list in general.
Precisely 75.68% of them felt that people give up on healthy diets because they don't have enough time to cook a nutritious meal and would rather settle for easy-to-prepare foods that are high in calories and low in nutrition. Meanwhile, 72.97% of the experts said erratic work schedules and a reluctance to modify their food choices often keep people from eating better.
Other factors that can discourage people from making healthy dietary changes included laziness, cost constraints, limited access to fresh produce, and living in isolated areas with limited food options. 
Losing weight is the most common motivation to go on a diet.
Several different reasons can prompt people to go on a diet, but a whopping 89.19% of the experts regarded weight loss to be the prime motivator.
The other popular reasons for dieting were boosting one's stamina or having to follow a diet to address their health problems, as reported by 75.68% of the survey participants.
Many experts said that people go on a diet to get back in shape (62.16%), while a relatively smaller but considerable number of them said that they do so to stay in shape (45.96%). Thus, achieving and maintaining a fit body are both important motivators for dieting.
People often adopt carefully planned diets to prevent health problems in the future that they are at a high risk of (48.65%). Other factors that can push a person to go on a diet included scoring the long-term health benefits associated with it, understanding the ill effects of unhealthy eating, advice by a doctor or dietitian, and encouragement by family and friends.
Most experts favored the Mediterranean diet, while many claimed that no diet is a guaranteed success.
After evaluating the different reasons for which people go on a diet, the comparative success of the various popular diet plans was assessed. It is impossible to declare any one diet as the best since the same diet can engender different results for different people.
Moreover, one must choose the diet that suits their individual health needs after a thorough consultation with their nutritionist/doctor. However, in the survey, more than half of all the experts voted for the Mediterranean diet as the most effective in delivering positive health outcomes.
Meanwhile, 21.62% of the dietitians felt that it is impossible to rank any diet over another since each serves its own individual purpose and none can guarantee any definite results.
A few experts also supported other diets, namely, a weight loss plan, the DASH diet, and a vegetarian or vegan diet, while the remaining options got no votes at all.
The 16/8 method of intermittent fasting emerged as the clear favorite.
Even though none of the experts attested to the efficacy of intermittent fasting, it has become quite a popular practice among the general public, especially in the United States.
Intermittent fasting, as the name suggests, involves dividing your entire day between periods of eating followed by a prolonged fast. Thus, this form of dieting is more concerned about when you eat rather than what you eat – the meal time is more important than the meal choice. 
This eating-fasting pattern can be scheduled in different ways, the most common being:
The eat-stop-eat method – going without food for 24 hours at a stretch on alternate days, twice a week)
The 5:2 diet – eating normally for 5 days and drastically reducing the calories for 2 days
The 16/8 method – maintaining an eating period of 8 hours followed by a continuous fast for 16-hours daily
Out of the three different types, an overwhelming majority of the experts (78.38%) cited the 16/8 method to be the most popular among Americans, followed by the eat-stop-eat method (13.51%) and lastly the 5:2 method (8.11%).
Most of the experts allow cheat days during a diet, while some are not in favor of such breaks.
Regardless, of the type of diet, however, if a person chooses to follow a diet suitable to them, they can include cheat days, according to the majority of the experts (75.68%). The other 24.32% of the experts would not recommend having any off-days for the best results.
Fad diets seem to be a trend among the younger population.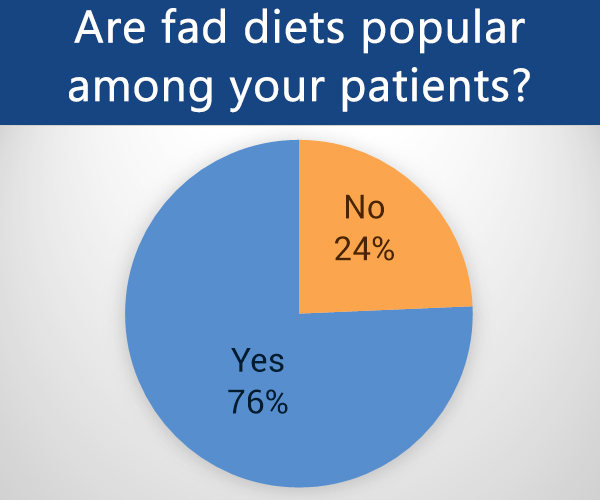 Apart from the common diet plans, a majority of the experts (75.68%) find fad diets to be quite popular among their young patients. Fad diets such as the south beach diet may work, but a majority of the experts recommend against following any fad diets, especially without consultation.
While fad diets are quite common, 25 (67.57%) of the experts did not believe any of the listed 9 fad diets to work efficaciously.
Only 8 (21.62%) of the RDs and RDNs believed the South Beach diet to give the best results out of those different diets. On the other hand, the Atkin's diet, zone diet, blood type diet, and bacteria diet were supported by one (2.7%) expert each.
The experts were divided between favoring the Mediterranean diet and no exclusionary diet for teenagers.
Precisely 51.35% of the experts picked the Mediterranean diet as best suited for teenagers, while 43.24% of them did not select any of the 13 listed diets, including intermittent fasting, the paleo diet, the DASH diet, and a low-carb diet.
Adolescence is a transitional phase when a person grows from childhood into adulthood.
To sustain this rapid growth and drastic hormonal changes, a healthy teenager should ideally consume a wholesome, well-balanced diet that supplies all the essential nutrients needed for their physical, mental, and biological development.
Most of the experts recommend the Mediterranean diet to their adult clients.
The Mediterranean diet was chosen by 56.76% of the dietitians over the others for people above 40 years of age.
A small percentage of experts also recommend a low-carb diet, the DASH diet, intermittent fasting, a high-protein diet, a vegetarian diet, and a weight loss plan for adults.
For 21.62% of the participants, none of these diets are suitable for people aged 40 years or above.
Females are commonly observed to be conscious of their diet.
All the experts, save one, unanimously voted for females as the most health conscious of all genders, which inadvertently implies that they watch what they eat and are more likely to try different diets.
Pregnant women should steer clear of dieting and focus on eating well.
Women go through a complete physical transformation during pregnancy as their body expands to harbor a new life within it.
While a lot of women get worked up about gaining weight, they start considering diet plans but lose sight of the bigger picture.
Carrying a child puts extra nutritional demands on the body, and pregnant women are expected to eat for two to help the fetus grow. Not meeting the body's nutritional needs will jeopardize not only the mother's health but also that of the unborn child.
In such a vulnerable phase of life, it is best that pregnant women stick to the eating plan prescribed by their ob-gyn.
Plenty of specialized diet plans for pregnant women are floating on the Internet and in popular media that claim to be beneficial for the fetus and preventing pregnancy-induced weight gain. However, a majority of the practitioners (81.08%) expressed that it isn't safe for pregnant women to follow any diet.
Instead, they should consume an overall healthy, well-balanced, and wholesome diet that meets all the recommended nutritional requirements to ensure a safe, successful pregnancy. While diets such as the cleansing diet and the keto diet may give quick results, they can have adverse effects in the long run.
As discussed earlier, people go on a diet for different reasons, and different diets work better for different reasons. Moreover, a particular diet that yielded positive outcomes for some people will not necessarily benefit everyone else.
Thus, you must choose an eating plan that is best suited for your particular health goals and condition, after consulting with an RD to prevent any adverse effects in the future.
In the survey, the cleansing diet and keto diet each were deemed to be detrimental in the long run by 35.14% of the experts. Moreover, 5.41% of the dietitians said that a weight loss plan, the GM diet, and a high-protein diet can compromise your long-term health, while 2.7% of them advised against following a paleo, low-carb, and Mediterranean diet.
However, 5.4% of them did not have complaints against any of the 13 diets.
What not to eat: junk, processed, fried, and sugary foods are the worst.
In general, 70.27% of the experts advocate avoiding processed and fast foods, while 64.86% of them also advise against fried foods. Moreover, the participants suggest being mindful of sugar (43.24%) and alcohol (35.15%) intake.
A small percentage of the experts also recommend limiting the consumption of caffeine (5.41%), carbohydrates (2.7%), and dairy products (2.7%).
With so many different kinds of diets being available, it can be confusing to determine which one will suit you best.
Moreover, it is possible that certain diets can deprive you of some of your essential nutritional needs and can trigger new health problems or can worsen existing ones.
Therefore, it is highly advised that you consult an RD or RDN before making any drastic changes to your eating habits.
Highlights and Key Statistical Findings
A total of 37 RDs and RDNs participated in the survey.
Most experts agreed that their patients are largely negligent about their sugar intake and overall food choices.
When asked for reasons that deter healthy eating, 78.38% of experts said that people would rather perform other tasks than spend time planning their diet. Other common reasons for not being able to follow any diet included irregular working hours, lack of motivation, and cost-effectiveness.
Most people, according to 89.19% of the experts, start dieting in order to lose weight. However, people may also be compelled to diet to manage their health conditions, follow their doctor's recommendations, or increase their energy levels.
Among the various types of diets that are popular, the Mediterranean diet was the most recommended for its long-term benefits.
Fad diets seem to be quite popular among the younger generation.
Of the experts, 67.57% recommend against following any fad diet regardless of age.
Of the respondents, 97.30% felt that women are more diet and health-conscious than men.
It is imperative that pregnant women avoid any diets, according to 81.08% of the dietitians.
In view of the participants' response, it is best to avoid diets such as the cleansing diet and keto diet as they can negatively impact long-term health.
Consumption of processed and fast foods must be avoided, according to 70.27% of the experts. Moreover, they recommend limiting fried foods, sugar, and alcohol.
Nutritionists and Dietitians in the Survey/Survey Participants

Alex Roberts, MS, RDN, CD
Instagram
Alisha Virani, MS, RD, CDCES
Website   Instagram   Facebook   Linkedin
Allison Barbera, MS, RDN
Linkedin

Ana Grimsley, RDN
Website   Instagram   Facebook
Anne Danahy, MS, RDN
Website   Instagram
Brocha Soloff, RD
Website
Cally Vetter, RDN, LD
Facebook
Chelsea McBride Torres, MS, RD
Facebook
Crystal Petrello, MS, RDN, LD
Twitter
Dalia Kinsey, RD
Website   Instagram   Facebook
David Feder, RDN
Linkedin
Diana Lee, MPA, MS, RD
Elizabeth Candela, RD
Website   Twitter   Instagram   Facebook   Pinterest

Elsey Strube, RD, LD


Emily Stewart, MPH, RDN, LDN
Website

Evelyn Fuller, RDN, CDN
Facebook
Grace Goodwin Dwyer, RD, LDN
Website   Instagram

Joni Rampolla, RDN, CSOWM, LDN
Instagram

Katharine Klepin, MS, RDN


Kimberly Melton, RD
Twitter   Facebook
Kirtee Agrawal, MS, RD, CDN, CNSC
Linkedin
Kristine Thornham, MS, RD, CDE
Website
Kyrese Johnson, RD, MPH
Lauren Hausheer, MS, RD, CSSD, LD, RYT
Website   Twitter   Facebook
Letal Garber, RD, LD
Website
Lindsay Malone, MS, RD, CSO, LD
Website   Twitter   Instagram
Madeline Basler, RD
Website   Twitter   Instagram
Melissa Mitri, MS, RD
Website   Twitter   Linkedin

Nora Shank, RDN, LDN
Website
Oi Yi Tin, RD


Olivia DiPio, RD
Linkedin
Parker Ackerman, MS, RD, LD, PhD Student
Linkedin   Instagram

Rebecca Bitzer, RD
Website   Instagram   Facebook
Stacy Davis, RD
Instagram
Tava Sternberg, RD, LDN
Website   Instagram
Whitney Crouch, RDN
Website   Instagram
Vasuki Wijendran, PhD, RDN, LDN


Was this article helpful?