Coffee is mainly recognized as a stimulating beverage, but there's more to it than just that. Caffeine, the chief compound of coffee, is known to activate the central nervous system for increased alertness.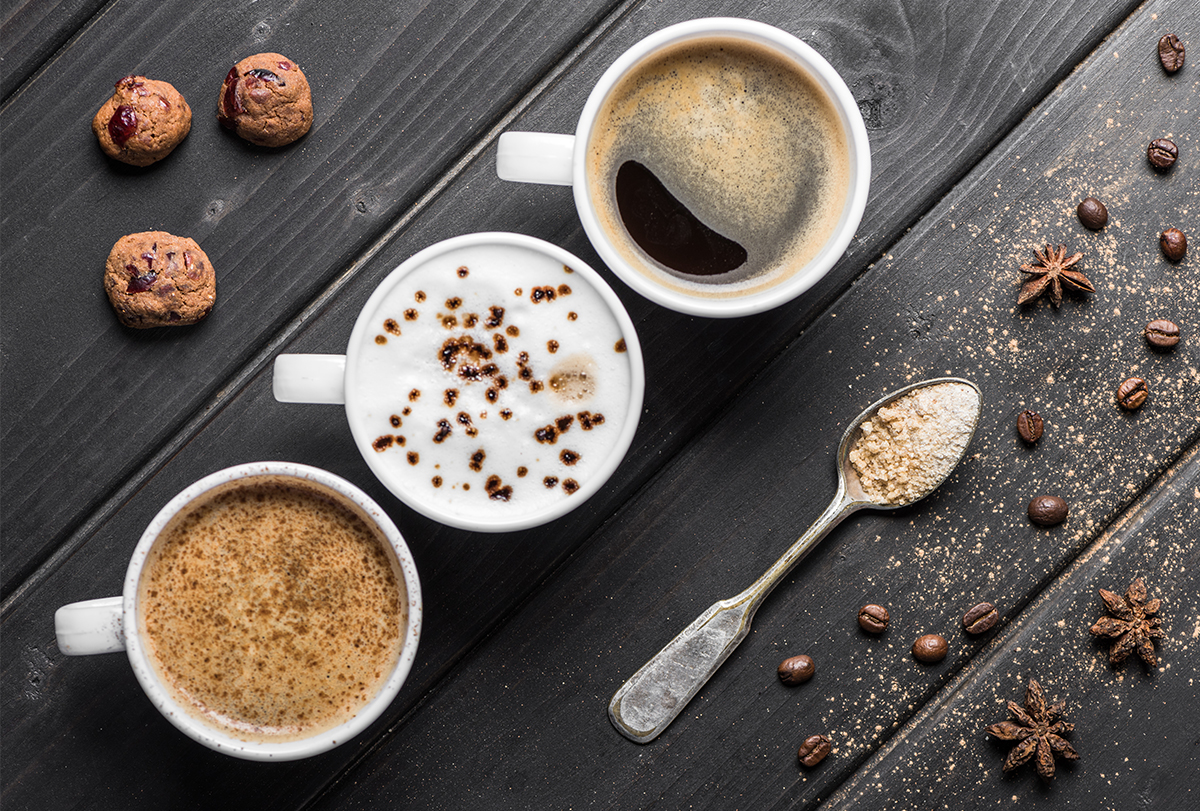 When consumed in appropriate amounts, coffee may yield various other health benefits as well. It may help reduce the risk of stroke, dementia, Parkinson's disease, and certain types of cancers, but it is considered particularly beneficial for your liver.
In fact, people suffering from hepatitis C and other kinds of liver damage are often advised to drink coffee regularly to slow the progression of the disease.
Caffeine intake in the recommended dosage may help in eliminating virus-carrying cells, combating DNA damage, and reducing the speed of liver scarring.
Recommended Coffee Intake and the Best Time to Drink It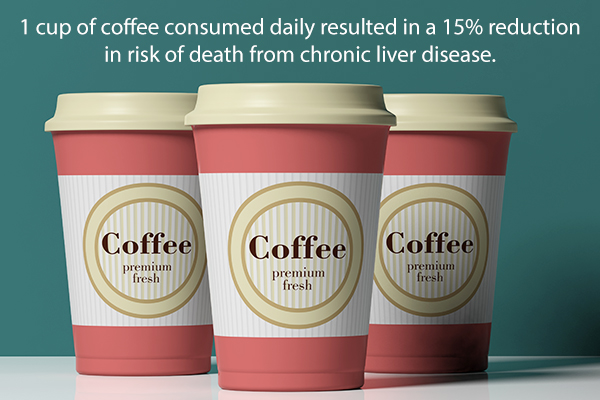 Coffee is the most commonly consumed beverage in North America more than any other country, with over 75% of the population being regular drinkers. (1)
Several studies observed the beneficial effects of coffee at any amount of coffee drinking.
A study published in 2015 showed that as little as 1 cup of coffee consumed daily resulted in a 15% reduction in risk of death from chronic liver disease; 4 cups daily was associated with a 71% reduction, suggesting a dose-dependent response. Overall, it appears that the best effects are observed at about 3 cups per day. (2)
There is no particular time of the day that has been shown to be more beneficial than others.
Nutrient Content of Coffee
According to the USDA, a cup of brewed coffee without any additives contains only 1 calorie. It has about 6 mg of sodium and about 0.3 g of protein, without any inherent sugar or fat. (3)
Major Health Benefits of Coffee
Many research studies over the last few decades have shown that coffee has protective effects on many diseases. (4)
These include liver disease and many forms of cancers such as liver cancer, colon cancer, esophageal cancer, breast cancer, prostate cancer, pancreatic cancer, ovarian cancer, and kidney cancer.
The Effect of Caffeine on Liver
While the exact mechanism behind the health benefits of coffee on the liver is not clear, it probably has something to do with its powerful antioxidant effects.
Can Coffee Reverse Liver Damage?
Yes, coffee drinking has been shown to reduce liver scarring called liver fibrosis, which is known as liver cirrhosis in advanced stages. (5)
These beneficial effects have been observed in different forms of liver disease, such as hepatitis C and hepatitis B, fatty liver disease from alcohol, and non-alcoholic fatty liver disease. (5)
Is Coffee Good for the Liver of a Healthy Person
Yes, coffee drinking among healthy patients has been shown to improve the level of liver enzymes in comparison to patients who do not drink coffee. (6) This could mean decreased levels of inflammation of the liver.
Which Type of Coffee Is Best for the Liver?
Regular coffee without any additives appears to have the best benefits for liver health.
Coffee Drinking Can Help Prevent Liver Cirrhosis
Yes, coffee drinking has been shown to decrease the incidence of liver cirrhosis.
A 2015 meta-analysis that looked into 16 different studies in Western populations demonstrated significantly reduced incidence of cirrhosis among coffee drinkers when compared to those who did not drink coffee. (7)
Can Coffee Cure Liver Diseases Related to Hepatitis C?
No, it is not true that coffee drinking can cure liver diseases related to hepatitis C. Cure of hepatitis C is only possible with antiviral medications. However, coffee drinking does benefit patients who have hepatitis C.
Studies have shown that levels of hepatitis C virus and liver fibrosis (liver scarring) can be lowered among patients who drink coffee compared to those who do not drink coffee. (8)
A study demonstrated that drinking 3 or more cups of coffee per day can lower the risk of liver disease progression. (9)
Is Too Much Coffee Bad for the Liver?
No, based on most of the studies, the beneficial effects of coffee and liver disease have a direct relationship with the amount of coffee intake. Most of these benefits are reported at drinking 4 cups of coffee regularly. However, this high intake can also cause damage to the other aspects of your health in terms of increasing your heart rate, anxiety, heartburn.
Therefore, to prevent these side effects while deriving the best benefits from coffee, it is generally advised to consume about 3 cups per day.
The Positive Role of Coffee in Fighting Non-Alcoholic Fatty Liver Disease
Yes, it is true that drinking 2–3 cups of coffee can decrease the risk of non-alcoholic fatty liver disease.
Fatty liver disease is often the result of drinking excessive alcohol, but the non-alcoholic fatty liver disease is found in patients who don't drink alcohol but have increased fat in their liver due to obesity, diabetes, high blood pressure, or high cholesterol.
Any form of fatty liver disease can make you more prone to liver fibrosis, liver cirrhosis (an advanced form of liver fibrosis), liver failure, and liver cancer.
Fatty liver disease is currently the number one reason for liver transplantation in the United States. (10) Coffee drinking decreases the risk of liver inflammation, liver scarring, and liver cancer among patients with fatty liver disease.
People Who Should Not Drink Too Much Coffee
As mentioned, caffeine in coffee can cause some side effects such as increased heart rate, which can be a problem among patients with underlying heart disease such as arrhythmias.
Caffeine is a powerful stimulant that can trigger your anxiety and keep you up at night when taken in excessive amounts. Thus, people who already suffer from anxiety or sleep problems should avoid drinking too much coffee.
The same is true for people with underlying GERD, as excessive coffee intake can worsen acid reflux or heartburn.
Consume Coffee to Reduce the Risk of Liver Cancer
Coffee drinking appears to have protective effects on liver cancer, probably due to its rich antioxidant content. Multiple research studies have indicated the association between coffee consumption and a lower risk of liver cancer. (11)
This could be related to the protective effects of coffee in patients with known risk factors of liver cancer such as viral hepatitis B and hepatitis C and liver cirrhosis related to any cause.
However, research studies also support that coffee drinking can reduce the risk of liver cancer in general. This is demonstrated by a study published in 2017 that included over 215,000 men and women.
Results showed that the people who drank 2–3 cups of coffee per day had a 38% reduction in the risk of liver cancer compared to those who didn't drink coffee.
Additionally, drinking 4 cups per day resulted in a 41% reduction in the risk of liver cancer compared to no coffee consumption. This result indicated that there is more benefit with a higher amount of coffee consumption. (5)
Expert Advice to People Suffering From Liver Disease
I like to recommend patients with chronic liver disease, especially patients with fatty liver disease, to drink about 3 cups of coffee per day. If patients can tolerate this without any side effects, it's considered beneficial and safe.
Additionally, many other factors besides coffee drinking have been shown to improve liver health. These include good nutrition with a high-protein, low-fat, low-carbohydrate diet, and aerobic exercise about 20–30 minutes of exercise per day.
A combination of all these factors is more important than one factor. I encourage my patient to engage in all these healthy lifestyle habits to improve their liver health.
Final Word
Coffee drinking has shown to improve liver health among healthy people as well as patients with known liver disease. It helps decrease the risk of liver scarring (liver fibrosis and cirrhosis) and liver cancer.
If there are no contradictions, coffee drinking is encouraged. Based on available research, drinking about 3 cups of coffee appears to work best for keeping your liver healthy without any undue side effects.
Was this article helpful?