Basil is an annual herb belonging to the mint family of Lamiaceae and is widely consumed all over the world. But it does more than just add aroma and flavor to food.
This herb is also credited with multiple therapeutic properties that have been used in folk medicine and Ayurveda (traditional Indian medicine) for centuries. No wonder it is often referred to as the "king of herbs," "royal herb," or "saint basil." In fact, the name basil is derived from the Greek word basileus, which translates to "king." (1)
Common basil or sweet basil is mainly used for cooking, but it is holy basil (or tulsi as it is called in India) that has the most healing properties and is therefore largely used for medicinal purposes. (2)
Origin of Basil
Basil originates from the regions of India, Africa, (3) and the tropical regions of Asia. It is best grown in a warm environment.
Benefits of Consuming Basil
Here are some ways in which basil can improve your health:
1. Treats common cold
A study reviewing the overall effects of basil leaves, specifically the tulsi variety, showed that they can help relieve the common cold or flu (4) when consumed in tea form or chewed directly.
2. Relieves cough
Basil leaves, tulsi variety, can also help relieve coughs by aiding the body in releasing mucus. No wonder it is a common ingredient in cough syrups. (5)
Another study, this time looking at the effects of basil seeds, showed that they can aid in reducing coughing by relaxing the muscles. (6)
3. Boosts immune system
The tulsi plant can boost the immune system by increasing natural killer cells, which are involved in killing off cells infected by viruses, and T-helper cells, which aid in activating the body's immune response. (7)
This effect was observed in the subjects after they consumed 300 mg of tulsi leaves before food on a daily basis for 4 weeks. (8)
4. Fights stress
A few studies have shown that the tulsi plant can help alleviate stress. The leaves were made into a fine powder and concentrated to 500 mg into a capsule and given twice a day for 2 months. The participants, aged 18–60 years of age, showed improvement in their stress levels as documented by a stress assessment. (2)
Another study, which included 158 participants, showed that the administration of a pill made from an extract of basil leaves for 6 weeks resulted in a reduction in forgetfulness, exhaustion, and sleep problems.
5. Improves oral health
When basil leaves are dried and powdered, they can be used to help clean the teeth and aid in other tooth disorders. (9)
6. Eliminates kidney stones
Tulsi leaves can be brewed to prepare a therapeutic tea, and a bit of honey can be added to it for sweetness and extra medicinal benefits. Consuming this beverage can help remove kidney stones through the urinary tract in a 6-month time frame. (10)
7. Other benefits
Basil has other benefits including lowering blood sugar, improving lipid values, improving high blood pressure, improving low blood pressure, and being an antimicrobial.
In a study, 100 patients above the age of 40 years suffering from diabetes, hypertension, and high cholesterol or triglyceride levels were administered 5 ml of tulsi extract in the morning and evening for 3 months. The findings revealed that their blood sugar, lipid values, and blood pressure improved by the end of the trial period. (11)
Another study showed that consuming basil and honey tea twice a day can help improve hypotension in females aged 18–30 years. (8) Basil essential oil has been shown to have an antimicrobial effect (12) and therefore can be used as a disinfectant to remove pathogenic germs from the home.
Nutritional Value of Basil
| Fresh basil per 100 g (~200 basil leaves, ~4.5 cups) | | | Dried basil per 100 g (~22 tbsp) | | |
| --- | --- | --- | --- | --- | --- |
| Kcal: 23 | | | Kcal: 233 | | |
| Protein: 3.15 g | | | Protein: 23 g | | |
| Carbohydrates: 2.65 g | | | Carbohydrates: 47.8 g | | |
| Fiber: 1.6 g | | | Fiber: 37.7 g | | |
| Sugar: 0.3 g | | | Sugar: 1.71 g | | |
| Total Fat: 0.64 g | | | Total Fat: 4.07 g | | |
| Iron: 3.17 mg | | | Iron: 90 mg | | |
| Phosphorus: 56 mg | | | Phosphorus: 274 mg | | |
| Potassium: 285 mg | | | Potassium: 2630 mg | | |
| Sodium: 4 mg | | | Sodium: 76 mg | | |
| Choline: 11.4 mg | | | Choline: 55 g | | |
| Vitamin A: 5280 IU | | | Vitamin A: 744 IU | | |
| Carotene: 3140 µg | | | Carotene: 378 µg | | |
| Lutein and Zeaxanthin: 5650 µg | | | Lutein and Zeaxanthin: 1150 µg | | |
| Vitamin K (Phylloquinone): 415 µg | | | Vitamin K (Phylloquinone): 1710 µg | | |
Best Way to Use Basil in Cooking
The cooking process can destroy the nutrients present in basil, so it's best to use the herb as a seasoning at the end of cooking so that it retains most of its medicinal value.
Most-Asked Questions
Are basil and holy basil different?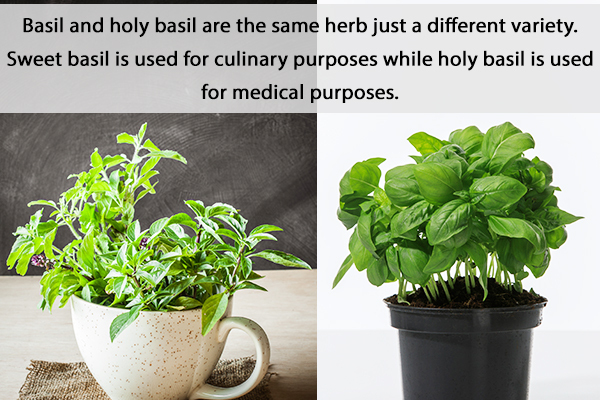 Basil and holy basil are the same herb, just different varieties. Sweet basil is used for culinary purposes, while holy basil is used for medical purposes.
Can basil be consumed daily?
Whether basil can be safely consumed every day or not depends on the variety of the basil being consumed.
Sweet basil, which is used for culinary purposes, can be consumed daily in dried form or fresh.
Holy basil, or tulsi, used for medical purposes should be discussed with a physician before using daily. Certain medical conditions or drugs may diminish the benefits of tulsi or react negatively with it. Therefore, you should consult your doctor before starting its medicinal intake to get the proper dosage and directions of use and to rule out any contraindications. Currently, there is no standard dosage for taking tulsi for various medical conditions.
What are the side effects of basil?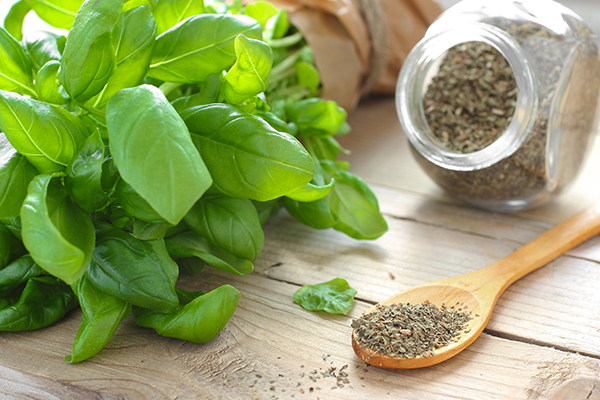 Medicinal intake of tulsi does not seem to have any adverse short-term effects according to studies, but none of these human studies were conducted over an extended period. Therefore, it is unclear if tulsi consumption has any adverse long-term effects. (10)
There also does not appear to be any common side effects of sweet basil. Basil seeds, however, can be a choking hazard and may also decrease a person's estrogen level if too many are taken. (2)
Final Word
When consuming basil for medical purposes, it is important to keep in mind that there is very limited data on the proper amount to be taken and its effects, specifically tulsi leaves.
In some studies, basil has been shown to be effective in managing blood sugar, lowering blood pressure, reducing lipid levels, fighting microbes, and boosting the immune system. More research is needed to show its efficacy against the common cold, flu, cough, oral health problems, and kidney stones.
This is because most of the studies conducted on these topics are either outdated or done on animal subjects. Plus, the human studies done have been limited and only trialed with a small number of subjects, so the findings cannot be generalized to the rest of the population.
Also, every person is different and can react to these herbs in different ways. A physician who understands Ayurveda medicine should be consulted before any basil consumption for medical purposes.
Further research will need to be done to determine the safe dosage for individuals with certain medical conditions and any contraindications with medications taken.
Was this article helpful?