Amaranth is one of the oldest grains used by man and is very similar to quinoa. A small tan-colored seed, amaranth is similar to cereals such as rice and maize.
Amaranth is also gluten-free and is often used as a wheat alternative for people with celiac disease and intolerances. (1)
Both the seeds and leaves of the amaranth plant have been used by various cultures as a cereal or vegetable. It is also considered a sacred crop used in many religious and ritualistic ceremonies.
African countries use amaranth leaves as medicine. In Poland, it is used in baking and to add protein and good fat to pasta, bread, and noodles, and in India, it is used as a vegetable and for salads. (2)
Health Benefits of Amaranth
Consumption of amaranth provides the following advantages to health.
1. Protects the liver
Amaranth exhibits protective activity in liver cells against drug (such as paracetamol)-induced toxins. (2)
Moreover, oil obtained from amaranth seeds stabilizes liver cell membranes and removes toxic substances from the body by supporting detoxification pathways. (2)
2. Helps in managing diabetes
Amaranth leaves are beneficial for diabetes and its associated complications.
In animal studies, the consumption of amaranth leaves resulted in improved insulin secretion and sensitivity. This further caused blood sugar levels to decrease after consumption of meals. (3)
Amaranth leaves also possess an incredible antioxidant capacity and are useful in reducing oxidative damage associated with diabetes. (4)
In addition, amaranth's antidiabetic property helps improve the metabolism and balance of calcium in the blood, liver, and kidneys, which are normally disrupted in diabetes. (5)
3. Helps lower cholesterol levels
A high-fat diet contributes greatly to increased cholesterol status in the body. This can further lead to diseases of the heart and obesity and can complicate diabetes.
In a recent animal study, consumption of amaranth reduced the levels of triglycerides and total cholesterols in the liver of mice. It also improved the diversity of gut microorganisms affected by a high-fat diet. (6)
4. Can lower blood pressure
Amaranth has been the most widely studied for its blood pressure-lowering effect. It contributes certain protein compounds that work as antihypertensive agents. (7)
In recent animal studies, amaranth has shown potential as a strong remedy against high blood pressure, showing similar activity to medicines. The study suggested its use as a part of a heart-healthy diet. (8)
5. Can aid brain function
In addition to its many benefits, amaranth also has the ability to support and improve brain health and function.
Recently, in a study done on rats with impaired memory, amaranth supplementation for 21 days improved all parameters of memory and attention. It also increased the activity of antioxidants in the brain, protecting it from free radicals. The study indicated amaranth's potential in treating memory impairment associated with Alzheimer's disease. (9)
6. Provides antimicrobial effects
The compounds in amaranth have shown potential antibacterial activity against E. coli. In one study, amaranth oil was found to be useful against Candida albicans, the bacteria that cause urinary tract infections (UTI). (2)
7. Relieves arthritis
Amaranth may influence some immune activity. In an animal study, amaranth was useful in modulating collagen-induced inflammation such as that observed in rheumatoid arthritis. (10)
8. Supports skin and hair health
Amaranth seed oil has been used in many skin care products. It is nourishing and its strong antioxidant compounds prevent premature skin aging. (2)
In some cosmetics, amaranth oil is used as a UV filter as it demonstrates photoprotective properties. This property also makes it useful in protecting the hair from sun damage and strengthening it to prevent hair loss. (2)
9. Has potential anticancer activity
Extracts of amaranth show anticancer properties. It is able to inhibit cancer cell growth and spread. (11)(12)
Nutritional Profile of Amaranth
Here are the nutritional profiles of both the leaves and seeds of amaranth.
Amaranth leaves
About 100 g of amaranth leaves contains a mere 23 calories, 2.5 g of protein, 4 g of carbohydrates, and barely any fat. They are a powerhouse of calcium at 215 mg, which is 17% of the daily requirement.
Amaranth leaves also have 2.3 mg of iron, which is 13% of the daily requirement. Though they contain 20 mg of sodium, they also have 611 mg of potassium, which is 13% of the daily requirement. The leaves also provide 18% of the daily requirement of copper, 38% of manganese, and some amount of zinc and selenium. (13)
Amaranth leaves also have 146 mcg of vitamin A, which is 16% of the daily requirement, 85 mcg of folate, and high amounts of vitamin K at 1140 mcg. (13)
Amaranth grains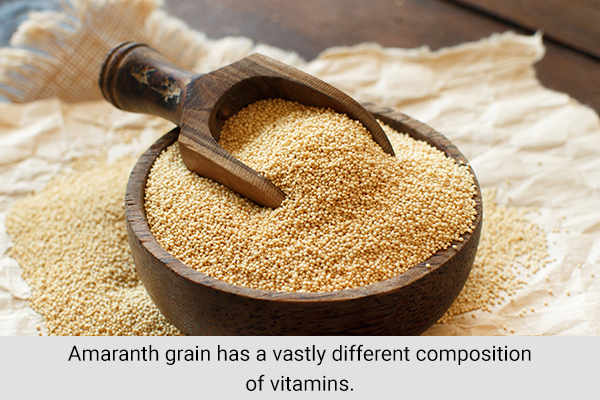 About 100 g of cooked amaranth grain contains 102 calories, making it energy rich. It has 19 g of carbohydrates, 3.8 g of protein, and 2.1 g of fiber. (14)
Compared to the leaves, amaranth grain has a vastly different composition of vitamins. It is rich in B complex vitamins including vitamins B1, B2, B3, and B6, folate, and vitamin E. (14)
The grains boast a rich variety of mineral content, such as 0.15 mg of copper, 2.1 mg of iron, 65 mg of manganese, 148 mg of phosphorus, 135 mg of potassium, and 5.5 of selenium. (14)
How to Consume Amaranth
Amaranth leaves can be used as an ingredient in salads, side dishes, soups, pasta sauces, or main dishes. You can cook it by steaming, sautéing, or blanching.
Amaranth seeds are mainly used as flour to make several types of bread, flatbread, and pasta. Amaranth seed oil can be used in cooking, as salad dressings, or as toppings on soups and gravies.
Most-Asked Questions About Amaranth
Is there a side effect to consuming amaranth daily?
Amaranth consumption is safe for most people, unless there are known allergies, in which case consuming amaranth can cause diarrhea and stomach pain.
Can amaranth be eaten raw?
Young amaranth leaves may be consumed raw. However, it is recommended to steam or blanch mature leaves before eating.
Amaranth grain, however, should not be consumed raw just like rice or wheat grain cannot be eaten without cooking. Amaranth grain can be milled into flour and used for cooking, or the grain itself can be used to make porridges or puffed to be eaten like popcorn.
Final Word
Amaranth has many health benefits, and its leaves and seeds (also known as grains) can be effectively used in various forms of cooking.
With its rich nutrient profile, it can protect the body from damage due to free radicals, is useful in managing chronic illnesses such as diabetes and its complications, and can even be useful in preventing cancer by killing cancer cells.
The oil extracted from amaranth grain is beneficial in maintaining healthy skin and boosting hair growth.
Amaranth leaves can be easily incorporated into a healthy diet by steaming, blanching, or sautéing, while its grain can be used as flour to prepare bread, pasta, and other baked goods.
Was this article helpful?