Aloe vera, also known as the "plant of immortality," is widely utilized in alternative medicine.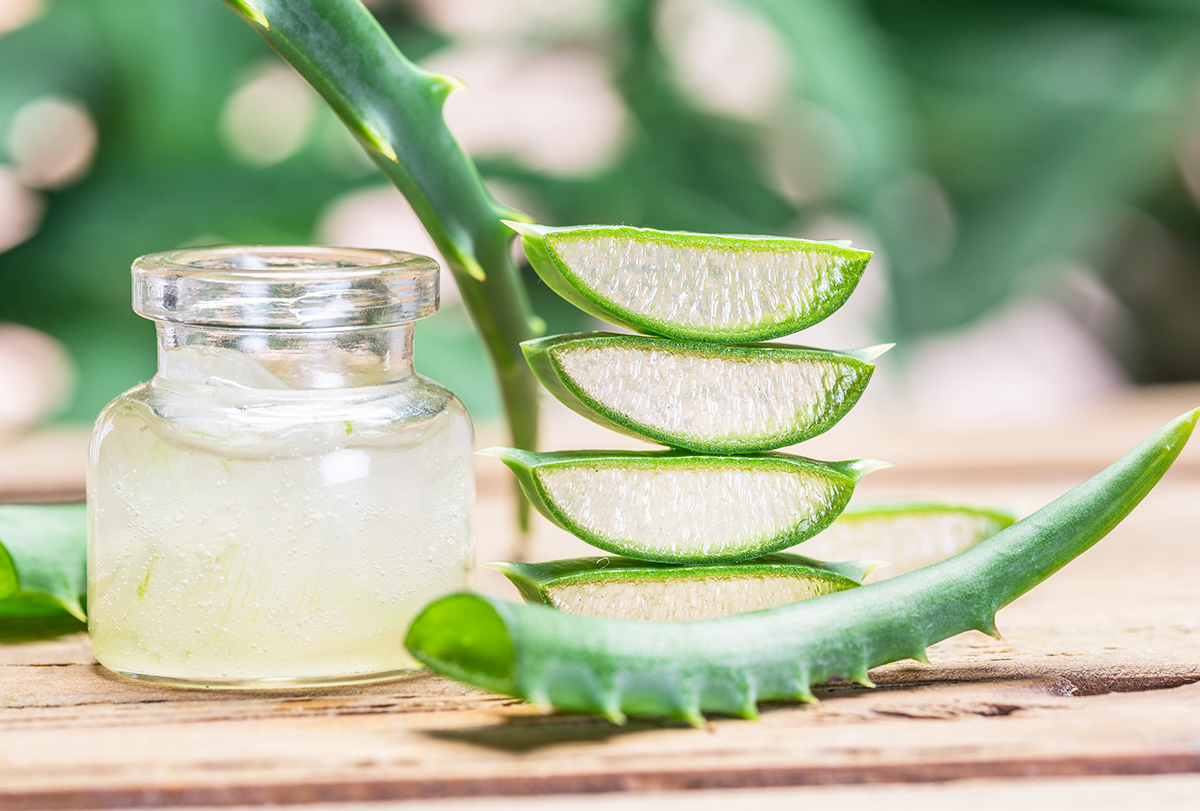 Aloe vera has broad, long, fleshy, thick, serrated leaves that fan out from the center of the plant. Aloe vera plants can grow up to 2–3 feet high. The use of aloe vera can be traced back to 6,000 years ago in early Egypt, where the plant was depicted in carvings.
Different Components of the Aloe Vera Plant
The part most often used from the plant is the succulent leaves, from which the following products can be obtained:
Aloe vera gel: Aloe vera gel is a colorless and odorless liquid that is derived from the innermost layer of the leaf.
Aloe vera juice: Obtaining the juice from the aloe vera plant requires grinding up the entire aloe vera leaf to separate the aloe latex from the aloe vera juice.
Aloe latex: Yellow in color and bitter in taste, aloe latex has laxative effects on the body when ingested.
Caution: In 2002, the FDA required removal or reformulation of OTC aloe laxatives from the US market due to insufficient evidence of safety. (1) The latex from the aloe vera plant in its natural state may have the potential to cause diarrhea, abdominal cramps, potassium depletion, diarrhea, muscle weakness, and even cancer.
Nutritional Profile of Aloe Vera
Aloe vera contains 75 active constituents that include vitamins, minerals, sugars, enzymes, lignins, saponins, salicylic acids, and amino acids. Some of the antioxidants are vitamins A, C, and E, which are beneficial as they neutralize damaging free radicals. Other vitamins include vitamin B12, folic acid, and choline. (2)(3)
Varieties of Aloe Vera
Over 250 species of aloe are grown throughout the world. However, only two species are grown commercially:
Aloe barbadensis Miller (Aloe vera)
Aloe arborescens
At least two other species have been found to have medicinal properties:
Aloe perryi Baker
Aloe ferox
Although most aloe vera plants are not toxic, some have been found to contain a hemlock-like substance and are poisonous. (4)
Suggested Benefits of Aloe Vera
The polysaccharides found in the gel of aloe vera leaves are thought to be very beneficial for its biological activities. (5) Here are some of the benefits you may get from aloe vera.
1. Produces laxative effects
Aloe latex contains anthraquinones such as aloin that stimulate bowel movement. They also work as astringents, producing constricting or binding effects.
A study found that using aloe improved the intestinal muscle tone, abdominal pain, and flatulence associated with IBS. (6)(7) However, more studies may be warranted to solidify such results.
Summary:
Aloe vera has been found in many studies to have a laxative effect and has been generally used as a laxative historically.
2. May promote wound healing and fight inflammation
Aloe vera today is available in a variety of topical medications for wound healing and skin care. However, the research behind aloe vera's wound healing properties has been mainly done on animals. (8)(9)(10)
Aside from active wounds, aloe vera may also be beneficial in removing the scars left after a wound or cut has healed. (11) Owing to its anti-inflammatory properties, aloe may be helpful in rheumatoid arthritis. (12)(13)
Summary:
Aloe vera is widely accepted to have wound healing and anti-inflammatory properties. It is popularly used for topically treating sunburns, acne, and other skin conditions.
3. Supports oral health
Aloe vera contains natural antibacterial, antimicrobial, immunomodulatory, (12) antiviral, antifungal, and anti-inflammatory properties that can be beneficial for gum and oral health.
Aloe vera can help treat lichen planus, oral submucous fibrosis, (14) recurrent canker sores, dry socket, periodontitis, (15) and gingivitis. (16)(17)(18)
Summary:
Aloe vera has been found to support oral health in a large number of studies.
4. Stabilizes blood sugar levels
Preliminary research has found that aloe vera juice consumption can improve blood glucose levels. It may be a topic of interest in the management and prevention of diabetes. (19)(20) However, further studies are warranted to further establish the efficacy of aloe vera.
Industrial Application of Aloe Vera
Aloe vera is used in three major industries:
1. Cosmetic
Aloe vera is used as an ingredient of a wide variety of products, including skin moisturizers, soaps, shampoos, sun lotions, makeup creams, perfumes, and shaving creams.
2. Food
Aloe is used in a variety of health drinks or to provide a bitter component.
3. Pharmaceutical
Aloe topical gels and ointments are available, as well as aloe oral tablets and capsules.
The clear gel is what is typically used in cosmetic products, whereas the bitter liquid (aloe latex) is what is added to juice drinks, oral tablets/capsules, and dental hygiene products such as toothpaste and mouthwash.
How to Store Aloe Vera
Using fresh gel from aloe is recommended as many active ingredients deteriorate with storage. Its shelf life is relatively short when stored in the open air at room temperature.
Pure extracted aloe vera gel refrigerated without any added preservatives will last 3–4 days.
Storing the leaves in the refrigerator for a few days before extracting the gel prolongs their life.
Adding honey to the gel and then refrigerating it can increase its shelf life.
Freezing aloe vera gel in cubes allows you to use it as needed.
Adverse Effects of Aloe Vera
Contraindications for consuming aloe vera include:
Gastrointestinal conditions
Hemorrhoids
Heart disease
Kidney disease
Moreover, drug preparations that contain aloe vera can be more toxic than pure aloe vera gel. Such preparations include herbal stimulant laxatives as aloe latex has been found to have various side effects. Therefore, oral intake of aloe vera should also be restricted in pregnant or lactating women.
Aloe Vera Allergy
Allergic reactions to aloe vera are mostly linked to its anthraquinone (aloin and barbaloin) content.
It is recommended to test a small area of skin for allergic reactions, which may produce symptoms such as hives, skin irritation, diarrhea, and cramping. (21) Avoid aloe vera if you have an allergy to any plants in the Liliaceae family. (22)
Drug Interactions With Aloe Vera
Use caution when using aloe vera together with the following medications:
Antidiabetes medications: Aloe gel may decrease blood sugar levels. Consuming it in conjunction with diabetes medications can cause hypoglycemia.
Sevoflurane: Sevoflurane is used to decrease the risk of blood clots, and it interacts with aloe vera. Thus, aloe vera should not be consumed orally within 2 weeks of having surgery as it increases the risk of bleeding.
Laxatives and diuretics: There is a possibility for aloe gel to be contaminated with aloe latex. Therefore, those with gastrointestinal and kidney disorders should use caution. (4)
Most-Asked Questions About Aloe Vera
Is aloe vera gel good for your face?
The antioxidants in aloe vera make it very powerful for skin repair. Aloe vera is 96%–97% water, so it helps promote hydration without the risk of clogging the pores of oily skin.
Moreover, aloe vera helps:
Increase flexibility and reduce fragility of the skin
Improve skin integrity
Retain moisture
Reduce erythema
Prevent skin ulcers
Can aloe vera be eaten?
Even though aloe vera is potentially safe to consume in the short term, it is not recommended to consume the aloe leaf as is. If aloe juice is free from aloin, it is safe for consumption. The standard preparation of aloe juice ensures the removal of aloin.
Does aloe vera treat vitiligo?
No direct scientific evidence supports the use of aloe vera for vitiligo treatment.
Final Word
Aloe vera is widely available worldwide. Aloe gel, juice, and formulations are used in products that are medicinal and cosmetic.
As the aloe vera industry is growing fast, more studies are needed to assess the quality and quantity of the bioactive ingredients in the final aloe-containing products.
Was this article helpful?