Nerve damage in the hands is any trauma, exposure, or injury to the nerves that results in numbness or weakness in the hands – in other words, nerve dysfunction.
Your hands are among the most overused parts of the body that are involved in various types of activities. You need them to hold and lift objects, type, write or draw, operate different tools, and drive a car, along with a wide range of other functions.
Thus, it is natural for your hands to suffer a lot of strain and injuries on a daily basis that can damage the underlying nerves. These nerves are responsible for carrying sensory impulses from the hands to the brain and communicating motor impulses from the brain to the hands. In other words, these nerves control sensation and muscle activity in your hands.
Nerve damage can compromise both these hand functions and can make it difficult for you to perform daily household and professional tasks.
Major Causes of Nerve Damage in the Hands
The major causes of nerve damage are compression on the nerves, traumatic injury (lacerations, trauma), and medical conditions such as diabetic neuropathy and vitamin B12 deficiency. (1)
Different types of nerve injuries that hamper hand function include:
Pressure injuries caused by excessive or repetitive strain on the nerves in the hands. These injuries do not break the nerve fibers but can disrupt their connection with the brain. The most common nerve compression in the upper extremity is carpal tunnel syndrome, which results in numbness in the thumb, index finger, middle finger, and half of the ring finger. 
Stretching injuries caused by pulling, twisting, or overexerting the nerves in the hands. This kind of trauma impedes communication between the affected nerve and the brain without actually puncturing the nerve.
Cutting injuries, which refer to trauma that severs the nerve in the hands. The nerves in the hands are enclosed within a protective canal, which must remain intact for such cutting injuries to heal on their own. But if the canal ruptures, then you will have to undergo hand surgery to repair this damage. Otherwise, your broken nerve fibers are fully capable of growing back on their own, but it takes time.
Signs of Nerve Damage in the Hands
Some of the signs of nerve damage in the hands are:
Weakness (2)
Numbness
Loss of dexterity
Muscle atrophy or wasting
Deformity (clawing)
Patients will often complain of pain at night or with repetitive activities. It is the presence of numbness all the time that becomes more worrisome for more advanced nerve "damage."
Also, atrophy is a very concerning sign. Oftentimes, the atrophy is permanent even with appropriate treatment of the underlying cause. It is important for patients to seek out treatment before these more advanced findings are present.
Treatment for Nerve Damage in the Hands
Treatment depends on the cause of the nerve damage. For example, carpal tunnel syndrome is caused by the entrapment of the median nerve at the wrist level.
Long-standing entrapment can lead to nerve damage, which manifests as permanent numbness in the fingers, weakness, and loss of dexterity (dropping objects, difficulty buttoning a shirt, and atrophy or loss of muscle in the thenar eminence).
Carpal tunnel would be treated by relieving the pressure on the median nerve (carpal tunnel release). The nerve entrapment can be alleviated by surgery in more advanced cases, giving the nerve the best chance of recovery. Conservative measures such as splinting, injections, and occupational therapy can be implemented in the earlier stages and will often improve nerve function and will relieve the symptoms.
Medical causes of nerve dysfunction such as diabetes are oftentimes best managed by treating the medical condition and the resultant nerve issues.
Diagnosing Nerve Damage in the Hands
Nerve conduction studies (NCS) and electromyography (EMG) are oftentimes ordered to evaluate nerve function. These tests measure nerve and muscle function. 
Ultrasound has also proved to be a less invasive way to detect nerve entrapment at the wrist level. (3) These tests, in addition to a proper physical exam with supporting history, are the mainstay when it comes to diagnosing nerve entrapment or other etiologies of nerve dysfunction. (4)
Recommended Dietary Changes for Nerve Repair
A healthy diet and exercise are always important for overall health.
B vitamins, in particular B1, B6, and B12, support a healthy nervous system, and these can be obtained by eating meat (especially liver), eggs, seafood, poultry, legumes, dairy products, leafy greens, seeds, and fortified foods, such as breakfast cereal and nutritional yeast.
Exercises to Help Heal Damaged Nerves in the Hands
Nerve glides, posture rebalancing, and proper ergonomics at work may help to reduce symptoms or reduce the severity of symptoms related to nerve compression or irritation. Physical therapists and occupational therapists play a vital role in this regard.
Risk Factors for Nerve Damage in the Hands
The following factors make you more prone to nerve damage in the hands:
Vocations that require repetitive motion, force, or posture
Obesity
Female gender (5)
Increasing age
Trauma or injury
Certain medical conditions (diabetes, thyroid disorders)
Most-Asked Questions About Nerve Damage in the Hands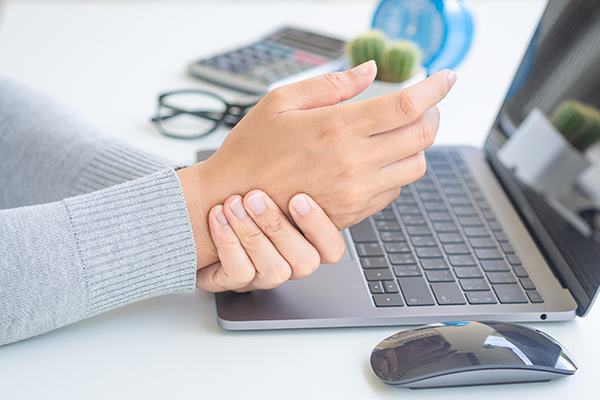 Does nerve damage heal on its own?
If the nerve changes are not permanent and the etiology can be determined and addressed, it is possible for patients to regain sensation and strength in their hands. I have seen patients with static numbness improve with appropriate care of the underlying condition.
What is the expected recovery period for nerve damage in the hands?
For severe cases, nerve recovery can take up to a year. For milder, less advanced cases, the nerves recover quite rapidly once the compression is relieved.  
I will tell patients that they can expect improvement in nerve function for up to 1–1.5 years after the compression is released.
How long before the nerve damage in the hands become permanent?
This depends on the severity of the compression or exposure. In the case of carpal tunnel syndrome, once muscle atrophy has occurred, the nerve changes are quite advanced. Although surgery may still be recommended, the expectations of full recovery of nerve function have to be adjusted (permanent changes are more likely).
The key again is early diagnosis and treatment. If you are experiencing numbness, pain, or weakness in your hands, consultation with an orthopedic hand surgeon is recommended.
Final Word
It is important to seek medical attention as soon as you start to have any symptoms of nerve dysfunction (numbness, tingling, weakness, loss of dexterity, burning sensation or pain in the hands, etc.). Oftentimes, the diagnosis can be made quickly and a remedy provided, thereby avoiding long-term issues.
Long-standing compression or more severe compression can cause permanent changes in the nerve. This nerve "damage" can be prevented by early diagnosis and treatment. Traumatic nerve injuries are more likely to require surgery.
Even after the nerve heals, it may not function like it used to and you may experience some permanent changes in the nerve function of your hands.
Was this article helpful?