A migraine headache is a neurological condition that can sometimes be so painful that it disrupts your daily life activities, anywhere from 2–4 hours to 2–4 days. (1)
It may happen on a rare occasion or it may happen several times in a month for some people. It can affect people of all ages — children, adolescents, and adults.
There is no permanent cure for migraines yet, but experts generally recommend a multifaceted treatment approach that includes identification and avoidance of triggers and medication along with favorable lifestyle changes.
But if it is a frequent or chronic problem, try not to get too dependent on pain meds as overuse can lead to serious side effects or complications. To that end, a lot of alternative therapies are being explored for their potential to relieve or reduce migraine headaches.
One such intervention is a traditional Chinese technique called acupressure. When done correctly, acupressure may prove to be a safe, natural, and cost-free way to relieve migraine headaches quickly.
What Is Acupressure?
Acupressure follows the same principles as acupuncture, only without needles. It stimulates energy flow within the body and supports the body's ability to heal itself and resist disease.
Instead of needles, acupressure utilizes finger pressure on specific points, or acupoints, that have been found to improve blood flow, release tension, and facilitate an even flow of life energy. (2) The pressure applied should be what the patient can tolerate.
This ancient technique works by stimulating acupoints that lie along the meridians of the body through which life energy flows. (3) These points are the same channels used in acupuncture. Each meridian forms a link between specific organs or organ networks.
When meridians are "blocked," an individual may experience disease. When acupoints are stimulated, either by acupressure, massage, or acupuncture, blockages are resolved.
What Are the Most Effective Acupressure Points for Migraine Relief?
Pressing the following acupoints may help soothe a migraine headache:
1. Wind Pool (GB-20 or Feng Chi)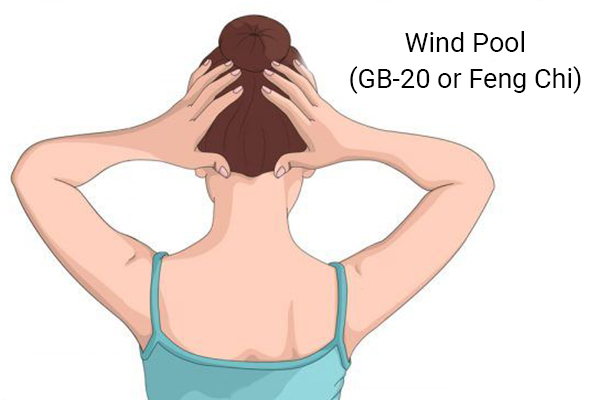 GB-20 is primary in treating ailments of the head. It is located on the left and right sides of the base of the skull. (4)
2. Joining Valley (LI-4 or He Gu)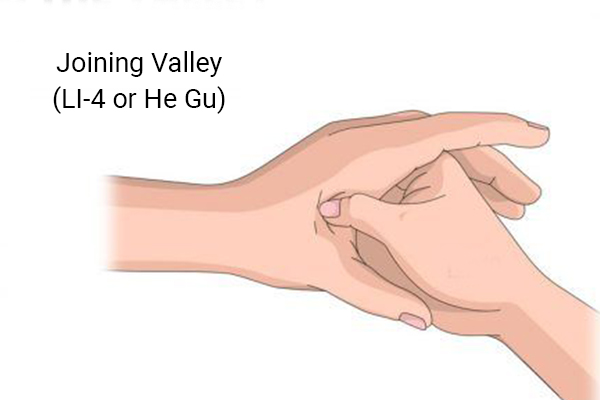 LI-4 alleviates headache pain. To find Joining Valley, adduct (move inward) the thumb so that it is touching the hand; the point is located at the highest point of the bulge of muscle between the thumb and index finger. (5)
3. Hall of Impression (MHN-3 or Yin Tang)
MHN-3 reduces headache pain. It is located midway between the eyebrows, above the nose. (6)
4. Inner Pass (P-6 or Nei Guan)
P-6 regulates life energy and alleviates nausea and vomiting. It is located on the palm side of the wrist, in line with the middle finger. (7)
5. Foot Governor of Tears (GB-41 or Zu Lin Qi)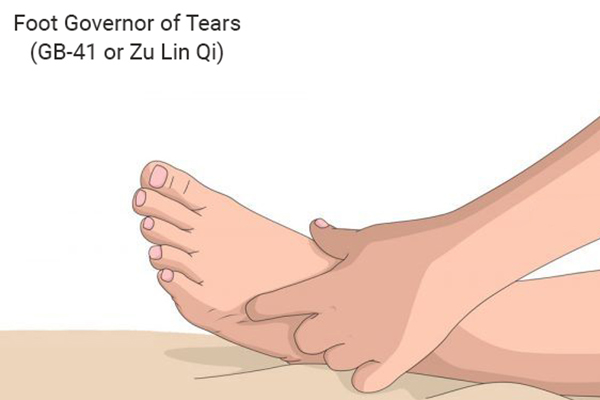 GB-41 clears the head and is beneficial to the eyes. It is located between the bones of the little toe and the next toe, very close to the point at which they meet with the ankle bones.
6. Bigger Rushing (LIV-3 or Great Rushing)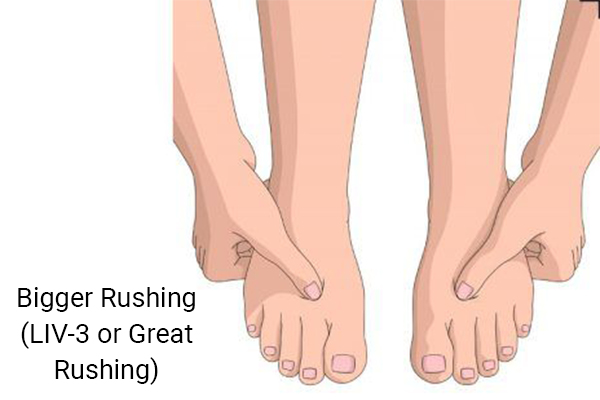 LIV-3 clears the head and vision. It is located on the top of the foot between the big toe and the next toe, near the bones of the ankle.
7. Celestial Pillar (B-10 or Tianzhu)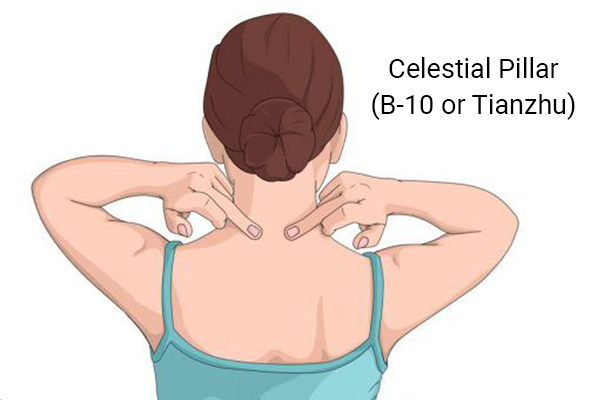 B-10 regulates life energy, benefits the head and senses, and alleviates pain. It is located on the outer aspects of the trapezius muscle, at the base of the skull. (8)
Causes and Phases of Migraine
The mechanisms that result in a migraine headache are not fully understood, but it is believed that genetic and/or environmental factors play a role. (9)
Some common environmental triggers include food preservatives, computer screens, mold, and extreme weather.
Hormonal changes may also trigger migraine, which is probably why it is more common in women than men.
There are four phases of a migraine; however, not everyone experiences them all.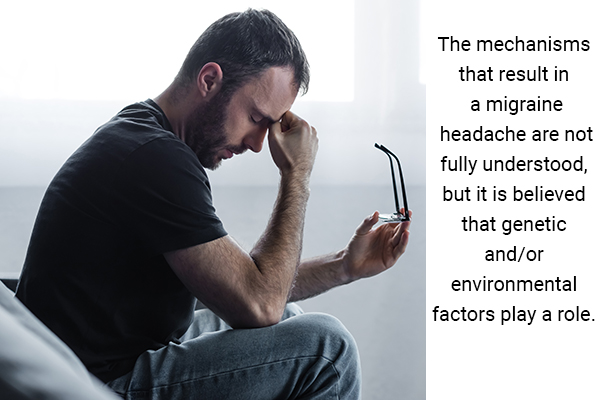 1. The prodrome phase
The prodrome phase might happen 1–2 days before the onset of an actual migraine headache. Warning signals of the prodrome phase include:
Constipation
Stiff neck
Mood fluctuations
More urinary output
Fluid retention
Food cravings
Frequent yawning (10)
2. The aura phase
The aura phase might happen before or during the migraine onset. Auras may be reversible in some patients. Warning signals include:
Seeing bright spots or flashes of light
Impaired vision
Tingling or pricking sensation in an arm or leg
Weakness or loss of sensation in the face or on one side of the body
Speech difficulty (10)
3. The attack phase
In the attack phase, an individual experiences:
Nausea
Vomiting
Sensitivity to light and sound (10)
4. The postdrome phase
The postdrome phase is characterized by the following symptoms:
Feeling drained
Any sudden head movement may bring back the pain for a short period of time (10)
Precautions to Consider
Acupressure should not be used as a primary or standalone treatment for serious health issues, but as an adjunct.
Acupressure during pregnancy warrants extra care as certain acupoints are can stimulate uterine contractions. It is often discouraged.
Acupressure should not be attempted over areas where there are burns, infection, rashes, stitches, afflictions of contagious disease, or cancer, or those that have undergone radiation in the recent past.
Final Word
Acupressure is a natural, drug-free treatment to help alleviate the symptoms of migraine headaches. It is to be used as a complementary tool to your primary medical treatment for it to be truly effective.
Mastering the technique is very important before you attempt it at home. Do consult an acupuncturist or massage therapist with acupressure expertise to dispel any doubts.
Was this article helpful?