Key Points
Inflammation of the blood vessels in the nasal area causes swelling of the inner lining of the nose. The swelling blocks the nasal passage, known as nasal congestion.
A stuffy nose is typically associated with the common cold, flu, and allergic reactions, but it can also result from some serious health conditions.
Nasal congestion can affect your speech and hearing, and it can even disturb your sleep in the long term.
The avoidance of congestion-causing allergens along with proper self-care measures can help control the condition.
Nasal congestion tends to persist, ranging from a few days to weeks, until the underlying cause gets treated.
A stuffy nose is known as nasal congestion in medical terms. Nasal congestion presents as a blockage in the nose due to the swelling of the tissues inside the nasal passages.
This swelling results from inflammation (rhinitis) of the blood vessels. It causes mucus buildup and, consequently, difficulty breathing.
Nasal congestion may be associated with excessive mucus discharge, commonly known as a runny nose. Drainage of mucus into your throat (postnasal drip) can result in soreness in the throat and cough.
Different individuals have different perceptions of nasal congestion. These include the feeling of nasal fullness or reduced airflow. It is important to understand the patient's perception of any diagnosis regarding congestion. (1)
Nasal congestion can be acute or persistent (chronic). The duration of the problem depends upon the causes behind it.
For babies, a congested nose may create difficulties in breathing and while feeding.
However, in children and adults, it does not always cause a severe problem but can be quite discomforting nonetheless.
Causes of Nasal Congestion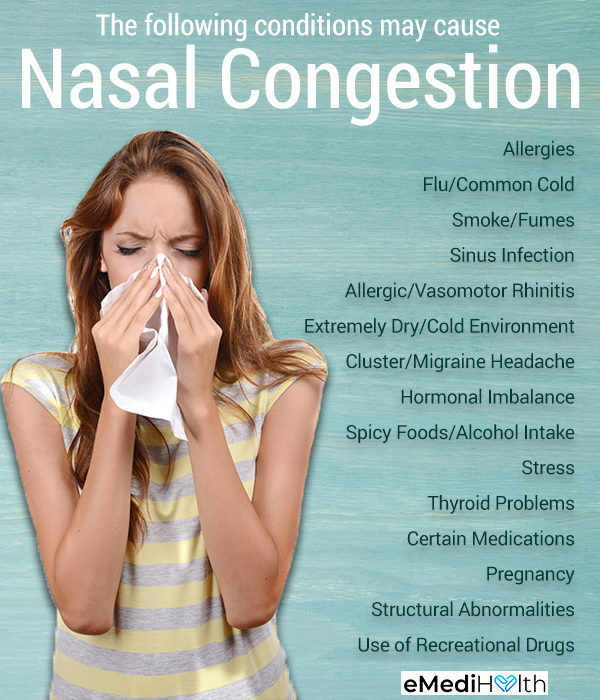 Nasal congestion can result from various reasons, including the following:
Allergies such as hay fever
Common cold
Exposure to irritants, such as smoke or fumes
Vasomotor rhinitis
Sinus infection
An extremely dry or cold environment
Cluster headaches
Migraine headache
Hormonal imbalance
Spicy foods
Stress
Certain medications for high blood pressure, seizures, depression, prostate enlargement, erectile dysfunction, etc.
Undue use of over-the-counter (OTC) drugs such as decongestant nasal sprays or drops (rhinitis medicamentosa)
Pregnancy
Alcohol intake
Structural abnormalities such as nasal polyps or a deviated septum
Use of recreational drugs
Tumors in the nasal cavity
Enlargement of adenoid tissue
Congenital nasal narrowing (pyriform aperture stenosis and choanal atresia) in newborns
Otitis media and asthma also cause nasal congestion, which can:

Cause temporary hearing loss (2)
While these are the common reasons that cause a stuffy nose, it is recommended to visit your doctor for a correct and appropriate diagnosis.
Signs and Symptoms of Nasal Congestion
Nasal congestion may present as a symptom of an underlying disease.
Blockage in the nose and excessive discharge of thin and clear mucus are the common symptoms of nasal congestion.
A mucus discharge that is green or yellow is possibly indicative of a bacterial infection. In such a case, you need to visit your doctor so that he can prescribe appropriate antibiotics.
Secondary symptoms can help in the efficient diagnosis of the underlying cause of nasal congestion. These symptoms include:
Headache
Pain behind the eyes
Pain in the cheeks
Discomfort in the forehead
Pain in the upper jaw (due to sinus problems)
Diagnosing Nasal Congestion
Usually, the reason(s) for nasal congestion can be identified through the symptoms and a simple examination of the inside of the nose.
Occasionally, other tests such as nasal culture, nasal swab for eosinophils, and intranasal biopsy are required to establish a diagnosis.
If the problem is chronic (when the symptoms persist for more than 6 weeks), you may have to consult an ENT specialist. They may require additional testing, which may include:
Allergy tests (skin-prick tests)
Blood tests
Nasal endoscopy (the use of a flexible telescope to look inside the nose)
Lifestyle Changes for Relief from Nasal Congestion
These lifestyle changes can provide relief from nasal congestion:
Keep your head elevated, sit upright, and sleep with the head elevated. Discomfort due to congestion increases when you are lying down.
Incorporate vitamin C-rich foods in your diet to increase your immune power.
Drink warm chicken soup as it helps in diluting the mucus and reducing the tissue inflammation that is responsible for the congestion.
Increase your intake of omega-3 fatty acids as they help in reducing inflammation.
Avoid allergens that can worsen the congestion.
Do not consume grains, sugars, dairy products, and starchy vegetables, as they can increase mucus production and cause nasal congestion.
Use nasal strips to facilitate the opening of the nasal passages, thus helping in relieving congestion and improving sleep quality.
Do not swim in chlorinated pools as chlorine can irritate your nasal passage.
Rest your body for a few days to aid in fast recovery.
Reduce or avoid alcohol intake.
Home Remedies to Get Relief from Nasal Congestion
Nasal congestion can be treated with the help of the following home remedies:
1. Hydrate your body
Increase your intake of fluids to help thin the mucus, enabling its easy expulsion and preventing it from blocking the nasal passage. The removal of excessive mucus is important because your sinuses may fill up, causing postnasal drip and other problems.
2. Apply a warm compress
To get relief from nasal congestion, apply a warm towel or compress to your nose and forehead.
3. Inhale steam
Inhaling steam helps in loosening the mucus so it can be easily expelled. It relieves congestion in the chest and nose. It can also help in lubricating the respiratory tract.
Perform steam inhalation twice a day. Steam inhalation can also be achieved with a steam bath.
Follow precautionary measures during steam inhalation to avoid scalding. It is suggested that children below 12 years, pregnant women, and patients suffering from high blood pressure, cardiac problems, or nervous system disorders do not perform steam inhalation.
4. Use a humidifier
Use a vaporizer or a cool-mist humidifier indoors, especially at night, to increase moisture levels. This helps in thinning the mucus, making it easier to breathe.
Avoid the usage of hot-water vaporizers, especially around children, as the hot water can burn the skin.
5. Avoid smoking
Exposure to tobacco smoke has an adverse effect on nasal congestion. Tobacco smoke acts as an irritant and increases inflammation of the nerves. This results in the overproduction of mucus, further blocking the nose.
6. Use saline nasal sprays/mists/drops
Saline formulations in the form of sprays, mists, or drops can be administered at regular time intervals to relieve congestion. They reduce inflammation and dilute the mucus.
Saline sprays can be bought over the counter or made at home. Use these saline sprays three to four times a day for 3 days, followed by 3 days off the spray.
Use the OTC sprays as directed. It is advised not to use these sprays on children under the age of two.
7. Inhale essential oils
Using essential oils as a steam inhalant or adding them in steam baths can help in relieving congestion. The essential oils that can be used include:
Eucalyptus essential oil
Cineole, the active ingredient of eucalyptus essential oil, has been shown to provide relief from congestion by addressing the underlying cause. It has been used for the treatment of respiratory disorders such as asthma, rhinosinusitis, and COPD. (3)

A double-blind, placebo-controlled, multicenter study showed that cineole could be used to treat patients suffering from acute bronchitis. It significantly lowers the frequency of cough after 4 days. (4)
Peppermint oil
Peppermint leaves are used for the extraction of peppermint essential oil through steam distillation. This oil can help in relieving coughs, decreasing mucus levels, and treating asthma, colds, flu, and bronchitis.
The oil has antispasmodic and antiseptic properties and can be used as a steam inhalant, applied topically, or mixed in bathwater. (5)
8. Use a vapor rub
Vapor rubs are highly popular among parents as they provide children relief from congestion, cough, and sleep disturbances due to upper respiratory tract infections.
On comparing vapor rub, petrolatum, and no treatment, vapor rub was found to be the most effective in providing relief and, ultimately, an uninterrupted restful sleep. (6)
9. Consume medicinal plants
Ginger and garlic can be used for their antispasmodic and antiviral properties to relieve congestion. They are also used for the treatment of the common cold, which produces symptoms such as nasal congestion, cough, and sore throat.
The consumption of ginger and garlic as remedies is anecdotal and is not backed by sufficient scientific evidence.
10. Use nasal anti-inflammatory sprays
Many nonprescription OTC anti-inflammatory sprays can be considered if nasal saline and other non-medicated remedies fail to provide sufficient relief. These sprays are safe, nonaddictive, and much more effective than nasal saline alone.
However, anti-inflammatory sprays are slow acting and may require 4-6 weeks of regular use for optimal relief.
11. Use OTC medications
Decongestants and antihistamines can alleviate nasal congestion. Decongestants reduce the swelling of the nasal tissues and may also shrink the blood vessels that contribute to the swelling.
Antihistamines can help inhibit mucus production and, over a more extended period, can also reduce the swelling.
These medications are only helpful if the nasal inflammation and swelling are the result of a true allergy. A combination of decongestants and antihistamines may produce the best results.
If the problem persists, visit a doctor. Avoid overuse of OTCs.
Complications Associated with Nasal Congestion
Nasal congestion worsens at night and may cause breathing problems that may disturb your sleep.
It can impair your speech and hearing.
Mucus drainage can affect your ears and cause infection by plugging up the Eustachian tube.
Sinusitis may develop due to the plugging of the passages from the nose into the sinuses.
How long does nasal congestion last?
The duration of your nasal congestion depends on its cause. If it is caused by a bacterial or viral infection, nasal congestion will subside along with the infection in 5-10 days. If it is due to allergies, the congestion may persist for longer.
Why is nasal congestion more prevalent at nighttime?
On lying down at bedtime, the blood flow toward your nose and head increases, causing further swelling of the blood vessels and tissues inside the nasal passage. Inflammation of the nasal tissues and blood vessels leads to stuffiness.
While standing, blood flow to these blood vessels is lower due to the gravitational force.
Nighttime aggravation of nasal congestion can also be on account of acid reflux. Acid reflux is more common in babies, young children, and overweight adults.
People with acid reflux often suffer a backflow of stomach acids into the food pipe on lying down due to the backward push of gravity. The acid irritates the back of the throat, and the discomfort can be felt in the nasal passageways because the two are connected.
To reduce this problem, feed babies and young children with their heads in an elevated position. In adults, meals should be avoided for at least 2 hours before bedtime.
Is nasal irrigation effective against a stuffy nose?
Nasal irrigation is the practice of washing the nasal cavity. This helps in loosening the mucus and removing inflammation-causing proteins, irritants, bacteria, and allergens from the nasal passage. (7)
Nasal irrigation, along with other therapies, is an Ayurvedic practice often used for the treatment of upper respiratory tract infections. It is also commonly advised in clinical practices. It can help in the treatment of allergies, colds, and sinus infections.
However, there is only a very brief mention of nasal irrigation in expert-curated guidelines for respiratory tract infection treatments. (8)
Nasal irrigation has been marked as a safe practice by the US FDA, but nasal rinse devices such as squeeze bottles and bulb syringes should be used cautiously to prevent the risk of infections. The equipment must be sterilized before use.
It is recommended to use saline water to avoid irritation. Ensure that the mixture has the appropriate salt balance.
Many OTC products are pre-made with the appropriate salt balance. Other OTC products provide packets of the right amount of salt to be mixed with the proper amount of sterile water; directions are always included in the product package. Tap water should never be used unless it is boiled and cooled first.
Consult your doctor before doing nasal irrigation, especially if you have a weak immune system. (9)
How can I prevent nasal congestion?
Nasal congestion can be prevented by maintaining a hygienic lifestyle. Do not come in close contact with infected individuals, and avoid sharing food or drinks with them.
Wash and sanitize your hands properly. This helps in protecting you against pathogenic germs.
Avoid allergens that may trigger congestion and use humidifiers in dry weather.
Is stuffy nose associated with pregnancy?
The prevalent problem of a congested nose during pregnancy is known as rhinitis of pregnancy (rhinitis gravidarum). This may be due to the hormonal fluctuations that occur during pregnancy.
The incidence of pregnancy rhinitis is not connected to preexisting asthma or allergies. This problem is usually worse during the third trimester.
The congestion may last for several weeks after delivery and then usually resolves on its own.
When to See a Doctor
Seek medical help if your nasal congestion is accompanied by:
Swelling in the eyes, face, or forehead
Blurred vision
Throat pain
Yellow or white spots on tonsils
Colored mucus discharge
Malodor in the mucus discharge or from the nose
High fever
Wheezing
Difficulty breathing
Bloody mucus
Blue-tinged skin
Pain around the eyes, cheeks, or upper jaw
You should visit a doctor if you experience a clear discharge or sinus pains following a head injury. This may be an indication of serious problems such as leakage of brain fluid (CSF), concussion, and facial bone/skull fracture.
Babies cannot breathe well through their mouths. They are obligate nasal breathers for the first 2 months of life. Seek immediate medical help if your baby, who is not older than 2 months, has nasal congestion and is having trouble breathing or feeding.
What your doctor may ask you:
How long have you had these problems?
What symptoms do you have?
Have you used any OTC drugs, what kind, and for how long?
Are you experiencing sleep disturbances?
What you may ask your doctor:
How long will the problem persist?
What are the reasons for my congestion?
Can I take any OTCs or follow any home remedies for treatment?
What remedies can I use safely for my child with nasal congestion?
Final Word
Nasal congestion is often a symptom of medical conditions such as sinusitis or the common cold, and it improves once the infection is treated. Persistent nasal congestion should be checked by a doctor to identify the underlying cause and treat it accordingly.