Key Points
Lupus is an autoimmune disorder wherein the body's immune system is unable to distinguish self cells from foreign invaders and starts attacking the body tissues, causing inflammation.
The reason behind lupus is not yet determined. It is more prevalent in women than in men.
The symptoms are intermittent, and the periods where the condition is at its lowest are known as remission.
Rarely, the mother's antibodies may affect the fetus, known as neonatal lupus.
Since lupus presents a battery of symptoms, diagnosis can be difficult. Often, lupus and rosacea may be confused with each other due to similar symptoms.
A majority of lupus cases can be managed with treatment, regular follow-ups, lifestyle changes, and self-care, helping the affected individual live an average life span.
Lupus is an autoimmune disease in which the immune system attacks the body's healthy tissues due to an inability to distinguish its own tissues from foreign invaders.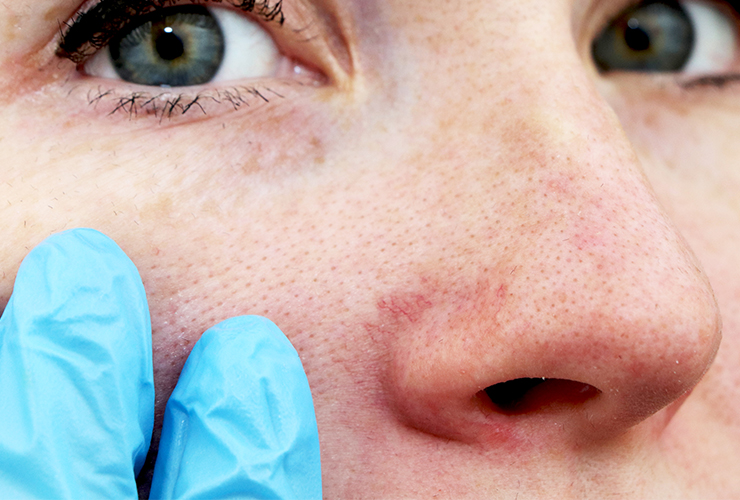 As a result, the body produces autoantibodies that target healthy tissue, mistaking it for an invader. This attack leads to inflammation in the joints, skin, and other organs.
Lupus is a long-term disease that occurs more commonly in women than in men. (1)
Lupus flare-ups can vary in severity, from a mild disease that requires little treatment to severe cases that can be life-threatening. The condition has many manifestations because different systems of the body may be involved.
This illness with many faces, can affect several or all organs, including the heart, lungs, kidneys, blood vessels, brain, joints, and skin.
It is common for people with lupus to experience active periods of the disease when the symptoms are particularly intense, followed by latent periods of remission when the symptoms subside.
How Common Is Lupus?
Fortunately, lupus is not common. In the United States, the prevalence of lupus is about 100 cases per 100,000 populations.
African-Americans are affected about three times more often than Caucasians. Women are stricken about eight times more frequently than men, which is one reason that hormones are believed to play an important role in the disease. 
Lupus also may afflict young persons. Approximately 65% of individuals with lupus are between ages 16 and 55, and childhood lupus is a serious condition. Most often, women are diagnosed with lupus in their late 30s and early 40s. (2)  
Types of Lupus
There are two main types of lupus:
1. Systemic Lupus Erythematosus
The term lupus is broadly used to refer to systemic lupus erythematosus (SLE), which is the most familiar form of this disease. Systemic means it can affect the entire body and is more severe than the other types.
The symptoms of SLE can range from mild to severe and tend to appear in cycles of remissions and flare-ups.
Lupus is Latin for wolf, while erythematosus means red. The disease name was coined by a nineteenth-century French doctor. According to him, the facial rash of lupus in some people resembled the bite or scratch of a wolf.
SLE is the most critical type of lupus and commonly affects the tendons, joints, and skin. It may also encompass the heart, brain, kidneys, and lungs.
Approximately 15% of SLE individuals start experiencing symptoms during adolescence.
The exact reason for SLE is unknown. Experts suspect that both genetic and environmental factors contribute to the disease. It may also be triggered by stress, chronic infections, some medications, and sunlight.
2. Cutaneous Lupus Erythematosus
Cutaneous refers to something that affects the skin. The cutaneous lupus erythematosus (CLE) is essentially a skin disease that causes rashes, ulcers, hair loss, sun sensitivity, and swelling in the blood vessels.
CLE can develop in individuals whether they have SLE or not. Around 5% of people with cutaneous lupus may develop SLE later.
Cutaneous lupus can be of two different types:
Discoid Lupus Erythematosus: The impact of this form of lupus is limited to the skin. The discoid lupus erythematosus (DLE) is characterized by the appearance of a raised, thickened, and scaly rash on the face, scalp, or elsewhere, which often leaves behind a scar.

This plaque-like rash usually starts as a raised red rash that eventually turns scaly or becomes dark brown. It may stick around for several days to several years and can recur.

Even though discoid lupus erythematosus does not damage the internal organs, it is usually a layover to a full-blown SLE for as many as 10% of all lupus cases. DLE may also cause sores in the nose or mouth, and there is a slight chance of SLE development later.
Subacute Cutaneous Lupus Erythematosus: Exposure to ultraviolet light can trigger a lupus rash, which is often found in sun-exposed regions of the body. This leads to the formation of skin lesions, which, unlike DLE, do not cause scarring.
Other types of lupus include:
3. Drug-Induced Lupus
Another important type of lupus is drug-induced lupus. It accounts for 10% of all lupus cases and the symptoms are similar to that of SLE.
Around 80 prescription drugs can cause an adverse reaction and trigger the onset or flare-up of lupus symptoms.
These drugs include medications used to treat hypertension, thyroid dysfunction, and seizures, as well as several antibiotics, antifungals, and oral contraceptive pills. Procainamide, hydralazine, minocycline, and some types of sulfa medications are common culprits in drug-induced lupus.
This type of lupus is relatively less aggressive with milder symptoms that tend to subside when the medicine is stopped.
4. Neonatal Lupus
Rarely, the mother's antibodies may have a negative impact on the fetus. As a result, the child may be born with a skin rash, low blood cell count, or liver problems.
However, these symptoms usually resolve after 6 months, even without treatment, and have no lasting effects.
Around 1 in every 1,000 healthy women are carriers of anti-Ro or anti-La antibodies, which are responsible for neonatal lupus. Often, the mothers of children with neonatal lupus do not have lupus.
Lupus in Children
The manifestations of lupus are the same for both adults and kids. However, boys have greater chances of getting childhood lupus than men acquiring adult lupus.
Childhood lupus is more common in children above 15 years of age. It requires more extensive treatment than adult lupus, yet it is important to understand that the long-term use of certain medications can pose risks.
Childhood lupus has a greater impact on organs such as the kidneys, increasing the incidence of kidney disease in children to around two times greater than that of adult lupus.
The severity of kidney problems can lower the survival rate of those with lupus. The damage may even lead to kidney failure, and therefore, the child may require a transplant. (3)
Causes of Lupus
Since the exact cause of lupus is unknown, studies on its possible causes are being conducted.
It is conclusive that lupus is a non-communicable disease and has genetic factors. However, an individual carrying lupus-associated genes is not likely to acquire the disease in the absence of other factors.
These factors influence the genes and cause the disease and include the following:
Environment: Smoking, sunlight, viruses, and certain medicines may trigger symptoms in people carrying lupus-associated genes.
Hormones: Estrogen may contribute to the development of lupus since it is found to be common in women in their prime reproductive period when estrogen levels are high.
Immune system problems
Severe stress or infection: Extreme stress or chronic infection can trigger lupus in individuals carrying genetic factors.
Symptoms of Lupus
The symptoms of lupus are discontinuous, vary among individuals, and may even change as the disease progresses.
The most common symptoms experienced by individuals with lupus are:
Fatigue
Muscle and joint pain
Skin rashes – Butterfly-shaped rash across the cheeks and nose, known as a malar rash
Alopecia (hair loss)
Other frequent symptoms include:
Generalized weakness
Chest pain
Raynaud's phenomenon
Photosensitivity
Malaise
Anxiety
Weight loss
Clinical depression
Stomachache
Headaches and dizziness
Confusion and seizures
Pain while lying down or taking deep breaths
People with lupus may experience different combinations of these symptoms. The symptoms tend to come and go. They can vary from person to person and may even change over time.
In some people, lupus can also cause life-threatening complications, including cardiovascular disease and kidney problems.
The period during which lupus symptoms, such as pain, fatigue, and a rash, get aggravated is known as a flare. It has a sudden onset and may be triggered by UV light exposure or stress.
Because lupus may affect many body systems, additional symptoms depend upon the region affected.
For example, there may be nervous system involvement, which may cause burning and tingling of the peripheral nerves, loss of sensation or strength in a limb, headaches, or even confusion, seizures, and psychiatric problems.
If the circulatory system is affected, anemia or clotting problems arise, leading to easy bruising and bleeding.
One of the most important and worrisome problems for individuals with lupus is the potential for kidney involvement.
"Lupus nephritis" may cause severe leg swelling and can sometimes lead to kidney failure. A need for hemodialysis or kidney transplant may arise.
Diagnosing Lupus
Diagnosing lupus is difficult because no single test can definitively diagnose it. Also, the disease has so many potential manifestations, and each affected individual is unique.
The diagnosis is made based on several clinical and laboratory criteria. A thorough history and physical examination, blood and urine testing, and sometimes tissue biopsy is required. (4)
Laboratory testing is done due to the following reasons:
The antinuclear antibody test (ANA test) is positive in 95% of individuals with SLE. Still, because it may be positive in other conditions, its presence alone does not confirm a diagnosis of lupus.
Autoantibodies are identified in the blood of individuals with a variety of autoimmune diseases. An analysis of the presence and pattern of autoantibodies can be very useful in establishing a diagnosis.

In SLE, several autoantibodies are specific for lupus, which means if they are detected, the diagnosis of lupus is probable. However, as they are not present in all individuals affected with lupus, their absence does not rule out lupus.
Additional laboratory studies help rule out the presence of anemia, kidney, or liver problems. Sedimentation rate and C-reactive protein indicate systemic inflammation.
These tests are very important and are a part of an overall assessment. They help rule out other conditions that may have similar manifestations.
Early diagnosis and treatment are vital for better health management.
Treatment for Lupus
Lupus has no permanent cure as yet, but that does not mean that you should lose faith in the efficacy of its treatment.
Lupus treatment is primarily directed toward:
Managing and controlling the symptoms, such as pain and fatigue
Slowing down or preventing complications, such as organ damage
Preventing flare-ups and possibly putting the disease into complete remission
Improving the individual's overall quality of life (5)
To achieve this, a multidimensional approach is taken that gives considerable importance to physical activity, diet, lifestyle changes, and appropriate medications.
Given that the symptoms of lupus vary in type and degree across different individuals, no single standard treatment applies to all cases.
Your doctor will first examine your symptoms and accordingly prescribe a mix of different drugs that are deemed appropriate for your case.
Commonly Used Medications
In mild cases, lupus can be treated with anti-inflammatory medications, such as ibuprofen or naproxen, and topical cortisone creams if rashes are present.
In more moderate cases, anti-malarial medications such as hydroxychloroquine may be used. This drug is quite effective, generally safe, and well-tolerated in most individuals, although rarely, eye toxicity can occur. Therefore, all persons on this medication should be monitored regularly by an eye doctor.
Corticosteroids, such as prednisone, are often added next and can be very effective in controlling the disease. However, they come at a cost, as they produce many side effects, including weight gain, osteoporosis, diabetes, and cataracts, to name just a few.
Many individuals with lupus need prednisone to control their condition, but doctors aim to keep the dose as low as possible.
Dehydroepiandrosterone (DHEA), a male hormone produced in the adrenal gland, may be beneficial and reduce the need for using prednisone. While it is available as an OTC drug, it should not be taken without prescription.
In severe cases or when high doses of prednisone are needed to control the disease, potent medications, such as immune-suppressants, are required.
The treatment depends upon the systems involved and their severity and upon the needs of the individual.
Many individuals with lupus require multiple medications for disease control. Examples of these medications include azathioprine, methotrexate, mycophenolate mofetil, belimumab, and cyclophosphamide.
Some individuals with SLE have blood coagulation problems and are at risk for blood clots, pulmonary embolism, and stroke. They typically require blood thinners.
Those with lupus nephritis often must be treated very aggressively to prevent kidney failure, while others require treatment primarily guided by symptoms.
Note: The medications mentioned above often come with certain deleterious side effects, which need to be discussed with your doctor to avoid any complications later. You must be completely informed about your choice of treatment and what to expect from it, both the negatives and the positives.

Prednisone, for example, can increase the chances of infection, stretch marks, osteoporosis, weight gain, and high blood pressure, but at the same time works quickly to help subside inflammation and thereby prevents organ damage.

Thus, despite its side effects, it is recognized as one of the most potent drugs for lupus. It is essential to discuss the pros and cons of the prescribed medications with your doctor.
Drugs to Avoid
Bactrim and Septra are antibiotics that can lead to lupus flares. Therefore, their use must be avoided. They are also known as sulfa antibiotics as they contain sulfonamide in addition to sulfamethoxazole and trimethoprim.
These drugs are generally used for the treatment of bacterial infections such as urinary tract infections. However, in individuals with lupus, they can increase sun sensitivity and lower the blood count.
Living with Lupus
It is important to learn as much about the condition as possible and establish a good relationship with a physician familiar with SLE, usually a rheumatologist.
Emotional, social, and family support are also essential. Personal care and lifestyle modifications, such as proper rest, stress management, regular exercise, and good nutrition, are critical.
Here are the things you can do when dealing with lupus.
1. Get involved in your care
Learn as much as you can about lupus, your treatment, and medications, and what kind of progress to expect and how to monitor it.
While you must adhere to the doctor-recommended dosage instead of self-medicating, it is important to learn about the purpose of the drug and its potential side effects. 
Keep close tabs on your symptoms to monitor if they are improving or getting worse.
If you feel that your condition is deteriorating after a period of lull, you are likely experiencing a flare-up episode, which must be managed through appropriate self-care, among other things.
Get regular checkups by a rheumatologist, and maintain a diary of your symptoms so that you can keep your doctor updated on your condition.
Your doctor will continue adjusting your treatment strategy and medicinal dosage, depending upon how well you respond to your current therapy.
2. Learn ways to manage the pain
Different kinds of pain warrant different treatments that target their underlying cause. For instance, warm compress works for muscle pain, but cold packs are a better bet for inflammatory pain, both of which are part and parcel of lupus.
Yet another kind of discomfort that is common to those with lupus is muscle tension, which can be eased with a bit of gentle exercise.
Thus, you may have to try a variety of pain management techniques before you find the one that suits you best.
3. Avoid excess sun exposure
Lupus can make you photosensitive, which requires that you limit your time in the sun, preferably by staying indoors during the day.
If and when you do venture out, keep yourself shielded from the sun by wearing protective clothing, such as full-sleeved shirts and accessories, such as sunglasses and wide-brimmed hats.
Never forget to apply a premium-quality sunscreen on all the exposed as well as covered areas of your body when stepping out in the sun. Full-body coverage is important since your normal clothes can only provide SPF 5 level of protection from the UV rays of the sun.
Make sure that your sunscreen contains a minimum SPF of 55 and an ingredient called Helioplex that can block out UVA and UVB rays, both of which can trigger serious flare-ups of lupus symptoms.
4. Take turns exercising and resting
A flare-up of lupus can drain your body and plummet your energy levels. While it is important to take things easy and allow your body time to recuperate, resigning yourself to the bed and giving up all activity can prove counterproductive.
Inactivity breeds further inactivity, which essentially means that the longer you stay inactive, the harder it will be to get back in the normal run of things.
Moreover, resting too much can make your joints stiff due to the lack of movement and can add to the feelings of fatigue.
It is extremely important to strike a balance between rest and activity. You can do so by doing low-impact exercises that work out the body without pushing it too much. These exercises include walking, cycling, stretching, swimming, and aerobics.
Alternate periods of activity with periods of rest to prevent overexerting the body.
Regular, light-to-moderate exercise will not only help improve your stamina, joint flexibility, and overall fitness, but it will help release happy hormones in the body that can brighten your mood and counter fatigue.
Besides, exercise is also known to mitigate the adverse side effects of steroids and other strong drugs that are prescribed for lupus management.
Even during a particularly bad episode, try to do some gentle exercise every day to help your body recover faster and better. But do not miss out on your rest and sleep, which are just as important for the healing process.
5. Manage your stress
Living with lupus can be tough, and any kind of added stress will only make your condition seem worse than it is even if it does not affect its actual course. 
When you are already battling with an incurable ailment, there is little you can do but manage its symptoms and prevent flare-ups.
Taking too much stress may not trigger or aggravate your symptoms, but it can drain you out and make you less competent to fight the disease. 
Keeping yourself relaxed can make it easier for you to cope with lupus. Thus, an important aspect of lupus treatment is proper stress management through the following measures:
Try relaxation techniques such as meditation or deep breathing to put your mind at ease.
Practice restorative yoga and other light forms of exercise to overcome feelings of stress, anxiety, and depression, but make sure to balance it out with adequate periods of rest.
Share your thoughts, concerns, and experience with family, friends, and other loved ones when you feel overwhelmed by your condition.
Join support groups to seek a sense of community among people who are going through the same problems as you do.
Visit a psychologist who can suggest effective coping strategies to help you through the ordeal.
6. Quit smoking
Tobacco smoke can be a potential trigger, both for the onset and flare-up of lupus. This harmful habit can also put you at a higher risk of cancer and heart disease.
So, if you are a smoker and suffer from lupus, it is important to give up this potentially life-threatening habit as soon as possible.
7. Avoid alcohol
You are advised to cut down your alcohol intake in the interest of better health. This simple measure can improve the efficacy of your treatment, reduce the severity of your symptoms, and prevent other complications and health problems from developing.
While a lot of individuals with lupus do not report any negative outcomes from moderate drinking, one cannot ignore the negative role alcohol plays in diminishing the effectiveness of certain medications.
8. Do not get tattoos and body piercings
You can easily contract an infection after getting your body inked or pierced with a contaminated needle. This can be especially dangerous if you have lupus and you are taking immunosuppressants to quell your overactive immune system.
It is on account of this drug-induced dampening of the immune system that your body may find it difficult to overcome or even survive such infections.
Dietary Concerns
No single nutritional approach has been shown to impact lupus. That said, individuals with chronic inflammatory diseases should be mindful of what they eat, as some foods are inflammatory.
Avoidance of added sugars, high-fructose corn syrups, and processed foods is important, as these act as inflammatory triggers in most people. 
Gluten is another ingredient that can aggravate lupus symptoms in some people. Others may experience flare-ups after consuming dairy, corn, soy, or legumes.
Because triggers vary from person to person, it can be a challenge to determine which foods are inflammatory to an individual. As of now, no test can make an accurate determination as well.
Doctors typically recommend a whole-foods diet and advise their patients to compose a food diary to help them reflect on which foods may result in disease flare-ups.
It is often worth a try not to consume gluten and dairy products since they seem to be frequent culprits in inflammation.
Dietary Changes for Lupus Management
Your diet plays a major role in controlling lupus symptoms. Here are some
1. Maintain optimum vitamin D levels
People who have a deficiency of vitamin D3 have a higher risk of developing autoimmune diseases such as rheumatoid arthritis, multiple sclerosis, and lupus.
A 2018 review published in Autoimmunity Highlights threw light upon the immune-modulating effect of vitamin D. The findings suggested that vitamin D deficiency is not only conducive to the development of lupus but that lupus can also arise as a result of it. (6)
Individuals with SLE are recommended to maintain optimal levels of vitamin D in the body through adequate and timely supplementation. However, the amount of supplementation that will help to prevent and/or improve the condition still needs to be established through further large-scale studies. (7)(8)(9)
Consume foods that contain ample amounts of vitamin D, such as salmon and other fatty fish, fortified milk and cereals, cheese, egg yolks, mushrooms, and tofu.
Ask your doctor for appropriate dosage of vitamin D3 supplements.
Note: Your body can only synthesize vitamin D on its own when exposed to the sun, which is why it is also called the "sunlight vitamin." However, those with lupus cannot afford to spend too much time in the sun as most of them are sensitive to the ultraviolet rays.

Nearly 2 out of every 3 individuals with lupus suffer from this condition, which keeps them from soaking in the sun, and they have to derive their fill of vitamin D through diet and supplementation alone.
Conclusion:
Given that individuals with SLE tend to be highly photosensitive, they must avoid sun exposure the best they can. But the avoidance of sunlight means that your body will not be able to synthesize adequate amounts of vitamin D on its own. In such a case, there is no option but to rely on external sources of vitamin D, which include food and supplements.

Several studies show that increasing vitamin D levels may help in reducing SLE symptoms. A deficiency of this vitamin, on the other hand, is recognized as a key contributor to the development of autoimmune diseases such as lupus.
2. Consume more omega-3 fatty acids  
Omega-3 fatty acids are credited with anti-inflammatory properties that can help mitigate lupus symptoms. (10)
Moreover, these healthy polyunsaturated fats are known to improve blood flow and blood vessel function, both of which contribute to a healthy heart.
Fish oil is replete with omega-3 fatty acids and credited with significant cardioprotective effects that can help those who have lupus. 
A 2015 study published in the Nutrition Journal highlighted the benefits of consuming fish oil for patients with lupus. Fish oil is a rich source of omega-3 fatty acids that can help provide symptomatic relief from many of the ills that accompany lupus. (11)
In the study, 50 patients with SLE reported improvement in their quality of life, reduced fatigue, lower disease activity, and decreased degree of inflammation after the sustained consumption of fish oil capsules.
You can fulfill your omega-3 needs by consuming cold-water fish, such as salmon, sardines, mackerel, tuna, and herring.
Add ground flaxseeds, chia seeds, and walnuts to your diet, as these are also excellent sources of omega-3.
If you fail to meet your requirement through diet alone, you can take fish oil supplements after consulting your doctor
Conclusion:
Omega-3 fatty acids may help improve the symptoms of lupus as they are anti-inflammatory, but further research is needed in this area to establish this claim.
3. Consider turmeric
Turmeric has been found beneficial for the prevention and management of lupus. This therapeutic effect can be traced back to its main active component, curcumin, which is known to exhibit considerable anti-inflammatory potential. (12)
A 2012 randomized and placebo-controlled study showed that patients suffering from relapsing or refractory lupus nephritis had reduced proteinuria (abnormally high protein in urine), hematuria (blood in urine), and systolic blood pressure on account of turmeric consumption. (13)
Turmeric is a versatile spice that can be used in a variety of dishes. Thus, it is rather easy to include it in your daily diet through a wide range of food preparations.
But one of the best ways to derive its medicinal benefits is by taking this herb in supplement form, but only after consulting your doctor about the correct dosage.
Note: Turmeric may not be safe for people with gallbladder problems. It is a blood thinner and can amplify the effect of other anticoagulants to a dangerous degree. Thus, people who are already on blood-thinning medications should check with their doctor before using turmeric medicinally.
Conclusion:
Turmeric may help provide symptomatic relief to individuals with lupus, but this claim needs to be verified through more large-scale studies.
Foods to Avoid
Although no specific diet is recommended for individuals with lupus, certain food ingredients and items must not be present in your dinner plate to avoid flare-ups or complications.
1. Avoid saturated fats, cholesterol, and sodium
People with lupus are often prescribed steroids, which can raise their cholesterol, triglyceride, and blood sugar (glucose) levels. A diet that is loaded with saturated fats, cholesterol, and sodium can worsen these ill effects, resulting in some serious health outcomes.
You, therefore, have to watch what you eat so that these ill-effects do not get amplified. Mindful eating does not mean that you have to give up on all your favorite foods completely, but to eat them in appropriate proportions.
Limit your intake of greasy or salty foods. Instead, consume more whole-grain bread, fresh fruits, vegetables, and lean sources of protein, such as chicken and fish.
Sticking to a diet that is low in fat, cholesterol, and sodium is especially important for females with lupus between the ages of 35 and 44 since they are 50 times more likely to suffer a heart attack than the normal population.
Also, people with preexisting hypertension and kidney problems must restrict their sodium intake to the doctor-advised range in the interest of their health.
2. Avoid alfalfa sprouts, garlic, and echinacea supplements
Certain foods and supplements are known to trigger and enhance the immune response of the body. These immunity-boosting items are traditionally recommended to people battling from various kinds of ailments, be it the common cold or cancer.
However, their use can be counterproductive in the case of autoimmune disorders.
People who are diagnosed with an autoimmune disease such as lupus already have an overactive immune system, which, if stimulated further, can lead to increased inflammation in the body. The inflammation will, in turn, aggravate the lupus symptoms and worsen your condition.    
When dealing with lupus, be cautious of the following:
Alfalfa sprouts contain an amino acid called L-canavanine, which can rev up the immune system to produce an inflammatory response.
Garlic contains three substances, namely, allicin, ajoene, and thiosulfinates, that are known to bolster immune responses by enhancing the activity of white blood cells, particularly macrophages and lymphocytes.
Echinacea, which is often taken in the form of a dietary supplement to improve immunity, can cause a flare-up of lupus symptoms and should be avoided.
Pregnancy and Lupus
Lupus does not come in the way of having a healthy pregnancy, so long as it is well controlled. However, pregnant women with lupus have a higher risk of certain pregnancy complications than women who do not have lupus. They may also experience other problems that happen during pregnancy.
When lupus flare-ups are triggered during pregnancy, they mostly occur in the first and second trimesters. These flare-ups are usually too mild to qualify as a medical concern.
However, in some cases, the symptoms may be serious enough to warrant prompt medicinal treatment. 
Childbearing women with lupus are at greater risk of preeclampsia, especially if they suffer from preexisting kidney disease.
This is a common pregnancy complication that can turn rather serious, even fatal, for both the mother and the fetus if not managed promptly and properly.
Preeclampsia affects about 2 in every 10 pregnant women with lupus. (14)
Other complications include:
Women with lupus are more prone to miscarriages, wherein the baby fails to survive in the womb for less than 20 weeks of pregnancy.
Pregnant women with lupus are also at an increased risk of delivering a stillborn, wherein the baby fails to survive in the womb beyond 20 weeks of pregnancy.
Expecting women diagnosed with lupus are more likely to have a premature delivery, wherein the baby is born before 37 weeks of pregnancy.
If you have been in remission or had your condition under good control for at least 6 months before pregnancy, you are less likely to have complications.
Talk with your health care provider before getting pregnant about the safest time for pregnancy.
Lupus vs. Rosacea
Lupus erythematosus is often confused with rosacea and vice versa as both these conditions manifest similar visible symptoms, such as facial redness, photosensitivity. These conditions also have a greater incidence in women than in men.
However, these conditions are completely different and warrant different treatments. While lupus is an autoimmune disorder, rosacea is a chronic skin ailment with no discernible cause but a list of triggers. 
Thus, it is of utmost importance that you know what is causing your symptoms before you start treating them.  
For the longest time, doctors distinguish lupus from rosacea based on blood tests that determine the levels of antinuclear antibodies (ANAs) in the blood.
Unlike normal antibodies that fight infections, ANAs are proteins that are produced by the immune system to attack the nuclei of healthy cells. A body that attacks itself is the classic definition of an autoimmune disorder. (15)
So, if the test reveals an elevated presence of ANAs in the blood, a lupus diagnosis is made, rather than rosacea. However, a recent study has confounded this claim by demonstrating that those with rosacea often have high concentrations of ANAs in their blood as well. (15)
So, the risk of misdiagnosis is still very much concern since there is no concrete way to differentiate between rosacea and lupus erythematosus.
Who Are at Risk?
From children to adults, no one is safe from lupus, but some people have a higher risk of developing it than others. Your gender, age, and ethnicity/race can increase your chances of developing SLE.
Women, in general, are much more prone to this autoimmune disease than men, but those of reproductive age are perhaps the most susceptible.
Moreover, SLE is more prevalent among minority racial and ethnic groups, such as African Americans, Hispanics/Latinos, Asians, and American Indians/Alaska Natives, as opposed to Caucasians.
Common Complications Associated with Lupus
SLE and the way it is treated can give rise to several complications:
Scarring of the skin
Kidney failure
Stroke
Joint deformities
Bone fractures
Hip destruction (also called avascular necrosis)
Heart attack
Pregnancy complications
Cataracts
When to See a Doctor
The severity of SLE can range from mild to life-threatening, and only a doctor who specializes in this disease can determine the appropriate course of action for your particular case.
So, anyone with the slightest inkling of lupus must get prompt and proper medical assistance.
Your doctor will educate you about your condition and how to cope with it in the best way possible. Medical interventions, along with doctor-recommended self-care measures, will help ensure proper functionality, as well as improved quality of life.
In addition to a rheumatologist who is the primary point of contact, you may have to consult a cardiologist, pulmonologist, and nephrologist for the symptoms that occur in the wake of lupus. 
What you may ask your doctor:
What do you think is causing my problem?
Can my symptoms be stemming from more than one condition (disease)?
What tests will you conduct to diagnose the problem?
How often should I have checkups?
Are there any lifestyle changes that could help me manage this condition better?
Are there dos and don'ts that could help me cope?
Is it possible that my lupus symptoms are being triggered by a medication that I am taking?
Is it safe to take lupus medications while pregnant?
What precautions should I take to have a healthy, uncomplicated pregnancy?
What your doctor may ask you:
When did you first notice your symptoms?
Are you experiencing any new symptoms?
Is this a new symptom, or has it happened before? When did it happen, and how often?
Is there anything that makes your symptoms better or worse?
Have you identified any triggers for your flare-ups?
Are the symptoms consistently present, or do they come and go?
Is your condition worse in the morning, during the day, or at night, or does it remain the same throughout?
Do your symptoms interfere with your daily routine?
How severe is the pain you are experiencing on a scale of 1 to 10 (10 being the most painful)?
Does anyone in your family have lupus or an autoimmune disease?
Have you experienced fevers, oral ulcers, sun sensitivity, fatigue, or weight changes?
General Queries
Can drinking alcohol worsen lupus?
Generally, no, although alcohol should always be consumed in moderation for a variety of health reasons. Some of the medications used in lupus management may interact adversely with alcohol, so this remains an important consideration.
Can lupus increase your chances of developing cancer?
Yes. There appears to be an increased risk of malignancies in individuals with chronic inflammatory and autoimmune diseases. Moreover, some of the medications used to treat SLE, such as azathioprine and cyclophosphamide, are known to increase the risk of cancer. (16)
Does lupus increase the chances of infertility?
Yes. In women, premature ovarian failure may accompany lupus. More commonly, the stress related to the illness contributes to anovulatory cycles and difficulty with conception.
However, many women with lupus are able to become pregnant without much difficulty. In fact, a frequent concern is the best means for birth control for a woman with lupus. (17)(18)  
Can lupus lead to weight gain?
Some individuals with SLE develop a great deal of fluid accumulation and edema, resulting in weight gain. This is commonly seen in lupus nephritis.
Otherwise, many people with SLE lose weight, since they feed poorly, often lose appetite, and may lose weight and muscle mass.
Do symptoms of lupus worsen with age?
Not necessarily. Those who first develop SLE at an older age tend to have a milder course than younger individuals.
Why is lupus more common in women than men?
It has been postulated that the reason for the higher incidence in women than in men has to do with sex hormone differences between sexes.
Some studies have suggested that those on birth control pills may have a higher risk, and in some individuals, estrogen-containing medications seem to aggravate the disease. (19) 
However, other studies have not found this to be the case, so the matter is more complicated.
Estrogen and progesterone do have effects on immune cell function, so the hormone story is likely important in lupus.
Other theories suggest that the female preponderance is related to genetic factors on the X chromosome. So, it is really not understood why women have so much greater risk. (20)
Is lupus fatal?
There is no cure for lupus, but those who have it can lead long, fruitful lives with necessary treatment and regular follow-ups. Nearly 80%-90% of individuals with lupus tend to have a normal life span if they manage the condition properly, as indicated by the Lupus Foundation of America. (21) 
However, some people may not fare so well in the fight against lupus and succumb to it eventually, mostly due to the complications, which include infections, cardiovascular disease, and kidney failure.
The risk of death depends upon various factors, which include the severity of the condition and how well the body responds to the treatments.
Is lupus contagious?
No, none of the different types of lupus are contagious. It is a specific kind of autoimmune disorder that does not spread from person to person.
Final Word
Lupus is an autoimmune inflammatory disorder without a permanent cure. Thus, there isn't much you can do about it except try and manage its symptoms and prevent future flare-ups.
People with lupus can suffer from a whole range of discomforting symptoms, which may or may not be visible. Not only does this disease trigger joint pain, skin problems, and generalized weakness, it can also target and damage your internal organs.
The importance of timely and appropriate treatment cannot be stressed enough in diseases like lupus. Addressing your symptoms from the very onset can keep your condition from getting worse and can decrease the likelihood of complications at the later stages.
Most people with lupus can live a normal life. Early diagnosis and prompt treatment are key. Rheumatologists are specifically trained to treat this disease. Plus, you can try some natural remedies to relieve the symptoms and reduce the frequency of flare-ups.
Most of the tips, remedies, and lifestyle changes provided in this article can help improve the efficacy of your standard treatment.