Hypothyroidism refers to the deficiency of thyroid hormones in the body due to the improper functioning of the thyroid gland. It is a prevalent condition that is easily diagnosable and manageable. However, if left untreated, it can cause numerous and potentially fatal complications. (1)
Since thyroid hormones are involved in energy utilization, a lack of these hormones can slow down your body and manifest various symptoms.
However, in some cases, the level of hypothyroidism may be minimal and produce no symptoms, known as subclinical hypothyroidism.
Subclinical hypothyroidism is usually diagnosed via blood tests that evaluate thyroid function and represent a high-risk state for overt or clinical hypothyroidism eventually.
Thyroid Gland and Its Hormones
The thyroid gland is a butterfly-shaped organ situated in the lower portion of the neck, wrapped around the windpipe. It has two lobes, like the wings of a butterfly, attached in the middle by the isthmus.
The thyroid gland secretes thyroid hormones into the blood, helping the body to optimize its use of energy.
Additionally, these hormones aid in maintaining body temperature and regulating the proper functioning of various organs, such as the muscles, heart, and brain.
Thyroxine (T4) and triiodothyronine (T3) are the two chief thyroid hormones present in the blood. T3 is significantly more active, and it plays a vital role in cell metabolism. Upon secretion, nearly half of T4 is converted into active forms of T3 at the target body tissues.
How Common Is Hypothyroidism?
Approximately 5% of women and 3% of men in the United States have subclinical thyroid dysfunction. Additionally, around 0.5% of people are suspected of having undetected overt thyroid disease.
Also, about 4.5% of the total population (12 and above), or 5 out of every 100 people, in the United States are affected by hypothyroidism. (2)
Types of Hypothyroidism
Hypothyroidism can be classified into the following two types:
Primary hypothyroidism: A defect in the thyroid gland, resulting in a lack of production of hormones, which is the leading form of hypothyroidism
Secondary hypothyroidism: A problem in the pituitary gland, the gland located at the base of the brain that orchestrates the functions of several glands throughout the body including the thyroid gland, which can result in a deficiency of thyroid hormones
Causes of Hypothyroidism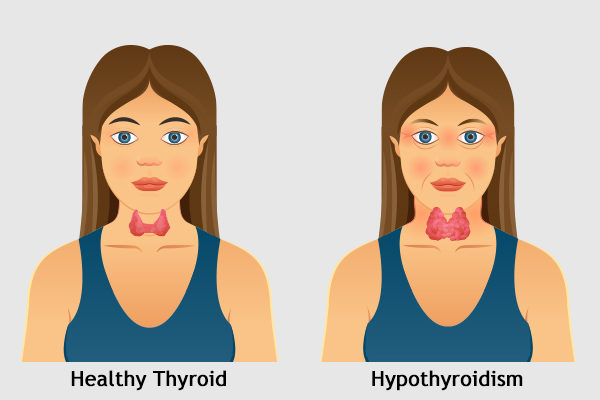 The following conditions can result in the development of hypothyroidism:
Hashimoto's thyroiditis: It is an autoimmune disorder in which the immune system produces antibodies that target the thyroid gland, causing inflammation, damage, and, ultimately various degrees of loss of function.

Hashimoto's is one of the common causes of hypothyroidism in the United States. However, in some cases, it may not result in hypothyroidism, thus not producing any symptoms.
Surgery: Conditions such as thyroid cancer, nodules, or Grave's disease may require partial or complete surgical removal of the thyroid gland.

When the whole gland is completely removed, hypothyroidism is definite. However, if only a part of the gland is removed, it may be able to produce the required amounts of hormones.
Iodine deficiency disorder: A deficiency of iodine in the diet can impede the production of thyroid hormones. This can also result in enlargement of the thyroid gland as it attempts to produce the hormones in response to the chemical messages of the pituitary gland. Often, this results in the development of goiter.

Because thyroid hormones are necessary for growth and development, a lack of iodine can cause stunted growth and brain damage in babies and children. This prompts the inclusion of thyroid function testing in the universal mandated newborn screening tests.
Radiation therapy: High-dose radiation for the treatment of cancer in head or neck, or Hodgkin's disease, can lead to hypothyroidism gradually after such an exposure.
Pregnancy: Some women may develop hypothyroidism after pregnancy due to the production of antibodies that act against the thyroid hormone, known as post-partum thyroiditis. It is essential to treat this condition since it can cause harm to both the fetus and mother.
Congenital hypothyroidism: It refers to the under activity of the thyroid gland present at birth, leading to a deficiency of thyroid hormones in the newborn's body.
Hyperthyroidism treatments: At times, the treatment for overactive thyroid glands can induce hypothyroidism. These treatments include:

Radio-iodine therapy
Antithyroid medication
Surgery

Pituitary gland or hypothalamic dysfunction
Also Read:
Symptoms of Hypothyroidism
A deficiency of thyroid hormones can significantly slow your body processes down, producing symptoms such as:
Fatigue
Cold intolerance
Appetite loss
Weight gain
Muscle weakness
Joint or muscle pain
Pale, dry skin
Slow heart rate
Goiter
Puffiness in the face
Less perspiration
Dry, thinning hair
Dry, flaky, brittle nails
Heavy flow during periods
Depression and sadness
Fertility problems
Forgetfulness
Poor attention span
Carpal tunnel syndrome or stinging feeling in the hands and fingers
Low libido
The signs of hypothyroidism, however, differ in children according to their age. While a few of them may not experience any symptoms at all, others may have:
Diagnosing Hypothyroidism
The pituitary gland controls the release of T3 and T4 hormones by varying its production of thyroid-stimulating hormone (TSH). Therefore, a deficiency of thyroid hormones, or hypothyroidism, can be detected by analyzing the levels of T4 and TSH in the blood. (3)
The routine procedure for the diagnosis of hypothyroidism involves the following tests:
Clinical evaluation: The doctor may suggest different tests if you are likely to develop hypothyroidism according to your medical and family history but do not have any symptoms yet.

A family history of thyroid problems, goiter, autoimmune disease, head or neck irradiation, taking medications that affect thyroid function, and radioactive iodine therapy are some factors that increase the risk of hypothyroidism.
Physical exam: The doctor will check your thyroid gland and look for the presence of other symptoms such as slow reflexes, swelling, dry skin, and slow heart rate.
Blood test: This test measures the levels of TSH and T4 hormones in your blood. A low T4 level, along with a high TSH level, indicates hypothyroidism. In mild or early hypothyroidism, the T4 level may be normal, while the TSH level is high.
Imaging: Uncommonly, you may be advised to undergo an MRI brain scan or other imaging tests if the doctor suspects a hypothalamic or pituitary cause.

Far more commonly, a thyroid ultrasound might be pursued to better assess the size and texture of the thyroid gland and to rule out the presence of thyroid nodules or cysts.
Thyroid antibody tests: Measuring the levels of thyroid antibodies can help detect Hashimoto's disease, which is the most common cause of hypothyroidism.
Standard Medical Treatment for Hypothyroidism
Hypothyroidism is commonly treated with thyroid hormone replacement therapies:
1. Natural thyroid preparations
Desiccated thyroid, or thyroid extract, is a prescription medication obtained from a pig's glands. These natural thyroid preparations contain both T3 and T4 hormones and are the first pharmacologic treatments to enter the market. (4)
These preparations are only used in a small subset of patients, mostly in the setting of alternative medicine, and can be difficult to titrate and adjust. (4)
2. Levothyroxine (T4)
The standard treatment for hypothyroidism, levothyroxine, is used for patients with overt clinical hypothyroidism. It is also used in some cases of subclinical hypothyroidism when the presence of a goiter or antithyroid antibodies is confirmed.
3. Liothyronine (T3)
Liothyronine can be used for people who do not fully respond to levothyroxine treatment due to the rare inability to convert T4 into T3. T3 is the active hormone and, therefore, may need to be taken twice a day due to its rapid action.
Although liothyronine is beneficial for people with the rare genetic defect of impaired ability to convert T4 to T3, its effectiveness in the general population is not conclusive.
Note: Once hypothyroidism is in play, it is most likely lifelong and, as such, requires indefinite treatment with thyroid hormone replacement. Periodic monitoring and dose adjustments of levothyroxine are crucial parts of chronic care.
The reason is undertherapeutic doses could result in unresolved hypothyroid symptoms and its associated complications.
Conversely, supratherapeutic doses could lead to symptoms of hyperthyroidism and its associated complications, including palpitations, irregular heartbeats, and accelerated bone density loss, to name a few.
Precautions When Taking Thyroid Hormones
Avoid consuming the following items together with thyroid hormones:
Soybean flour
Walnuts
Cottonseed meal
Calcium supplements
Iron supplements or multivitamins containing iron
These items should be taken 3-4 hours before or after taking thyroid hormone preparations.
Dietary and Lifestyle Changes for Hypothyroidism
Generally, no specific diet can help relieve the symptoms of hypothyroidism. It is vital to consume a healthy, well-balanced diet that includes a variety of foods to maintain good health.
While there is no evidence to support the consumption or avoidance of certain foods for improving thyroid function, you may consult a nutrition professional for a diet that supports your medications.
The use of supplements may be considered only upon consultation with your doctor. He will analyze whether you need supplements and accordingly alter the dosage to prevent any adverse reaction with the thyroid drugs.
Here are some dietary considerations to keep in mind when dealing with hypothyroidism:
Manage your iodine intake: Iodine is essential for the normal functioning of the thyroid gland. The majority of your iodine intake is through the consumption of iodized salt added to foods, but you may also take supplements if required.

Consult your doctor before starting iodine supplements, as iodine consumption can cause harmful side effects in people with autoimmune disorders such as Hashimoto's. Iodine supplements, or foods with high iodine content such as kelp, dulse, and other seaweeds, can cause or aggravate hypothyroidism.

Follow a diet helpful for weight control. Obesity is a significant risk factor for hypothyroidism, and vegans are less likely to develop hypothyroidism.

A study conducted in 2013 showed an association between a vegan diet and a lowered risk of hypothyroidism. (5)

Another study found an increase in oxidative stress in women who were undergoing thyroxine replacement for Hashimoto's disease. Results showed that a normal BMI and daily consumption of fruits and vegetables were associated with the lowering of oxidative stress levels. (6)
Take supplements: You may take the following supplements upon consulting with your doctor:

Selenium: This mineral is an important constituent of selenoproteins and various enzymes that are essential for reproduction and the metabolic activities of thyroid hormones. Most of the selenium is concentrated in the thyroid gland, while traces can be found in muscle tissues.

A study conducted in 2015 found that zinc and selenium exhibited effects on thyroid functioning in overweight hypothyroid females. (7)
Vitamins D and B12: Hypothyroidism is associated with hypovitaminosis of vitamins D and B12. Taking these vitamins in supplement forms was found to help improve the deficiency and associated symptoms. (8)(9)(10)
Note: Since an underactive thyroid can slow down the heart rate, sudden exercises can cause a sudden increase in the heart rate, which may be harmful. Therefore, heavy, strenuous activities should be avoided until you are certain that your thyroid condition is under good control. It is vital to consult your doctor before starting any exercise routine.
Hypothyroidism and Weight Gain
Hypothyroidism slows down your metabolism. Thus, it is easier for fat to accumulate in your body. Additionally, hypothyroidism makes losing weight difficult due to the improper functioning of the body.
However, not all patients with hypothyroidism have excessive fat. Generally, the extra weight may be a result of excess retained salt and water. In some severe cases, weight gain may be caused by myxedema.
Often, weight gain associated with severe cases of hypothyroidism can lead to sleep apnea, which is a sleep disorder that is associated with repetitive pauses in breathing while asleep. This condition results in disturbed sleep and daytime sleepiness.
Hypothyroidism and Pregnancy
Hypothyroidism rarely develops during pregnancy. When it does occur, it may go unnoticed as the hypothyroid symptoms, such as weight gain and fatigue, could overlap with the normal changes associated with pregnancy.
It has been observed that maternal hypothyroidism can have adverse effects on maternal and fetal outcomes. Also, it may give rise to other conditions harmful to their health. (13)
Prompt diagnosis of hypothyroidism during pregnancy is crucial, as the fetus depends on the mother for the supply of thyroid hormones in the initial months of gestation. These hormones are vital for the proper brain development and growth of the baby.
Additionally, hypothyroidism can cause anemia, high blood pressure, weakness, and muscle pain in the mother. It also increases the risk of premature birth, stillbirth, and miscarriage.
Therefore, it is essential to treat hypothyroidism in pregnant women at the earliest for the safety of both the mother and fetus.
Risk Factors for Hypothyroidism
Multiple factors can predispose you to develop hypothyroidism, including:
Prior thyroid surgery
Radiation therapy for the neck or head
Family history of hypothyroidism
Gender – women are more likely to develop hypothyroidism than men
Old age – individuals above 65 are at a higher risk
Complications Associated with Hypothyroidism
When left untreated, hypothyroidism can cause various complications such as:
Goiter: The pituitary gland stimulates the thyroid to produce hormones through chemical messages. In response to the chemical stimuli, the thyroid gland enlarges, known as goiter.
Obesity: Excessive weight gain is one of the most common effects of an underactive thyroid gland since the thyroid hormones regulate metabolism. However, simple exercises and diet modifications can help control weight.
Myxedema: This rare but potentially fatal complication develops in patients with prolonged, untreated hypothyroidism. In this condition, the body fails to maintain homeostasis due to the failure of adaptive mechanisms.
Depression: Hypothyroidism is a common cause of severe depression, especially in older women.
Heart disease: A deficiency of thyroid hormones can result in the slowing of the heart rate. It might also be associated with reduced heart muscle pumping force and, occasionally, accumulation of fluids in the space surrounding the heart, known as pericardial effusion.

Low thyroid levels can also lead to high levels of cholesterol, especially LDL cholesterol, eventually causing narrow, hardened arteries.
Birth defects: Because the thyroid hormones are vital for the growth of the brain and nervous system of the baby, hypothyroidism, especially in the first trimester, can result in loss of IQ points, learning disabilities, and problems in the development of the child. (14)
When to See a Doctor
Visit a doctor and get yourself tested for hypothyroidism if you experience the following symptoms:
Unexplained weight gain
Fatigue
Sensitivity to cold
Dry skin and hair
Depression
What you may ask your doctor:
Do my symptoms indicate hypothyroidism?
What is the treatment plan for my condition?
What are the benefits and risk factors of each treatment option?
How often should I get myself tested?
Should I consult an endocrinologist?
What your doctor may ask you:
Have you gained weight despite eating less?
Are you experiencing a lack of energy?
Has your skin become drier?
Are you constipated?
Do you experience muscle pain or cramps?
Have you noted any change in your voice?
Are you more sensitive to the cold?
Do you feel depressed?
Have you experienced any memory loss?
Final Word
The thyroid gland manages the secretion of thyroid hormones, which are involved in various metabolic processes such as energy utilization and growth. An underactive thyroid gland fails to secrete the optimal amount of the hormones into the bloodstream, leading to hypothyroidism.
Hypothyroidism may be caused by autoimmune disorders or a lack of iodine in your diet. It is essential to treat hypothyroidism, which involves hormone replacement of thyroxine tablets for life.
Expert Answers (Q&A)
Answered by Dr. Tharsan Sivakumar, MD (Endocrinology)
Can a person suffer from both hyperthyroidism and hypothyroidism?
An individual can, during a period of time, convert from hyperthyroidism to hypothyroidism and vice versa, but it is quite rare to experience both conditions simultaneously. This has been reported in rare cases, however. One case report supports this condition. (15)

Most people who experience hypothyroidism develop it because of Hashimoto's thyroiditis, which involves the production of thyroid autoantibodies directed against one's own thyroid.

While Hashimoto's thyroiditis typically causes hypothyroidism, it can at some periods of time also cause Hashimoto's toxicosis, which is a type of hyperthyroidism, but this hyperthyroidism is typically transient. People with hypothyroidism can also develop other types of hyperthyroidism and vice versa.
Does hypothyroidism have any effect on the mood and personality of a person?
The typical mood change caused by hypothyroidism is sadness or depression. Hypothyroidism can also lead to fatigue, which can also affect a person's mood.
What dietary changes should be made when suffering from hypothyroidism?
Patients with hypothyroidism who are living in developed countries do not require any specific dietary changes. Nevertheless, since the production of thyroid hormones depends on iodine, which the body does not make, it is essential that patients take an adequate amount of iodine in their diet.

Iodine is found naturally in soil and seawater and is available in some foods such as dairy products, seafood, meat, eggs, and some breads. Most people in developed nations get enough iodine from these foods and iodized table salts.

An exception to this rule might be pregnant women who may need supplementary iodine, which is included in prenatal vitamins.

Worldwide, however, there are at least 30 countries that are iodine deficient. (16)
How does untreated hypothyroidism of the mother affect the fetus during pregnancy?
The fetus does not have a thyroid gland and therefore does not produce its own thyroid hormone during most of the first trimester. At this time, the fetus derives all of its necessary thyroid hormone from the mother.

For this reason, it is especially important that in the first trimester, the mother's hypothyroidism is treated. It is however essential to treat hypothyroidism not only during the first trimester but throughout the pregnancy.

Even mild hypothyroidism can cause adverse gestational outcomes, such as preterm delivery, low birth weight, fetal death, and impaired intellectual development of the baby. (17)
Can hypothyroidism reduce a woman's fertility or increase the chances of miscarriage?
A Cochrane review of published scientific studies in 2019 was unable to draw a conclusion on whether a fertility and/or miscarriage benefit can be derived from supplementing women who are subclinically (borderline) hypothyroid or frankly have normal thyroid function but with positive thyroid autoantibodies (increasing the future risk of thyroid dysfunction) because of the low quality of the studies available. (18)

However, because of the possible benefits and considering the low risk of side effects, supplementation is sometimes recommended by medical guidelines in these women.

In women who have overt (as opposed to borderline) hypothyroidism, it is more established that hypothyroidism can affect fertility rates and can increase the risk of miscarriages.

Women who are hypothyroid may not produce enough luteinizing hormone (LH), which is involved in the mid-menstrual cycle surge of hormones that signal the ovaries to release an egg. Without this signal, ovulation may not occur, which will impede conception.

In a study where approximately 24% of infertile women were diagnosed with hypothyroidism, researchers found that over 76% of these women could conceive within 6 months to 1 year after getting their hypothyroidism treated. (19)
Is it possible to check one's thyroid at home?
It is not possible to check your thyroid levels at home by yourself. You will need a blood test. The easiest way for most people is to ask their healthcare providers to do a simple blood test to check their levels.
Is it possible to cure hypothyroidism permanently?
There is no way to cure hypothyroidism permanently.

However, sometimes people who have hypothyroidism regain normal thyroid function either temporarily or permanently, depending on several factors, such as the cause of the hypothyroidism and the residual thyroid function remaining.

Another way of regaining normal thyroid function is by correcting other illnesses or factors contributing to the hypothyroidism.
What is the best possible way to treat hypothyroidism?
Hypothyroidism is generally a disorder that is easy to diagnose and treat with a low risk of side effects leading from such treatment.

It is important to follow up regularly with your healthcare provider so that they can determine whether it is appropriate to screen you for thyroid dysfunction.

If your general practitioner has difficulty getting your thyroid levels balanced, then you may benefit from seeing an endocrinologist, a specialist in thyroid disorders.
About Dr. Tharsan Sivakumar, MD, FRCPC: Dr. Sivakumar is the director of the Institute of Diabetes & Endocrinology and the president-elect of the American Association of Clinical Endocrinologists (AACE), Canadian Chapter.
He is board certified by the American Board of Internal Medicine in endocrinology, diabetes, and metabolism, as well as internal medicine. He is also a diplomate of the American Board of Clinical Lipidology.
In addition, he is certified by the Royal College of Physicians and Surgeons of Canada in internal medicine as well as endocrinology and metabolism. His areas of clinical and research interest include diabetes, lipidology, and general endocrinology. He has a number of publications in prominent peer-reviewed medical journals.