Key Points
Hand washing is a healthy practice, and it is necessary to follow the proper steps to clean your hands of germs and dirt efficiently.
Alcohol-based sanitizers can be used as substitutes for soap and water, but the latter is the preferred choice.
Washing your hands often helps clear out any germs that may be present on your hands.
Hand washing is one of the primary hygiene practices that people learn from an early age. It plays a major role in preventing infections and illnesses such as colds, flu, and food poisoning.
When it comes to washing your hands correctly, various factors need to be considered.
Rubbing a small amount of soap between your palms without paying attention to the fingers and back of the hand or washing your hands for 10 seconds only are some common mistakes that people make. Most people also forget to wash under their fingernails.
Such careless measures allow the pathogens to stay on your hands, thus increasing the chances of infection. When you touch your face with improperly washed hands, you enable the pathogens to enter your body and cause an infection.
Pathogens can enter your body via any mucous membranes, such as your eyes, mouth, and nose.
Additionally, contaminated hands are a common reason for the spread of infectious diseases, such as gastrointestinal and respiratory infections, among people.
Despite its importance, a majority of individuals often fail to practice the correct hand washing technique or do not perform it as frequently as needed.
The main issue is that although people may wash all areas of their hands and under their nails, many do not wash their hands for the correct amount of time.
Hand hygiene is a fundamental practice of infection control programs and is a key factor in reducing the cross-transmission of pathogens in the healthcare domain.
It has been found that proper hand hygiene practices have a positive effect on reducing the incidence of the respiratory tract, skin, and gastrointestinal infections. These practices cover the use of alcohol-based lotions or rubs as well. (1)(2)
When to Wash Your Hands
While it is impossible to keep your hands consistently clean, frequent hand washing is imperative to prevent the transmission of microorganisms.
However, it is essential to remember that overdoing it can be harmful as well.
Below are the instances of when you should be washing your hands:
When dirt, blood, body fluids, or any other contamination is visible on your hands
After using a restroom
Before and after meals (3)
Before feeding children, the ill, or the elderly
Before inserting or removing contact lenses
Before handling any food item that is consumed raw or uncooked meat and poultry
Before, during, and after preparing meals
Before and after assisting someone with diarrhea or vomiting
Before and after treating a wound or cut
After coming in contact with an animal, its waste, or its feed
After handling waste or working in the garden
When visiting any public space, including places of worship, public transport, grocery stores, and markets
After touching any surface outside the home
After handling money
After smoking
When entering and leaving a clinic, hospital, or any healthcare facility
Wash Your Hands the Proper Way
A quick scrub and rinse are not enough for eliminating pathogens from your hands. It is vital to follow the standard steps for effective handwashing:
Wet your hands using clean running water from the tap. You may use cold or tepid water. Avoid hot water as it may dry out your skin.
Apply soap bar, liquid soap, or powdered soap to your hands. Antibacterial soaps are not necessary, as they are not proven to be completely effective in removing all the microbes.
Lather up your hands by rubbing the soap between your palms. Make sure to cover the front and back, between the fingers, under the nails, and wrists.
Scrub your hands for at least 20 seconds.
Rinse your hands thoroughly for at least 10 seconds.
Pat your hands dry with a clean towel and then close the tap with another towel. Do not touch the tap with your hands. If using disposable napkins, discard them into the trash immediately.
You may also air-dry your hands or use an air-drying unit generally installed in public restrooms.
Hand Hygiene in Healthcare Settings
It is essential to maintain hand hygiene to assist the immune system in preventing infections when you are healthy.
However, washing your hands becomes imperative when you are not in good health, or your immune system is weakened, such as post-operation.
Therefore, every time you visit a healthcare facility, make sure to wash your hands properly, despite how clean they look.
Educate Your Kids on Hand Washing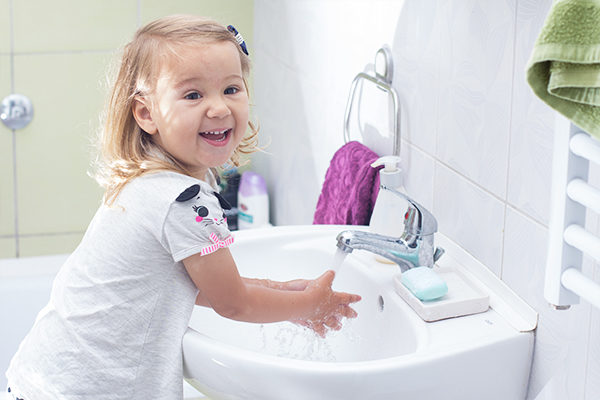 Children can come across infectious pathogens when they are outside and when playing with other children. Often, they touch their mouth, nose, or eyes with their dirty hands, thus getting infected.
It is also common for the whole family to come down with the illness once the child is infected.
Therefore, as a guardian, it is your responsibility to teach the correct hand washing technique to your child. Inculcating a practice of handwashing at an early age is an effective way of nurturing a lifelong habit.
It is also essential to teach children about the importance of frequent hand washing. Explain how it will help them prevent from being sick or spreading illness.
The following tips may be helpful when teaching your children to wash their hands:
Lead by example: Usually, children pick up on the things that they see their elders doing. Therefore, you must make it a point to wash your hands before cooking or having a meal, upon using the washroom, and after playing, thus setting an example.
Make it fun: Since children lose interest when being instructed, you may whip up a melody or a game to make it enjoyable.
Be patient: It may take some time for children to develop the habit of handwashing the proper way. Be there to help them at any point.
Give them reminders: While children may wash their hands when they see any dirt or paint on them, they should be reminded that germs are not visible and need to be washed off as well.
What If Soap and Water Are Not Available?
The aim of frequently washing your hands with soap and water is to impede the spread of germs.
However, you may not have access to soap and water at all times, such as while traveling, during a flight, or in an outdoor work setting. In such cases, you may use alcohol-based sanitizers and antibacterial wipes. (4)
Sanitizers with a minimum of 60% alcohol can significantly reduce the germs on the surface of your hands.
To use a sanitizer:
Pour out a few drops of the sanitizer on your hand (one or two pumps or squirts), enough to cover the whole surface.
Rub the product in your hands briskly.
Cover the palms, back of the hands, between the fingers, and around the nails, for about 20 seconds, until the product is exhausted, leaving your hands dry.
Although alcohol-based sanitizers and wipes can inactivate microbes when used correctly, they lose their efficacy if the hands are visibly greasy or dirty or if not allowed to dry properly. Additionally, studies report that the soap-water combo is more efficient than sanitizers. (5)
Final Word
Germs are present on all surfaces you regularly use, including remote controls, keyboards, door handles, and faucet handles.
Since you may not be conscious of the things you touch at all times, washing your hands thoroughly with soap and water is vital in preventing infectious diseases.
If not washed off properly, the germs that you pick up from different surfaces may enter your body through the mucous membranes of your nose, eyes, and mouth.