Heart attacks occur when blood flow to the heart is blocked by a buildup of plaque in the coronary arteries. 
It is common for women to ignore the subtle signs of a heart attack. Therefore, women often fail to seek medical attention, despite the warning signs, thus decreasing their chances of survival.
This article discusses the different symptoms of a heart attack in women that warrant immediate medical attention.
How Common Are Heart Attacks?
Heart disease is the leading cause of death in the United States. The risk spans across men, women, and most racial and ethnic groups. 
According to the Centers for Disease Control and Prevention (CDC), one person dies every 36 seconds in the United States from heart disease, and 1 in every 4 deaths in the United States is due to heart disease (approximately 650,000 American deaths per year). (1)
Symptoms of a Heart Attack in Women
Some women have symptoms similar to that of men when they are experiencing angina (lack of blood flow to the heart muscle due to plaque buildup in heart arteries) or a heart attack. (2)(3)
In the case of a heart attack, these symptoms are sudden in onset and may consist of chest discomfort, which can feel sharp, dull, achy, or just uncomfortable. 
However, some women (and men) do not experience the typical symptoms of chest discomfort. They may, instead, experience:
Sudden onset of shortness of breath
Aching or discomfort in the left arm or jaw/teeth
Upper abdominal discomfort
Passing out/fainting
Discomfort in the upper back
These symptoms may be associated with:
Getting suddenly sweaty
Lightheadedness
Nausea
All of these atypical symptoms, while they can occur in both genders, are more commonly experienced by women. However, most discomfort/symptoms occurring in the lower abdomen/back and below are very unlikely to represent a heart attack.
The symptoms described above are often misattributed to other causes. For example, I cared for a patient who believed she was having severe tooth pain when she exercised and was found to have a severe blockage in one of her heart arteries.
Another potential red flag is an asthma diagnosis in adulthood. Although this is possible, most asthma cases occur in childhood and persist into adulthood. New-onset "asthma" could actually represent an issue with the heart.
Silent Heart Attacks in Women
Yes, this can absolutely happen. In some cases, women have no symptoms at all. This is the minority, however. 
In other cases, women experience symptoms that are not typical (i.e., no chest pain) and believe that they can "push through" the symptoms. Unfortunately, women often put their health on the "back burner" to care for their families. 
It is important to pay attention to any new symptoms such as those described above and seek medical attention if you experience anything that you believe could represent a heart attack.
Can Vaginal Discomfort Also Be a Sign of a Heart Attack?
No. As described above, most symptoms below the belly button (umbilicus) are very unlikely to be coming from the heart. However, any new symptoms should be evaluated by your physician.
Lifestyle Habits to Help Avoid the Risk of a Heart Attack
Although you can't change your age or family history, you can modify various risk factors. This means that you can make changes in your life that can reduce your risk of a future heart attack.
These modifiable risk factors include:
1. Quitting smoking
Smoking or vaping (and secondhand smoke) causes 1 in 4 heart attack deaths. (4) Speak with your doctor if you need some assistance with quitting.
ALSO READ: How Does Smoking Affect Heart Health?
2. Exercise and weight loss
Talk to your physician before you start an exercise regimen. The American College of Cardiology and the American Heart Association recommends at least 150 minutes of moderate aerobic activity weekly. (5) Make time to be active!
3. Regular checkup
Get your blood pressure and cholesterol checked regularly by your primary care provider.
Although elevated blood pressure and cholesterol levels may not make you feel any different, they work silently to increase your risk of a heart attack and stroke. Treatment of high cholesterol levels and blood pressure is important to reduce your risk.
Risk Factors for Heart Attacks in Women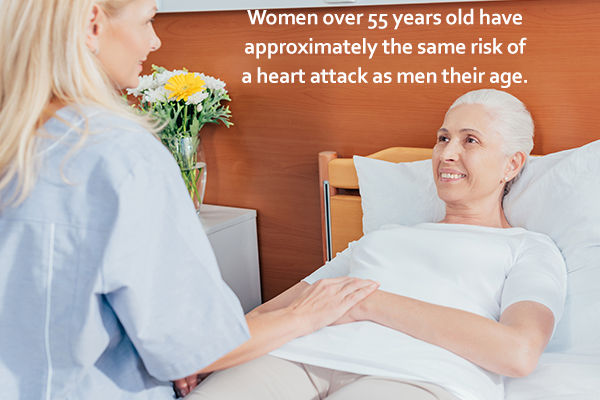 The following factors may contribute to an increased risk of a heart attack:
Age: Women over 55 years old have approximately the same risk of a heart attack as men their age.
Hormone replacement therapy (HRT): Patients on HRT, especially at high doses, were found to be at an increased risk of a heart attack and stroke. Avoidance of HRT is recommended in women who have no or minimal postmenopausal symptoms. (6)
Tobacco abuse: Smoking, tobacco use, and vaping are known to affect cardiovascular health in both genders.
Medical conditions: These include diabetes, high cholesterol, and high blood pressure.
Obesity: Obesity, often caused by a sedentary lifestyle, is associated with high cholesterol and fat levels, increasing the risk of a heart attack.
Genetics and family history: A genetic predisposition to premature heart disease (first-degree family member with a history of a heart attack at a young age).
Final Word
Heart disease is the number one killer of women, which is why it is imperative that women learn the warning signs and symptoms, see a doctor regularly, and learn their family history.
Working to reduce the "modifiable risk factors" is extremely important. It is essential that you don't ignore concerning symptoms even if you have no risk factors.
Was this article helpful?