A sharp stabbing sensation in your chest can leave you writhing in pain, enveloped with the thoughts of an impending heart attack.
Manifesting itself in different forms ranging from dull to intense, chest pain can travel throughout your upper body. The burning sensation can radiate towards your back, neck, jaw, shoulders, and even both arms.
Although the prospect of a heart ailment is anticipated, there might be other underlying causes for chest pain such as esophageal disorders and lung diseases. Because chest pain is a warning signal for many heart diseases, you should never turn a deaf ear to your chest pain and seek medical help immediately.
Causes of Chest Pain
Because chest pain is frequently an indicator of serious ailments primarily of the heart and lungs, we mistake it to be caused by either of them. The various cardiac and noncardiac causes of chest pain are listed below:
Cardiac reasons
Chest pain that arises due to a blockage or reduced supply of oxygen to the heart is known as angina pectoris. It can be due to the following:
Atherosclerosis is the deposition of excess cholesterol in the arteries, clogging the walls of the arteries (1) and constricting them. This slows down the flow of oxygenated blood. The lack of oxygen supply can result in chest pain. When the arteries carrying oxygenated blood to the heart are clogged with cholesterol deposits, this can result in coronary artery diseases, stroke, and heart attack.
Myocarditis, an inflammation of the heart muscles.
Noncardiac reasons
Chest pain that occurs from causes other than those of the heart is noncardiac chest pain. It can be due to the following:
Panic attack (2) as a result of anxiety or stress.
Digestive problems, such as heartburn, stomach ulcers, and esophagus disorders (3) associated with acid reflux.
Sore muscles from physical exertion.
Lung diseases, such as pneumonia, pleurisy, and pulmonary embolism. (4)
Costochondritis, an inflammation of the joints in your chest. (5)
Symptoms of Chest Pain
Chest pain is the most predictable symptom of heart ailments. Because chest pain can be symptomatic of other diseases as well, it is necessary to distinguish between the symptoms of cardiac and noncardiac chest pain.
Although it is difficult to demarcate the difference, the symptoms particularly noted in either of the cases are listed below:
Heart-related chest pain can be associated with the following symptoms:
Heaviness, tightness, or pressure in your chest
Stabbing pain that radiates to your jaw, neck, back, shoulders, and one or both arms (mostly left arm)
Pain that lasts more than a few minutes, goes away, and comes back with varying intensity
Pain that worsens with activity
Shortness of breath
Cold sweats
Weakness
Nausea or vomiting
Chest pain that has risen as a result of a noncardiac reason such as heartburn is most often associated with:
Acidic taste in the mouth
A sensation of food/fluids reentering your mouth (regurgitation reflux)
Trouble swallowing
Pain that comes and goes when you change the position of your body
Intense pain while breathing or coughing
Persistent pain that lasts for many hours
Home Remedies for Chest Pain
Home remedies should only be used as adjunct treatment along with proper medical treatment.
Listed below are 10 home remedies that can prevent future risks of chest pain induced by cardiac and noncardiac reasons.
Note: It is necessary to consult your GP for proper diagnosis and treatment, as chest pain can be symptomatic of severe cardiac complications and could be fatal if left untreated.
1. Chew on garlic cloves
Garlic is a natural remedy reputed to prevent cardiovascular ailments that are primarily caused by clogged arteries.
A 2006 study published in the Journal of Nutrition stated that regular consumption of garlic could prevent and delay cardiovascular diseases. (6)
Garlic can bring down cholesterol levels, prevent the buildup of plaque in the arterial walls, and as a result improve the flow of oxygenated blood to your heart. (7)
How to consume:
Add ½ teaspoon of garlic juice to 1 cup of hot water and drink it.
Eat 1 to 2 raw garlic cloves with water every morning on an empty stomach to prevent any future risks of heart diseases.
2. Drink ginger tea
This age-old remedy has found its way in almost every household due to its medicinal properties.
The bioactive compound gingerol is known to reduce cholesterol levels. The antioxidant and anti-inflammatory properties of ginger help protect the blood vessels from cholesterol-induced damage. (8)
Ginger is also effective in chest pain that is caused by acid reflux or other gastrointestinal problems.
How to consume:
Drink ginger tea. To make the tea, add 1 tablespoon of grated ginger to 1 cup of hot water. Cover and steep for 5 minutes, strain it, and drink the tea.
Eat a small piece of raw ginger daily on an empty stomach to promote cardiovascular health.
3. Drink turmeric milk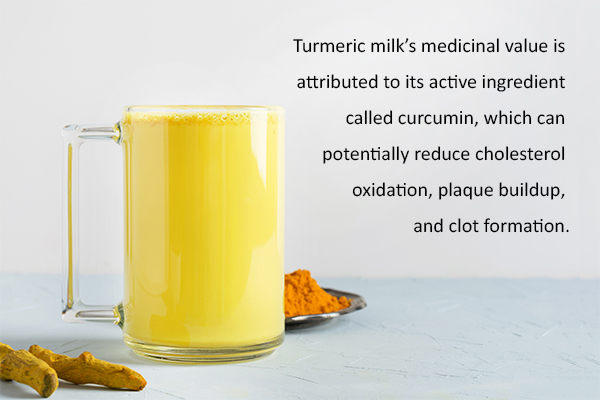 Traditionally used in Ayurvedic medicine and an ingredient of Asian cuisines, turmeric is critically acclaimed for its antioxidant and anti-inflammatory properties.
Its medicinal value is attributed to its active ingredient called curcumin, which can potentially reduce cholesterol oxidation, plaque buildup, and clot formation.
Additionally, its anti-inflammatory property pacifies the intensity of the pain. (9)
How to consume:
Add ½ teaspoon of turmeric powder to 1 glass of milk and boil it. Add a little honey and drink this milk while it is still warm. This can ease your chest pain induced by digestive issues.
To improve your heart health, include turmeric powder in your regular cooking or take curcumin supplements after consulting your doctor.
4. Consume cayenne pepper drink
Cayenne pepper is an effective remedy for chest pain due to noncardiac reasons. Its high concentration of capsaicin has anti-inflammatory properties. It also helps regulate the flow of blood to the heart. (10)
How to consume:
Add ½ or 1 teaspoon of cayenne pepper powder to 1 glass of any fruit juice. Drink it to get relief from chest pain.
You can also take cayenne pepper as a supplement after consulting your doctor.
5. Chew basil leaves
Basil is a storehouse of magnesium and vitamin A.
The magnesium in basil promotes the circulation of blood by relaxing the heart and blood vessels. The antioxidant activity of vitamin A in basil keeps a check on cholesterol deposition in the blood vessel walls. (11)
How to consume:
To prevent chest pain and improve the condition of your heart, take 1 teaspoon of fresh basil juice along with 1 teaspoon of honey daily on an empty stomach.
Alternatively, chew 8 to 10 fresh basil leaves or drink a cup of basil tea daily.
6. Add onion to your dishes
Onion has been used as a medicine in traditional practice to treat cardiovascular diseases. (12) It has shown positive effects on hyperlipidemia and reduced blood cholesterol level even in normal conditions.
It is advised to partake the whole onion rather than its residue or extract. (13)
How to consume:
Add onions to your sandwiches, salads, soups, stir-fried veggies, curries, and casserole preparations.
7. Drink a fenugreek decoction
Fenugreek is accredited with properties that can promote cardiovascular health.
Its antioxidant property can restore your heart health by reducing cholesterol levels and improving circulation of the blood to the heart. (14)
Fenugreek also acts as a natural digestive. The mucilage in fenugreek lubricates the digestive system and relieves chest pain associated with gastrointestinal issues such as indigestion and acid reflux.
How to consume:
Add 1 teaspoon of fenugreek seeds to 1½ cups of water and boil it for 5 minutes. Strain the mix. Add 2 teaspoons of honey and drink this tea.
To reduce cholesterol and prevent heartburn, eat soaked fenugreek seeds daily. Soak 1 teaspoon of fenugreek seeds in water overnight. The next morning, eat the soaked seeds along with the water on an empty stomach.
8. Munch on almonds
Almonds pack a punch of fiber, plant sterols, magnesium, and polyunsaturated fatty acids that can reduce blood cholesterol and promote heart health. (15)
Though no concrete evidence supports the role of almonds in calming acid reflux, they are used widely for the same.
How to consume:
Eat about a handful of almonds daily to keep your heart healthy.
9. Increase your omega-3 fatty acid intake
Omega-3 fatty acids are an assured way to keep yourself healthy by reducing your triglyceride levels (fats in the blood) and promoting heart health through their antioxidant and anti-inflammatory properties. (16)
How to consume:
Eat two to three weekly servings of fatty fish such as mackerel, tuna, trout, herring, salmon, bluefish, and sardines.
Vegetarian sources of omega-3 fatty acids include flaxseeds, chia seeds, walnuts, soybeans, tofu, winter squash, and olive oil.
You can also take omega-3 supplements after consulting your doctor.
10. Meditate and relax
Meditation is one of the best ways to deal with chest pain induced by stress and anxiety. It increases the flow of blood and oxygen in the entire body and even calms your heart rate. (17)
How to perform:
Sit in a comfortable position and relax your body.
Take a deep breath in through your nose.
Breathe out slowly through your mouth.
During this time, focus your mind on anything that makes you happy.
Repeat until the pain is gone.
Lifestyle Changes to Prevent Chest Pain
You can prevent the various causes of chest pain and minimize its incidence by following specific lifestyle strategies to maintain your health. It is important to introduce changes such as the following:
Quit smoking, be it active or passive.
Eat a wholesome diet rich in fruits and vegetables but low in fats.
Incorporate a moderate and regular exercise regimen in your schedule.
Maintain a healthy body weight.
Avoid drinking alcohol.
Undergo talk therapy or practice relaxation and meditation strategies if your chest pain is anxiety related.
Avoid stress.
Additional Tips
Breathe in through your nose and out through your mouth slowly when having chest pain. This will help you relax and provide more oxygen to your body.
Drinking a glass of pomegranate juice can also help reduce the pain in your chest.
Use extra-virgin olive oil in your culinary practice to boost your blood circulation.
Eat slowly and in a relaxed manner as swallowing air can cause chest pain.
Avoid freezing environments. Cold stimulates muscular reflexes that can cause chest pain.
Eat well-balanced and nutritious meals rich in omega-3 fatty acids, folic acid, vitamin B12, and other nutrients.
Drink hot drinks such as hibiscus tea to ease indigestion.
Avoid strenuous activities that cause chest pain and make it more severe.
Reduce stress as it can worsen your condition. Avoid situations that make you upset or stressed.
If you are overweight, take the necessary steps to lose weight.
Limit the amount of alcohol and coffee you drink.
Do not smoke or use other tobacco products.
Control your blood pressure and blood sugar level with diet and medicine.
Home remedies should only be used when you have been examined by a doctor and the possibility of a serious ailment such as a heart attack has been ruled out. Seek medical attention for persistent chest pain.
When to See a Doctor
The likelihood of having heart disease is high if you are suffering from a bout of chest pain. However, after reviewing the list of probable causes listed above, you would clearly know that chest pain can be a symptom of some other ailments as well.
You should never wait for your chest pain to cross a high watermark as it is associated with heart, lung, and digestive problems. A medical evaluation is a sure-shot way to trace the origin of this intense throbbing pain in your chest.
You can determine the urgency of your situation by analyzing if your chest pain constitutes an emergency. Seek immediate medical help if you experience any of the following:
Tightness and crushing pain in the chest
Pain radiating to the arm, neck, throat, lower jaw, or shoulders
Breathlessness
Dizziness
Pain progressively worsens every 15 minutes
Your doctor might refer you to a cardiologist (heart specialist) or gastroenterologist (a specialist in digestive disorders) as per your body's requirement for further testing and treatment.
Final Word
Chest pain can be a symptom of either a cardiac or a noncardiac ailment. Therefore, it is necessary to tend to the root of the problem by addressing your chest pain through proper diagnosis and treatment.
Once you are acquainted with the underlying cause, you can introduce a few lifestyle changes and integrate these home remedies in your daily routine to dodge any future complications of chest pain on your health.
Was this article helpful?