Circulation is the transport of blood and everything it carries from the heart after purification by the lungs to the rest of the body.
Proper circulation is incredibly important to promote and maintain healthy and effective body functions. Proper circulation means that the blood is circulated to the entire body for the transport of all the important nutrients and waste elimination. (1)
It is also crucial for maintaining homeostasis and making sure all body systems work just fine. If proper circulation is absent, it will affect the brain, heart, liver, and kidneys.
Your blood is circulated in various tube-like structures called the blood vessels. If these vessels become damaged or narrow due to a disease, the person may suffer from restricted or poor circulation, which can lead to health problems.
Poor circulation is the condition where a part of your body does not receive a sufficient amount of blood and thus has a low supply of nutrients and oxygen that are important to support cell function and their overall living state. (2)
Thus, it's vital to become aware of the warning signs of poor blood circulation that may negatively impact your health. Knowing these warning signs of poor blood circulation can help you get timely treatment.
Warning Signs of Poor Circulation
Check with your doctor if you experience these changes due to poor circulation.
1. Swelling and weakness in your fingers and toes
Lack of blood supply to the extremities causes them to feel numb very easily.
2. Painful cramps
A person with poor circulation experiences painful cramps in the lower body such as: (3)
Hip cramps
Thigh cramps
Calf muscle cramps
3. Feeling cold
The circulatory system is important in maintaining body temperature. Poor circulation will cause you to feel colder than you normally do. (4)
4. Varicose veins
Varicose veins develop when the valves in your veins that control blood flow direction become weak, letting the pressure build up in the vein and causing them to get twisted and swell. This leads to veins in the lower extremities appearing blue. (5)
5. Fatigue
When your blood supply is poor, your body is not able to get the optimum supply of nutrients and oxygen that are needed to generate fuel for normal functioning. This causes energy levels to drop, and you feel lethargic and weak. (6)
6. Poor cognitive function
You can only imagine what will happen if your brain does not get proper blood supply due to poor circulation. You will have problems with remembering things, concentrating, making decisions, and other cognitive functions.
In people suffering from Alzheimer's disease, low blood flow to the brain may also cause worsening of symptoms. (7)
7. Erectile dysfunction
An insufficient blood supply to the penis and reproductive organs is bound to happen due to poor circulation and may cause erectile dysfunction in men. (8)
8. Weak immune system
When your blood supply is restricted, antibodies will not be transported in adequate amounts to the site of the pathogen, leading to a weakened immune system. (9)
9. Hair loss
Poor circulation causes hair to fall out prematurely and can cause hair thinning. (10)
10. Constipation
Poor circulation also has an effect on your digestive system. Poor circulation resulting from blood pressure disorders or other heart diseases can lead to constipation. (11)
What Causes Poor Circulation?
Poor circulation occurs when the circulatory system stops working effectively.
Since the circulatory system is very complex, any interference in it can affect the delivery of blood, oxygen, and nutrition to the entire body.
Many issues can lead to poor circulation, including the following: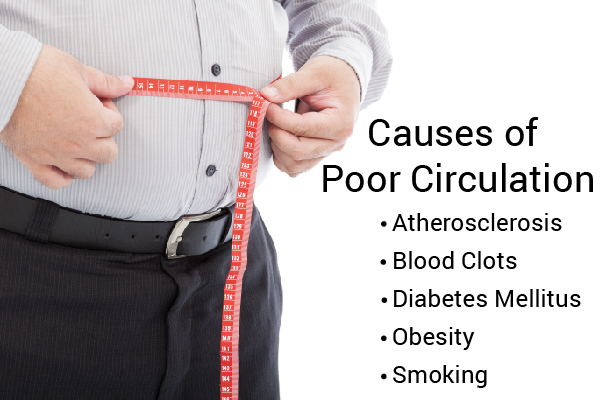 1. Atherosclerosis
Atherosclerosis is the most common cause of poor circulation and is the reason for more than 50% of deaths in the Western world. (12)
This is a condition where your blood vessels become restricted and narrowed due to the building up and accumulation of fat in them. This is more common in arteries than in veins or capillaries.
Atherosclerosis is known to affect mainly the arteries that supply blood to your brain, limbs, and heart.
2. Blood clots
A blood clot, as the name suggests, is a clot present in your blood vessel. (13) This restricts the flow of blood and causes poor circulation.
Sometimes, the clot may get carried by the blood to other parts of the body, which becomes even more dangerous and causes cardiovascular problems such as a heart attack or stroke.
3. Diabetes mellitus
Diabetes mellitus (DM) is characterized by high blood sugar levels, which cause plaque buildup. So, anyone who suffers from DM has a higher chance of suffering from heart issues. (14)
4. Obesity
Being overweight increases the risk of high blood pressure, and the presence of inflammation in the body leads to poor circulation. (15)
5. Smoking
Smoking is also a known cause of poor circulation. This is because smoking leads to damage to the walls of blood vessels and fat buildup. It can also increase the presence of free radicals in the body, which can cause inflammation and lessen blood flow. (16)
Prevention of Poor Circulation
Here's how you can prevent poor circulation and its related illnesses:
Hydrate properly daily.
Do not smoke or drink too much alcohol.
Ensure a proper posture.
Exercise and stay active.
Meditate to reduce stress.
Avoid too much caffeine intake.
In addition to these lifestyle changes, you should also incorporate these items into your diet: (17)(18)
Vitamin C
Garlic
Fish oil as supplements
If you suffer from the signs and symptoms of poor circulation, you can try these quick home remedies:
To reduce cramps, take a warm shower.
Apply a warm compress to lessen swelling.
Massage affected areas such as the extremities.
Most-Asked Questions About Poor Blood Circulation
What kind of exercise should I do to improve circulation?
Aerobic exercises are the best to improve circulation. Simply walking or jogging daily can help improve circulation. You can also try yoga and deep-breathing exercises.
Are lifestyle changes enough to treat poor circulation?
If your circulatory system has just started to get weak, lifestyle interventions such as eating a healthy diet and exercising daily are a good start to maintaining your health.
But if the damage to the circulatory system is severe, these modifications may not be enough to improve your circulation. In such a case, you should visit your health care provider and start medications. In more complicated cases, surgery may be required.
How do I know if chest pain is due to acidity or poor circulation?
If the chest pain spreads to one or both arms, back, neck, and stomach and is accompanied by shortness of breath, it may be due to improper blood circulation. Other symptoms include fatigue, lightheadedness, and cold sweat.
How to diagnose poor circulation?
Anyone who has a sedentary lifestyle and hardly ever exercises is thought to be at risk of heart issues. (19) A doctor, when trying to see if your circulatory system works fine, may check for:
Swelling of the skin
Itchiness
Blue fingers
Slow wound healing
Diagnostic tests to confirm the diagnosis may include:
Blood pressure monitoring
Arteriography
Angiogram
Ultrasound
Final Word
Poor circulation can be very risky in the long run; hence, you should either try to prevent it or try ways to improve it. If you experience serious complications such as chest pain, seek immediate medical help.
If you do not receive timely treatment, poor circulation can lead to life-threatening conditions.
Was this article helpful?