Edema is the accumulation of fluid into the interstitial space, which occurs when capillary filtration exceeds lymphatic drainage. When the regulatory mechanism is disrupted, fluid accumulates from the intravascular space to the interstitial space.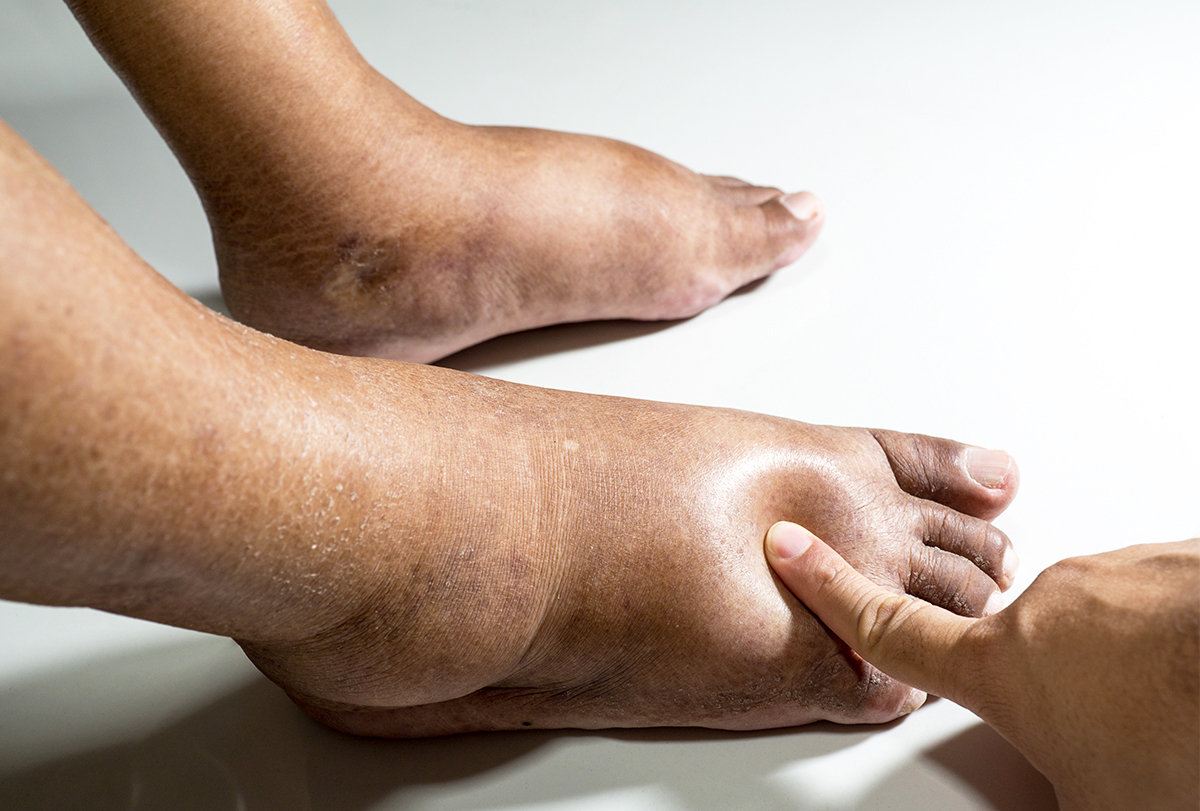 Both hydrostatic and oncotic pressures are responsible for maintaining the integrity of fluid between the intravascular space and interstitium.
In simpler words, edema is the retention of fluid in the tissues of the body, particularly under the skin. It occurs when the cellular fluids are filtered more rapidly than they can be drained and start collecting in the body tissues.
As a result, the affected area becomes swollen and puffy. The swelling brought on by the underlying fluid retention can range from mild to severe.
Most Commonly Affected Areas of the Body
Edema usually affects the lower half of the body, which carries the entire body weight.
While the lower legs, feet, and ankles tend to be the most affected, edema can also appear in other parts of the body, such as the face, hands, and stomach. Edema can affect anyone, but it is more common in pregnant women and older adults.
Different Stages of Edema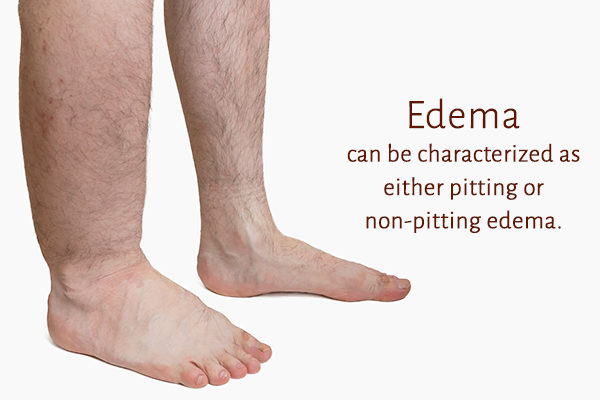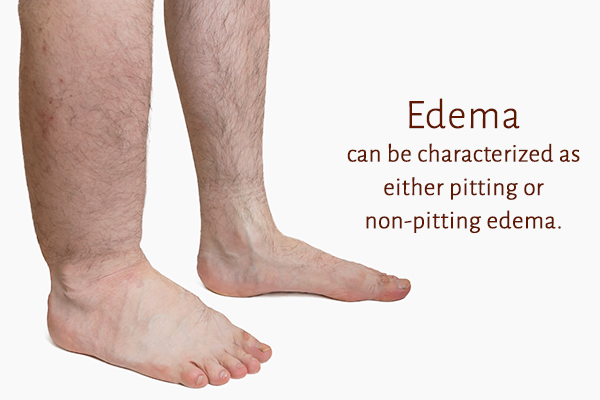 Edema can be characterized as either pitting or nonpitting edema.
Pitting edema is present when applying pressure to the swelling with a finger leads to an indentation, or a "pit," in the skin. The depth and time required for the indentation to resolve are used to grade the degree of pitting edema.
The grading scale ranges from 0 to 3, where 0 means the absence of edema and 3 means severe pitting in the edema-affected skin that persists for more than 15 seconds even after the removal of pressure. (1)
Nonpitting edema is the absence of indentation in the skin when pressure is applied.
Types of Edema
There are two major categories of edema – acute and chronic edema. Acute edema typically lasts for less than 72 hours, whereas chronic edema is more long term.
Acute edema is triggered by cellulitis, deep vein thrombosis, trauma, and calcium channel blockers. Chronic edema is caused by chronic medical conditions such as congestive heart failure, liver disease, and renal disease.
Common Causes of Edema
Edema can result from various causes, which include but are not limited to:
Venous insufficiency
Congestive heart failure
Chronic kidney disease
Deep vein thrombosis
Trauma
Liver disease
Each of these disease conditions may have different physiological processes that lead to the development of edema.
Medications such as calcium channel blockers, antidepressants, chemotherapy drugs, hormone therapy drugs, and nonsteroidal anti-inflammatory drugs (2) can all lead to edema.
Symptoms of Edema
The apparent symptoms of edema include significant swelling and puffiness at the affected site, which are most easily visible in the limbs. The swelling is usually accompanied by pain.
Fluid retention in the lungs can lead to shortness of breath, respiratory distress, and chest pain. You may also notice the following symptoms in addition to the characteristic swelling:
Extreme tiredness even after minimal physical exertion, such as climbing the stairs
Unexplained weight gain
Labored breathing
Cough that worsens at night or when lying down
Common Ways of Treating Edema
The following interventions can help in eliminating the excess fluid collected in the body and thereby relieve the swelling and pain:
1. Elevate the affected area
Fluid retention in the leg, ankle, and foot can be improved by raising the legs above the heart level.
2. Restrict sodium intake to less than 1,500 mg per day (0.3 teaspoon)
Sodium plays a critical role in maintaining proper fluid balance in the body, but excessive intake can disrupt this balance and pave the way for edema.
Excessive sodium is recognized as one of the major contributing factors to fluid retention in the body, (3) and so you have to put a cap on its consumption. Doing so requires meticulous dietary control and planning since sodium is the chief ingredient of one of the most elemental cooking ingredients, namely, table salt.
Processed foods are especially high in sodium and should be avoided by people suffering from edema. Also, sodium restriction will fetch better results in bringing down edema if it is coupled with diuretic use.
3. Expel excess fluids using diuretics
Diuretics promote the excretion of excess fluids from the body by increasing urine production. The excess fluids trapped in the body tissue are passed out of the body along with the urine, bringing down the swelling and relieving other edema symptoms.
Thus, diuretics are a standard part of edema treatment along with other nonpharmacologic interventions, such as limiting salt intake.
Diagnosing Edema
Edema in the lungs is typically diagnosed through imaging tests such as a chest X-ray or CT scan, but the suspicion for the same can originate from a physical exam.
The doctor usually gets an inkling of fluid retention in the lungs after listening to the internal sounds of the lungs using a stethoscope. In most cases, the doctor reports hearing decreased breath sounds or "crackles," which suggest underlying edema.
Edema in the legs, on the other hand, is typically diagnosed visually, when the presence of swelling becomes notable, or by palpation of the legs.
Risk Factors of Edema
People with the following conditions are more prone to fluid retention than others:
1. High blood pressure
Persistently high blood pressure can cause damage to the heart and kidneys, which can lead to edema.
2. Diabetes
Diabetes does increase the risk of developing conditions such as kidney disease and heart failure, which can then lead to edema in the legs.
3. Obesity
Obesity can increase the risk of developing edema as a direct effect of increased intravascular pressure. Obesity can also lead to chronic medical conditions such as kidney disease and heart failure, which, in turn, can lead to leg edema.
4. Cellulitis
Cellulitis can lead to inflammation, which causes increased capillary permeability, leading to edema in the affected area.
Most-Asked Questions About Edema
Are compression stockings helpful in treating edema?
Compression stockings can help relieve dependent edema, such as edema caused by venous insufficiency or lymphedema. Other recommended therapies include leg elevation, which can improve venous return and thereby reduce dependent edema.
However, if edema is due to conditions such as kidney or heart disease, compression stockings may have limited efficacy. In such cases, the condition only improves when the excess fluid is drained out of the body.
Should water consumption be decreased if one is suffering from edema?
The recommendation for water consumption depends on the etiology of edema. Edema caused by heart disease or renal disease typically requires fluid restriction.
Patients are advised to limit their daily water intake to approximately 1–1.5 L per day. Therefore, water consumption should not be increased.
Is edema in the lungs and legs a life-threatening condition?
Edema in the lungs and legs could potentially be life-threatening, depending on the causative factor. Edema in the lungs caused by pulmonary embolism, congestive heart failure, or renal disease can pose a risk of death.
However, edema in the legs caused by venous insufficiency is typically not life-threatening but can lead to pain, bleeding, skin infections, etc.
Is it normal to suffer from edema after undergoing surgery?
Edema is not necessarily a common result of surgery. If edema results following surgery, then the patient should seek medical attention to figure out the cause of the edema.
Final Word
Edema-induced swelling usually resolves on its own after a while in most cases, but some people may experience more grievous and long-lasting symptoms.
If your swelling fails to subside despite proper rest and preliminary care or if you develop severe symptoms such as shortness of breath, your edema may be stemming from an underlying health condition. In such cases, the swelling and other symptoms will not resolve until the root cause is adequately treated.
Was this article helpful?