Reflexology is a type of alternative medicine where it is believed that specific points on your hands, feet, and ears affect other parts of the body therapeutically. The name comes from the word reflexes, which refer to nerve endings that run through these areas within the body.
There are different reflexology points on the hands, feet, and ears. When these reflex points are pressed on, the nervous system is stimulated, which then benefits the organs corresponding to that point.
Reflexology is a holistic and very effective way of treating a health issue. It may not be as famous as acupuncture but very successful.
Reflexology cannot be said to be a cure for a health condition; it is only done to naturally heal the body by providing relief from stress symptoms and even pain. (1)
Health Conditions Improved Using Reflexology
Find relief from the following health conditions by using reflexology.
1. Nausea
Reflexology has been helpful for those who suffer from nausea by stimulating a reflexology point in your feet. It has been used in hospitals for cancer patients whose treatment includes nausea as a side effect.
A quick session of reflexology every day for around a month will reduce nausea, vomiting, and lethargy. (2)
2. Hypertension
Hypertension, or high blood pressure, is a very common health issue that remains persistent throughout the world. Tens of millions of people suffer from hypertension, and it is a serious issue as it further leads to complications including:
Heart attack
Stroke
Kidney failure
Heart failure
Renal problems
Reflexology can help improve hypertension. Reflexology of the solar plexus stimulates improvement in breathing as you relax your chest and diaphragm. This promotes relaxation and improved glandular activity. (3)
3. Insomnia
Insomnia is a medical issue that disrupts a person's sleep routine, resulting in poor quality of sleep. This is because sleep is important for maintaining good bodily functions and overall well-being.
Those who suffer from insomnia can benefit from reflexology as it promotes better sleep. Stimulation of the pineal gland, which is responsible for producing melatonin, is great for improving sleep. (4)
4. Cold
Many people experience cold symptoms every now and then, but some people suffer from the continued stress from colds, which affects their quality of life.
Medicines are available to resolve colds, but it is better to have a way of treatment that does not create dependency or side effects. One such treatment method is reflexology.
Reflexology can help relieve the symptoms associated with colds. There are points in your foot that help with congestion and thus will reduce your issue of coughing and phlegm. (5)
5. Infertility
Reflexology has been helpful with infertility. Advances in reflexology have shown how hand and foot reflexology stimulates reflexes in the reproductive organs such as the ovaries in women and testicles in men. This helps in inducing pregnancy and also increases your libido. (6)
6. Asthma
Asthma can be improved by reflexology as well. Reflexes in the lungs can be stimulated by pressing on the reflexology points in your hand and feet. This can be done via thumb walking.
Also, adrenaline has been shown to be helpful in treating asthma, which is why stimulating the gland responsible for producing adrenaline can relieve asthma symptoms. (7)
7. Migraine
Migraine is characterized by an insufferable pain in the head, which is also associated with nausea. Reflexology can be helpful in dealing with migraine and also nausea.
Your hands have points that stimulate the reflexes in your spine and brain. Thumb walking is also helpful in relaxing the spine and relieving migraine pain. (8)
8. Menstrual cramps
The majority of women around the world experience sharp pain before, after, or during their menstruation, which is referred to as menstrual cramps. This condition is usually controlled via medication.
But to prevent the use of medicines, reflexology can be an option to relieve menstrual cramps. There are points on your feet and hands that stimulate the ovaries by uterine reflexes. This can provide relief from the pain associated with menstrual cramps. (9)
9. Arthritis
Arthritis is another common issue that affects a lot of people around the world. This can be osteoarthritis or rheumatoid arthritis.
Hand and feet reflexology can help relieve the symptoms of arthritis such as joint damage, pain, and anxiety. Inflammation associated with arthritis can be improved via reflexology after the stimulation of points in your spine, knee, hip, and ankles. (10)
10. Depression
A lot of reasons can lead to depression such as experiencing a tragedy. There have also been cases where people suffer from clinical depression due to hormonal imbalances in the body. For instance, low levels of serotonin can contribute to depression.
Massaging the top of your toes to stimulate the brain reflexes causes increased secretion of serotonin, which can help improve depression. (11)
Most-Asked Questions About Reflexology
Can a reflexologist diagnose my ailments?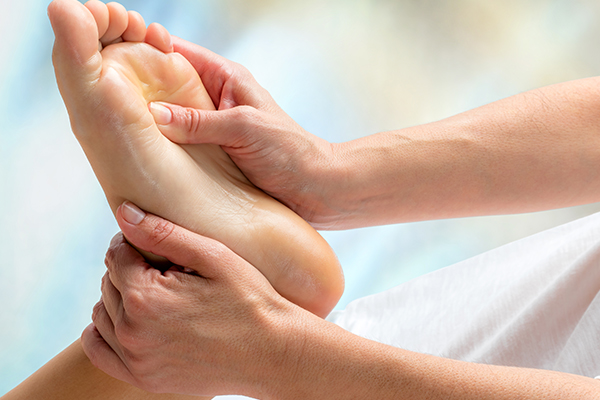 A reflexologist is not medically trained enough to diagnose your issues. They can provide symptomatic relief for various issues such as those mentioned above.
However, for a proper diagnosis of your issues, seek advice from a medical professional. Reflexology can be used along with medications for proper treatment.
How often should I have reflexology sessions?
The number of sessions with a reflexologist will depend on the severity of your ailment and the required treatment to improve your situation. Having weekly sessions is a good start to promote overall health and wellness. (1)
What should I do before a reflexology session?
It is best to eat light before your reflexology session. Also, avoid drinking alcohol before your appointment.
Can pregnant women go for reflexology sessions?
The good news is that reflexology is safe during pregnancy. Tell your reflexologist about your pregnancy so they can make modifications. There are also trained and specialized maternity reflexologists who can help prepare you for labor. (12)
Is reflexology safe during the first trimester?
While reflexology is generally considered to be safe, some people may experience side effects such as feeling lightheaded, emotional, or very tired. According to experts, it is better to avoid it during the first trimester (first 12 weeks).
How long does a reflexology treatment last?
A reflexology session can last for an hour or a little more. The duration also depends on your condition and the treatment required. Some time may also be required by the practitioner to prepare for your treatment, so that can be taken into account too.
What should I wear for my reflexology session?
It is important to wear comfortable clothing to your reflexology session. There's no other hard and fast rule about what you should and shouldn't wear.
When should I avoid reflexology?
There are various conditions where patients need to stay away from reflexology because it can cause adverse effects. These include:
First trimester of pregnancy: Avoid reflexology therapy during the first trimester of pregnancy as there have been cases where practitioners have been blamed for an unlucky miscarriage after the therapy.
Diarrhea and vomiting: Reflexology may result in overstimulation of bodily systems and may aggravate any infections.
Localized skin diseases of the hands, feet, and ears: The hands, feet, and ears are the main regions of reflexology. If there are infections in these areas, reflexology can be painful and exacerbate the condition.
Inflammation or swelling of the feet, hands, and ears: Inflammation and skin diseases may worsen due to the practitioner's hand or finger motion in the area of therapy. (13)
Fever and any infectious diseases whether systemic or localized: The body system is already stressed during an infection and will be overstimulated during therapy.
Final Word
Reflexology is the science of putting pressure on points in your feet or hands or other body parts and is suggested to have relaxing and stress-alleviating effects. It is a type of massage that involves focusing on points that correspond to organs that can be stimulated by applying gentle pressure on various areas.
Reflexology should be done by a professional reflexologist for the improvement of health conditions.
Was this article helpful?