Potatoes are a staple in diets across the world, but reducing them to just a food item is a grave injustice to the full potential of this starchy, nutritious vegetable. They are highly versatile, not only in the way they can be cooked but also in terms of their topical uses.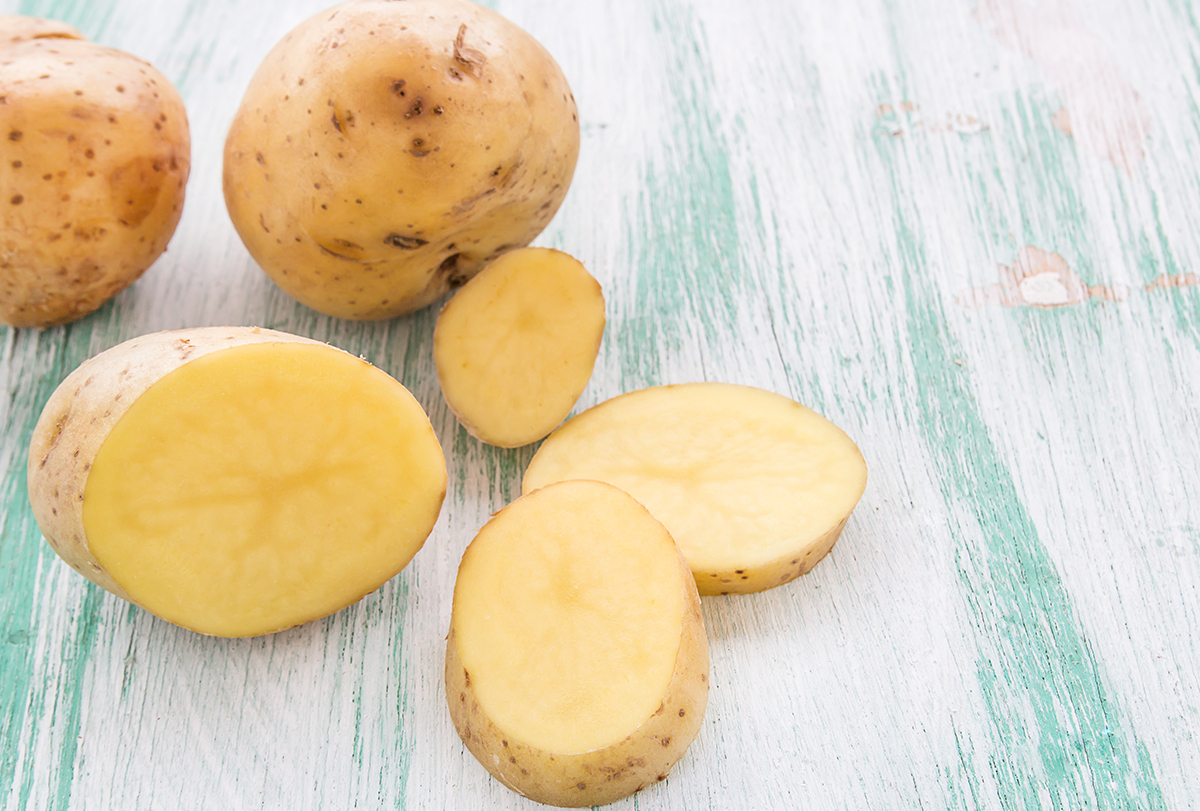 This article will enlighten you about some of the lesser known benefits of potatoes that can make your everyday household life a little easier.
Unusual Uses of Potatoes Besides Cooking Them
Potatoes can come quite handy in the following ingenious ways:
1. Nourishing the skin
Potatoes can be used topically to enhance your beauty in different ways. They contain several minerals, nutrients, and antioxidants that help nourish, repair, and rejuvenate the skin.
Plus, they provide gentle exfoliation to remove the excess sebum, dirt, cellular debris, and other impurities settled on your skin surface and inside your skin pores. This deep-cleansing effect is especially useful for people with blackheads, pimples, and oily skin.
Potatoes not only unclog your pores but also shrink them due to their inherent astringent properties. (1)
The starch in potato juice is known to exhibit a skin brightening effect, which can help fade age spots, suntan, and other blemishes on your face. It may also help banish skin dryness, tighten your skin to reduce wrinkles, and heal or prevent sunburn.
How to use:
Method 1
Slice a raw potato and gently rub its inside part over darkened skin or all over your face and neck.
Let the juice seep into your skin for 10 minutes before rinsing it off.
Do this once daily to clear your skin of any blemishes or hyperpigmentation.
Method 2
Blend 1–2 potatoes to make a paste.
You can also add some lemon juice and ½ teaspoon of turmeric for extra skin benefits.
Apply it to your face and neck.
Leave it on for about 15 minutes.
Wash it off thoroughly with normal water.
Use this face mask once per week to fade spots and get a brighter, more even skin tone.
2. Reducing puffy eyes
Potato exudes starch when used on the skin, which is known to exhibit anti-inflammatory properties that can bring down puffiness around your eyes. This is one of the easiest ways to get rid of under-eye bags without irritating the delicate skin around the eyes. (2)
This remedy may also help fade dark circles.
How to use:
Peel and slice a large potato.
Refrigerate the slices for 30 minutes.
Lie down, close your eyes, put a chilled slice over each eyelid, and keep the rest back in the fridge.
Leave it on for 10 minutes, and then apply a fresh cold slice again.
Repeat until that puffiness goes away.
3. Making a hot or cold compress
Potatoes can retain heat as well as cold for a long time. Due to this ability, they can be used to make your own warm and cold compresses for relieving a variety of common aches and pains.
How to use:
For a hot compress:
Bake or boil a potato.
Wrap it in a clean cloth.
For a cold compress:
Put a boiled potato in the fridge for at least an hour.
Wrap the chilled potato in a clean cloth or sock.
4. Reducing excess salt from meals
If you put too much salt in your soup, gravy, or stew by accident, just add a few raw potato pieces to the dish while cooking. The potato will absorb the excess salt to balance the flavor. This is a great hack for amateur cooks.
How to use:
Peel a few raw potatoes.
Cut them into thick chunks.
Dunk the pieces into the pot.
Let it simmer for about 10 minutes
Take out the potatoes and the dish is ready to serve.
5. Removing rust
Potatoes are naturally rich in oxalic acid, which is great at dissolving the rust accumulated on metallic items. (3)(4) In fact, you can find concentrated amounts of this organic compound in a variety of household cleaning products.
Rust can slowly eat away metal, making it hollow and weak as well as dirty and old looking. This simple remedy can help restore its shine and extend its longevity.
How to use:
Slice a potato in half and rub the insides on the rusted item.
Gently rub the metal surface. The oxalic acid in the potato will loosen the rust so that it comes off easily.
6. Cleaning silverware
Potato stock has long been used for removing tarnish from old coins, trinkets, and cutlery made of silver. This serves as a cheaper and more environment-friendly alternative to the chemical polish normally used for shining silverware.
How to use:
Boil a few potatoes until they are cooked.
Remove the potatoes and keep the water.
Immerse your silverware in the water for about 30 minutes.
Take the silverware out of the water and wipe it dry.
7. Polishing leather items
If your leather shoes and bags have lost their shine, all you need is a potato to make them good as new. This humble vegetable works as a great polishing agent for leather products – a simple hack that is inexpensive, readily available, and easy to use with outstanding results.
How to use:
Slice a potato in half and rub the exposed area directly on the leather surface.
The leather will instantly acquire a dull appearance but keep it aside for five minutes so that the potato juice seeps into it properly.
Wipe the leather clean with a soft brush or clean cloth.
8. Making stamps
Engrave a design into the flesh of a raw potato with a knife or cookie cutter, and use it for stamping. All you have to do is dip the carved side into some ink and then stamp it on paper or whatever surface you want to decorate.
9. Fertilizing plants
Potatoes are loaded with several nutrients that can bolster the growth of your potted plants, especially flowering plants such as geranium and rose. This staple vegetable works as a natural, chemical-free fertilizer that costs next to nothing, and gardeners swear by it.
How to use:
Use potato scraps as mulch or add them to your compost heap.
Poke a hole in a big-sized potato, insert a geranium stem or rose cutting inside it, and then plant it in a pot, a container, or the ground. The potato will provide direct nourishment to the plant and help it grow quickly.
10. Preventing fogging in goggles
If you go skiing, snorkeling, scuba diving, snowboarding, or snowmobiling, you are required to wear glass or plastic goggles to keep the water, wind, or snow from getting into your eyes.
A common problem with this is the goggles will keep fogging up, hindering your sight, which could lead to accidents. Potatoes provide a quick and easy solution to this nuisance.
How to use:
Cut a potato in half.
Rub the exposed flesh over the inside surface of your diving mask or ski goggles. The juices released from the potato create a transparent shield over the glass or plastic that can keep it from fogging over.
11. Removing stains
Potatoes can help get rid of food stains from your hands as well as carpets and fabrics.
How to use:
Rub a halved raw potato or grated raw potato on the stain for a few minutes.
Rinse with warm water.
Final Word
Potatoes are a common ingredient in most kitchens, but you should not limit them to cooking alone – there is so much more that this staple vegetable can offer. If you have been sleeping on the topical benefits of potatoes, it's time you right that wrong and exploit their many uses.
Was this article helpful?