Bed bugs are small, reddish, and wingless insects. They are as small as a tiny seed. They are not very well known to spread diseases but may be responsible for causing allergic reactions.
They're mostly observed in places where guests come and go such as hotels, inns, shelters, and hospitals if they're not well kept. (1)
Symptoms of a bedbug bite include inflamed spots, itchiness, blisters/hives, and clusters of spots on the face, neck, and hands.
Eliminating Bedbugs From Your House
Bedbugs are tiny insects that feed on human blood and leave behind symptoms of inflammation such as itchiness and red bumps. They are flightless but can easily crawl around from place to place. They cause an infestation that has no quick fix and can take up to a few weeks to resolve.
Here are a few ways you can get rid of bedbugs.
1. Properly inspect for bedbugs
Before you can exterminate bedbugs, you have to find out where they thrive. When inspecting for bedbugs, make sure you check the following places:
Curtains
Mattresses
Bags
Carpets
Luggage
Ceiling
Furniture
Crevices
Vacuum and disinfect the problematic areas. Sealing up tiny crevices and cracks is also important to avoid bedbug spread. (2)
2. Declutter to reduce hiding spots
With the small size of bedbugs, it is very easy for them to hide in cluttered areas. Keeping your house clean and decluttered is extremely important so that they do not move to and hide in such places.
This includes proper cleaning up and getting rid of extra clothing or other items that can be prone to bedbug infestation. Bedbugs can travel from place to place by hiding in clothes, bags, and even books. (3)
3. Raise indoor temperature
High temperatures can be very effective in killing bedbugs, so it is very beneficial if your house is controlled by a thermostat or if you have access to space heaters.
Bedbugs at all life stages cannot survive exposure to a temperature higher than 45°C for 1 hour. Thus, heat is a very useful method of nonchemical bedbug control. (4)(5)
4. Freeze affected items
Although it is true that freezing can kill bedbugs, the temperature has to be very low for a very long time. So, this method may not prove to be effective for clearing up a household infestation of bedbugs.
However, freezing can be good in treating items infested by bedbugs. Infested items can be put into the freezer at a temperature of −17°C for at least 2 h to kill the bedbugs. (6)(7)
5. Don't scratch the affected area
Pruritus, or itching, is one of the symptoms of a bedbug bite. Repeated scratching of the affected area can cause a risk of bacterial superinfection or cellulitis. So, avoid scratching the bite area.
If it becomes hard to control the urge to itch, you can resort to OTC topical creams for symptomatic relief. (2)(6)
6. Seek medical treatment
Reactions to bedbug bites usually resolve themselves once the patient is taken away from the infested setting or if the bedbugs are eradicated.
When patients have an agonizing reaction to the bites such as itching or pain, symptomatic treatment can be done. This includes the use of OTC antihistamines and topical antipruritic creams. If the symptoms are significant enough, corticosteroid creams can be applied to the affected areas. (2)
Note:
These medications will only provide symptomatic relief.
Antibiotics or topical antiseptic lotions require a prescription from a doctor and can be used for secondary bacterial infections if present. (6)
7. Use pesticides
Insecticides or pesticides are commonly used for large-scale bedbug management and not for small infestations. Given the resistance of bedbugs to pesticides, only the right formulations will lead to eradication.
Pyrethroids are the vastly used insecticide for bedbug control. Others include: (6)(8)
Silicate products
Carbamates
Organophosphates
Insect growth regulators (IGRs)
Note: Nowadays, neonicotinoids and aryl pyrroles are used.
8. Use a cedar oil treatment
The mode of action of cedar oil in bedbug control is not known and published data are lacking. However, a report from an independent group study demonstrated that cedar oil can be used to kill all bedbugs within a minute. Moreover, the oil had a strong ovicidal effect, which means no nymphs appeared from the treated eggs.
The residual control, however, for this treatment is poor, and further research is required to determine if cedar oil has any real use for controlling bedbug infestations. (6)
9. Try combined treatment
An integrated pest management technique can be utilized to wipe out a bedbug infestation. These include combining bedbug management options such as:
Vacuuming
Heat or cold treatment
Trapping devices
Pesticides
Successful pest management requires integrated pest management (IPM) so that you do not rely on a single management method. It includes the use of nonchemical means of control simultaneous with the reasonable use of pesticides. (9)
10. Regularly clean up
It is immensely important that you keep your house clean. Bedbugs and their eggs can get stuck to various things in your house, including clothes.
Thus, it is important to vacuum and clean everything including your laundry. Regularly wash your bed sheets, blankets, and bedspreads. (10)
Where Do Bedbugs Hide?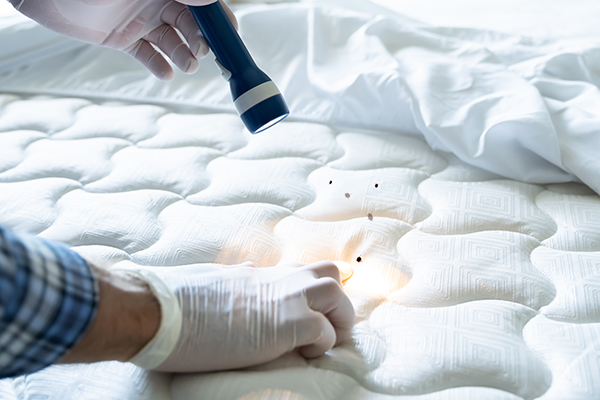 Bedbugs hide in tiny places and can be found in: (11)
Cracks in walls
Crevices in beds
Box springs
Headboards
Frames of beds
How to Prevent the Bedbug Bites?
Here's how you can protect yourself from being bitten by bedbugs:
Cover up your skin as much as you can. Wear full-length clothes, which include full-sleeved shirts and long pajamas or bottoms.
Before you bring in a piece of furniture, make sure you inspect it for bedbugs. This is more important for mattresses, bedding, and secondhand furniture.
If you stay in a hotel, make sure you check for bedbugs and keep your luggage on an elevated surface instead of the floor.
How to Identify a Bedbug Infestation?
Check the places where people sleep for the following signs: (11)
A sweet musty odor in the room or sleeping area.
Specks of blood on the mattress or bedding or couches.
An exoskeleton that bedbugs shed and leave behind in sleeping areas.
White oval eggs laid by bedbugs that are about the size of apple seeds.
When to See a Doctor
Bedbug bites usually resolve themselves in a few days and don't require medical attention. However, if you experience a severe allergic response or reaction, see a professional for treatment.
Most-Asked Questions About Bedbug Infestation
Do bedbugs spread disease?
Bedbugs are not known to spread any diseases, but they can cause itchiness, which may interfere with a good night's sleep. If you are allergic to bedbug bites, then you can expect an allergic reaction as a response.
How are bedbug bites treated?
The best way to treat bedbug bites is to make sure you don't scratch the area as this can lead to secondary infections. You should instead apply antiseptic creams and OTC antihistamines. (12)
What do bedbugs feed on?
Bedbugs can go into hibernation to save energy and, hence, don't require feeding for almost a year. They feed on the blood of humans and animals when they bite them. (13)
Final Word
It can be hard to find out if or when bedbugs are lurking around the corners of your home or hotel. These parasitic bugs hide in clothing, furniture, and curtains.
They are tiny insects that feed on warm-blooded animals. Since they prefer to live inside homes, protecting your home from bedbugs is extremely important.
Was this article helpful?