The thyroid gland is a sensitive and complex organ that is shaped like a butterfly and sits at the frontal bottom of the neck.
This gland uses iodine to secrete two types of hormones, namely, triiodothyronine (T3) and thyroxine (T4). (1) Both these hormones are critical for regulating metabolism and a variety of other body functions.
A deficiency of either of these thyroid hormones can adversely affect every organ system in the body. It is the job of the hypothalamus and pituitary gland to ensure that a proper balance between T3 and T4 is maintained for optimal health.
Thyroid disorders are known to cause slow metabolism, weight gain, fatigue, constipation, hair fall, and skin dryness, among other problems. Genes certainly play a role in the onset of thyroid disease, but some lifestyle habits can make it worse.
How Common Are Thyroid Disorders?
Thyroid disorders are a relatively common condition in the United States, with an estimated prevalence of close to 12%. (2) It is more commonly seen in females than in males. (3) About 60% of patients with an underlying thyroid disorder are not aware they have it.
Causes of Thyroid Dysfunction
There have been potential etiologies that try to explain thyroid dysfunction, but a clear mechanism has not been elucidated yet. It is important to understand that untreated thyroid disorders can lead to health consequences that can affect overall well-being, hence the importance of early diagnosis and treatment. 
Thyroid disorders are treatable. For instance, patients who suffer from hypothyroidism are usually treated with levothyroxine, also called LT4, which is an FDA-approved synthetic thyroid hormone. (4) The dose is usually adjusted based on weight, symptoms, and test results.
It is also believed that genetic as well as environmental factors play a role, which can account for thyroid immunity, but more research is needed to prove this point.
General Lifestyle and Dietary Guidelines for People With a Thyroid Problem
People with thyroid disorders can manage their condition better if they give up the following:
1. Stressful lifestyle
Many factors may affect the thyroid, including stress. Some research suggested a role of inflammatory markers in thyroid disorders. These markers are released in the body in response to stress, which may account for reduced thyroid levels. (5)
This effect is observed in patients who are admitted to the hospital for severe sickness, where there is a transitory change in thyroid levels when monitoring blood work right after the patient is discharged from the hospital. Restoration of the levels is seen within 6–8 weeks of the recovery phase.
2. Smoking regularly
The toxins found in tobacco smoke can hamper the functioning of the thyroid gland. For instance, thiocyanate is one such toxin that inhibits the uptake of iodine, which is needed for the production of thyroid hormones. (6)
People who smoke tend to suffer a thyroid imbalance marked by higher levels of thyroxine (T4) and lower levels of thyroid-stimulating hormone (TSH), which can be deleterious for general health, especially if you have a thyroid disorder.
3. Skipping medication and checkups
You must take the prescribed medication without fail to keep the condition from advancing to a more serious stage and to prevent complications.
There's always the risk of hypothyroidism, which if not treated in time can severely compromise your cardiovascular health. This is why it is important to keep a close check on your blood pressure and cholesterol levels to make sure your heart is functioning fine.
This underlines the need for regular checkups, wherein the doctor will conduct the necessary tests to get the required cardiovascular readings.
If the test results are worrisome, the doctor will immediately start treatment to minimize the risk of cardiac arrests and strokes. This proactive approach will help you avoid any damaging or life-threatening complications.
4. Taking thyroxine with morning coffee
It is very important to take thyroxine daily. The recommendation is to take this medication in the morning on an empty stomach and to wait 1 hour before eating breakfast.
Studies demonstrated that taking thyroid medication at night, 3–4 hours after dinner, has the same effect as or allows better absorption than taking it in the morning. (7)(8) Importance is emphasized on consistency in taking the medication and establishing it in your daily routine to enhance compliance.
5. Eating large amounts of raw cruciferous vegetables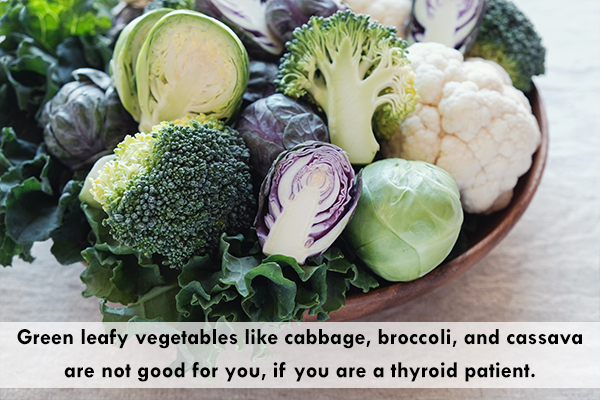 Green leafy vegetables such as cabbage, broccoli, and cassava leaves are generally considered good for health, but not if you have a thyroid problem. They contain compounds called glucosinolates, which compete with iodine and thyroid hormones in the body and thereby inhibit the proper uptake of levothyroxine. (9)
This can increase the risk of thyroid dysfunction in healthy people or make it worse in those already diagnosed with it. Thus, you must limit your intake of these cruciferous foods if you suspect a sluggish thyroid.
Cooking the vegetable can help disintegrate the glucosinolates and make nutrients more bioavailable. So, the least you can do is not eat them raw.
6. Consuming soy products
Estrogen is a hormone found in soy products that can hamper your body's ability to utilize the thyroid hormone and increase the risk of hypothyroidism.
Many studies have suggested the potential effect of soy or soybean in decreasing the absorption of levothyroxine in people with hypothyroidism, (10) but it should not affect a normal functioning thyroid gland in those with a sufficient iodine intake in the diet.
Side Effects of an Untreated Thyroid Condition
The long-term side effects of an untreated thyroid condition include the following:
Younger females who are in the childbearing age may face fertility problems and risk for miscarriages or birth defect if pregnancy occurs. Thus, it is imperative to keep the thyroid levels within a good target range, TSH <2.5, to avoid such problems. (11)(12)
Hypothyroidism, even in a mild form, can also cause dyslipidemia and increased risk for strokes or heart attacks.
Hypothyroidism can contribute to worsening symptoms of depression. 
Rarely, if left untreated, hypothyroidism may lead to a life-threatening condition called myxedema, wherein the patient suffers from low body temperature called hypothermia, changes in mental status, and slowdown of many organ functions. Myxedema is considered a medical emergency as it has a high mortality rate of close to 40%.
What Factors Could Contribute to Thyroid Dysfunction?
Many factors have been described in the medical literature, including iodine intake. Consumption of large amounts of iodine could potentially contribute to the development of thyroiditis in people who may be susceptible genetically.
Foods rich in iodine are seaweed, kelp, and potassium iodide tablets. A recommended dose of iodine intake is 150 mcg for adults and 220–250 mcg for pregnant women. (13)
Can Thyroid Medicines React With Other Nutrients or Supplements?
Patients with hypothyroidism who are taking regular thyroid medication need to learn about potential factors that affect its absorption, such as food or over-the-counter supplements.
Antacids, calcium or iron supplements, and caffeine decrease the absorption of thyroid medication. It is recommended that when drinking caffeine, one must wait 1 hour before taking levothyroxine.
When taking calcium or iron supplements or antacids, one should wait at least 4 hours from the time of taking the thyroid medication.
Final Word
Thyroid disorders generally last a lifetime, but they can be effectively managed through medication coupled with favorable lifestyle and dietary changes. In fact, eating right, managing stress, and staying active can reduce your dependence on medication.
But only your doctor can make that call after considering all the relevant factors. Till then, be sure to stick to your prescribed dosage and show up for regular checkups to avoid complications or disease progression.
The hormones released by the thyroid gland are necessary for many important bodily functions, which is why you must do your best to keep your thyroid levels within the normal range. A healthy, well-functioning thyroid is essential for good health.
Was this article helpful?