Key Points
Large amounts of intestinal gas that is not released can give you a bloated and distended stomach.
Problematic food habits can induce or aggravate flatulence.
Bloating can also be symptomatic of an underlying gastrointestinal disorder.
Treatment is decided depending on the extent of your problem.
Gas production in the gastrointestinal tract is a normal part of the digestive process. It is the combined result of swallowing air through the mouth while talking, eating, or even breathing and the bacterial breakdown of ingested food in the large intestine.
Both these factors contribute to the formation of gas in the digestive system, which is then passed out of the body through burping and farting.
The failure to release excess wind through the mouth or anus usually amounts to a buildup of gas inside your digestive system, which can trigger abdominal pain, distress, and distention.
Thus, however embarrassing and inconvenient it may seem, flatulence is necessary for keeping your digestive tract calm and comfortable. In fact, you cannot survive without passing gas on almost a daily basis, although doing so in front of others can invite a lot of jokes at your expense.
However, chronic bloating or gas is no funny business and should be given due consideration as a legitimate health concern.
Living with a perpetually disturbed stomach and uncontrolled flatulence can be a nightmare and can indicate a serious underlying issue that needs proper assessment and treatment.
Food is broken down into simpler units for digestion by healthy gut bacteria in the gastrointestinal tract. Air is produced as a by-product of this process. Also, you swallow some amount of air regularly such as while talking and eating without even realizing it.
If you sleep with an open mouth or breathe generally through the mouth, the amount of ingested air may be even more. This gulped air eventually ends up in your gastrointestinal tract and adds to the buildup of gas.
Apart from these internal reasons, your food habits also contribute to flatulence. Foods high in fiber and sugar are known to cause increased gas formation as they are difficult to break down and therefore, harder to digest.
Similarly, carbonated drinks contain high amounts of soda, which can give rise to increased bloating.
Also, people with certain dietary sensitivities such as gluten or dairy intolerance may face belching and bloating as side effects of consuming glutinous and dairy products. Thus, it is best to cut down your consumption of these foods if you are prone to such problems.
Flatulence is your body's way of releasing excess gas. It does so by inducing farting and burping. Some people are more prone to passing gas than others, which can be as frequent as 10 times a day.
The unpleasant smell associated with farts is due to the presence of sulfur. The higher the sulfur content, the stronger the smell.
When the gas inside the small intestine does not find a proper passage for release such that it keeps circulating and accumulating inside the digestive system, abdominal distension and bloating occur. A bloated stomach feels tight and appears swollen as it is filled with gas.
Anatomy
The food that you eat has a fairly long, systematic journey.
The process of digestion begins in the mouth. Food chunks are masticated into smaller particles by the grinding action of the teeth. These smaller units of food mix with saliva to form a roughly spherical mass called a bolus. The bolus is pushed toward the rear of the mouth through tongue movements.
From here, food is directed into the esophagus, which is a long muscular tube connecting the throat to the stomach. Both solids and liquids are pushed down the esophagus through its regular, rhythmic wavelike muscular movements before they end up in the stomach.
Inside the stomach, the food particles are further broken down by the action of gastric acids secreted by the abdominal walls. Gastric juices also activate various enzymes for the digestion of proteins, fats, carbs, etc.
Food is reduced to a pulp-like consistency after it is completely broken down and reaches the small intestine. In the small intestine, maximum nutrient absorption takes place.
Through small intestine, the non-essential by-products of digestion reach the large intestine, where they assume a semisolid state and are then excreted out in the form of stool.
How Much Gas Does the Body Produce?
It is estimated that digestive processes produce somewhere around a pint to half a gallon of digestive gas per day, but this amount can vary from person to person and can fluctuate depending on certain physiological and external factors.
Digestive gases comprise of oxygen, carbon dioxide, and nitrogen. This mixture is originally odorless but acquires an unpleasant smell when the digested food passes into the colon for the final stage of the digestive process, wherein the digested food starts decomposing in the large intestine.
The bacterial decomposition infuses trace amounts of hydrogen sulfide, skittle, and indole to the digestive air, giving it a contemptible odor.
Causes of Gas and Bloating
There is no such thing as a gas-free existence. The discomfort caused by occasional flatulence should not be a cause for concern. However, excessive or abnormally frequent bloating and flatulence can often be traced back to some underlying causes.
If you are prone to such digestive discomforts, the following factors might be responsible:
1. Swallowed air
Some amount of air is swallowed throughout the day, which is eventually expelled through belching, burping, or farting. That said, the passing down of significant amounts of ingested air to the digestive tract will contribute to increased flatulence.
Rushing through your meals is one common mistake that leads to the ingestion of large amounts of air while eating, leaving your stomach uncomfortably bloated.
2. Constipation
People with constipation have to grapple with constant digestive distress due to infrequent and problematic bowel movement.
The inability to relieve your bowels may exacerbate abdominal distension and make you feel heavy but is unlikely to increase gas production.
Also Read:
3. Lactose intolerance
People with lactose intolerance have a defunct digestive mechanism wherein the stomach and small intestine fail to process lactose or milk sugar.
The undigested lactose is passed directly into the large intestine, where it undergoes some form of bacterial decomposition.
This incomplete and faulty breakdown of lactose leads to stomachaches, bloating, diarrhea, and flatulence. People suffering from lactose intolerance are generally advised to avoid milk and other dairy products.
4. Health and medical supplements
Flatulence can be an undesirable side effect of nutritional supplements and some prescribed or over-the-counter medications.
The mode of action of these drugs may influence the natural digestive processes of the body to some extent.
It is generally seen that people under fixed dosages of medicines are more susceptible to constipation and gas problems.
5. Food habits
Unhealthy eating patterns and food choices are two of the most common factors responsible for increased bloating and gas.
Mindless binging on carb-laden junk foods or eating more than your appetite can put undue strain on your digestive system, which can trigger excess gas formation.
Certain foods and beverages such as fibrous items, dry fruits, and carbonated drinks also contribute to this problem. You have to be mindful of what you consume and how you consume it. Chew your food well to make it easier for your stomach to digest it later.
Also, stick to a regular eating schedule and do not indulge in overeating. Keep a record of the foods and drinks that make you gassy or bloated, and minimize or completely avoid their intake.
Some people can get away with eating whatever they like without having to worry about any after-effects. However, if you are not one of these lucky souls and are facing more than your fair share of gas issues, it is time to make conscious and healthy changes to your daily diet.
At times, unprecedented bouts of bloating and flatulence can be a warning bell for major illnesses that have not been diagnosed yet. If your problem intensifies over time, seek medical help to get checked for:
Ovarian cancer
Peptic ulcers
Celiac disease
Pancreatic insufficiency, wherein the pancreas fail to produce enough digestive enzymes
Ascites
Tumors
Crohn's disease
Inflammatory bowel disease (IBD)
Bowel obstruction
Normally, the gas buildup can be kept under check by making some simple but effective changes, such as:
Maintaining a healthy population of gut microbes through proper diet or, if advised, health supplements
Minimizing stress
Maintaining a healthy body weight
Giving up or cutting down smoking
Avoiding liquid intakes through straws as you may ingest a lot of air
Limiting chewing gums and hard candies
Symptoms of Gas and Bloating
Passing gas, belching, or burping are natural ways to relieve the pent-up gas inside your body. Flatulence tends to be more pronounced after meals, when your digestive process kicks into action.
As the food is gradually broken down at different stages of digestion, gas is released as a by-product. This gaseous load then makes its way through the gastrointestinal tract to find an outlet for its release.
When the air travels upward, it is let out as a burp. A fart occurs when the air travels downward through the intestines and colon and is eventually passed out of the anus.
Passing gas is a biological necessity and should be treated as such, rather than attaching a sense of embarrassment to it. It helps take the load off your digestive system and keep your gastrointestinal tract functioning properly.
It is normal for a healthy individual to relieve gas at least 15-20 times a day, or else it will accumulate inside the digestive tract and cause abdominal bloating, among other distressing symptoms.
Thus, flatulence is a necessary inconvenience that you must bear for the sake of overall digestive comfort and health.
The following symptoms are indicative of increased buildup of gas inside the digestive tract and abdominal bloating:
Tightness in and across the abdomen or abdominal distension
A feeling of fullness whether you have eaten or not
Aggravated belching and flatulence
Pain or rumblings in the stomach
Labored breathing
Pain that radiates from the stomach to the lower back
Diagnosing Gas, Gas Pain, and Bloating
Everyday flatulence does not amount to a health concern, but proper medical attention may be warranted if it becomes uncontrollably or abnormally frequent.
Increased gas and bloating can be indicative of a medical problem if it is accompanied by the following symptoms:
Unexplained weight loss
Blood in the stool
Anemia
Running a high temperature
Diarrhea
Consult a doctor if you experience these accompanying symptoms. The doctor will first inquire about your eating habits, symptoms, and medical history to get a background on your condition.
This preliminary investigation is usually followed by a basic physical examination, which involves feeling the abdomen for any tenderness, ingrowths, and other abnormalities.
The doctor may use a stethoscope to hear abdominal or bowel sounds, which can provide insights into the internal working of the digestive tract.
If these preliminary steps prove inconclusive, a few more tests will be performed to determine the root cause of your gassy troubles. These tests include:
Breath test: A foul breath (halitosis) can be more than just a sign of negligent oral hygiene, especially if accompanied by bloating and indigestion.

In this case, the halitosis is usually symptomatic of digestive problems, such as nutritional malabsorption in the intestines or an overgrowth of unfavorable gut bacteria.
Colonoscopy: The doctor may order a colonoscopy to rule out the risk of colon cancer, especially if you are above the age of 50 or have a family history of colorectal cancer.
Imaging: If you complain of chronic belching or burping, the doctor may order a series of imaging tests to get an inside view of the upper gastrointestinal tract, which includes the small intestine, stomach, and esophagus.
Treatments for Gas and Bloating
Excessive gas and bloating are usually the result of an unfavorable diet compounded by an increased ingestion of air. Thus, you will have to address these foundational issues to get any form of relief from your gassy problems.
You can easily manage unwelcome, uncomfortable, and inconvenient flatulent tendencies by tweaking your problematic lifestyle and eating habits that may be contributing to everyday gas buildup.
If these non-medicinal interventions prove ineffective, you can resort to some OTC medicines for digestive relief.
1. Implement dietary changes
Certain foods are known to increase gas formation, but the degree of gaseousness they induce can vary from person to person.
Also, a particular food that makes some people gassy may have no such ill effect on others. So you have to keep a personal record of the foods that trigger increased burping, flatulence, and bloating and then cut them out of your diet.
If you cannot do away with the offending food completely, then you will have to minimize its consumption.
People generally assume that gas and bloating are by-products of an unhealthy diet, which is only partially true. Junk foods that are rich in salt, sugar, calories, and carbs are major triggers for excessive gas formation since they are hard to digest.
However, the problem is not limited to them alone. A lot of people experience bloating and gaseousness after eating supposedly healthy foods such as fruits, vegetables, whole grains, and dairy items.
Similarly, fiber-rich foods are an essential part of healthy eating but can be sources of digestive distress in some people, especially when consumed in excess. Foods such as legumes, cereals, certain pulses, and whole-wheat or bran products have higher percentages of insoluble fibers that can lead to gas retention.
Because insoluble dietary fiber is not broken down in the digestive tract, it takes up a lot of room and blocks the passage of gas through the intestine. The gas keeps accumulating within the body, leading to abdominal distention, pain, and cramps.
Thus, it is recommended to spread out your fiber intake instead of eating large amounts in one sitting. Gradual and moderate fibrous intake is unlikely to trigger any such problems.
If you are someone who relishes greasy, oily, and fatty foods and are lately facing gaseous discomforts, maybe it is time to watch your portions. Too much fat content in your meals can also be the culprit behind your bloating distress.
Fatty foods tend to remain longer in the stomach and need more time to digest. A full stomach has no free space for the gas to move and pass in the small intestine. With no way for the abdominal air to move, you may experience tightening, increased flatulence, severe abdominal distension, and pain.
There is no single diet plan that will work for everyone. You have to identify your personal triggers and then adjust your diet accordingly.
But as a general rule of thumb, people who are prone to excessive bloating and flatulence are advised to limit their intake of the following gas-producing foods:
Foods that are rich in fat, carbs, sugar, and salt
Carbonated beverages
Vegetables such as beans, cabbage, cauliflower, broccoli, Brussels sprouts, and onions
Legumes such as peas, peanuts, and soybean
Lentils
Raisins
Bagels
Whole-wheat or bran products
People with preexisting digestive ailments such as irritable bowel syndrome (IBS) should be especially careful about their food choices as they are inherently prone to gas retention.
Increased gas production in the stomach and its accompanied vexations are extremely common. The modern lifestyle has taken the problem to the next level through the fast-spreading junk food culture and a sedentary mode of life.
Nevertheless, the individual intensity and extent of bloating and flatulence range widely. You will have to determine your triggering points when it comes to gas and bloating, such as what foods are giving you indigestion and what physical activities reduce your bloating.
Your dietician or doctor will be better able to recommend medications to control your problem provided you are self-aware of your condition.
Also Read:
2. Take over-the-counter gas and bloating remedies
These are remedies that may reduce gas and bloating:
Activated charcoal works as an adsorbent, which means it can bind gaseous molecules to its solid surface. Taking an activated charcoal capsule may help relieve increased bloating and flatulence by absorbing the excessive intestinal gas.

It can even make your farts less smelly by sucking away the hydrogen sulfide gas, which is chiefly responsible for the foul odor.
People with gas problems are often recommended lactase supplements and antifoaming agents that contain digestive enzymes that help break down and absorb the complex carbohydrates found in gas-producing foods. These agents include Beano and simethicone (Gas-X).
If your bloating is stemming from constipation, consider taking a laxative such as MiraLAX, which can loosen your hardened stools and make them easier to pass.
You can also take supplements that help to break down hard-to-digest carbohydrates present in gas-producing foods such as beans.
3. Reduce air swallowing
The air that you swallow while eating, mouth breathing, or talking also adds to the gas buildup in the digestive system.
This undesired air travels through the mouth and often accumulates in the upper GI tract, resulting in chronic or repeated belching. This condition is known as aerophagia.
Certain habits contribute to aerophagia, including rushed eating, improperly fitted dentures, chewing gum, and sucking on hard candies.
You may adopt the following measures to reduce the amount of air you swallow:
Avoid chewing gums and hard candies. When you chew gum or suck on a hard candy, you gulp down air with every swallow of saliva, causing gas-related problems.
Eat slowly and chew your food properly instead of gulping it down.
If you wear dentures, check with your dentist if they are perfectly aligned with your teeth or not. Loose dentures tend to trap a lot of air, which eventually gets swallowed.
You tend to take in large amounts of air through the mouth while smoking, which is yet another reason to give up this nasty habit for good.
If you are prone to gas problems, avoid drinking through straws as you suck in a lot of air along with the fluid.
Gulping down a drink can also make you swallow increased amounts of air, which is why you must always take small sips.
Lifestyle Changes for Gas and Bloating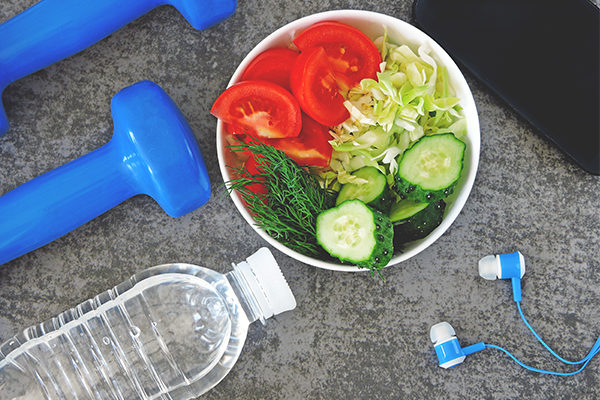 The daily nuisances of bloating and flatulence can assume harrowing proportions over time if left unchecked. However, before you set out on popping medicines, try some lifestyle changes to mitigate your problem.
Here's what you can do:
Certain foods may be incompatible with your digestive process and thereby trigger increased gas production. Different foods can cause flatulence and bloating in different people, so the same dietary exclusions may not apply to everybody.

So, you have to monitor your own food choices to identify possible triggers, and then cut them out of your diet or reduce their intake at the very least.
Sulfur is responsible for the stink to farts, which are otherwise completely odorless. Thus, it may be wise to limit your consumption of foods that are heavy on sulfur-containing compounds in order to mitigate the intensity of foul-smelling flatulence.
Not getting enough water daily can pave the way for constipation. You need optimum amount of fluids in the digestive tract to soften the stools and push them further for excretion.

Dehydration, on the other hand, renders the food waste utterly dry, hard, and lumpy, causing it to get stuck in the digestive tract for longer. The inability to empty your bowels may not contribute to increased gas formation, but it blocks the movement of gas through a choked-up intestinal passage.

As the intestinal gas keeps circling and building, your abdomen is bound to feel uncomfortably heavy and bloated. Thus, you must maintain proper fluid intake throughout the day to keep your digestive tract sufficiently hydrated and thereby prevent constipation and subsequent gas buildup.
Do not rush through your meals, instead savor them slowly and calmly. Chewing is the first step of digestion, wherein the food is broken down into smaller pieces that are easier to digest by the stomach. Thus, chewing your food well helps take the strain off your digestive system.

Conversely, if you simply gulp down your food without chewing it properly, your stomach will have to work extra hard to break the food down. As a result, excessive gas formation occurs.
A change in your eating pattern and schedule can help in reducing flatulence and abdominal distension. Opt for smaller and more frequent meals throughout the day, instead of the regular three large meals-a-day routine. Eating at short intervals keeps your metabolism running, and small-sized meals are easier to digest.
Do not eat too close to your bedtime as your body needs to remain active and upright to properly process the ingested food. It is for this reason that people who struggle with digestive issues are often advised to go for a short 10-minute walk right after dinner or lunch.

Lying down or sitting in one place after eating can lead to indigestion and must be avoided if you wish to rid yourself of excess gas.
Proper food habits when coupled with regular exercise yield maximum digestive benefits. Lightweight exercises along with a bit of cardio, can help speed up your metabolism, stretch out your digestive system, and facilitate proper digestion.

Some yoga exercises can also help alleviate excessive bloating, flatulence, and other digestive discomforts.
Ways to Get Rid of Gas and Bloating Naturally
Here are few home remedies to get relief from gas and bloating.
1. Ginger helps the body expel intestinal gas
Ginger is recognized as a medicinal herb with multiple therapeutic virtues, including the ability to relieve excessive gas and bloating.
The carminative potential of ginger can be attributed to a number of its active constituents, most notably the pungent compounds gingerol and shogaol, which can help alleviate a whole range of digestive ailments.
These ingredients are known to stimulate the secretion of digestive enzymes, which enables smoother and easier digestion with lesser gas production.
Ginger mainly targets the stomach, and its beneficial effects can be enhanced by consuming it with artichoke, which also acts on the small bowel. These two ingredients are present in the commercially available digestive product called "Prodigest."
A 2011 randomized controlled trial evaluated the efficacy of Prodigest in reducing the symptoms of functional dyspepsia, a common digestive disorder that leads to bloating, abdominal pain, epigastric heaviness, and nausea, among other discomforts. (1)
The study results showed that this ginger-containing supplement helped alleviate the gas-related discomfort in patients with dyspepsia by promoting better gastric emptying and stimulating antral contractions, without any reported side effects. (2)
Note: The gastroprotective properties of ginger need to be substantiated by more broad-based and well-controlled human studies, as the currently available research on the topic is promising but not conclusive enough.

Moreover, there is still no clarity about the correct dosage and preparation of ginger that are most effective in delivering these claims. Further clinical trials are needed to address these concerns as well.
2. Probiotics balance the gut flora
Probiotics are routinely used in the treatment of various kinds of digestive issues, including excessive gas.
The human gut contains colonies of both good and bad bacteria that exist in equilibrium. A healthy intestinal microbiome is required for proper digestive functioning. These bacteria work together to release digestive enzymes that help break down food.
However, digestive trouble arises when the balance between healthy and unhealthy bacteria gets disturbed, such that one type of bacteria starts overpowering the others.
Probiotics are essentially live cultures of friendly bacteria that are similar to the "good bacteria" found in the human gut.
Several foods contain a heavy dose of probiotics that can be added to your daily diet in order to restore well-balanced gut flora. You can take probiotic supplements, but preferably after consulting your doctor.
A 2013 study favored the use of probiotics for preventing and treating digestive distress stemming from imbalances in the gut flora, as they can help restore the normal microbial equilibrium in the intestine and thereby improve its function. (3)
Another 2015 study highlighted the efficacy of probiotics in reducing the severity of IBS symptoms, which include abdominal pain, bloating, flatulence, and altered bowel movements. (4)
Note: Probiotics may serve as a safe and convenient adjunct treatment for a number of intestinal problems such as bloating, provided you do not go overboard with their consumption. The appropriate dosage is key for this remedy to deliver the desired results. Further research is needed to understand the exact mechanism and effectiveness of this dietary intervention.
3. Turmeric improves digestion
The healing potential of turmeric is much-touted, as demonstrated by its extensive use in traditional medicine for a wide array of health concerns, including digestive distress.
The medicinal virtues of turmeric can be traced back to its chief active ingredient curcumin, which is also responsible for the herb's characteristic yellow color.
Curcumin primarily aids digestion through two mechanisms:
It stimulates the gallbladder to release bile or gall, a digestive fluid that helps break down fats and fat-soluble vitamins in the small intestine for easier and better absorption.
It may work as a detoxifying agent that purges the body of certain waste products through fecal excretion.
Thus, by facilitating the smooth functioning of the digestive system, turmeric can help prevent indigestion, bloating, and gas.
A 2013 study recognized curcumin-containing turmeric as an effective digestive aid as it alleviated a number of gastrointestinal problems, both functional and organic. (5)
This was further corroborated by a 2018 study that suggested that curcumin can be used as a safe, well-tolerated, and affordable tool for managing irritable bowel disease symptoms. Curcumin can deliver positive results so long as it is consumed in the appropriate dosage and is properly absorbed thereafter. (6)
An easy way to derive the maximum digestive benefits from turmeric is to mix it in almond/coconut milk with a dash of cinnamon and honey and consume this health tonic, which is referred to as "golden milk."
Note: The oral administration of turmeric, whether as part of your regular diet or in medicinal amounts, is known to engender digestive relief from gas and bloating without any side effects. The success of this remedy however depends on the correct dosage and proper absorption.
4. Cumin seeds relieve gas
Cumin seeds, tiny as they may be, pack within themselves a lot of health potential. Cumin is considered to be a wholesome digestive aid that can stimulate a lax digestive system.
Besides being a natural laxative, cumin is also credited with considerable antibacterial, antiseptic, and anti-inflammatory properties.
The carminative properties of cumin find special use in the treatment of gastrointestinal disorders such as chronic flatulence, bloating, and other symptoms of IBS.
A 2013 study proposed the oral administration of cumin extract as a safe, convenient, and economical therapy for relieving IBS-related gas and bloating. (7)
This cheap and readily available spice can be used in a variety of culinary preparations, making it easier for you to include it in your daily diet.
Note: Cumin exhibits gastroprotective, anti-inflammatory, and antioxidant properties that can help provide digestive relief from increased flatulence, bloating, and other gas-related problems. However, the exact mechanism of this therapeutic effect needs to be investigated further through more comprehensive clinical and experimental studies.
5. Peppermint eases IBS pain
Peppermint might prove especially helpful for people with IBS who suffer from abdominal cramps and bloating on account of a spastic colon. In this condition, the smooth muscles of the intestinal wall convulse and contract abnormally, adversely affecting gut function and motility.
Peppermint contains menthol oil, which can help relax the intestinal muscles and prevent them from spasming. The antispasmodic effect of peppermint can be used to reduce the severity and frequency of IBS symptoms, but it is to be used only as an adjunctive therapy and not as a replacement for the standard treatment.
Inhaling the fumes of this herbal oil can induce a calming effect on the gastrointestinal tract, which can improve its motility and function. This claim was supported by a comprehensive meta-analysis that suggested that aromatherapy with peppermint oil can be a safe and effective treatment modality for relieving IBS symptoms in adult patients. (8)
Note: Breathing in the vapors of peppermint oil may help alleviate IBS symptoms by relaxing the intestinal muscles. However, more large-scale trials are needed before aromatherapy with peppermint oil can be advocated as a mainstream treatment for IBS-induced bloating and pain.
General Queries
Do over-the-counter drugs relieve digestive gas?
Doctors generally recommend carminatives such as charcoal and digestive enzymes (lactose supplement lactase) as easy fixes for excessive gaseousness.
When eating a plant-based diet, will the body's digestive system reach a point where the foods no longer cause digestive issues, such as gas and bloating?
People with digestive problems such as gas and bloating may be forced to drastically change their diet plan in the interest of improved intestinal health.
People who switch to a vegetarian diet generally experience improved gut health, characterized by regular bowel movements with minimal digestive distress. But the transition may not pan out so smoothly for everyone.
The increased fiber intake due to eating more fruits and vegetables can benefit your overall health, but it can result in some problems too. The digestion of soluble fiber leads to increased gas formation, whereas too much insoluble fiber can cause constipation.
Thus, it is always recommended to gradually introduce and increase fibrous foods in your diet to allow your digestive system enough time to get accustomed to this dietary change.
Certain vegetables that are known to induce gassiness and bloating might not sit well with your digestive system at first but become tolerable with time. However, if the digestive distress fails to subside, it may be best to discontinue the problematic foods.
What causes bloating on the keto diet?
People following a ketogenic diet often complain of gas retention and a stuffy stomach. This is because the keto diet includes eating a lot of vegetables, of which many are loaded with FODMAPs that are difficult to digest.
FODMAPs stands for fermentable oligosaccharides, disaccharides, monosaccharides, and polyols and are a group of carbohydrates notorious for giving belly bloats and flatulence.
Since FODMAPs can be harsh on your stomach, it is advisable to limit or avoid them completely to avoid gaseousness and indigestion.
Aside from vegetables, FODMAPs are also present in fruits, legumes, wheat products, grains, and sugars.
Does quitting smoking cause bloating?
Quitting smoking can leave you with a bloated stomach and constipation. Nicotine stimulates intestinal transit and aids bowel movements, and habitual smokers often develop nicotine dependency.
Intestinal transit is the time it takes for the food to travel from the mouth to the anus. Going off cigarettes or other forms of smoking can interrupt your intestinal transit and impede normal excretion. These effects will automatically give way to stomach cramps and bloating.
A distended abdomen can be a withdrawal symptom of quitting smoking, which can take a month or two to subside. In the meantime, increase your fluid intake and eat a fiber-rich diet to encourage better digestion.
Can gas and bloating be a symptom of ovarian cancer?
In some cases, bloating along with gas pain, pelvic pressure, diarrhea, constipation, and so on can be symptomatic of ovarian cancer. If these symptoms persist, seek medical help.
Does pregnancy cause gas and bloating?
Pregnancy throws a lot of hormones out of gear, affecting almost all the bodily processes. Usually, such hormonal imbalances are responsible for the severe gas and bloating in pregnant women.
Although the problem may persist for the entire gestational period, it mainly intensifies in the later stages when the growing uterus starts weighing down on the rectum.
In addition, hormonal fluctuations, nutrient and vitamin supplements prescribed during pregnancy can aggravate bloating and other such digestive discomforts.
Can gas and bloating cause headaches?
It is possible that excessive gastrointestinal gas makes it's way to your head and cause headaches. Such headaches are preceded by an epigastric ache characterized by pain in the upper abdomen that then radiates to the head.
Headaches provoked by abdominal bloating are mainly bought on by leguminous foods such as beans, which are difficult to digest and are known to produce excessive gas that has nowhere to go.
If your headache is set off by flatulence, it will automatically subside when the stomach bloating comes down. (9)
Who is at Risk?
Bloating, belching, and flatulence are way too common everyday problems. Everyone faces some amount of stomach-related distress time and again. However, for others this bloating and heaviness can stick around long enough to become irksome.
Complications of Gas and Bloating
Gas production is a normal by-product of digestion, which at times gives you excessive flatulence and a mild bloat. Seldom is it symptomatic of any undiagnosed disease and is nothing to worry about as long as bloating subsides in a short while.
However, if the bloating discomfort becomes too much to handle and you feel that it is related to any serious gastrointestinal issue, consult your doctor.
When to See a Doctor
Increased gas, belching, and bloating can be quite discomforting but are generally considered a minor health nuisance that can be managed through dietary control and lifestyle modifications.
The buildup of intestinal gas, which lies at the base of flatulence and bloating, is usually triggered by eating something that disagrees with your digestive system. In most cases, people let the problem run its course, after which it resolves and things go back to normal.
However, you may need medical assistance if bloating and flatulence persist for days or weeks, despite proper dietary and lifestyle modifications. 
If your stomach feels unusually heavy, full, and tight for a prolonged period and the problem fails to subside even after adopting healthy lifestyle and food habits, it can be a warning bell for some major health disorders, such as:
Kidney ailments
Liver disease
Inflammatory bowel disease
Heart failure
Some type of cancers
Moreover, you should visit your doctor if the gassy issues are accompanied by other serious symptoms such as:
Fluctuating appetite, feeling more or less hungry than usual
Diarrhea
Vomiting
Excreting blood with stools
Unexplained weight loss
Abdominal cramps
Stools that are dark red or maroon in color
What you may ask your doctor:
Is it natural to have some amount of bloating and flatulence?
Is the problem completely resolvable?
Can I change my diet to decrease bloating?
Are there any effective preventive measures to help with extra gaseousness?
Is there a specific reason behind my flatulence?
What your doctor may ask you:
For how long have you experienced bloating?
Do you have any concurrent disease or medical condition?
Are you on any medication?
Are you trying any special diet?
If not, what are your diet habits?
Are you pregnant?
Final Word
An occasional flare-up of bloating and flatulence is a common inconvenience that everyone goes through at some point or another, but the problem can be quite debilitating and distressing if it becomes frequent.
A disturbed digestive system can render your entire body extremely uneasy and affect your day-to-day activities.
You can register considerable relief from the usual flatulence and bloating through some simple home remedies coupled with a healthy lifestyle and dietary changes.
If you are grappling with recurrent or prolonged episodes of increased gas and bloating, the problem may be systemic or may stem from an underlying issue. In such cases, medical assistance becomes indispensable. The doctor will evaluate your condition and then recommend the appropriate treatment.