When blood starts to collect near the eye, under the skin, some kind of a bruise occurs, which is referred to as ecchymosis or, more commonly known as a black eye. It is usually due to a minor injury or a cosmetic or facial procedure. (1)(2)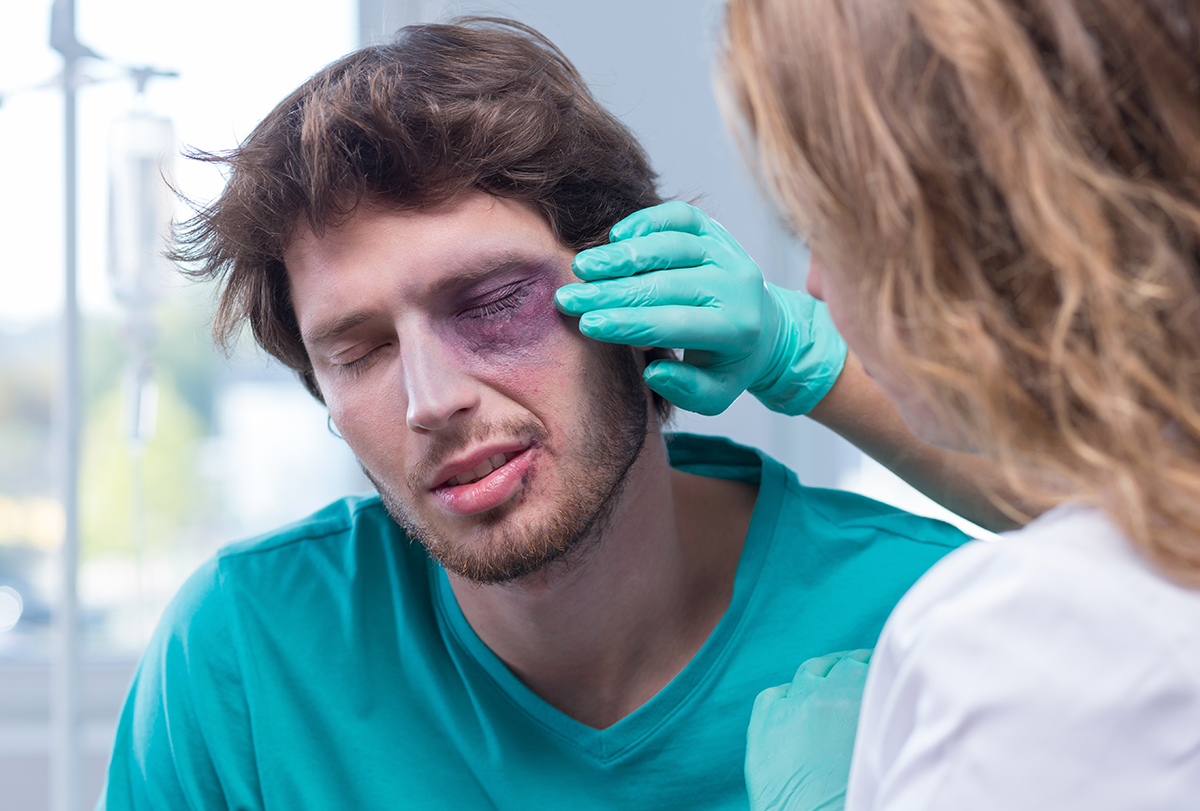 Despite the name "black eye," the eye itself is typically not harmed, and many black eyes will heal on their own within a few days.
You can try out some remedies to treat a black eye.
Home Remedies to Get Rid of Black Eye
Here are some natural ways to soothe and relieve the discomfort of a black eye.
1. Apply a cold compress
If you apply an ice pack within a few hours of the injury, blood supply to the area will slow down, causing less blood pooling under the skin, hence reducing the probability of suffering from a black eye. (3)(4)(5)
It is important to note not to apply ice directly to your skin. Wrap the ice in some fabric, preferably a clean towel, before making contact with the skin. Also, apply ice only for around 15 minutes, and do not press too hard.
Do cold compression twice a day for best results. It is better to use an ice pack instead of ice cubes. Also, do not use frozen food or frozen meat as these things may contain bacteria that will lead to an infection. (3)
2. Apply a warm compress
The application of warmth can alleviate pain, reduce muscle spasms, boost circulation, and promote healing for various eye conditions. However, warm compresses must be done only after the first 48 hours.
A study investigated the use of warm compresses, specifically black tea compresses, in treating ocular surface disorders. Researchers found that black tea compresses on an eye were used by approximately 50% of the surveyed patients.
However, the study that revealed those with corneal epithelial defect (scratch or abrasion on the outermost layer of the cornea) should avoid using black tea compresses as it may lead to potentially harmful side effects. (6)(7)
How to perform warm compression for eyes:
Wash your hands thoroughly.
Soak a clean cloth or towel in warm water.
Wring out the excess water.
Close your eyes and place the warm compress over your eyelids.
Hold it there for 5–10 minutes.
Gently massage your eyelids with a warm compress.
Repeat the process as needed.
3. Massage the area gently
Massage the area around your black eye. You can do it after a warm compress, but avoid a massage if it hurts or increases the pain.
Warm compress and massage should not be performed if swelling is still present. Only do these once the swelling has subsided. (8)
How to perform a gentle massage on the eyes:
Gently massage the area around the black eye with your fingertips, using circular motions.
Do not apply too much pressure or rub too hard, as this can cause further damage to the delicate skin around the eye.
Continue massaging for 5–10 minutes or until you feel the area has relaxed and the tension has eased.
4. Ensure adequate vitamin C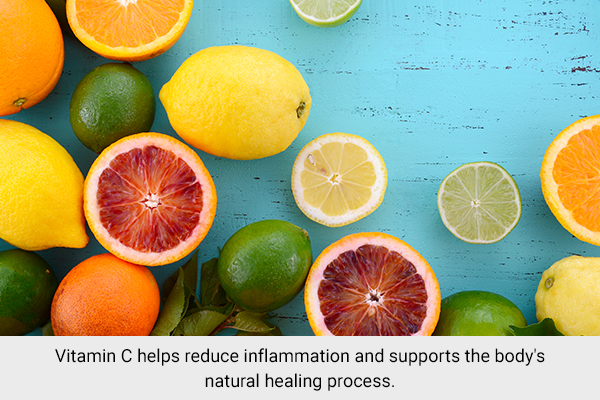 While studies have not directly addressed the use of vitamin C for treating a black eye caused by injury or bruising, there is some evidence to suggest that vitamin C may be beneficial for promoting healing and reducing inflammation in the body.
When the body experiences an injury, such as a black eye, there may be damage to the blood vessels and surrounding tissues, which can lead to inflammation and swelling.
Research has suggested that vitamin C may help to reduce inflammation and speed up the healing process by promoting collagen synthesis and protecting the body against oxidative stress.  (9)(10)
While there is not enough research to definitively recommend vitamin C as a treatment for a black eye caused by injury or bruising, ensuring adequate intake of vitamin C through diet or supplements may be beneficial for overall health and could potentially support the body's natural healing process.
5. Try herbal medications
Arnica has been traditionally used as a natural remedy for bruises and inflammation and has been used by Europeans and Native Americans for centuries to treat a variety of conditions, including sprains, bruises, and wounds.
Arnica has been found to have anti-inflammatory and pain-relieving effects, and these effects may help reduce the symptoms associated with a black eye. (11)
How to use arnica topically for a black eye:
Wash the area around the black eye with mild soap and water, and gently pat it dry.
Take a small amount of arnica gel or cream on your finger, and gently apply it to the area around the black eye. Be careful not to get the gel or cream in your eyes.
Using your fingertips, gently massage the arnica gel or cream into the skin around the black eye. Massage in circular motions for a few minutes.
How to use arnica orally for a black eye:
Arnica is available in various forms, including tablets, capsules, and liquid extracts. (11) It is best to take advice from a healthcare professional before taking arnica or any other herbal supplement orally. Follow the instructions on the packaging or as advised by your healthcare provider.
Note: While arnica is generally considered safe for topical use, it can cause allergic reactions in some individuals. Talk to a doctor before using arnica, especially if you are pregnant or taking medications. (12)
What Are the Symptoms Associated With Black Eyes?
Following an injury to the eye, it is crucial to differentiate between signs of black eyes and those that might imply a more serious head injury.
Black eye symptoms may include: (13)
Pain around the eye
Swelling around the eye, which can be mild in the beginning and get more extreme later.
Difficulty in opening the eyes due to swelling
Discoloration around the eye, as the skin may be red at first and then evolves to become a bit darker and advances to green, purple, yellow, or black
Blurred vision
Is Black Eye a Serious Medical Condition?
According to the American Academy of Ophthalmology, black eyes tend to get better on their own, but it's crucial to be aware that a black eye can indicate a more severe injury.
For instance, a hyphema, which refers to bleeding within the eye, can have serious effects on the cornea and vision and should always be checked for when a black eye is present.
Additionally, certain facial or eye traumas can result in raised pressure inside the eyeball, which, if left untreated, can cause eye damage and loss of eyesight.
If both eyes become black following a head injury, this could imply the possibility of a skull fracture or other serious injury. (13)
What Are the Medical Treatments for Black Eyes?
In most cases, a black eye will heal on its own without the need for medical treatment. However, medical treatments involving over-the-counter pain medication, such as acetaminophen (paracetamol) or ibuprofen, can help reduce pain and discomfort.
However, avoid taking aspirin, as it can increase the risk of bruising. (7)
How to Prevent Black Eyes?
A black eye is typically caused by blunt force trauma or injury to the eye area. Here are some precautions you can take to minimize the risk of getting one:
Wear protective gear: If you are playing sports or doing an activity that could cause injury to the eye area, wear appropriate protective gear such as goggles, helmets, or face masks.
Be cautious during physical activity: Be mindful of your surroundings and avoid risky activities that could lead to injury.
Avoid altercations: Try to avoid confrontations or altercations that could lead to getting in a fight or hit in the eye area.
Use caution when handling objects: Be careful when handling objects that could potentially hit your eye area, such as tools or heavy equipment.
Remember that accidents can happen, but taking these precautions can help reduce your risk of getting a black eye.
When to See a Doctor
A black eye is not a very severe condition that has to be tended to with serious medical attention, although in some cases, it can be an effect of a skull fracture or other serious injuries.
If you experience uncontrollable pain or difficulty seeing, you may need to seek a doctor's help. Moreover, black eyes heal in around 2 weeks, but if it takes longer, you may need medical assistance. (1)(7)
You should see a doctor if you experience:
A black eye that remains bluish black
Increased swelling
Pain near the eye
Reduced eye movement
Blurring of vision
Nausea
Headache
Toothache
Most-Asked Questions About a Black Eye
After how long does a black eye heal?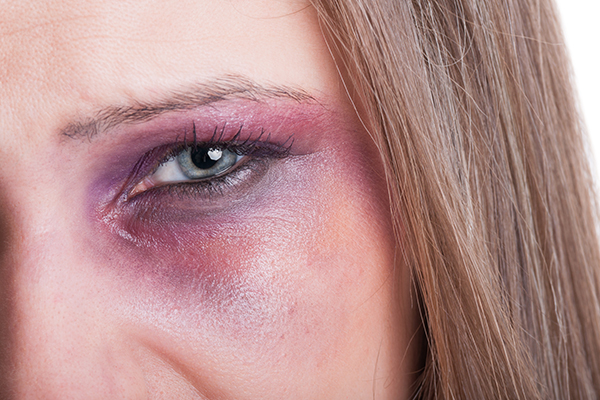 A black takes around 10–14 days to heal. It can heal quicker than that based on the severity of the injury that caused the black eye, your overall fitness, and the treatments you employed to resolve the black eye. (1)
How to accelerate black eye healing?
To help quickly resolve a black eye and speed up healing, lie down with your head slightly elevated. This ensures blood does not pool near your eye.
Another important thing to remember is not to apply excessive pressure on the affected area, only a gentle massage.
How to know if the black eye has healed?
As your black eye gets better and starts to heal, there may be some changes in the color of the skin around the eye. This is due to changes in the blood flow.
Immediately after the injury, your eye may look very red due to the accumulation of blood, but within 24 hours, it will blacken up due to the breakdown of hemoglobin. You may also experience swelling around this time.
After around a week, your eye will become slightly yellow and swelling will reduce. In the following week, your black eye will completely resolve, and your eye will start to look normal.
Final Word
A black eye takes 2 weeks to heal and can be harder to solve without professional or medical help. For very quick healing or treatment of bruises, laser therapy may be an option.
The best way to treat black eyes at home is to apply an ice pack or cold compress. After a few days and the swelling lessens, you can use a warm compress and a soft massage.
Was this article helpful?