Conjunctivitis, or pink eye, is a condition where the eye turns pink (red) due to the swelling of the eye surface or conjunctiva, often accompanied by itchiness, discharge, and sometimes pain.
This inflammation can be the result of an infection, allergy, or exposure to chemical agents. Allergic and chemical conjunctivitis is not contagious, but viral or bacterial conjunctivitis can be highly contagious.
Home Remedies for Conjunctivitis
Here are some measures you can do to prevent and relieve conjunctivitis.
Disclaimer: Home remedies should only be used as adjuncts for alleviating the symptoms, in addition to the doctor prescribed treatment. Moreover, do not put anything in your eye without running it by your doctor first. The use of foods or herbal extracts is strictly prohibited as they are not sterile and may worsen the infection.
1. Apply a cold compress
For allergic conjunctivitis, using a cold compress may help reduce the swelling and itching in the eye and prevent crust formation on the eyelashes from the dried-up discharge.
How to use:
Take a fresh cloth and dip it in cold water.
Wring out excess water and place the cloth on the affected eye.
Leave it for 5–10 minutes.
Apply a cold compress 3–4 times a day.
You may also use commercial gel eye masks that you keep in the fridge.
Note: Do not use the same cloth for both eyes. If only one eye is infected, avoid contact of the cloth with the other eye.
2. Apply a warm compress
Applying a warm compress can help when your eyelids are sticking together. The warm compress loosens the dried discharge and aids in separating your eyelids.
How to use:
Soak a clean cloth in warm water and wring it out.
Place the cloth on your eyes until it cools down.
Repeat the procedure multiple times a day.
Make sure to use a clean cloth every time and separate cloths for both eyes.
Summary:
While the use of cold and warm compresses is widespread, no scientific experiments have been conducted to study their effects. Thus, further studies are needed to establish the efficacy and safety of heat or cold therapy for relieving conjunctivitis. (1)
3. Apply tea bags
Applying a tea bag can quickly reduce the redness and other symptoms associated with pink eye. Tea possesses anti-inflammatory properties that help subside the inflammation to a certain extent and prevent its spread.
However, these claims are based on anecdotal evidence and no scientific studies have been conducted. Therefore, be careful when using tea, making sure it doesn't get into the eyes.
How to use:
Soak two tea bags of green or black tea in water and squeeze out the excess water.
Put them in the fridge for a few minutes.
Place the cold tea bags over your closed eyes.
4. Use disinfectant wipes
The bacteria from your eyes can easily get transferred to your spectacles or goggles, so it is important to disinfect them regularly to keep the infection from persisting or returning.
You can use store-bought disinfectant wipes for this, but only after consulting your doctor about the appropriate brand. The doctor may even recommend using these wipes to clean the goop from your infected eyes.
Alternatively, you can use a sterile cloth dipped in an EPA-registered disinfectant solution or neutral detergent solution to wipe your eyewear, but always wear gloves while doing so.
5. Use artificial tears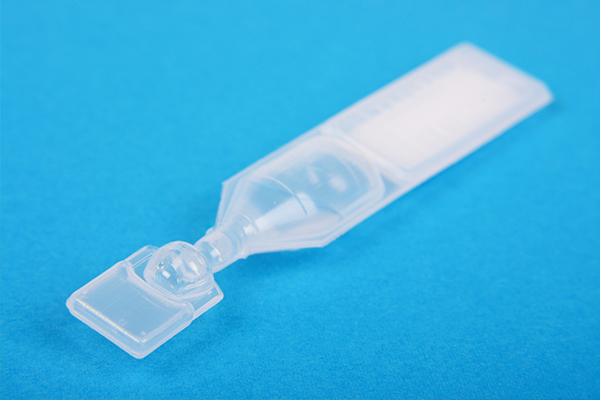 You can use lubricating eye drops that are available without a prescription to reduce the dryness, inflammation, and general discomfort caused by eye infections such as conjunctivitis.
These eye drops are essentially artificial tears that moisten the surface of your eyes to lessen the irritation caused by such infections. They provide symptomatic discomfort without combating the bacterial source of the infection.
Antibiotic eye drops, on the other hand, are designed to eliminate the bacteria but are usually not needed as such eye infections typically resolve on their own without any medication in 1–2 weeks.
Caution: Artificial tears can sometimes induce adverse side effects or an allergic reaction, leading to blurred vision, increased itchiness or inflammation, dizziness, malaise, or breathing difficulty. If you experience any such symptoms, discontinue the eye drops and consult your doctor at once.
Dietary Recommendations
Consuming these healthy foods can help your body fight the infection better.
1. Take probiotics
Probiotics are good bacteria that help fight a range of infections. They check the growth of infection-causing bacteria by enabling the increase of healthy microbes. These are available in the form of capsules, foods, and pills.
Directions:
Include probiotic-rich foods such as yogurt, cheese, sauerkraut, kimchi, and pickle in your diet.
Consume probiotic supplements upon consulting your doctor. (2)
2. Consume a vitamin-rich diet
Vitamins and minerals are essential for the health of your eyes. Consume foods rich in:
Vitamins A and C and zinc: Tomatoes, broccoli, celery, kale, cauliflower, strawberries, raspberries, cantaloupe, spinach, cabbage, and orange
Vitamins B2 and B6: Dairy, sunflower seeds, fresh vegetables, turkey, tuna, and wholemeal products
Lutein and zeaxanthin: Green peas, broccoli, green leafy vegetables, eggs, and mangos
Preventive Self-Care Measures
Here are a few dos and don'ts to keep your eyes infection-free:
Use fresh tissues or towels to wipe your face.
Avoid sharing items such as hand towels, tissue, or washcloths.
Keep your hands clean. Wash them before and after meals, after sneezing or coughing, and when going to the bathroom.
Avoid touching your eyes, especially without cleaning your hands.
Use swim goggles during swimming to prevent irritation from chlorine or infection from the microbes present in the water.
Avoid allergens and substances that may irritate your eyes:

Pollen allergies can be avoided by limiting outdoor activity and closing windows and doors if a high pollen level in the air is reported.

If you are allergic to animals, avoid contact with pets. In case of contact, make sure not to touch your eyes with your hands.

On exposure to allergens, wash your hands and body properly.

Your makeup may harbor bacteria. Avoid using makeup if you are already infected and discard it if used during conjunctivitis. Do not share your eye makeup with others.
Change pillowcases frequently. The drainage from infected eyes is contagious for up to 48 hours after the start of treatment.
Complete the course of prescribed medications and discard them after use.
Remove your contact lenses before showering to prevent entrapment of bacteria between the lens and the eye.
During infection, avoid wearing contact lenses without your doctor's permission. If conjunctivitis results from the use of contacts, you may need to change your lenses or use a disinfecting solution.
The optometrist may ask you to use lenses that need frequent replacement to prevent the recurrence of the disease.
Most-Asked Questions About Conjunctivitis
Is conjunctivitis contagious?
Allergic conjunctivitis is not infectious. However, conjunctivitis caused by bacterial or viral infections is highly contagious and can spread through:
Direct contact with the eye by infected hands
Skin to skin contact (hugs and handshakes)
Touching objects contaminated with the causative microbes
Contact with respiratory tract/airborne droplets
Can newborns contract conjunctivitis?
Neonatal conjunctivitis, or the development of the pink eye in newborns, is possible and may occur due to infection, irritation, or tear duct blockage.
It may also be contracted from the mother during childbirth (the mother may not be experiencing any symptoms but be carrying the causative virus or bacteria in the birth canal).
Neonatal conjunctivitis may occur within 1 day to 2 weeks after birth and is characterized by drainage from the eyes and red, puffy, and tender eyelids.
Infectious conjunctivitis can cause severe complications in newborns, which is why it is recommended to distance babies from people with the flu or cold and seek immediate medical help if their eyes turn significantly red along with discharge.
What is the difference between a pink eye and a stye?
Both the pink eye and stye are inflammatory eye conditions, but they differ in the following ways:
The most characteristic symptom of conjunctivitis, or pink eye, is the swelling and reddening of the eye surface, whereas a stye is basically a pimple or an abscess that appears on either of the eyelids with or without conjunctival redness.
Conjunctivitis is caused by an underlying infection or exposure to allergens, chemicals, smoke, and other such irritants, whereas a stye can be traced back to a blocked oil or sebaceous duct that has been clogged by excessive dust or microbes.
Is apple cider vinegar good for treating pink eye?
Diluted apple cider vinegar (ACV), when used topically over the eyelids to relieve a pink eye infection, has yielded mixed results.
Some users reported a slight improvement in their symptoms, whereas others faced detrimental effects. This remedy may have gained some anecdotal support, but it is clinically recommended.
Given the acidic nature of ACV, no matter how careful you are while applying this liquid, it can trickle into your eyes and cause severe irritation and damage. Thus, it's better to use other safer, milder, and more effective alternatives for something as delicate as your eyes.
Can breast milk cure my child's pink eye?
No, this remedy can do more harm than good. Internet forums are flooded with several home remedies for all kinds of ailments, including pink eye, but not all of them are safe or effective.
One such remedy is administering breast milk into a child's eye to cure conjunctivitis. Scientific research lends no support to this experimental hack; in fact, it actively disproves its benefits.
One study revealed putting breast milk in a child's eyes will do nothing for treating conjunctivitis but invite secondary infections.
The eyes are extremely delicate and should be treated as such. Using random unverified remedies to relieve your child's pink eye can compromise their eyesight, but so can leaving the infection untreated. Thus, the first thing you need to do is take your child to the pediatrician for a proper eye checkup and safe treatment. (3)
Is colloidal silver good for treating a pink eye?
Colloidal silver is often cited as an effective cure for conjunctivitis, but there is virtually no scientific or clinical basis to support its use.
While some people may have benefitted from this remedy, many have suffered adverse side effects after using it. In fact, the dangers of colloidal silver greatly outweigh its purported benefits.
The FDA even issued a warning in 1999 against its use for treating any health condition. Thus, the medicinal use of colloidal silver is neither safe nor effective, whether it is for pink eye or anything else.
The most frequently reported side effect associated with colloidal silver is argyria, wherein the person's skin turns permanently bluish gray.
Final Word
Different medications are required for treating different types of conjunctivitis, but most cases can be resolved with simple home care and eye hygiene. However, you must go for an eye checkup as soon as you notice any sign of redness, swelling, or irritation to rule out any serious underlying issue.
The eyes are extremely sensitive, and you can never be too careful when your vision is at stake. Trust your ophthalmologist to guide the recovery process after evaluating the extent and cause of your condition. The above-mentioned tips and therapies can help soothe your irritated eyes, promote quick healing, and keep you from infecting others.

Continue ReadingPink Eye (Conjunctivitis): Causes, Symptoms, and Treatment
Was this article helpful?