Blepharitis (from Greek, meaning "inflamed eyelids") is actually caused by a clogging of the oil glands that run the length of your upper and lower eyelids, known as meibomian glands.
This kind of eyelid inflammation is unlikely to cause any serious or permanent damage to your eyesight, but is a source of considerable discomfort. Moreover, it is recognized as one of the top causes of dry eyes.
Home Remedies for Blepharitis
The following home remedies can be used for a regular case of blepharitis.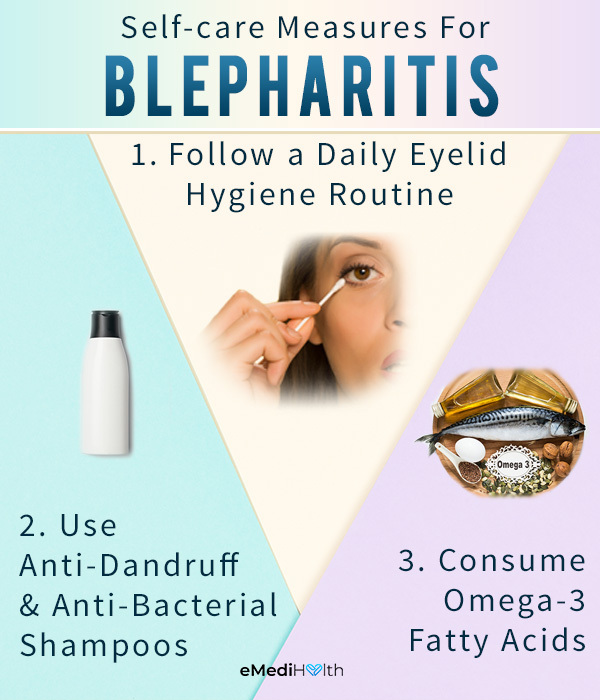 1. Consume omega-3 fatty acids
Omega-3 fatty acids are credited with substantial anti-inflammatory properties that can help reduce the symptomatic discomfort caused by blepharitis, especially if it is linked to other skin conditions such as ocular rosacea. (1)
However, the exact role of omega fatty acids in improving or stabilizing tear production and secretion needs to be researched further for a clearer understanding. (1)
How to use:
You can include omega-3 rich foods such as fish, flaxseeds, and walnuts in an overall healthy and well-balanced diet, or consult your doctor about starting you on a supplement.
2. Baby shampoo
It has been observed that cleaning your eyelids using baby shampoo can help subside the irritation and other symptoms associated with blepharitis. (2)
How to use:
Dilute 1 part of mild baby shampoo with 10 parts of water. Dip a cotton ball in the solution and wipe your eyelash with it. Further, rub the cotton ball on your eyelids to remove any remaining debris. Use a fresh cotton ball for the other eye and repeat the process twice a day.
3. Apply honey
Honey possesses antibacterial properties which can be employed as an adjunct therapy for blepharitis. (3) Moreover, the topical application of manuka honey-eye cream overnight was seen to improve blepharitis and dry eyes. (4)
How to use:
Mix manuka honey with sterile, warm water, and apply this solution on your eyelids with the help of a cotton ball. Alternatively, soak a clean cloth with the honey solution and use it as a warm compress for 5–10 minutes.
4. Use tea tree oil
Tea tree oil can help control the oiliness caused by excess sebum production. Moreover, it has wound-healing and anti-infective properties that help treat blepharitis. (5)
How to use:
Dilute 2–3 drops of tea tree oil in a tablespoon of any carrier oil, such as almond or olive oil, and apply this solution over your eyelids with a clean cotton swab.
5. Try castor oil
Castor oil is a potent antioxidant and anti-inflammatory agent and has been largely used for treating blepharitis. A study demonstrated the effectiveness of the topical application of castor oil in improving ocular surface symptoms in patients with blepharitis. (6)
How to use:
Apply a few drops of castor oil to your eyelids and gently spread.
Note: Consult your doctor regarding the brand of castor oil you can use. Moreover, avoid usage if you are sensitive to it.
6. Apply apple cider vinegar
ACV possesses anti-inflammatory properties that can help improve the symptoms of blepharitis. Moreover, it also acts as an antimicrobial agent that can help fight any infection-causing bacteria present in the eyes. (7)
How to use:
Mix one tbsp of ACV in a glass of water. Soak a cotton swab with the solution and apply over closed eyelids.
7. Massage
It is recommended to gently massage the top of your eyelids in a circular motion, using your fingertip, to help unblock the oil glands. Perform this massage for 3–5 minutes, two times a day, to help relieve the symptoms of blepharitis. (8)
8. Use hand wipes
Bacteria is a common reason for eye irritation and ocular disorders. (9) Therefore, antibacterial hand wipes may be useful in removing the germs and soothing the inflammation associated with blepharitis. 
Note: Use the wipes according to the instructions given and avoid contact with your cornea.
Take Care of Your Eyes
Most cases of blepharitis do not require extensive medical treatment, and simple self-care measures usually suffice to provide considerable relief.
1. Follow a daily eyelid hygiene routine
The first and most important step toward treating blepharitis is to keep your eyelids free of dirt, germs, dead skin debris, and any toxin that can clog the meibomian glands or cause irritation.
Do following two to four times a day during a blepharitis flare-up and once or twice a day after the inflammation subsides:
Use gentle heat therapy to soften the crusty deposits on your eyelids. Close your eye and place a warm compress over it for several minutes. The application of heat will loosen or dislodge the greasy gunk and skin flakes. Simply wipe them off with a clean, damp washcloth after.
Moisten a clean and soft washcloth with warm water.
Put a few drops of diluted mild baby shampoo on it.
Gently pull your eyelid away from the cornea, and use the disinfecting washcloth to gently clean the debris stuck in your lash line.
Swab away any residue on the eyelids or around the eye.
After one eye is done, use a different clean cloth to sponge the other eye in the same manner.
Splash some water on your eyelids for a final rinse, and then pat them dry with a clean, dry towel.
If your doctor deems it fit, you can finish off by applying a topical antibiotic ointment to your eyelids.
2. Use anti-dandruff and antibacterial shampoos
Blepharitis is often triggered or aggravated by other dermatological conditions such as seborrheic dermatitis, which refers to dandruff of the scalp and eyebrows.
In such cases, you must ask your doctor to recommend a suitable shampoo and other hair care products that are specifically designed to address this problem.
If the doctor suspects a possible Demodex mite infestation as well, he may recommend a tea tree oil-based anti-dandruff shampoo. Tea tree oil is a potent antiseptic that can help kill the blepharitis-causing parasite breeding on your eyelids. (10)
How to Prevent Blepharitis
Here are some simple measures to prevent blepharitis:
Avoid makeup, especially when beginning your blepharitis treatment, because the product you put on your face can get into your eyes and further exacerbate the irritation.
You must replace all the eye products that you have previously used in or near the affected eyelids as they may have picked up the contaminated debris, bacteria, or mites.  
Make sure to remove every trace of makeup from your face, especially from your eyes, before bedtime to allow your skin to breathe while you sleep.  
Because blepharitis usually hampers natural tear secretion by blocking the meibomian glands, you can use over-the-counter artificial tears to lubricate your eyes.
It is best not to apply an eyeliner too close to the lash line.
Gently clean any excess tears or eye drops that may have settled on your eyelashes, from time to time.
Handling your lenses with unclean hands can introduce germs, dust, and other impurities in your eyes and trigger a blepharitis flare-up. Thus, practice proper hand sanitization before and after applying your lenses, and store them properly in a clean lens case.
Most-Asked Questions About Blepharitis
Is blepharitis contagious?
Blepharitis is not contagious. However, it is a long-term condition marked by repeated flare-ups and periods of remission.  
Can one get blepharitis from having eyelash extensions?
Getting eyelash extensions can put you at an increased risk of blepharitis for the following reasons: (11)
Cosmetic eyelash extensions can introduce extra dirt, bacteria, and Demodex mites to the eyelids and are generally less efficient in shielding the ocular surface of the eyes.
The adhesive used to attach these eyelashes to the lid can trap contaminants.
The process of inserting the hair can damage and irritate the sensitive skin of the eyelid, subsequently giving rise to inflammation.
Do blepharitis symptoms become worse in the morning?
Blepharitis symptoms tend to be at their worst when you wake up in the morning for the simple reason that your closed eyelids remain in contact with the ocular surface throughout the night while you sleep, resulting in greater discomfort on awakening.
Can blepharitis cause trichiasis?
Long-term blepharitis can cause misaligned growth of eyelashes, sometimes in an inward direction toward the globe of the eye, which is known as trichiasis.
When the lashes are positioned toward the eye rather than away from it, they rub against the eyeball. The friction can cause discomfort and even scarring.
Final Word
There is no permanent cure for this condition yet, but regular eye hygiene can help manage a typical case of blepharitis and avoid future flare-ups. Couple this with expert-recommended dietary interventions and self-care practices.
If the inflammation is triggered by an overgrowth of bacteria, your eye specialist may prescribe an antibiotic course along with an eyelid hygiene routine.

Continue ReadingBlepharitis: Types, Causes, Symptoms, and Medical Treatment
Was this article helpful?