The tonsils are a pair of oval-shaped structures located at the side of the throat near the back of the tongue, one on either side. These soft tissue organs function to protect your throat from infection-carrying invaders.
However, there are cases when the tonsils themselves become infected by viruses and bacteria. Tonsils usually swell up during the infection and inflammation of this kind is referred to as tonsillitis.
Tonsillitis is a common occurrence in children, but adults are not immune to it either. (1)
How to Check Yourself for Tonsillitis?
If you suspect that you have swollen tonsils, visually examining your throat may help you gain greater clarity:
Push down your tongue with the inverted curve of a spoon to expose the back of the throat.
Light a torch into your mouth to get a clear view of the tonsils.
If the tonsils appear bright red, swollen, or covered with white or yellow patches, you probably have tonsillitis.
You can even ask someone else to conduct this home examination for you. But to get a conclusive diagnosis, it's better to visit a doctor.
Types of Tonsillitis
Tonsillitis can manifest differently in different people but most cases fall into three broad categories:
1. Acute tonsillitis
Acute tonsillitis is perhaps the most common form of tonsillitis. It is characterized by a sudden onset of symptoms that may persist for a few days to 2 weeks.
In acute cases, the inflammation tends to be more widespread and may also involve your throat (pharynx) as well. This condition is known as tonsillopharyngitis. Acute tonsillitis affects children and young adults the most and is usually triggered by viral infections and, less commonly, by group A streptococci. (2)
2. Recurrent tonsillitis
It is when the condition recurs after being cured. Several episodes of acute tonsillitis over the span of a year qualify as recurrent tonsillitis. (3)
3. Chronic tonsillitis
It is referred to as a long-term form of tonsillitis that usually lasts for more than 2 weeks. People with chronic tonsillitis either have unabated symptoms for an extended period or experience frequent relapses after recovery. (4)
This prolonged type of tonsillitis typically stems from a stubborn infection that can lead to the formation of tonsil stones (tonsilloliths). In such chronic cases, the swollen tonsils are often surgically removed. (4)
What Causes Tonsillitis?
Tonsillitis, or enlargement of the tonsils, can be triggered by a number of airborne infections. Depending upon the causative agent, tonsillitis can either be bacterial or viral:
1. Bacterial agents
Most cases of bacterial tonsillitis can be traced back to specific strains of streptococcus bacteria. Another more unusual causative bacterial infection is scarlet fever.
2. Viral agents
Tonsillitis can be triggered by common viral infections such as the common cold or flu as well as other lesser-known viral infections such as mononucleosis (also called "mono" or glandular fever). 
Note: Viral tonsillitis is much more common and generally milder than bacterial tonsillitis.
Signs and Symptoms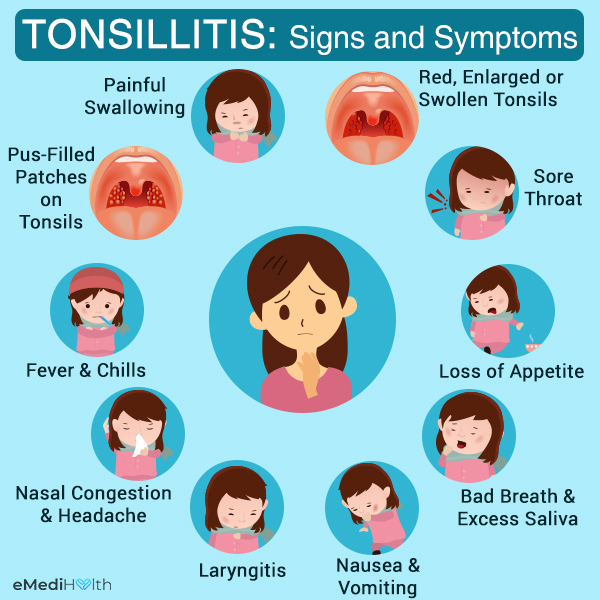 Tonsillitis can present different symptoms in different individuals, but the following are some of the most commonly reported ones:
Visibly enlarged or swollen tonsils
Redness in tonsil tissue
Yellow, gray, or white pus-filled patches on the tonsils
Painful blisters or sores in the throat
Tenderness
Pain and difficulty while swallowing
Nasal congestion or a runny nose
Fever and chills
Loss of appetite
Fatigue
Laryngitis
Nausea and vomiting
Abdominal or stomach pains
Headache
Coughing and sneezing spells
Bad breath
More salivation than usual
Standard Medical Treatment
It is not uncommon for children to develop enlarged tonsils and adenoids without any underlying infection. In such a case, the inflammation usually resolves without any medical or surgical intervention.
If a virus is responsible for the inflammation of the tonsils, the condition will subside on its own within 7–10 days.
1. OTC medications
While there are no medications that can help combat the viral infection, you can consider over-the-counter painkillers to manage the symptoms associated with this condition. However, it is important to follow your doctor's guidelines regarding the dosage to avoid any side effects.
2. Antibiotics
If you have severe symptoms and/or a positive throat culture, your doctor may prescribe an antibiotic to promote fast recovery from bacterial tonsillitis.
Antibiotics help reduce the severity and duration of infection, and in the case of strep throat, antibiotics are critical for preventing complications such as rheumatic fever. Avoid taking antibiotics in case of viral tonsillitis.
3. Surgery
Surgery may be recommended if tonsillitis keeps returning or if the infection does not respond to other forms of treatment and persists for a significant period of time.
Tonsillectomy (the surgical excision of tonsils) is a common but invasive procedure that usually requires general anesthesia. People who have had a tonsillectomy usually report experiencing significant pain for 4–5 days at the site of the surgery.
You will be advised to drink lots of liquids and eat soft foods for the first few days after surgery. You can resume solid foods as the pain improves.
Diagnosing Tonsillitis
To diagnose tonsillitis, your doctor will first take a detailed history of your symptoms and do a physical checkup.
He may also order tests such as:
Swab sample
Rapid strep test
Throat culture
Is It Contagious?
Being in close proximity to the infected individual increases your risk of contracting the infection yourself.
The infection-carrying droplets can be inhaled or land on your skin.
You can pick up the infection through indirect contact as well. Coming into contact with a contaminated surface and then touching your face with contaminated hands allow easy entry of the pathogens into your mouth or nose.
Thus, tonsillitis is essentially a contagious condition that needs prompt treatment to curb the spread of the disease.
Who Is at Risk?
Although tonsillitis is extremely common among children, it rarely affects those younger than two years old.
Children aged between 5–15 years are more prone to bacterial tonsillitis, which is often traced back to the streptococcus species of bacteria or a viral infection.
Children rarely develop a peritonsillar abscess, which is more common among young adults. (5)
Complications of Tonsillitis
Given that viral tonsillitis is a relatively subdued form of this condition, it rarely proves to be a serious cause for concern.
Bacterial tonsillitis, on the other hand, can sometimes take a serious turn, especially if the infection spreads to other parts of the body. This can lead to several complications, including the following:
1. Obstructive sleep apnea (OSA)
Tonsillitis can affect the walls of the throat and render them increasingly lax during sleep. As the walls of your throat close in involuntarily, you will find it difficult to breathe in the middle of your sleep.
This condition is known as obstructive sleep apnea and is characterized by frequent sleep disruptions on account of labored breathing.
2. Secondary infections
The underlying bacterial infection responsible for your swollen tonsils can trigger a number of secondary infections. This happens when the bacteria advances to infect your nose, sinuses, ears, lungs, or bloodstream.
3. Glue ear (otitis media)
Children with tonsillitis may develop a condition called glue ear, in which the air-filled space of the middle ear gets filled with viscous mucus.
This obstruction leaves no room for the mucous normally made by the middle ear to drain into the throat. This trapped mucus can lead to pressure and hearing loss.
4. Quinsy
In some cases of tonsillitis, the underlying infection may spread from the tonsils to the adjoining tissues in the throat. The infected tissues then develop into a painful abscess, which is known as a peritonsillar abscess or quinsy.
Moreover, bacterial tonsillitis can also pave the way for the following uncommon complications:
Scarlet fever
Rheumatic fever
Glomerulonephritis
Guttate psoriasis
When to See a Doctor
You must seek prompt medical assistance if:
You run a fever of 101°F (38.3°C) or higher.
Swallowing becomes significantly painful or difficult.
You experience an overproduction of saliva, which may lead to drooling, especially in the case of young children.
The lymph glands in your neck become increasingly swollen or tender.
You notice the formation of pus at the back of the throat.
Your breathing becomes labored.
Expert Answers (Q&A)
Answered by Dr. Mike Dilkes, MBBS (Otolaryngologist)
Why are children more prone to tonsillitis?
Tonsillitis is more common in children than in adults because their immune system is young and their antibody library to infections can only expand by being exposed to pathogens (viruses and bacteria mainly).
Do bananas help treat tonsillitis?
There is no evidence that bananas help acute tonsillitis, although they may soothe the surface of the tonsils and make the patient feel marginally better.
What is the best course of treatment for people suffering from recurrent episodes of tonsillitis?
Antibiotics are not useful in the early stage of tonsillitis. Sometimes, tonsillitis develops into an abscess (quinsy). That is when antibiotics are required.

Otherwise, full supportive therapy with high fluid intake, paracetamol to bring the temperature down, and nonsteroidal anti-inflammatories such as ibuprofen should suffice, along with eating as normally as possible.
Why are tonsillitis symptoms worse at night?
Tonsillitis pain is worse at night because the affected individual does not take the painkillers nor eat when asleep.

Also, the natural bodily steroid rhythm drops to its lowest point in the middle of the night. This means inflammation increases at this point.
Can tonsillitis trigger earache?
Tonsillitis often causes earache, as the same nerve supplies the tonsils and the ear (the glossopharyngeal nerve). Pain in the ear with tonsillitis is called referred pain and is often a sign that the disease is worsening and possibly forming an abscess.
Should dairy products be consumed when suffering from tonsillitis?
Dairy products will not affect recovery from tonsillitis.
Can tonsillitis be cured?
Tonsillitis is a nasty condition and eventually, the patient has to consider surgical treatment to eradicate the disease forever.

Traditional tonsillectomy is known to be very painful and has a high bleeding rate in teenagers and adults. The intracapsular approach, which uses a carbon dioxide laser or coblation, is recommended.
Final Word
The tonsils are among the body's foremost defensive mechanisms against any germ, bacteria, or virus that finds its way into your throat through the respiratory route or the mouth.
They release antibodies that can help combat these pathogenic threats and deny them further access into the body. However, there are cases when the tonsils themselves become infected by incoming viruses and bacteria.

Continue ReadingTonsillitis: Home Remedies and Prevention Tips
Was this article helpful?