The medical term for a stuffy nose is nasal congestion, which manifests as a feeling of fullness inside the nose with reduced airflow. This happens when the nasal tissue swell ups due to underlying inflammation (rhinitis) of the blood vessels, constricting the passage of air.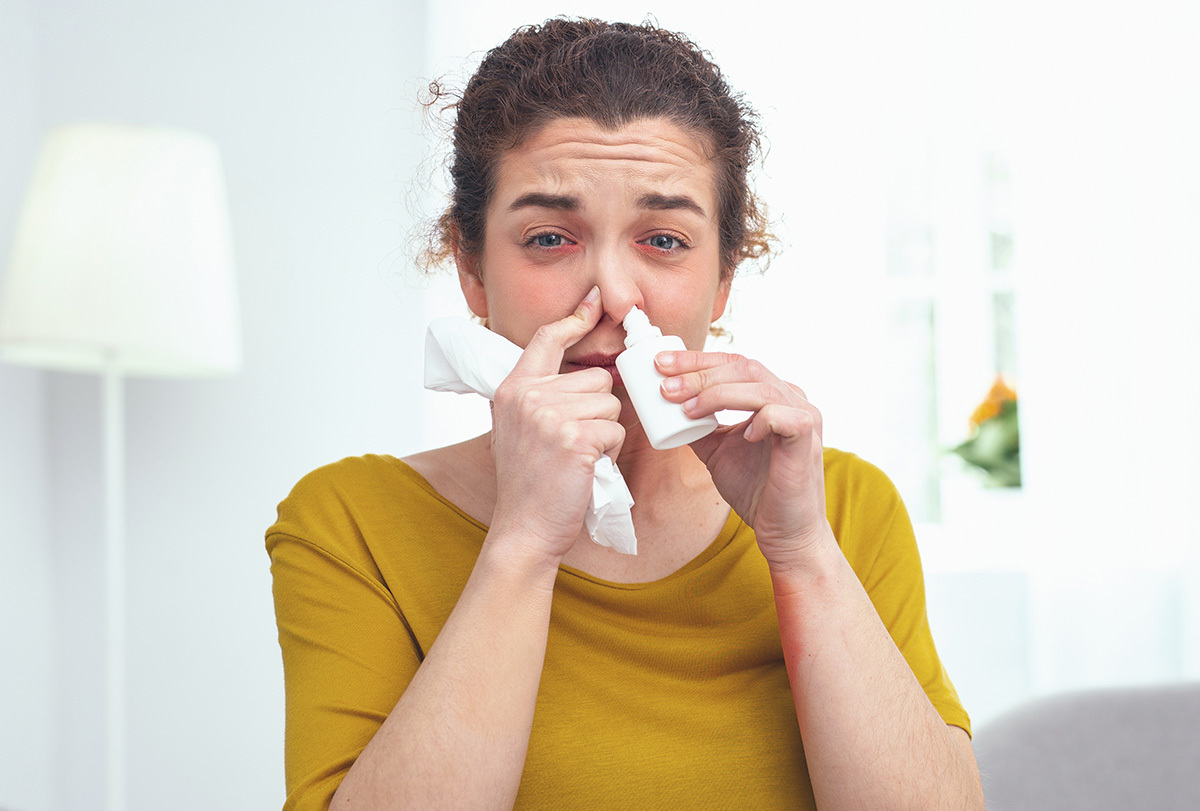 Nasal congestion may be associated with overproduction of mucus in the nasal airways, commonly known as a runny nose. In some cases, the excess mucus may drain into your throat (postnasal drip), causing a sore throat and triggering a cough.
Different individuals have different perceptions of nasal congestion, which must be taken into account to make a proper diagnosis regarding congestion. This problem can be short-lived (acute) or persistent (chronic) depending upon its causes.
For babies, a congested nose may create difficulties in breathing and while feeding. However, in children and adults, it does not always cause a severe problem but can be quite discomforting nonetheless. (1)
How Common Is Nasal Congestion?
More than one billion people come down with a cold in the United States each year and nasal congestion is one of the most commonly reported symptoms of this infection.
A 2010 study concluded that one of the most common diseases associated with congestion is allergic rhinitis, which is estimated to affect as much as one-quarter of the world's population. (2)
Causes of Nasal Congestion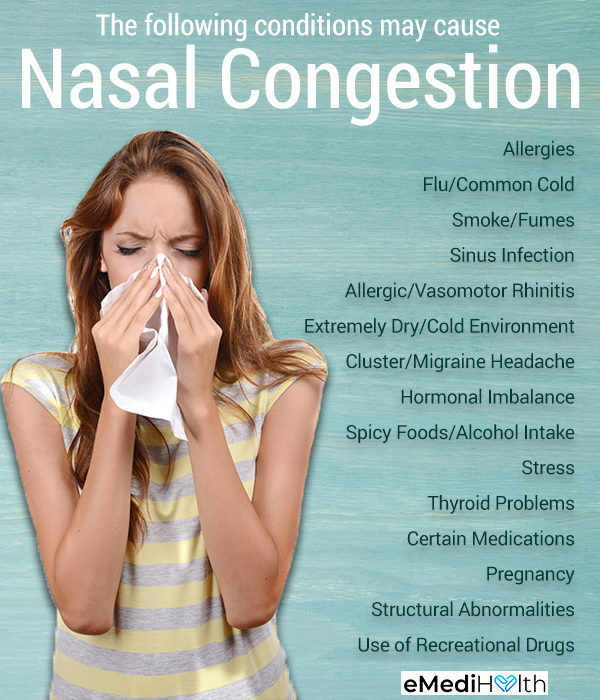 Nasal congestion can result from various reasons, including the following:
Allergies such as hay fever
Flu
Common cold
Exposure to irritants, such as smoke or fumes
Allergic rhinitis
Vasomotor rhinitis
An extremely dry or cold environment
Cluster headaches
Migraine headache
Hormonal imbalance
Spicy foods
Stress
Thyroid problems
Certain medications for high blood pressure, seizures, depression, prostate enlargement, erectile dysfunction, etc.
Undue use of over-the-counter (OTC) drugs such as decongestant nasal sprays or drops (rhinitis medicamentosa)
Pregnancy
Alcohol intake
Structural abnormalities such as nasal polyps or a deviated septum
Use of recreational drugs
Tumors in the nasal cavity
Enlargement of adenoid tissue
Congenital nasal narrowing (pyriform aperture stenosis and choanal atresia) in newborns
Otitis media and asthma also cause nasal congestion, which can cause sleep disturbances, sleep apnea, pressure in the ear, and/or temporary hearing loss
While these are the common reasons behind a stuffy nose, it is recommended to visit your doctor for the correct diagnosis.
Signs and Symptoms of Nasal Congestion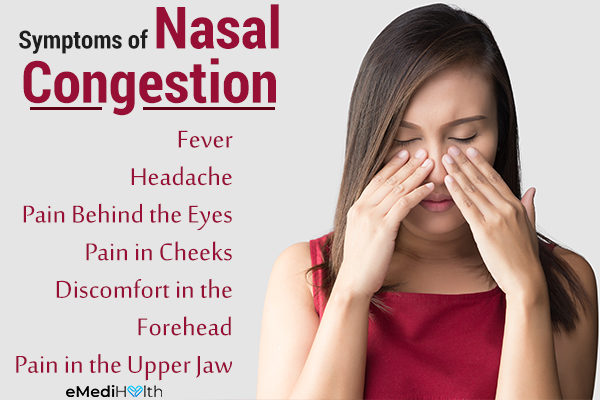 Nasal congestion may manifest as a symptom of an underlying disease. Blockage in the nose and excessive discharge of thin and clear mucus are the primary symptoms of nasal congestion.
Green or yellow mucus is possibly indicative of a bacterial infection, which needs to be treated with doctor-prescribed antibiotics. In most cases, the doctor studies the secondary symptoms to diagnose the underlying cause of nasal congestion. These symptoms include:
Fever
Headache
Pain behind the eyes
Pain in the cheeks
Discomfort in the forehead
Pain in the upper jaw (due to sinus problems)
Treatment for Nasal Congestion
Nasal congestion is usually treated with the following interventions:
1. OTC decongestants and antihistamines
Decongestants reduce the swelling of the nasal tissues by shrinking the underlying blood vessels and curb excessive mucus secretion to clear the airways.
Antihistamines counter the release of inflammatory chemicals that cause your nasal passages to swell up in the event of an allergic reaction. A combination of decongestants and antihistamines may work best for nasal congestion brought on by a true allergy.
2. Nonprescription nasal sprays
Nasal sprays such as antihistamine sprays and steroid nasal sprays offer a safe and nonaddictive treatment for nasal congestion, which may prove more effective than using nasal saline alone.
However, anti-inflammatory sprays are slow acting and may require regular use for optimal relief. Excessive use must also be avoided as it can trigger side effects. Most doctors recommend using it for 3 days straight, followed by a 3-day gap and so on, until you register relief.
Note: Nasal sprays must not be administered to children below the age of 2 years.
3. Surgery
Surgical intervention may be recommended if your persistently stuffy nose is the result of some structural problem.
Septoplasty is performed to straighten a deviated nasal septum.
Rhinoplasty involves straightening the outside of the nose.
Sinus surgery helps relieve the heaviness in the sinuses due to persistent or recurrent infection.
Adenoidectomy is performed to remove enlarged adenoids and polyps.
Diagnosing Nasal Congestion
Usually, the reason(s) for nasal congestion can be identified through the symptoms and a simple examination of the inside of the nose. Occasionally, other tests such as nasal culture, nasal swab for eosinophils, and intranasal biopsy are required to establish a diagnosis.
If the problem is chronic (when the symptoms persist for more than 6 weeks), you may have to consult an ENT specialist. They may require additional testing, which may include:
Allergy tests (skin-prick tests)
Blood tests
Nasal endoscopy (the use of a flexible telescope to look inside the nose)
Complications Associated With Nasal Congestion
A stuffy nose is typically a harmless nuisance but without proper management, it can give rise to the following complications:
Nasal congestion worsens at night and may cause breathing problems that may disturb your sleep.
It can impair your speech and hearing.
Mucus drainage can affect your ears and cause infection by plugging up the Eustachian tube.
Sinusitis may develop due to the plugging of the passages from the nose into the sinuses.
When to See a Doctor
Seek medical help if your nasal congestion is accompanied by:
Swelling in the eyes, face, or forehead
Blurred vision
Throat pain
Yellow or white spots on tonsils
Colored mucus discharge
Malodor in the mucus discharge or from the nose
High fever
Wheezing
Difficulty breathing
Bloody mucus
Blue-tinged skin
Headache
Pain around the eyes, cheeks, or upper jaw
Clear discharge or sinus pains following a head injury, which may indicate a leakage of brain fluid (CSF), concussion, and facial bone/skull fracture
Final Word
Nasal congestion is often a symptom of medical conditions such as sinusitis or the common cold and it improves once the infection is treated. Persistent nasal congestion should be checked by a doctor to identify the underlying cause and treat it accordingly.

Continue ReadingHome Remedies for Nasal Congestion and Self-Care Tips
Was this article helpful?