Air fresheners have become a household item over the past several years. They are domestic essentials that are commonly found in your grocery list. This is understandable because who doesn't want to live and breathe in a sweet-smelling environment?
Your olfactory senses have a direct bearing on your brain and general mood. Walking into a fragrant space can instantly brighten up your mood and make your immediate surroundings feel clean and comfy.
Why You Should Not Use Synthetic Air Fresheners
A quick spritz of your favorite fragrance can make you feel happy and relaxed. However, the term air freshener may be a bit misleading, because these products are simply used to mask disagreeable odors rather than actually purify the air.
Air fresheners are basically a cocktail of chemicals. The aroma of the spray comes from certain toxins that replicate the smells of flowers and fruits.
Moreover, to make these fragrances last longer, a heavy amount of phthalates are added to the liquid mix. These chemicals circulate in the same space and pose detrimental effects on your health. (1)(2)
In addition, air fresheners make the air quality worse by adding styrene, chloroform, and formaldehyde in your immediate vicinity. Exposure to high concentrations of fragrant aerosols can cause immediate discomforts, such as shortness of breath, light-headedness, and skin allergies.
Prolonged exposure may adversely affect your reproductive health and hormonal functions. In some cases, excessive contact with air fresheners during pregnancy may lead to congenital disorders in the child. (3)(4)
Therefore, it is best to employ the use of household products for purifying the air in your room. Homemade air fresheners are easy to make, cost-effective, and safe in the long run.
Know Your Ingredients
It is fairly easy to make non-toxic air fresheners at home using some common staple ingredients available in your kitchen.
1. Baking soda
Sodium bicarbonate, commonly known as baking soda, can be used to eliminate the offensive smells coming from rotting foods. The rotting process involves the decomposition of foods into volatile acids and bases whose molecules combine with the air particles and turn into strong-smelling compounds.
Because baking soda is a weak base and amphoteric, it can act either as an acid or a base depending on the type of compound it reacts with, neutralizing it. Thus, baking soda does quash the stench instead of simply covering it up.
2. Essential oils
Using essential oils, or the oils obtained from the plants, are a natural way to aromatize your homes. These oils are replete with phytochemicals that possess various health benefits. Essential oils not only serve as a safer substitute to chemical-laden air fresheners but also act as a relaxant.
In addition, essential oils are also known for being rich in antioxidants, preventing inflammation, suppressing bacterial action, and reducing fits or convulsions. (5)(6)(7)(8)(9) As essential oils are volatile and evaporate rather quickly, you should combine them with dense carrier oils to retain their aroma and make them last longer when using them as room fresheners.
Caution: Essential oils are highly concentrated and can cause skin rashes, acne breakouts, photosensitivity, allergic reactions, and other immune responses.
Thus, one must use these oils only after diluting them to reduce their potency, and follow the necessary precautions as advised by your healthcare provider or aromatherapist. One must also keep essential oils out of the reach of children, who may accidentally ingest them in unsuitable amounts.
DIY Air Freshener Recipes
Here are a couple of DIY methods to make your own air freshener at home with minimal chemical content.
1. Homemade air freshener spray with essential oils
Ingredients:
A clean 2–4-oz bottle fitted with a spray nozzle
Lavender essential oil
Sweet orange essential oil
Lemon essential oil
Water
Measuring spoons
Directions:
Fill the bottle with water up to three-fourths full.
Add 10 drops of lavender oil to the water.
Add 1 teaspoon of sweet orange essential oil to the solution.
Add 5 drops of lemon essential oil to the mix.
Shake the bottle thoroughly so that all the components are mixed well.
Your homemade air freshener with essential oils is ready to use. You can use it as a regular air freshener anywhere in your home.
Note: Remember to always shake the bottle before spraying as water and oil tend to separate into layers.
2. Homemade air freshener with baking soda
Ingredients:
Baking soda
Mason jar
Lavender essential oil
A sheet of paper
Measuring spoons and cups
Toothpick or pin
Glue stick (optional)
Directions: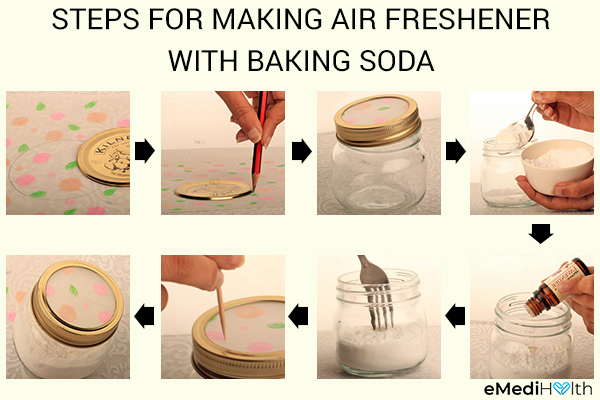 Trace a circle on the wrapping paper using the mason jar cap and cut along the outline.
Stick this paper circle on the mason jar cap in place of its metal ring.
Measure out ½ cup of baking soda and add it to the jar.
Add in 15 drops of lavender essential oil.
Use a fork to mix the contents of the jar.
With a toothpick or pin, puncture some holes on the paper cover of the cap and screw the cap on the jar.
Your room diffuser is ready to use. You can place it in any corner of the house to diffuse a sweet-smelling aroma.
Additional Tips
Follow these tips to maintain a clean, fresh, and healthy air quality in your home:
Allow cross-ventilation in your home that can prevent the buildup of funky odors so you can limit your use of air fresheners.
You can store some baking soda in a box and keep it wherever you want. This can absorb foul smells from the air.
Essential oils can be directly added to the humidifier to mask unpleasant smells.
To address indoor pollution, keep some indoor plants such as peace lily, anthurium, and ferns to detoxify the air.
To make a car air freshener, add 15 drops of essential oil of choice to a clothespin and clip it to the vent in the car.
Do not leave chemical air fresheners around children.
Final Word
A pleasant smell is one of the top hallmarks of hospitality; thus, air fresheners are commonly used. However, these are often laden with chemicals that are harmful to your health in the long run.
These chemical-based air fresheners can be easily substituted with homemade air fresheners that are non-toxic and easy to use. As a bonus, you can customize the smell of the fresheners according to your likings.
Was this article helpful?