Sinus infections, also known as sinusitis, can cause uncomfortable symptoms such as nasal congestion, facial pain, and headache.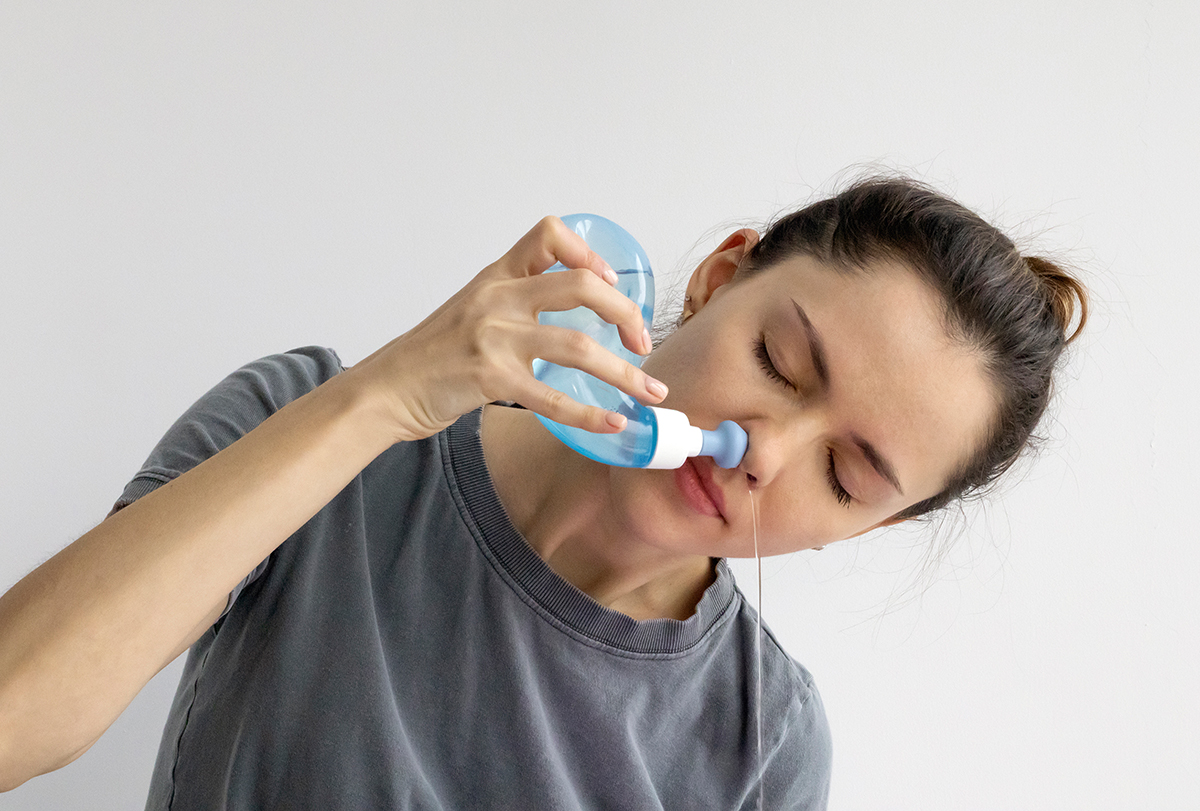 While medical treatment is often necessary for severe cases, several home remedies can help alleviate mild sinus infections and allow faster recovery.
This article will explore natural remedies for sinus infections that you can try at home.
Home Remedies to Try for Managing Sinusitis
Given below are some natural remedies you can try for sinusitis relief.
1. Perform nasal irrigation daily
Studies have shown that nasal irrigation, using bulb syringes, pots, or sprays, can significantly improve chronic rhinosinusitis symptoms. It reduces nasal congestion, improves breathing, and decreases the need for nasal medication.
Daily saline nasal irrigation has been found to be effective in reducing symptoms and improving the quality of life for individuals with frequent sinusitis. (1)
Other than saline irrigation, irrigation with manuka honey has also shown promise as a remedy for sinusitis in patients with cystic fibrosis by killing bacteria.
In one study, subjects who received manuka honey sinus irrigations experienced improved quality of life and better endoscopic outcomes compared to those who received saline irrigations. (2)
How to use:
Fill a clean container, such as a neti pot or squeeze bottle, with a saline solution or 1–2 tsp manuka-water mixture.
Stand over a sink or tilt your head sideways while sitting.
Gently insert the spout of the neti pot or squeeze bottle into one nostril. Tilt your head slightly forward and let the solution flow into your nasal passage.
Keep your mouth closed and let the saline solution flow through your nasal passages and out of the other nostril.
2. Do steam inhalation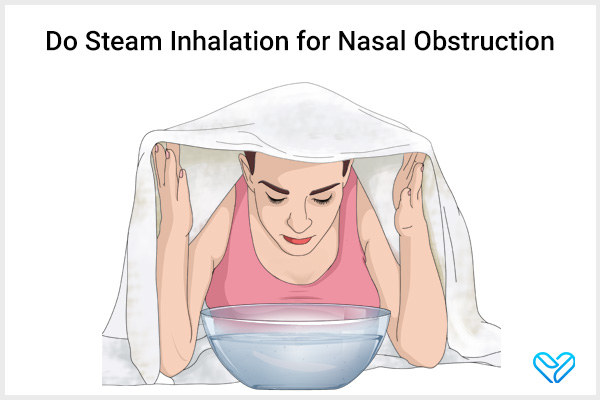 Steam inhalation, a technique often used to soothe the nasal passages and reduce congestion in people with allergic rhinitis, can also be beneficial for sinusitis. It involves breathing in steam with a temperature of around 42–44°C.
Steam inhalation has been shown to have beneficial effects on nasal obstruction in patients with allergic rhinitis, and it can potentially provide similar benefits for individuals with sinusitis.
Inhaling steam helps to moisturize and soothe the nasal passages, reducing inflammation and congestion. (3)
3. Apply a warm compress to the nose and forehead
Applying warm moist compresses over your nose and forehead can bring some much-needed relief. It's like giving your sinuses a warm, comforting hug. (4)
How to use:
Take a clean washcloth and soak it in warm water.
Gently wring out the excess water.
Place the warm cloth over your nose and forehead.
4. Do aromatherapy with essential oils
Essential oils can be helpful in treating sinus infections and other respiratory tract infections. With their antimicrobial and anti-inflammatory properties, they can be effective in fighting bacteria and reducing inflammation in the respiratory system. (5)
Several essential oils have beneficial effects on sinus infections.
Eucalyptus oil
Eucalyptus is a medicinal plant that grows in tropical and subtropical regions all over the world. Eucalyptus contains a compound called eucalyptol (1,8-cineole), which reduces nasal congestion and stuffy nose. (6)
Black cumin oil
Black cumin (Nigella sativa) oil can be a potential agent for fighting sinusitis because it can help reduce inflammation, fight infections, and relieve symptoms such as nasal congestion and headaches. (7)
A component called α-pinene in black cumin essential oil was found to reach the sinus mucosa and manage symptoms in rats, which suggests its use in sinus infections. (8)
While more research is needed to confirm its efficacy, black cumin oil may be worth considering as a complementary therapy to traditional treatments.
Peppermint oil
Inhaling peppermint oil has a significant positive impact on the sinus mucosa because of its important plant chemicals, making peppermint oil beneficial in relieving sinus infection symptoms. (8)
Performing aromatherapy with these oils for sinus infection can help alleviate symptoms and promote relief.
How to use:
Boil water and pour it into a large bowl.
Add a few drops of essential oil.
Lean over the bowl and drape a towel over your head, creating a tent that traps the steam.
Close your eyes and take slow, deep breaths through your nose.
5. Invest in a humidifier
A humidifier is beneficial for your sinuses. It adds moisture to the air, which helps keep your nasal passages hydrated and prevents them from drying out. When your sinuses are moisturized, mucus can flow more easily, relieving congestion and discomfort. (4)
6. Consume the right foods
To alleviate sinus inflammation, it's best to avoid processed sugar, saturated fats (found in pizza and cheese), MSG (found in fast foods), excessive omega-6 fatty acids (in oils such as corn oil and soy oil), gluten (in wheat and barley), refined carbohydrates (such as instant mashed potatoes), and dairy and its products.
On the other hand, consuming fish rich in omega-3 fatty acids (such as salmon, cod, and sardines), beans (such as mung and kidney), green vegetables, citrus fruits, and spices (ginger, basil, and cayenne pepper) can help combat sinus inflammation. (9)
7. Stay hydrated and drink plenty of fluids
When you're dealing with a sinus infection, staying hydrated is key. Drinking plenty of fluids, such as water, can actually help thin the mucus in your sinuses, making it easier to drain.
Aim to have a glass of water every hour or two to keep things flowing smoothly. (4)
Most-Asked Questions
How long does sinusitis typically last?
Acute sinusitis usually lasts for 2–4 weeks.
Is sinusitis contagious?
No, sinusitis is not contagious.
Can allergies cause sinusitis?
Yes, allergies can contribute to the development of sinusitis.
Can sinusitis go away on its own?
Acute sinusitis can often resolve on its own, but chronic sinusitis may require medical intervention.
Can sinusitis cause a fever?
Yes, sinusitis can cause a low-grade fever in some cases.
Can sinusitis be life-threatening?
Immunocompromised individuals, such as those with uncontrolled diabetes, low white blood cell count, or HIV infection, can experience severe and potentially life-threatening fungal or bacterial sinusitis.
Can smoking make sinusitis worse?
Yes, smoking can aggravate sinusitis symptoms and delay healing.
Can sinusitis be prevented?
Yes. Preventive measures include maintaining good nasal hygiene, avoiding triggers, and managing allergies effectively.
Final Word
Home remedies can be effective in managing the symptoms of sinusitis. However, if your symptoms persist or worsen, it is important to seek medical attention.
Additionally, it is essential to practice good hygiene and avoid irritants to prevent the recurrence of sinusitis.

Continue ReadingSinus Infection: Causes, Symptoms, Treatment, and More
Was this article helpful?