Pinworms or threadworms are intestinal parasites that can trigger a highly contagious infection cycle once they find their way into your system.
A pinworm infection is medically referred to as enterobiasis or oxyuriasis and it is associated with a great deal of physical discomfort. However, it poses no real danger to your health.
This infection can be contracted by either ingesting or breathing in pinworm eggs. Fully grown pinworms are thin, white, ¼ to ½ inch in length, and have a diameter of a thread.
How Common Is It?
People of all ages can suffer from this kind of worm infestation, but it is most prevalent among school-aged children.
The World Health Organization states that the prevalence of pinworm infestation worldwide is approximately one billion. The Centers for Disease Control and Prevention cite it as the most common type of worm infection in humans in the United States. (1)
How Are Pinworms Spread?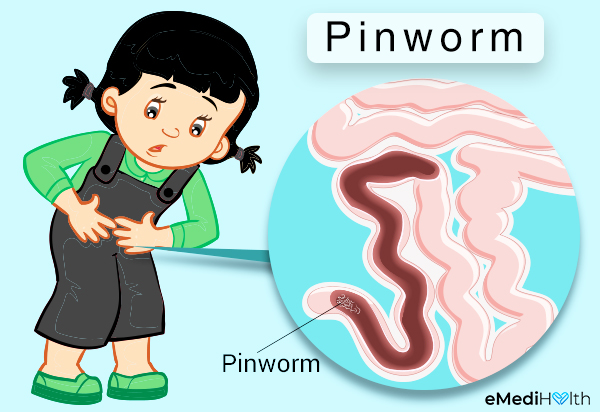 A pinworm infection follows a cyclic pattern which begins once the worm eggs enter your body either through ingestion or inhalation:
Once inside the body, the eggs make their way into the small intestine and hatch into worms.
The baby worms then mature and travel to the large intestine, laying their eggs in the area around the anus (bottom), typically at night.
These infesting pinworms also secrete a mucus-like substance along with the eggs, which causes itching in the affected area. When you scratch the nether region to relieve the itch, your nails or fingertips are likely to pick up the pinworm eggs, which can then be transferred elsewhere through direct or indirect contact.
Eating with infected hands will transfer the eggs to your mouth, prolonging the infestation for as long as you continue ingesting the fresh eggs. These fertilized eggs can survive for up to 20 days in the environment.
Another person can become infected with pinworms through:
Indirect contact: People can contract this infection by touching objects contaminated with pinworm eggs and then eating with the same hands.
Eatables: Food items can also carry pinworms or their eggs and serve as a contamination source unless cooked properly. People often pick up this infection by consuming undercooked meats such as beef, pork, or fish.
Airborne eggs: In very rare cases, inhaling airborne eggs present in the surrounding dust can also introduce pinworms into the body.
Given the ease with which pinworm eggs can be transferred from one person to the next, the infestation spreads rather easily in group settings such as homes, schools, and daycare centers.
Signs and Symptoms of a Pinworm Infection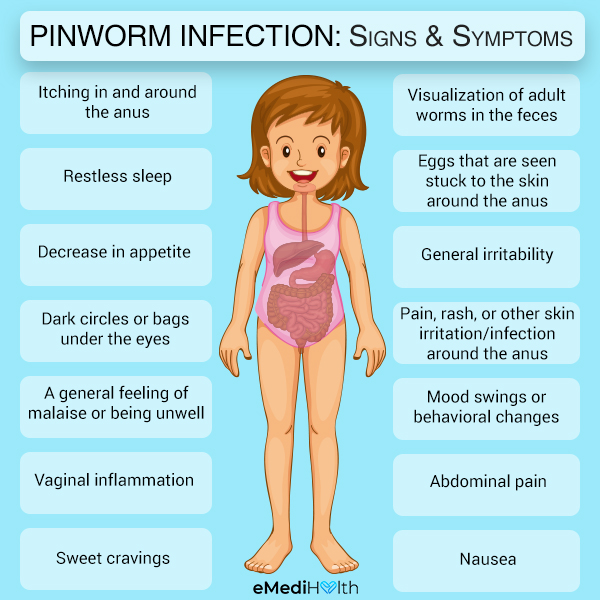 Pinworm infections, because of the long incubation time or carrier states, can go unnoticed for a long time. However, in symptomatic cases (more frequent than carriers) the complaints of the infected individual include:
Itching in and around the anus, which worsens at night
Decreased appetite
Disturbed sleep
Malaise or a general feeling of being unwell
Vaginal inflammation
Sweet cravings
Visualization of adult worms in the feces
Eggs that are seen stuck to the skin around the anus
General irritability
Pain, rash, or other skin irritation/infection around the anus
Mood swings or behavioral changes
Abdominal pain, which can range from mild to intense
Nausea
The symptoms of pinworm infection usually come and go in cycles of every 2 weeks, coincident with the life cycle of the worm.
Children with pinworms in the body do not usually exhibit any noticeable symptoms that can alert you to their condition. However, the infestation may be easier to spot in cases where the child becomes unusually cranky and agitated at night due to itching around the anus and vagina.
Medical Treatment for Pinworms
The standard pharmaceutical drugs used for the treatment of pinworm infection include:
Mebendazole (2)
Pyrantel pamoate
Albendazole
At first, your doctor will prescribe a single dose of any of the above-listed medications and then another single dose of the same drug 2 weeks later.
Even though these anthelmintic agents have a higher eradication rate than 90% against pinworms, they may fail to kill the eggs the pinworms spawn. This necessitates a second round of extermination to prevent reinfection. (3)
Early treatment is crucial to prevent the spread of pinworm infection to your family, friends, and virtually anyone in your vicinity.
Diagnosing a Pinworm Infestation
Anal itching is perhaps one of the characteristic symptoms of a pinworm infestation.
You can also conduct a visual examination of your child:
Make them lie face down on the bed such that the buttocks are in the air.
Ask the child to exert pressure like he/she would when having a bowel movement, as it will help expose the anus.
Spread the butt cheeks and, using a flashlight, examine the anus.
However, it is best to visit your medical practitioner for a proper, reliable diagnosis and further treatment.
Risk Factors Associated With Pinworm Infection
The following risk factors can increase your chances of contracting pinworms:
Direct or indirect contact with infected people
Young age (children aged 5–10)
Uncontrolled anus-finger-mouth contact (ingestion of eggs/larvae)
Nail-biting
Poor unsupervised body hygiene
An environment with poor sanitation
Being in a long-term care/mental facility
Incarceration with sexual acts
Attending school or daycare centers
Complications of Pinworm Infection
A pinworm infestation is largely a nonthreatening condition but left unattended; it can lead to several complications:
1. Secondary infection
Persistently and rigorously scratching the itchy region can break the skin barrier and pave the way for secondary bacterial infections, some of which can be difficult to treat.
2. Urinary tract infections
An untreated case of pinworm infection can set the ground for a subsequent urinary tract infection (UTI), particularly in women.
3. Weight loss
If the colonization of pinworms is allowed to grow due to lack of proper treatment, these parasites will deplete your body's reserve of essential nutrients over time. Continued nutrient loss can eventually lead to weight loss.
When to See a Doctor
A visit to the doctor becomes essential in the following conditions:
Adult pinworms in the feces
Excessive itching in the genitals or vagina
Red, tender, and swollen skin around the anus
Anal itching persistent for more than 1 week
Painful urination
Bloody stools
Increased frequency or urgency of urination
Fever or abdominal pain
Final Word
Due to the cyclic pattern of pinworm infection, it is important to exercise patience and diligence to notice an improvement in your condition.
It is also essential to improve sanitation within your environment, adhere to strict handwashing guidelines, and not ignore the symptoms in the hopes that they will just go away.

Continue ReadingHygiene Tips and Self-Care for a Pinworm Infection
Was this article helpful?