The upper abdomen is the part of the abdomen below the ribs to the navel area. It includes vital organs such as the stomach, liver, pancreas, and some major blood vessels.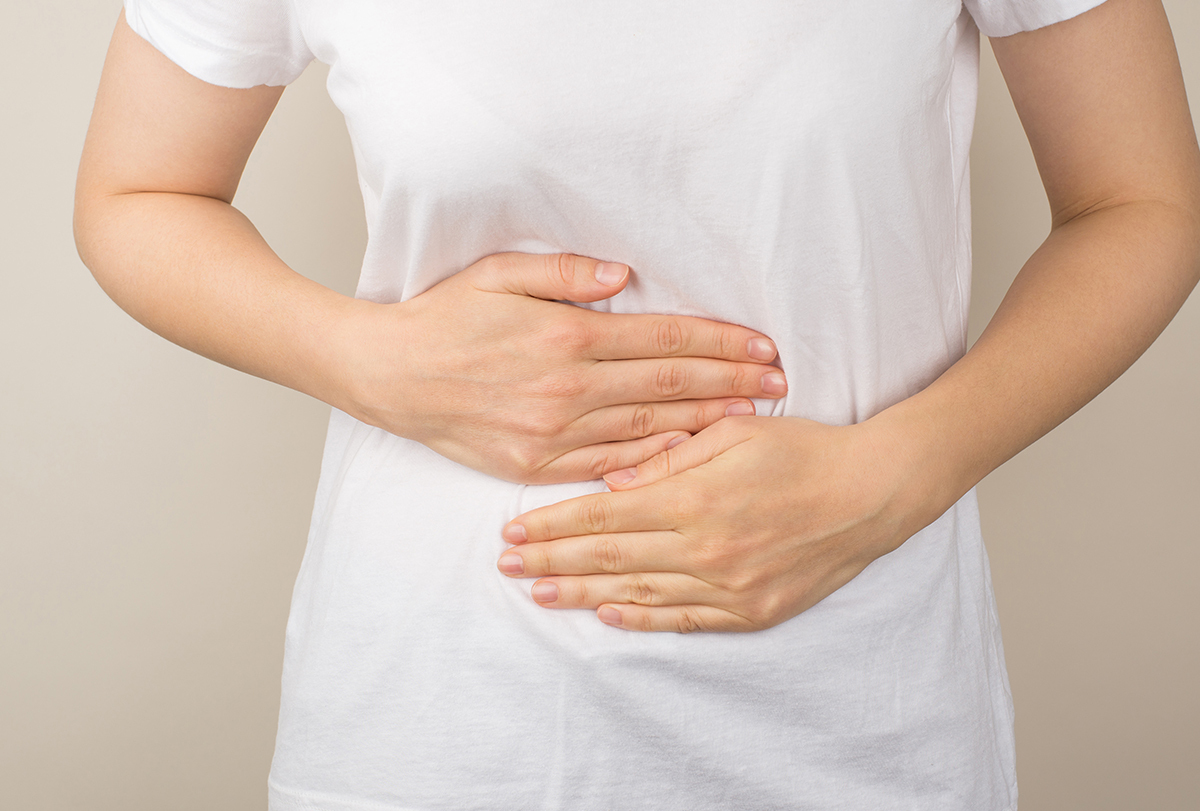 Most cases of abdominal or tummy pain are minor; it could be due to something you have eaten, acidity, or other issues.
However, chronic or severe abdominal pain can be a sign of something more serious such as appendicitis and pregnancy-related issues.
Ways to Get Rid of Upper Abdominal Pain
Here are some effective ways to reduce upper abdominal pain.
1. Drink water
Dehydration is a common cause of stomach pain. Water is lost from the body throughout the day in the form of sweat, urine, etc. It is important to restore this water by drinking 5–8 glasses of water per day. You can also drink fresh fruit juices to keep hydrated.
Dehydration can cause digestive problems such as constipation, which leads to stomachaches. (1)
2. Apply heat
Heat helps relax the stomach muscles and increases blood circulation to the area. It helps provide relief from pain.
A heating pad or warm wet cloth can ease stomach cramps. A hot shower or bath is also useful. You can add Epsom salt to a warm bath for maximum benefit. (2)
The heat can help relax the muscles and relieve cramping.
3. Sip ginger tea
Ginger is widely used as a natural remedy for stomach pain. It helps improve digestion.
Gingerol, the active ingredient in ginger, helps decrease inflammation and provide relief from inflammatory bowel syndrome (IBS). (3)
You can boil a chopped-up piece of ginger in a glass of water. Strain this solution and add a teaspoon of honey to it. Drink this on an empty stomach every morning.
4. Use castor oil
Castor oil also helps decrease inflammation and remove stomach blockages. It is particularly helpful in appendicitis.
You can apply castor oil topically or consume a few drops orally. Make sure that the castor oil you use is edible oil before consuming.
You can also apply castor oil on the hurting area by pouring a couple tablespoons of castor oil on a piece of cloth and placing it on your abdomen.
5. Drink lemon juice or tea
Lemon has anti-inflammatory properties that help decrease stomach pain. It also contains vitamin C, an immune booster that can help your body fight infections.
Consume fresh lemon juice or lemon tea every morning on an empty stomach to decrease stomach pain and inflammation.
6. Try turmeric
Turmeric is an ancient Ayurvedic remedy for inflammation and pain. It contains an active compound called curcumin, which helps decrease inflammation in the body.
You can drink a golden latte – which is milk with a pinch of turmeric added to it – every morning for stomachache. You can also add a little turmeric powder to most soups, broths, vegetables, etc. (4)
7. Drink peppermint tea
Peppermint tea is another great natural remedy for IBS. It contains antioxidants and anti-inflammatory compounds that help relieve stomachaches.
You can make peppermint tea by boiling a tablespoon of peppermint leaves in a cup of hot water. (5)
8. Brew chamomile tea
Chamomile tea contains potent anti-inflammatory compounds. It has a soothing nature and is commonly used for relieving headaches, stomachaches, and muscle pain. (6)
You can consume a cup of chamomile tea every morning.
9. Consider fennel
Fennel seeds can help provide relief from stomachaches and gas. They are filled with anti-inflammatory properties and antioxidants that can soothe the stomach lining. (7)
You can chew raw fennel seeds or steep them in water to make tea.
10. Use licorice
Licorice is an herb with potent anti-inflammatory properties.
It can help increase the mucus coating of the stomach and prevent irritation of the digestive tissues. It also has a laxative effect on the body.
Steep licorice tea by adding licorice powder to a cup of water and boiling it. (8)
11. Try a combination of black cumin and honey
Black cumin (Nigella sativa) or black seed has digestive, laxative, and gastric tonic properties. It is also effective against bloating.
Honey is effective against gastrointestinal issues such as abdominal pain, bloating, and jaundice. It also increases appetite.
In Iran, a mixture of black cumin and honey (called Dosin) is prescribed in traditional and Islamic medicine to treat gastrointestinal symptoms such as abdominal pain, bloating, and diarrhea. (9)
Consume a paste made of one teaspoon of black cumin seed powder and honey. After half an hour, drink some water.
12. Use asafoetida
The herbaceous plant Ferula asafoetida, generally known as hing, belongs to the Umbelliferae family. It is believed to be a medicine that treats spasmodic disorders and helps the stomach expel wind.
It functions as a digestive aid, sedative, and nervine stimulant. Several stomach disorders can be effectively treated with the herb.
Asafetida is among the greatest flatulence cures on the market and a crucial component of a majority of digestive powders. Asafoetida should be dissolved in hot water, and a pad of cloth soaked in it may be used to foment the stomach in cases of flatulence and stomach distension. (10)
Causes of Stomach Pain
A few common causes of stomachache are as follows.
1. Skipping breakfast
Skipping breakfast may cause abdominal pain, so it is important to start your day with a healthy breakfast.
Research data suggest that regular breakfast consumption is associated with a lower risk of IBS, which can cause abdominal issues and an upset stomach. (11)
2. Caffeinated beverages
Doctors warn that drinking caffeinated beverages such as tea or coffee on an empty stomach can cause abdominal pain.
3. Smoking
Cigarette smoking can lead to acidity or stomach ulcers. (12)
4. Alcohol consumption
Excessive alcohol consumption can also lead to liver issues, stomachache, etc. (13)
5. Medical conditions
Here are a few medical conditions that can cause chronic abdominal pain:
Pancreatitis – Pancreatitis causes chronic inflammation and pain in the pancreas. The pain can radiate to the upper stomach and back. Other symptoms of pancreatitis include nausea and vomiting.
Constipation – Constipation can cause bloating and gas pains. Chronic constipation may lead to sharp pains in the upper abdomen.
Ulcers – Stomach ulcers can cause stomachache, nausea, vomiting, acidity, etc.
IBS – IBS is a condition that causes chronic inflammation in the gut. It may also cause diarrhea or constipation. IBS is associated with abdominal pain, which may become worse after meals.
Liver issues – Liver disorders such as jaundice, liver cancer, and hepatitis can cause pain in the upper-right quadrant of the abdomen. Other causes of pain in the upper-right abdominal area are gallstones, obstruction in the intestines, and pneumonia. (14)
What Foods Can Relieve Stomach Pain?
Here are a few foods that can help relieve stomachaches.
1. BRAT diet
The BRAT diet is a common and simple diet recommended by doctors to provide relief from diarrhea and stomachaches. (15) It consists of bananas, rice, apples, and toast (BRAT).
These foods are loaded with starch that helps bind your stool and does not irritate the stomach lining.
2. High-fiber snacks
Fiber plays an important role in digestion. It encourages the growth of healthy bacteria in the digestive tract. Fiber-rich foods such as apples, pumpkin, flaxseeds, and almonds can be helpful in relieving chronic digestive issues and stomachaches. (16)
Preventive Tips Against Stomachaches
Here are a few tips to prevent stomachaches:
If you have diabetes, keep your blood glucose levels in check at all times.
If your stomachache is caused by eating heavy meals, fried foods, etc., you may have acidity. Avoid greasy foods, spicy foods, caffeine, and overeating.
Exercise regularly to keep your muscles healthy and improve blood flow.
Do not consume foods that produce gas: chickpeas, red meat, high-sulfur and high-protein foods, etc.
Increase your fiber intake as it helps improve your digestive health.
When to See a Doctor
See a doctor immediately if you notice any of the following symptoms:
Difficulty swallowing
Continuous vomiting
Blood in the stool or vomit
Sudden weight loss
Loss of appetite
Pale-looking skin or signs of anemia
Final Word
Upper abdominal pain can be due to a variety of reasons. In most cases, it is benign and will go away with symptomatic treatments such as those listed above.
However, if your pain is severe or frequent, it may be best to visit a doctor for a proper diagnosis. Consult a doctor immediately if your abdominal pain is severe or frequent, it does not let you function normally, you have diarrhea that lasts longer than 5 days, or your stomachache does not relent even after 3 days.
Was this article helpful?