The frequent occurrence of watery, loose, and unformed stools is known as diarrhea. It causes abdominal cramps and an urgent need to pass stool.
The condition is more commonly known as loose motions and often occurs as a symptom of gastroenteritis or stomach flu. Usually, diarrhea is an acute condition that resolves on its own.
Types of Diarrhea
Diarrhea can be classified into different types according to their duration and severity:
Acute diarrhea: Short-term diarrhea lasts for 1 or 2 days and may be caused by a viral infection. Another common cause of acute diarrhea is bacterial infections, which occur due to the ingestion of contaminated food or water. Diarrhea is considered acute if it lasts 14 days or fewer.
Chronic diarrhea: Long-term diarrhea lasts over 30 days and generally occurs as a symptom of a medical problem, such as irritable bowel syndrome, Celiac disease, and Crohn's disease. Chronic diarrhea can also be due to a parasitic infection and the symptoms may occur continuously or in intervals.
Diarrhea is divided into three classes based on the number of watery bowel movements in a day:
Mild diarrhea: 2–5 bowel movements a day
Moderate diarrhea: 6–9 bowel movements a day
Severe diarrhea: More than 10 bowel movements a day
Causes of Diarrhea
Diarrhea can occur due to various factors, including: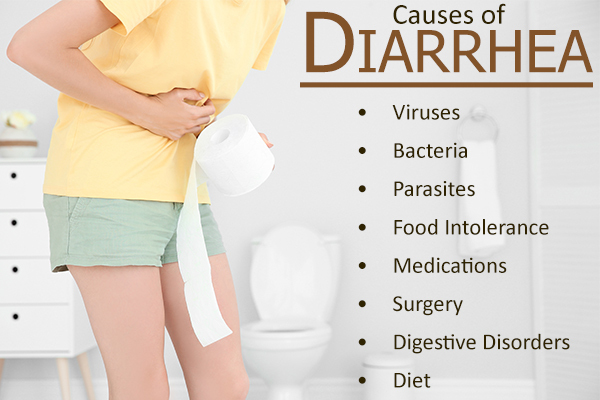 1. Viruses
An infection by cytomegalovirus, hepatitis virus, and Norwalk virus can cause diarrhea. Rotavirus infection is a common cause of acute diarrhea in children. Other common viruses that cause diarrhea include adenoviruses and astroviruses.
2. Bacteria
Any food that is not stored, cooked, or handled properly may get contaminated by bacteria such as E. coli, salmonella, shigella, and clostridium. These bacteria release toxins in the body when ingested and cause food poisoning, the most common reason for diarrhea in developed countries.
3. Parasites
Drinking from dirty water sources or bathing in contaminated lakes or streams can cause an infection with parasites such as giardia, cryptosporidium, and entamoeba, resulting in diarrhea.
The giardia parasite is resistant to chlorine treatment and thus spreads in public pools and water parks.
4. Food intolerance
In some individuals, the consumption of a particular food may cause digestive problems and may result in diarrhea.
This phenomenon is known as food intolerance and may occur due to foods such as lactose (found in dairy products), fructose (a natural sugar present in fruits and honey), and artificial sweeteners (sorbitol and mannitol).
5. Medications
Diarrhea can be a side effect of antibiotics, antacids containing magnesium, cancer drugs, laxatives, and other medications.
6. Surgery
Diarrhea may occur as a consequence of surgical procedures, such as gallbladder removal and other abdominal surgeries.
7. Digestive disorders
Diarrhea may occur as a chronic symptom of digestive problems such as ulcerative colitis, microscopic colitis, Crohn's disease, irritable bowel syndrome, and Celiac disease.
8. Diet
Consumption of excessive sugar or caffeine can also cause diarrhea. Drinks with a high amount of caffeine may act as laxatives and thus, the intake of large amounts of coffee or tea (more than 2–3 cups daily) can result in diarrhea.
9. Stress and anxiety
People usually have bouts of diarrhea when going through a stressful or tense situation.
Symptoms of Diarrhea
The symptoms of diarrhea may vary according to the cause; however, common symptoms include:
Frequent bowel movements
Watery and loose stools
Abdominal cramps
Fever
Stomach ache
Bloody stools
Urgent need to pass stool
Dehydration due to loss of body fluids, causing fatigue, lightheadedness, and thirst
Lack of appetite
Incontinence (inability to control bowel movements, resulting in stool leakage)
Diarrhea may present additional symptoms in babies:
Sunken soft spot on the head (depressed fontanelle)
Crying without tears
Weight loss
Decreased urination (less than six diapers used in a day)
Often, parents assume that their baby's diarrhea is associated with teething. However, pediatricians do not support this claim and suggest that, while irritation is normal, the occurrence of fever or diarrhea during teething should be checked immediately by a doctor.
Treatment of Diarrhea
The treatment of diarrhea depends on the cause and severity of the disease:
Dehydration is the major problem associated with diarrhea and requires the replacement of lost fluids. This is usually done by increasing fluid intake and drinking oral rehydration solutions (ORS). Severe cases may even need intravenous fluids.
Antibiotics can be used on prescription if a bacterial or parasitic infection is causing diarrhea. Strictly avoid the use of antibiotics if the diarrhea is caused by a viral infection, which is the most common type in children.
Over-the-counter (OTC) medications such as loperamide (Imodium) and bismuth subsalicylate (Pepto-Bismol, Kaopectate) are anti-diarrheal drugs that can be taken for acute diarrhea. Doctors advise avoiding OTCs if you have a fever or bloody stools.
If a specific medication triggers your diarrhea, speak to your doctor about a more suitable alternative.
Underlying diarrhea-causing conditions, such as inflammatory bowel disease or irritable bowel syndrome, must be treated for relief.
Note: Use anti-diarrheal medications only after consulting your doctor, and avoid giving them to infants and children.
Diagnosing Diarrhea
Determining the cause of acute diarrhea is usually not required. However, if diarrhea lasts for more than 4 days, the doctor may study your medical history and perform physical exams or tests for diagnosis.
1. Physical exam
The physical exam consists of the following procedures:
Measuring blood pressure and pulse
Body examination for fever or signs of dehydration
Listening to sounds in the abdomen using a stethoscope
Tapping the abdomen to check for pain or tenderness
Digital rectal exam
2. Stool culture
Stool culture is performed to assess the bacterial types and parasites present in the digestive tract.
3. Endoscopic procedures
Endoscopic procedures, such as upper gastrointestinal (GI) endoscopy, flexible sigmoidoscopy, and colonoscopy, may be performed to detect any structural abnormalities that may be causing diarrhea.
4. Other tests
Other tests may be performed to identify allergies or food intolerance.
Risk Factors for Diarrhea
Certain factors may predispose you to diarrhea, (1) including:
Use of some medications
Hospitalization
Traveling to developing countries where the water or food may be contaminated
A food allergy or hypersensitivity, such as gluten or lactose intolerance
Endocrine disorders, such as hyperthyroidism (overactive thyroid), irritable bowel syndrome, inflammatory bowel diseases such as ulcerative colitis and Crohn's disease, and diabetes
Age above 65 years, especially when suffering from digestive disorders
HIV/AIDS, organ transplant, and intestinal cancers 
Complications Associated With Diarrhea
A prevalent condition, diarrhea affects almost every person once, and severe cases may lead to complications, including:
1. Dehydration
An excessive loss of fluids and electrolytes is known as dehydration. It can be characterized by thirst, lack of urination, dry mouth, and fatigue. Dehydration can be life-threatening, especially in children, the elderly, and individuals with a weak immune system.
2. Malnutrition
Frequent bowel movements inhibit the absorption of nutrients by the intestinal tract, leading to malnutrition, even when sufficient amounts of food are consumed.
When to See a Doctor
It is advised to get medical attention if your diarrhea persists for more than 3 days or is accompanied by any of the following symptoms:
Inability to consume foods or liquids
Dehydration
Fever
Bloody stools
Mucus in the stools
Abdominal cramps and pains
Nausea and vomiting
Lack of urination
Dry mouth or dry skin
If you are pregnant or immunocompromised
For children, medical help should be sought if diarrhea lasts for more than a day or presents with any of the following signs:
Pus in the stools
Black stools
Dehydration characterized by dry mouth, tearless crying, no wet diaper in 3 hours, or skin not taking its original shape instantly after being pinched
Irritability
Excessive sleeping
Fever
Persistent diarrhea should be clinically treated as it can affect your daily routine and can lead to dehydration and electrolyte imbalance.
Final Word
Diarrhea is a common problem that is usually acute and resolves on its own in a few weeks. However, a few cases may be persistent for over a month and cause complications.
Thus, chronic diarrhea requires immediate medical attention. Diarrhea can be fatal in young children and the elderly, especially if they have a weak immune system or are malnourished.

Continue ReadingDiarrhea: Home Remedies, Self-Care, and Prevention
Was this article helpful?