Irritable Bowel Syndrome or IBS refers to a collection of digestive problems that occur because the large intestine does not function properly.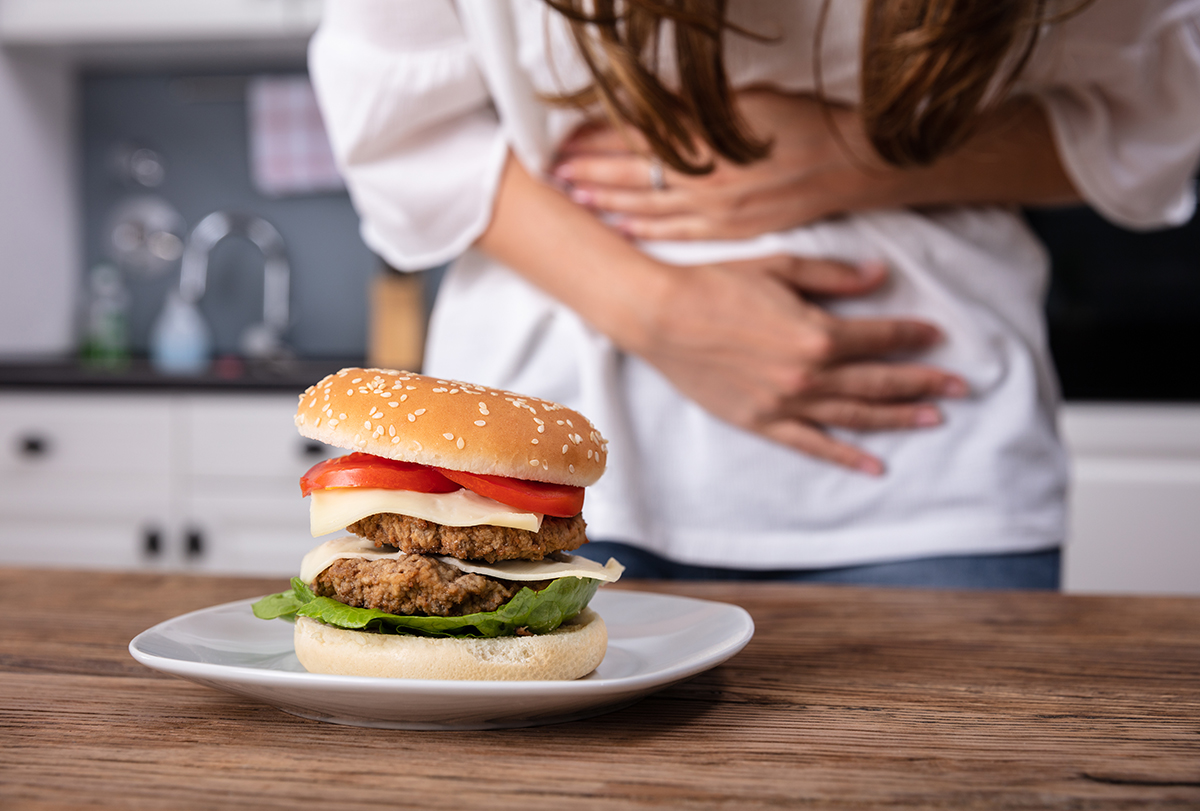 While this condition can cause a lot of gastrointestinal distress, it is unlikely to cause any real physical damage to the digestive tract. IBS has no definite cause or cure but can be managed through a combination of lifestyle, dietary, medical, and psychological or behavioral interventions.
The type and severity of IBS symptoms may vary from patient to patient, so you will have to work with your doctor to come up with a treatment plan that suits your individual concerns.
You may have to experiment with a variety of treatment modalities to find the one that works for you.
Home Remedies for Managing IBS
If you are dealing with irritable bowel syndrome (IBS), you may find relief with the following tips and home remedies.
1. Use peppermint
Peppermint oil (PO) is effective in the management of IBS symptoms as it has anti-infective, anti-inflammatory, and carminative functions.
Peppermint contains menthol oil (L-menthol), which has an antispasmodic effect on the smooth muscles of the digestive tract. This helps relieve IBS symptoms such as bloating, cramping, diarrhea, gas, pain, and intestinal spasms. (1)
Consult your healthcare provider for PO supplements and dosage, or naturally supplement your diet with peppermint tea.
Note: Avoid taking peppermint in excess amounts as it may cause nausea, loss of appetite, heart problems, and nervous system disorders.
Summary:
PO may help facilitate the smooth movement of the intestinal muscles and thereby improve bowel motility.
2. Consume probiotics
Probiotics refer to friendly strains of live bacteria that produce lactic acid, which helps in the elimination of harmful bacteria in the body.
Probiotic foods such as fermented milk yogurt may help improve bowel motility. (2)(3)(4)(5) However, further research is required to establish the exact mechanism by which probiotics may facilitate the passage of stools and reduce the digestive discomfort in patients with IBS. (6)
Summary:
Dietary sources of probiotics such as yogurt can help populate your gut with healthy bacteria to improve your digestive function.
3. Consume flaxseed
Flaxseed is a good source of both soluble and insoluble dietary fibers required for the swift passage of waste products. Flaxseed is also replete with omega-3 fatty acids that help embolden your body's natural defenses and improve your digestive functioning.
How to use: Consume flaxseeds orally or include flaxseed oil in your diet.
Note: Flaxseed use is anecdotally popular and not supported by human trials.
4. Include oats in your diet
Soluble fiber forms mucilage, a gel-like substance that makes the stool soft. Insoluble fiber adds bulk to the feces. (7) Eating oat bran daily can supplement your body's fiber requirement and reduce the severity of IBS symptoms.
Besides, in comparison to barley, rye, and wheat, oats have lesser quantities of prolamins. Prolamins are components in gluten that make the patients more susceptible to toxicity. (8)
5. Drink chamomile tea
Chamomile can reduce inflammation in the intestines, relieve abdominal spasms, and internally soothe the symptoms of gastrointestinal ailments. This is because the extracts of chamomile flowers contain wound-healing, anti-inflammatory, and antispasmodic properties. (9)(10)
Note: Discuss the use of chamomile with your doctor as it is not well studied.
6. Consume ginger
Ginger has a carminative effect and can reduce gas and bloating. Its effect lacks much scientific explanation, but ginger is often recommended for the management of symptoms of IBS.
A component in ginger known as gingerol has analgesic, antibacterial, antiemetic, and sedative properties. It offers certain psychological benefits as well. Ginger may also decrease pain and improve gut motility. (11)(12)
7. Use Iberogast
The herbal formulations of Iberogast can help alleviate bloating, gas, abdominal cramps, and diarrhea. (13)(14)
Caution: The safety of Iberogast is not well evaluated. Therefore, pregnant or breastfeeding women should consult a doctor before use. Moreover, Iberogast contains 0.24 g of alcohol and, therefore, should be avoided for children.
Alternative Therapies
Alternative therapies can be very efficient treatment methods for the management of IBS symptoms related to the bowel.
Psychological therapies help in reducing stress, negative feelings, and dysfunctional perceptions. They may also influence the brain-gut interaction by amending the conclusion that the brain draws from the gut sensations and how it affects the gut. (15)
1. Cognitive-behavioral therapy
Cognitive-behavioral therapy (CBT) is a type of psychotherapy that uses the relationship between events, actions, perceptions, emotions, and physiological reflexes.
The first step in CBT is to make the patients understand their IBS symptoms and the CBT model. The patients are simultaneously stimulated to identify the potential psychosomatic factors contributing to IBS.
After this, the patients work with the counselor/therapist to establish the probable link between actions, perceptions, emotions, and IBS symptoms. Then, behavioral therapy (e.g., stress management) is put to use. (16)
2. Relaxation therapy
For patients with IBS, relaxation therapy consists of progressive muscle relaxation, self-discipline, meditation, and imagery. (17)
a. Progressive muscle relaxation
The technique requires you to first tense a particular muscle group and then relax it. This method brings about a state of deep relaxation that can considerably reduce anxiety and stress when done, along with abdominal breathing.
b. Visualization/positive imagery
This technique works on the principle of shifting your focus. All you have to do is close your eyes, switching off from your present condition, and taking your mind to a peaceful place such as a beach, meadow, or any other serene destination.
By concentrating all your attention on this imaginary place, you momentarily forget about the current pain and discomfort of your IBS symptoms. Take a few deep breaths and stay in this relaxing state, which is also a form of meditation.
3. Hypnotherapy
Hypnotherapy can beneficially affect gastrointestinal diseases in which function is affected, such as IBS.
The basic aim of hypnotherapy is to equip you to manage your gut function effectively. As the therapy progresses, you learn to control your gut and not the other way around. (18)(19)
Note: If you choose to undergo hypnotherapy, make sure that you visit a credible healthcare professional (counselor, doctor, or psychologist). Do not visit unreliable and self-proclaimed hypnotherapists.
4. Yoga
Yoga has been shown to be beneficial in relieving IBS symptoms. Research has shown that yoga makes you more "in touch" with your senses and provides you with a positive body experience and a feeling of being well. (20)
A study observed that the improvement in the IBS symptoms of patients performing yoga was closely comparable to that of loperamide. (21)
Pranayama yoga (breathing control) helps patients with diarrhea-dominant IBS by elevating the low levels of sympathetic tone.
Savasana (complete relaxation) and pranayama yoga help de-stress your body and give you a temporary escape from all your anxiety and stress.
Sudarshan kriya dulls the symptoms of anxiety, depression, and other stress-induced disorders.
5. Acupuncture
Acupuncture therapy can help in pain relief and facilitate digestive tract motility. Moreover, it helps reduce stress, depression, and anxiety by increasing the production of serotonin and endorphins. (22)(23)(24)
Make sure to consult an expert when getting acupuncture therapy as it involves the use of needles to specific pressure points in the body.
Self-Care and Lifestyle Tips
These self-care measures can provide some relief from the symptoms of IBS:
1. Consume a nutritious diet
Consume a diverse and nutritious diet and avoid fatty foods.
2. Eat frequently and exercise portion control
Do not skip meals or take a long break between them. Eat frequently and eat small portions of food six times daily instead of three sumptuous meals.
3. Limit your intake of processed foods
Cut down on your intake of processed foods as they may contain resistant starch, which is not easy to digest.
4. Stay hydrated
Maintain adequate fluid levels in your body to counter dehydration.
5. Avoid alcoholic and caffeinated beverages
Avoid alcoholic and caffeinated beverages as they can trigger diarrhea by stimulating your intestines and can leave your body dehydrated.
Similarly, limit your intake of carbonated drinks as they can contribute to the buildup of abdominal gas.
6. Limit your sugar intake
Foods and drinks that contain artificial sweeteners are also associated with an increased incidence of diarrhea and must be avoided.
7. Get enough sleep
It is essential that you get enough sleep regularly to keep IBS symptoms under control.
8. Manage stress
Stress management is key to avoiding IBS flare-ups. Make concerted efforts to keep your mind and body tension-free.
9. Exercise regularly
Regular physical activity is known to have a stimulating effect on the colon muscles, which may help facilitate the easy passage of stools and gas through the digestive tract. (25)
10. Maintain a journal
A food journal can help you identify the food choices and dietary habits that aggravate your IBS symptoms.
Moreover, you must list the number of times you had a bowel movement along with the timing and specify whether it was painful or not.
This journal should be taken to the physician for assessment so that a correlation between dietary stimulants and the worsening of symptoms can be established.
11. Follow a low-FODMAP diet
FODMAPs (fermentable oligosaccharides, disaccharides, monosaccharides, and polyols) is a term used to define the short-chain carbohydrates that are not easily digested.
In this diet, you stop consuming FODMAPs altogether for around 2 weeks for symptomatic relief. After this, FODMAPs are reinitiated in the diet one by one to understand what food item is causing complications and what quantity the gut can easily digest.
A low-FODMAP diet should be incorporated only after you have consulted your dietitian/nutritionist, who can give you a personalized diet rich in the necessary nutrients based on your symptoms. (26)
| | Foods high in FODMAPs | Suitable alternatives low in FODMAPs |
| --- | --- | --- |
| Lactose | Milk: regular as well as low-fat. Cow, goat, and sheep milk Ice cream   | Milk: lactose-free milk and rice milk |
| | | Ice cream alternatives: gelato, and sorbet Cheeses: soft and fresh cheeses |
| Excess fructose | Fruits: apple, peach, mango, pear, watermelon, and canned fruit immersed in natural juice   Honey sweeteners: fructose and high-fructose corn syrup   | Fruits: banana, blueberry, cantaloupe, carambola, durian, grape, grapefruit, honeydew melon, kiwi, lemon, lime, orange, passion fruit, raspberry, and strawberry Honey substitutes: golden syrup or maple syrup Sweeteners: any sweetener except polyols   |
| Oligosaccharides (fructans and/or galactans) | Vegetables: artichoke, asparagus, beetroot, broccoli, brussels sprouts, cabbage, fennel, garlic, leek, okra, onion, pea, and shallots | Vegetables: bamboo shoot, bok choy, capsicum, carrot, celery, chives, corn, eggplant, green beans, parsnip, pumpkin, and spring onions (green part only) |
| | Cereals: Rye and wheat cereals when eaten in large amounts (e.g., biscuits, bread, couscous, crackers, and pasta) | Cereals: gluten-free cereals, spelt bread, and other such cereal-based products |
| Polyols | Fruits: apple, apricot, avocado, cherry, lychee, nashi pear, nectarine, peach, pear, plum, prune, and watermelon | Fruits: banana, blueberry, cantaloupe, grape, grapefruit, honeydew melon, kiwi, lemon, lime, orange, passion fruit, and raspberry |
How to Prevent IBS?
It is very difficult to prevent a problem without knowing its exact causative factor. It is not easy to narrow down the true causes behind IBS. Hence, no preventive measures can be suggested.
If you have been diagnosed with IBS, all you can do is manage the symptoms effectively by regulating your stress levels and eating a wholesome diet.
Can Aloe Vera Gel Be Used to Treat the Symptoms of IBS?
There is some scientific and anecdotal support for the medicinal intake of aloe vera gel to ease digestive problems like constipation and diarrhea, which frequently afflict IBS patients, but some people have reported further gastroenterological complications after using this remedy. (27)(28)
Thus, more research is needed to determine the exact mechanism, efficacy, safety, and proper dosage of this dietary aid.
In any case, aloe vera gel should not be used as a standalone or first-line cure for IBS symptoms but as a complementary remedy which can enhance the effectiveness of your main treatment. Always consult your doctor before trying any new remedy, including this one.
Final Word
The above-mentioned home remedies are adjunctive tools that may help relieve the symptoms of IBS to a manageable degree.
You will have to follow a strict diet and implement appropriate lifestyle changes to see any significant improvement in your condition. It is essential to consult your doctor before trying any of these remedies.

Continue ReadingIrritable Bowel Syndrome (IBS): Types, Symptoms, and Complications
Was this article helpful?