Vomiting refers to the throwing up of stomach contents through the mouth, which can be triggered by a wide range of causes. It is basically your body's natural way of eliminating toxic substances from the digestive system, but the experience can be quite unpleasant.
A severe bout of vomiting can leave you utterly dehydrated and washed out because of the loss of fluids and electrolytes.
Home Remedies for Vomiting
Try these remedies and therapies to manage nausea and vomiting at home.
1. Consume ginger
Ginger has been considered a safe, inexpensive, and effective adjunct treatment for vomiting and nausea, and this claim has been substantiated by various studies. (1)(2)
How to use:
Add one teaspoon of ginger juice to an equal amount of lemon juice and mix them well. Consume this tonic several times a day to reduce nausea and vomiting.
Consume ginger tea with a little honey in it.
Eat a few slices of fresh ginger over the day or whenever you feel nauseous, with or without honey, as per your taste.
You can also eat crystallized/candied ginger slices to curb nausea and vomiting.
Summary:
Ginger is a readily available kitchen ingredient that can help curb vomiting and nausea when taken orally either in raw, candied, tea or juice form.
2. Use mint
Peppermint tea is often recommended to alleviate nausea. Moreover, this fresh-smelling herb can be used in aromatherapy to soothe your senses and thereby alleviate nausea and vomiting.
Different studies have vouched for the effectiveness of peppermint aromatherapy in relieving general as well as pregnancy-related nausea and vomiting. (3)(4)
How to use:
Steep one tablespoon of dried mint leaves in a cup of hot water for 5 to 10 minutes, after which strain the therapeutic tea and drink it.
Chew on some fresh mint leaves.
Try aromatherapy with peppermint essential oil in diffusers.
Summary:
The cool, fresh aroma of peppermint calms your entire body, including your GI tract, which can help soothe your digestive distress, dampen your gag reflex and thereby curb vomiting.
3. Practice deep breathing
Deep breathing is commonly taught to patients to help manage stress caused by gastrointestinal problems. This involves focusing on your breathing patterns to quiet your mind and relax.
Patients who experience nausea or vomiting frequently should be advised to practice deep, slow breathing on the onset of symptoms.
Summary:
Deep breathing has no side effects or costs involved and is therefore an efficient self-management technique for nausea. (5)
4. Give acupressure and acupuncture a try
Acupuncture is a traditional Chinese therapy involving the insertion of needles at specific points of the body called acupoints to stimulate blood circulation in the area, ease muscle tension, and relieve various ailments, including vomiting.
Alternatively, you may apply topical pressure to the body's acupoints with your fingers or some other sharp object, which is known as acupressure.
Several studies attest to the efficacy of acupressure and acupuncture techniques for treating and preventing postoperative or chemo-induced nausea and vomiting. (6)(7)
How to use:
Acupressure is a safe technique which you can perform by yourself, provided you educate yourself about the various pressure points and which ones to stimulate in this case. It is imperative that you use gentle pressure, and not intensive force to perform this therapy.
Acupuncture, on the other hand, is an invasive procedure which requires the expertise of a trained acupuncturist.
Summary:
People who frequently suffer from nausea and vomiting can register some relief by using acupuncture and acupressure techniques, provided they are done correctly.
5. Try aromatherapy
Essential oils, derived from the leaves, seeds, fruits, flowers, stem, or roots of plants, are concentrated oils and are used for stress relief and boosting well-being in the form of aromatherapy.
Summary:
Studies demonstrated that patients who underwent aromatherapy had a reduced need for antiemetic medications. (8)
6. Drink black tea
Black tea has earned a lot of acclaim on the internet as a safe and easy remedy for nausea and vomiting.
This warm, soothing beverage may help you stomach your food better and calm your digestive tract to keep you from throwing up, but there isn't enough evidence to confirm these therapeutic effects. (9)
More rigorous studies need to be undertaken to establish a direct link between black tea and its purported digestive benefits. (9)
How to use:
Boil 2 cups of water and then turn the heat off.
Add tea leaves to the water, cover the utensil, and keep it aside for 3 minutes for the brewing process.
Finally, strain the tea into a cup and discard the leaves.
You can drink this beverage after your meals to aid digestion.
7. Try fennel seeds
Fennel seeds have long been considered digestive aids, but are also credited with an anti-spasmodic activity which can help ease nausea and vomiting. (10)
How to use:
You can eat the seeds raw, include them in your regular diet to facilitate better digestion.
Drink fennel tea to soothe your gastro-intestinal tract.
Self-Care Methods to Manage Vomiting
The following lifestyle changes can help prevent and treat vomiting.
1. Consumption of bland foods
If you experience repetitive vomiting, it is best to avoid solid food for a few hours. Consume fluids until a 6-8-hour period of no vomiting. Then, slowly add bland foods such as applesauce, rice, bananas, dry crackers, unbuttered toast, and dry cereal into your diet.
2. Increased fluid intake
Because vomiting increases the risk of dehydration, it is important to replenish your body's water level.
However, the fluids should be introduced slowly into the system after such an upheaval by taking small, frequent sips rather than consuming large amounts at once. Drinking more than an ounce of fluid in one go can trigger further vomiting.
You can rehydrate your body by drinking water, bouillon, weak tea, sports drinks, non-caffeinated soft drinks, and apple juice, especially when cold, or sucking on ice chips or popsicles if you are unable to keep the fluids down.
3. Anxiety management
Anxiety can worsen nausea and vomiting. Therefore, it is advised to indulge in relaxing activities, such as breathing exercises or listening to music, to help ease the mind.
4. Small food portions
It is recommended to consume low-fat foods in small portions as this enables easy digestion, enabling the food to pass quickly through the stomach, but eat more frequently to satisfy your body's protein and calorie needs.
5. Avoidance of certain foods
It is best to avoid oily, fried, or sweet foods as they can cause an upset stomach. Instead, consume baked, mashed, or boiled potatoes, cream soups with low-fat milk, rice, gelatin, and low-fat pudding.
Important Measures to Prevent Vomiting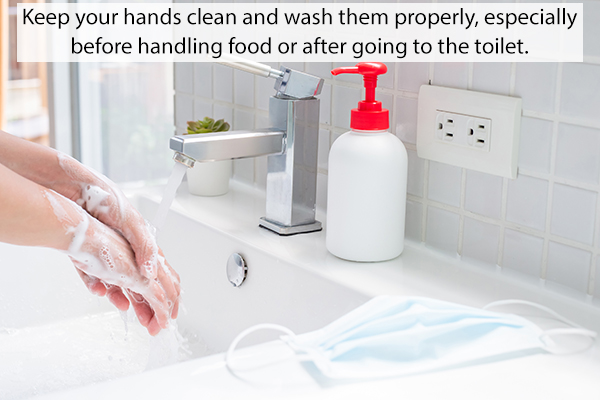 Maintaining good health and observing proper hygiene can help prevent vomiting and nausea. Follow these tips:
Keep your hands clean and wash them properly, especially before handling food or after going to the toilet.
Avoid close contact with individuals with gastrointestinal problems.
Refrain from preparing food if you have a gastrointestinal problem.
Disinfect your child's toys by washing them in a mild detergent to prevent transmission of infections.
During international travel, use bottled water for drinking or brushing your teeth.
During international travel, make sure any ice in your drinks has been made with bottled water.
Consume well-cooked meats and avoid eating raw foods.
Practice deep-breathing exercises. Singing may also be used for the same, as it involves breathing and also serves as a distraction.
Sit upright and relax for around an hour after every meal.
Use nausea-relieving medicines whenever you feel pukish to prevent vomiting.
Vomiting Related Queries
Why is vomiting more frequent in the morning in some cases?
Vomiting in the morning often indicates increased pregnancy hormones such as human chorionic gonadotropin or low blood sugar levels. Additionally, stress, tiredness, or travel can contribute to morning sickness.
In rare cases, vomiting in the morning accompanied by a headache may be due to a tumor that puts pressure on the brain.
Are vomiting and nausea common during menstruation?
Women often experience nausea and vomiting before or during their periods. This is suspected to be caused by hormonal changes, and the problem generally resolves in a day or two.
Using pain-relief medicines or heating pads may help reduce menstrual cramps and relieve nausea in some women. Eating small, frequent meals may also help.
Final Word
Everyone suffers from nausea and vomiting at some point or the other, but the problem can usually be resolved with proper self-care, rest, and a few home treatments.
If the condition persists, worsens, or becomes increasingly frequent, you should get evaluated by a doctor to identify and treat the underlying cause for your nausea or vomiting.

Continue ReadingVomiting: Causes, Treatment, and When to See a Doctor
Was this article helpful?