An "upset stomach" refers to symptoms such as indigestion and diarrhea. It is not a disorder in itself, but having an upset stomach frequently may be a symptom of an underlying condition.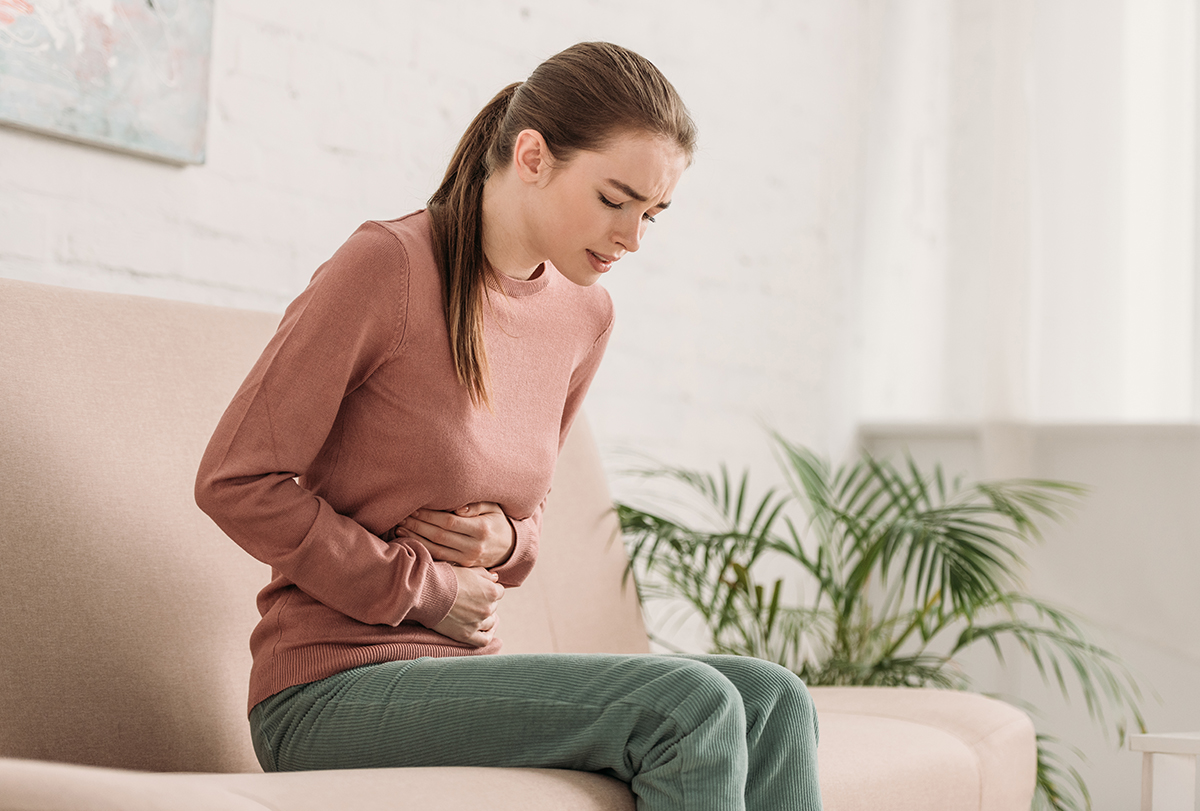 There are many causes of diarrhea, but most cases are mild and resolve within a few days. You may need to eat light, easily digestible food and take some medication to treat it.
Read on to take a deeper look at the causes, symptoms, and at-home treatment for an upset tummy. (1)(2)
Home Remedies for an Upset Stomach
Minor cases of an upset tummy can easily be treated at home. Here are a few simple things you can try for relief.
1. Eat bananas
Bananas are one of the most beneficial foods you can eat when you have an upset stomach. They are rich in fiber, potassium, and antioxidants.
Fiber helps harden the stools and treat diarrhea, while antioxidants can help soothe stomach irritation. Potassium helps restore the electrolytes lost due to diarrhea. (3)
Precautions:
Avoid eating bananas if you have a cough or cold.
2. Drink peppermint tea
Peppermint is an anti-inflammatory and antioxidant herb with calming properties. It can help improve an upset stomach and also relieve nausea.
You can drink a cup of peppermint tea for fast relief.
How to use:
Boil a teaspoon of dried peppermint leaves (or fresh ones, if available) in a cup of water for a few minutes. Strain and drink the tea.
Precautions:
Peppermint may increase heartburn and nausea in some people. It is also not advisable to drink peppermint tea during pregnancy. (4)
3. Consume ginger
Ginger contains an active compound called gingerol, which is an anti-inflammatory agent and can help suppress gut inflammation. Ginger also helps curb nausea and vomiting.
Ginger can be consumed in the form of a paste or tea. (5)
How to use:
Chop ginger into very tiny pieces, and soak them in some lemon juice and honey. Place this mixture in an airtight jar. You can consume a teaspoon of it every morning.
Alternatively, you can make ginger tea by boiling some chopped ginger in a cup of water.
Precautions:
Consuming ginger for long periods of time may raise the risk of bleeding. If you taking blood thinners or have a bleeding disorder, consult a doctor before use. (6)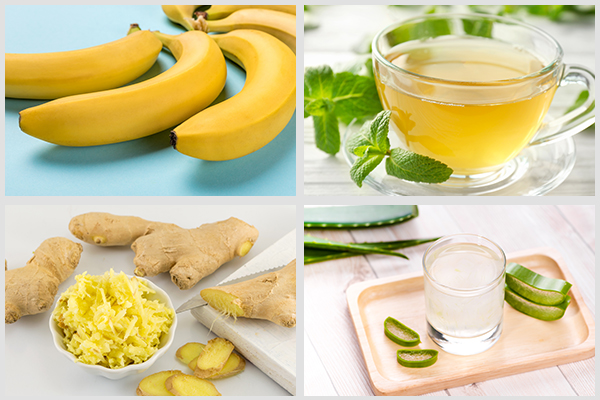 4. Drink aloe juice
Aloe vera is a medicinal plant with many soothing properties. It is rich in anti-inflammatory compounds and antioxidants that can soothe the stomach.
The antimicrobial effects of aloe vera can help treat stomach infections. Consuming a glass of aloe vera juice can help improve digestion as it contains many natural enzymes. (7)
How to use:
Add a teaspoon of edible aloe vera gel (or fresh gel from the plant) to a glass of water. Boil this water until the gel blends completely. You can add a squirt of lemon juice and honey to taste. Drink this mixture.
Precautions:
Aloe vera can be potent; thus, it is best to consult a doctor before consuming it. Also, make sure the aloe gel you use is edible. Do not consume gel from wild aloe plants.
5. Consume coconut water
Coconut water can help restore electrolyte balance and provide energy to people suffering from watery diarrhea. It is filled with nutrients including potassium, sodium, carbohydrates, etc. (8)
6. Diluted apple juice can help
Diluted apple juice is an excellent remedy for children suffering from diarrhea. It can prevent dehydration and is light on the tummy. (9)
Precautions:
In cases of severe diarrhea or bloody diarrhea, it is best to go for intravenous (IV) fluid rehydration. IV fluids are specially formulated liquids that are injected into a vein to prevent or treat dehydration.
7. Try carom seeds (ajwain)
Carom seeds have antimicrobial properties and can help treat stomach infections. They also help provide relief from stomach pain. (10)
How to use:
Boil 1 teaspoon of carom seeds in 1 liter of water, until it becomes half, and sip it anytime to give your stomach some relief.
8. Consume asafoetida (hing)
Hing or Asafoetida has traditionally been used in Ayurvedic medicine as a cure for diarrhea and stomach ache. It contains anti-inflammatory and pain-relieving qualities. (11)
How to use:
Add a pinch or two of asafoetida to a glass of warm water, and drink it on an empty stomach.
Causes of an Upset Stomach
Some common causes of an upset stomach or diarrhea are:
1. Gastritis
Gastritis is an inflammation of the stomach lining and may occur due to infections, certain medicines, alcohol use, etc. It causes excessive acid production in the stomach.
Gastritis is commonly caused by OTC painkillers. (12)
2. Irritable bowel syndrome (IBS)
Irritable bowel syndrome (IBS) is another chronic condition that causes inflammation in the gut. It can occur or worsen due to psychological stress or anxiety. (13)
3. GERD
Gastroesophageal reflux disease (GERD) occurs due to excessive acid production in the stomach, which may regurgitate into the food pipe and cause nausea, heartburn, etc. (14)
4. H. pylori infection
Helicobacter pylori is bacteria that can infect your stomach. It damages the inner lining of your stomach tissues and also the upper part of the small intestine (duodenum).
An H. pylori infection can also cause stomach ulcers. Transmission is by consuming food or drinks contaminated by the bacteria. (15)
Smoking, alcohol addiction, or any type of drug abuse
Stress (16)
Consuming an excessively fatty or oily diet
Diagnosing the Causes of Upset Stomach
Your doctor can diagnose the cause of your upset stomach by taking your medical history and ordering a few diagnostic tests such as blood work, stool cultures, etc.
In some cases, you may be asked to undergo an endoscopy by the doctor.
Prevention and Additional Tips
A cigarette or alcohol addiction may be the reason behind frequent upset stomachs. Avoid drinking and smoking as much as you can, and seek help from a doctor or de-addiction programs.
Avoid the consumption of fast food and fried food.
Avoid caffeinated drinks such as coffee and tea.
Consume natural probiotics, such as yogurt and kombucha, to prevent gut infections and improve digestion.
Follow a proper diet schedule. Try to have your meals on time every day.
Include more leafy greens in your diet. (17)
When to See a Doctor
Consult a doctor immediately if you experience the following:
Blood in the stool
Fever that does not go away after 3 days or even after taking OTC medication
Severe vomiting or diarrhea
Painful urination or no urination for a long period
Constipation for more than 3 days
Most-Asked Questions About an Upset Stomach
Is an upset stomach related to stress?
Children and adolescents may express psychiatric symptoms via somatic complaints. Likewise, children with chronic somatic illnesses are likely to experience psychiatric sequelae.
A study reported three cases of adolescents who were admitted to general pediatrics services for abdominal pain and/or nausea and vomiting with a negative medical workup. In each case, a clear psychosocial stressor was evident. It is possible that somatic symptoms without clear medical causes may reflect psychosocial stress, but it is difficult to discern whether the psychosocial issues preceded the somatic complaints or were a result of them. (18)
How can drinking alcohol affect an upset stomach?
Evidence relating alcohol to irritable bowel syndrome (IBS) is limited.
Studies on self-reported food intolerance have indicated the role of alcoholic beverages in gastrointestinal symptoms among patients with IBS. In contrast, alcohol intake was not correlated with IBS in population-based studies. (19)
Does drinking water improve an upset stomach?
Drinking water specifically doesn't improve an upset stomach. Even drinking too much water has bad effects on the stomach as it can increase pressure on the stomach.
However, drinking water can provide relief from vomiting.
Many people believe that plain rice is good for an upset stomach. Is it true?
It is partly true. Plain rice can be a good food option during an upset stomach but not as a remedy.
Rice masses remove mucus from the stomach and duodenum as the sticky starch binds to the sticky mucus, weakening the defense against acid and pepsin, which may in turn cause heartburn and ulcer.
However, such an unwanted effect can be avoided by taking enough water with a rice meal as water converts rice masses into a slurry. (20)
Final Word
An upset tummy is usually not a major problem and may occur due to a minor infection or something you ate. However, having one frequently may be a cause for concern and may require examination by a gastroenterologist. (21)
Besides the home remedies mentioned above, you may need to change some of your habits, such as eating without washing your hands, overeating, smoking, and excessive consumption of roadside foods.
Was this article helpful?