Gastroenteritis or stomach flu is defined as inflammation of the stomach and small intestine, mostly caused by viral or bacterial infections. You can get it from consuming contaminated food or water, eating with unclean hands, or coming in contact with an infected person.
This condition is highly contagious and quite draining which requires attention on your part. If you are infected, avoid contact with others to limit its spread, and vice versa.
Plus, take adequate rest along with recommended home care to make a full recovery.
Home Remedies for Gastroenteritis
Here are some simple and natural ways to help you recover from gastroenteritis:
1. Increase fluid intake
Dehydration affects the body's normal functioning and can even delay the healing process. So, drink plenty of water and clear, nutritious fluids like broths, soups, and rice water. Eat easy-to-digest foods, such as rice, yogurt, apples, toast, and bananas. (1)
Electrolyte-infused drinks, such as Gatorade and Pedialyte, may be useful in the treatment of dehydration that is associated with mild viral gastroenteritis. (1)
2. Replenish lost electrolytes through salt
Salt contains sodium, which is an electrolyte that can be added to water to prevent dehydration caused by vomiting and diarrhea. (2) Furthermore, salt helps fight infection and maintain the pH levels of the digestive tract.
To get the maximum benefit from salt for gastroenteritis, use high-quality salts such as Himalayan salt or sea salt. These salts are not processed like the usual white table salt. Therefore, they still contain various minerals that generally are found in natural salt.
It is also essential not to increase the dose of the salt as this can adversely affect your health and even increase diarrhea. (2)
You can make an electrolyte drink at home.
Add 1 teaspoon of salt to 1 liter or 4 cups of filtered water.
Add 2 tablespoons of sugar and mix well.
Drink this solution at short intervals throughout the day.
You can also try commercially available electrolyte preparations to balance out electrolytes and prevent dehydration.
3. Rice water (best suited for infants)
If you are suffering from diarrhea and a stomachache due to stomach flu, the best remedy is rice water. (3)(4) Rice water is a bland food that acts as a demulcent to help reduce inflammation of the stomach lining and to alleviate pain.
How to use:
In an uncovered pan, boil ½ cup of white rice in 6 cups of water until the rice is tender.
Strain and allow the water to cool.
Add ½ teaspoon each of honey and cinnamon powder.
Sip the warm rice water slowly every hour.
Follow this remedy for a week.
4. Consume probiotics
To rid your body of "bad bacteria" in the digestive system and replace it with "good bacteria," start taking probiotics. Probiotics can get your digestive system back on track and provide relief from symptoms like nausea, vomiting, bloating, and diarrhea. (5)
There is significant research that shows probiotics are especially suitable for treating diarrhea. (5)
Probiotic supplements have been helpful to prevent or treat acute diarrheal diseases and antibiotic-related conditions, especially gastrointestinal disorders. (5)
How to use:
Consume probiotic yogurt, kefir, and related foods. Avoid artificially sweetened yogurt and kefir.
You can also take probiotic supplements after consulting with your doctor.
5. Drink peppermint tea
Peppermint is a popular traditional remedy for digestive ailments. Peppermint is known for its antimicrobial and antispasmodic properties that help in relieving gas, bloating, upset stomach, nausea, and intestinal cramps. (6)
If gastroenteritis becomes severe, then it could also lead to irritable bowel syndrome (IBS). There is supporting data that peppermint restores the digestive system in cases of IBS-related symptoms. (6)
How to use:
Add 1 teaspoon of fresh or dried peppermint leaves* to 1 cup of boiling water.
Cover and allow it to steep for 5 to 10 minutes.
Strain and add honey to taste.
Drink this herbal tea 3 times daily between meals for a few days.
*You can substitute edible peppermint oil as well; the oil is strong so add slowly according to taste. (6)
You can even chew peppermint gum to calm the stomach.
6. Use chamomile
Chamomile is an effective remedy for gastroenteritis. This herb is widely used in folk medicine to alleviate skin diseases like eczema, ulcers, wounds, stress, and many gastrointestinal disorders like diarrhea and vomiting. (7)
Chamomile tea has been popular for its anti-inflammatory, analgesic, antimicrobial, and carminative properties. All of these properties play a crucial role in the functioning of your digestive system. It can relieve symptoms like diarrhea, abdominal cramping, bloating, nausea, and gas. (7)
How to use:
Add 2 teaspoons of dried or 1 tablespoon of fresh chamomile flowers to a cup of hot water.
Cover and let it steep for 5 to 10 minutes.
Strain and add honey to taste.
Drink this a few times a day for 2 to 3 days.
You can even add a few chamomile leaves to ice tea and drink as often as needed.
7. Try using ginger
Ginger is another very effective remedy for treating gastroenteritis due to its antibacterial, antiviral, anti-inflammatory, and antioxidant properties.
Research has indicated that the ginger extract of the plant and root showed high antibacterial activity against Staphylococcus aureus, which can be a cause for symptoms like vomiting and diarrhea. (8)
Ginger can prevent and treat stomach infections while reducing the frequency of symptoms, such as watery stools, nausea, vomiting, and abdominal cramps. According to the Ayurvedic system of medicine, ginger minimizes the incidence of diarrhea, pain, and fever. (8)
How to use:
Add 1 teaspoon of freshly chopped ginger root to 1½ cups of boiling water. Cover and allow to steep for 10 minutes. Strain, add honey, and sip slowly. You can also add a little lemon juice for flavor. Drink 2 or 3 times a day until you feel better.
You can make ginger ale and drink as often as you like. To prepare the drink, boil ¼ cup of chopped ginger in 1 cup of water. Next, boil ¼ cup of sugar in 1 cup of water; let simmer for a couple of minutes. Finally, mix both the prepared solutions and add ¼ cup of club soda and the juice from ½ lemon. Drink up to 3 glasses of this homemade ginger ale a day.
Another option is to chew a small piece of fresh ginger root to treat gastroenteritis. Do consult your doctor before taking ginger supplements.
Note: People with high blood pressure should avoid ginger remedies. Furthermore, in case of children, the dosage shall differ with age, and this remedy is not recommended for infants. (8)
8. Consume basil
Basil, which has antispasmodic properties and prevents gastric spasms, is also a good remedy for gastroenteritis. (9)
Basil essential oil is rich in linalool and chavicol with varying amounts of geraniol, eugenol, and methyl-eugenol. These oils can help combat the symptoms of gastroenteritis, such as vomiting and diarrhea. (9)
How to use:
Mix equal amounts of basil and ginger juice and drink 2 or 3 times a day to ease stomach pain.
You can also boil 10 to 15 basil leaves in 1 cup of water. Drink with a pinch of rock salt twice daily for a few days.
Alternatively, drink basil tea with honey as needed.
9. Green bananas can help
Bananas, both ripe and unripe, also help in the treatment of gastroenteritis. The high content of amylase-resistant starch in bananas helps reduce the severity of symptoms. (10)
Bananas can replenish potassium and magnesium deficiencies, two essential electrolytes required for the proper functioning of the digestive system. Bananas are also rich in vitamin B6. Additionally, banana is a bland food that is easy to digest and helps in the recovery process. (10)
Green bananas have been found especially useful in treating gastroenteritis as they have an even higher starch content than ripened bananas. (10)
A green banana provides an antidiarrheal effect and improves the permeability of the small intestine. (10)
How to use:
Add a few slices of banana to a cup of yogurt, cereal, or oatmeal and enjoy as desired.
You can also eat a few ripe bananas or try a banana smoothie.
10. Drink lemon juice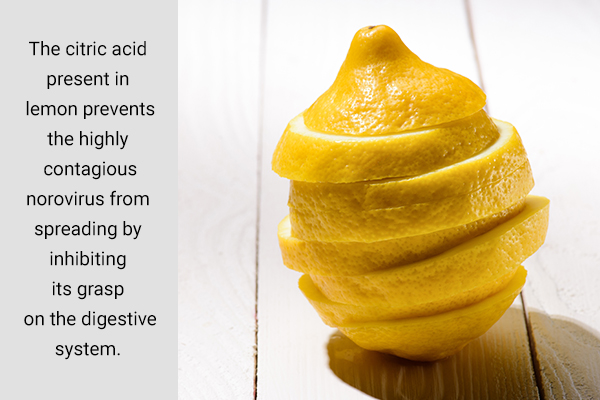 The acidic effect of lemon makes it an excellent treatment for stomach flu. The citric acid present in lemon prevents the highly contagious norovirus from spreading by inhibiting its grasp on the digestive system.
Lemon juice can be a safe and practical way to fight off the common causes of severe gastrointestinal infections. (11) Plus, the vitamin C in lemon, as well as the antimicrobial properties, boost the immune system to help ward off the virus. (11)
How to use:
Mix 1 to 2 teaspoons of fresh lemon juice in a glass of water.
Drink it 30 minutes before meals.
Follow this remedy until you recover completely.
Follow these remedies until your digestive system is back on track.
Preventing Gastroenteritis
You can take some steps to reduce the risk of getting gastroenteritis:
Wash your hands regularly, particularly after going to the bathroom and before and after eating and cooking.
Keep the kitchen surface clean and disinfected, especially after working with raw meat, seafood, and eggs.
Keep raw meat, eggs, and poultry away from food that can be safely eaten raw.
Avoid contaminated food and water, including ice cubes, during travels. Use bottled drinking water for consumption and brushing teeth.
Maintain distance from anyone who appears ill. Avoid sharing plates, utensils, and drinking cups.
Additional Tips
Rinse all vegetables and fruits thoroughly before eating.
Avoid raw or uncooked foods.
Drink 8 to 10 glasses of water every day.
Rest and sleep as much as possible for quick recovery.
Avoid alcohol and nicotine when on a diet for gastroenteritis. (1)
Eat bland foods until symptoms subside and avoid full-fat dairy products. (1)
Apply a warm compress or hot water bag on the stomach to reduce pain and cramping.
You can also try acupressure, acupuncture, and aromatherapy to treat symptoms of gastroenteritis.
Drink coconut water to replenish dehydration.
Final Word
Gastroenteritis generally does not require medication, but it can take a lot out of your body in the form of vomiting, diarrhea, headaches, stomach cramps, and fever. The above listed home remedies can help provide symptomatic relief and promote faster recovery.  
For children, zinc supplementation and rotavirus vaccines are significant factors in reducing the morbidities, mortalities, and hospitalizations caused by acute gastroenteritis. (1) If you do not feel better within one week, consult a physician. (1)

Continue ReadingGastroenteritis (Stomach Flu): Causes, Symptoms, Risk Factors, and More
Was this article helpful?