Burping, also known as belching or eructation, is one of the ways your body expels the excessive gas trapped in your esophagus or stomach through the mouth.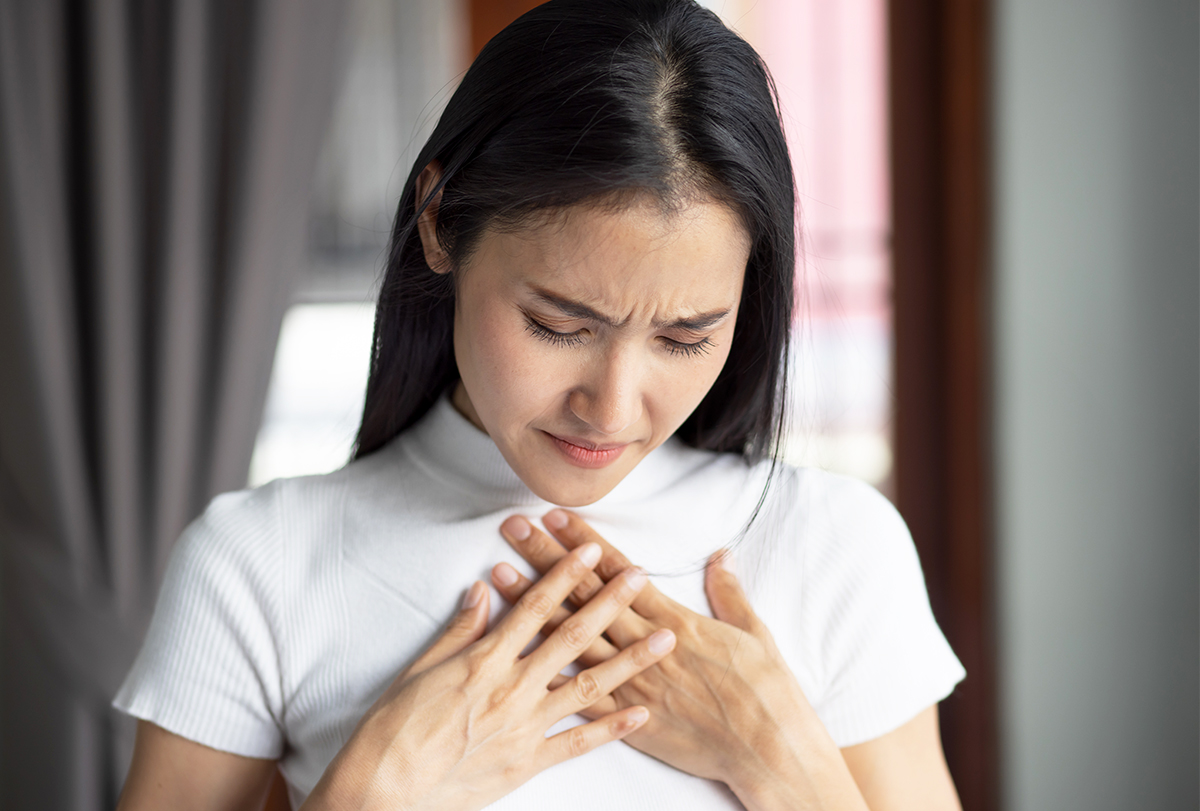 When you consume food or drinks, you swallow air along with it. This air either gets trapped in the esophagus or travels with the food to wind up in the stomach. Furthermore, as the stomach releases digestive enzymes to break down the food into nutrients, this process releases additional digestive gases in the stomach.
The cumulative effect of this gaseous buildup is that the stomach gets distended or expands. In such situations, a burp can provide a welcome respite from the gaseous discomfort in the stomach and alleviate stomach distention.
The residual gas partly gets absorbed by the small intestine, and the remaining finds its way out of the body, traveling through the large intestine and out of the body through the rectum. Thus, a burp once in a while, especially after you have devoured a large meal, is pretty standard.
Home Remedies to Relieve Burping
Here are the best natural remedies to treat excessive burping.
1. Eat slowly
Rushing through your meals is one of the reasons behind burping as it leads to a buildup of gas in the digestive system.
The International Foundation for Gastrointestinal Disorders reports that eating slowly allows time for air to be moved along the intestine or to be absorbed. (1)
Burping is further compounded by the habit of talking while eating, as it leads to the undesirable swallowing of air.
Savor your meals in a relaxed manner. Chew food properly to make it easier for your stomach to break it down later on. However, try not to go overboard as excessive chewing or sucking could prove counterproductive. Easily chewable food is the answer to this dilemma and is highly recommended.
2. Be active
A sedentary lifestyle can cause excess gas formation in the stomach. Thus, you need to get moving if you wish to mitigate the gaseous buildup in your digestive tract, which is an important prerequisite to dealing with the problem of burping, gas, or bloating.
Exercise helps food move through your intestinal tract more quickly and aids in digestion.
A 2006 study published in the American Journal of Gastroenterology found that mild physical activity helped participants with intestinal gas clearance and thereby helped ease their bloating symptoms. (2)
When it comes to managing your belching problems with exercise, 30 minutes of walking or jogging should do the trick.
3. Practice deep breathing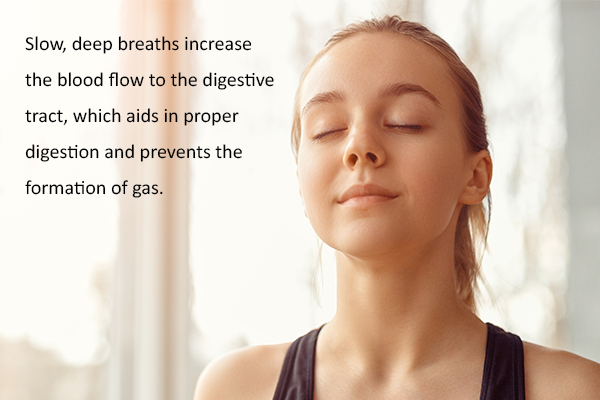 Deep breathing, also known as diaphragmatic breathing, abdominal breathing, belly breathing, and paced respiration, is another simple yet effective way to deal with belching or burping.
Slow, deep breaths increase the blood flow to the digestive tract, which aids in proper digestion and prevents the formation of gas.
A 2018 study published in Clinical Gastroenterology and Hepatology supports the claim that diaphragmatic breathing helps reduce belching along with other GERD symptoms, as well as enhances the quality of life in patients with PPI-refractory GERD. (3)
To perform it:
Lie down on your back or sit in a comfortable place.
Put your hands on your abdomen and try to relax.
Inhale deeply through your nose, expanding your abdomen and then filling your lungs with air. Count slowly to 5 as you inhale.
Hold your breath and count to 3.
Exhale slowly through your mouth while counting slowly to 5 as you exhale.
Continue to deeply inhale and exhale in this manner for 5 to 10 minutes.
Do this 2–3 times a day to improve digestion.
4. Drink ginger tea
Ginger is an effective home treatment to prevent belching. Its carminative properties help relax the gastrointestinal muscles, hence preventing gas, burping, and bloating. It promotes digestion, calms the stomach, and helps relieve abdominal pain.
In a 2015 study published in Evidence-Based Complementary and Alternative Medicine, it was found that ginger extracts hold considerable promise to be a safe and short-term adjunctive treatment for functional dyspepsia, whose symptoms include abdominal pain, bloating, early satiety, fullness, belching, and nausea. (4)
How to use:
Put 1 tablespoon of thin ginger slices in 1 cup of hot water. Cover and let it steep for about 10 minutes. Strain, add a little honey and lemon juice and drink it 2 or 3 times a day.
Alternatively, you can take a ginger supplement. Consult your doctor for the correct dosage.
5. Relax with peppermint tea
Peppermint is another natural remedy to treat burping. Its antispasmodic property helps relax the digestive tract, which reduces the formation of gas in the stomach. It even improves the flow of bile and promotes overall digestion. (5)
IBS is one of the main causes of excessive belching.
How to use:
Put 1 teaspoon of dried peppermint leaves in 1 cup of hot water.
Let it steep for 10 minutes, and then strain it.
Drink this tea 2 or 3 times a day.
Note: People who have a history of gallstones must not use this herb.
6. Curb recurrent belching with chamomile
Another herb to treat chronic burping is chamomile. Drinking chamomile tea facilitates the release of abdominal gas through the system and curbs recurrent belching. It can also help relieve intestinal cramping.
A 2011 study published in Molecular Medicine notes that chamomile helps in soothing the stomach and relieving stomach gas. It can be used for several gastrointestinal conditions, such as flatulence, spasms, colic, and upset stomach. (6)
How to use:
Put 1 chamomile tea bag in a cup and pour 1 cup of boiled water over it.
Let it steep for 5 to 10 minutes.
Remove the tea bag and sip your chamomile tea.
Drink this tea 2 or 3 times a day.
7. Aid digestion with anise seeds
Anise seeds contain several components that aid digestion and treat belching. Its carminative properties help expel the gas buildup in your digestive tract and thereby reduces bloating.
A 2012 study published in ISRN Pharmaceutics highlights various health benefits of anise, including its muscle relaxant and gastric protective properties. (7)
How to use:
Chew ½ teaspoon of anise seeds to aid digestion after a meal and help reduce gas production.
Also, add 1 teaspoon of lightly crushed anise seeds to 1 cup of boiling water. Cover, let it steep for 5 minutes and then strain it. Drink this tea twice daily.
8. Avoid gas-producing foods
All your efforts to prevent burping will be rendered ineffective unless you avoid eating gas-producing foods. (8)
Carbohydrate-rich foods and fatty foods often cause gas and should be avoided altogether or restricted to a minimal intake at best. Some of the common food culprits that can be held accountable for gas buildup in your digestive system are:
Carbonated drinks, beer, and red wine
Milk and other dairy products that contain lactose
Beans and other legumes
Fruits like bananas, melons, apricots, peaches, pears, prunes, and raw apples
Eggs
Sugar and sugar substitutes
Wheat and wheat bran
Packaged foods with lactose, such as bread and cereals
Vegetables like raw potatoes, asparagus, broccoli, cucumbers, green peppers, onions, peas, radishes, Brussels sprouts, cabbage, and cauliflower.
What Causes Burping
Swallowing excessive amount of air is one of the main causes of belching. It can happen when you try to eat or drink too quickly. Some other reasons include talking and eating at the same time, chewing gum, sucking on hard candies, drinking using a straw, smoking, dentures that are not properly fitted, anxiety, and breathing through your mouth.
Some people gulp down excessive air out of habit, even when they are not eating or drinking. This response is brought about by their nervous reflexes.
Apart from swallowing air, there are certain foods and drinks that can cause belching. Such foods include carbonated drinks, alcohol, and gas-causing foods like those high in starch, sugar, or fiber.
There are also certain medications like NSAIDs, (9) laxatives, and diabetes medicines that may cause belching or contribute to a health disorder that causes belching.
Even medical conditions are known to cause belching as a symptom. According to a 2017 study published in the Journal of Neurogastroenterology and Motility, belching is common in patients with irritable bowel syndrome (IBS). (10) Other conditions that can cause this irritating problem are gastroesophageal reflux disease (GERD), gastroparesis, gastritis, peptic ulcers, and lactose intolerance.
Signs and Symptoms of Burping
Belching is often accompanied by a typical sound and, at times, an odor.
When the burping is rooted in some underlying digestive disorder, it is usually accompanied by symptoms like:
Abdominal pain and cramps that vary in severity and duration
Heartburn
How to Prevent Burping
Drink beverages slowly to avoid swallowing excess air.
Don't use straws to drink beverages, especially carbonated drinks. Drink directly from the glass instead.
Give sucking on hard candy or chewing gum a hard pass. This is because the incessant chewing and sucking allow you to swallow more often than normal. The more times you swallow, the more excess air you take in.
Refrain from talking while chewing.
If you wear dentures, make sure they are fitted properly. Poorly adjusted dentures make you chew abnormally and swallow unwanted air.
Quit smoking, as inhaling cigarette smoke through the mouth is a sure shot way of ensuring that excess air gets swallowed along with it.
Reduce your stress level, as excess stress can affect your breathing and cause you to swallow more air.
Avoid carbonated drinks and beer as they release carbon dioxide gas, which aggravates the belching.
For mild heartburn, over-the-counter antacids are beneficial.
Don't become a couch potato; engage in a bit of physical activity now and then. Help your body digest your food better by going for a walk after your meal.
When to See a Doctor
Consult your doctor if your gaseous troubles continue for too long, and you notice the following symptoms:
Persistent or severe abdominal pain
Blood in stools
Changes in the color or frequency of stools
Unintended weight loss
Uneasiness in the chest area
Loss of appetite or feeling full quickly
Stomach distention that fails to subside despite burping
These are telltale signs that there is more than what meets the eye and your belching is the by-product of an underlying digestive condition that warrants prompt medical help.
Although burping is a natural bodily function, it can be embarrassing and even uncomfortable at times. To prevent and treat excessive burping, you can use some simple home remedies and lifestyle measures.
Final Word
A burp once in a while, especially after you have devoured a large meal, is pretty standard. However, this often involuntary, noisy, and smelly response of the body can be somewhat of an embarrassing nuisance, especially for people who are often plagued by sudden attacks of belching.
Persistent belching or burping can be symptomatic of some serious underlying digestive distress as well. See a doctor to get a proper diagnosis and start treatment.
Was this article helpful?