The appendix is a small, thin, worm-shaped pouch attached to the colon in the lower-right portion of the abdomen. This vestigial organ doesn't seem to serve any purpose and one can easily live without it.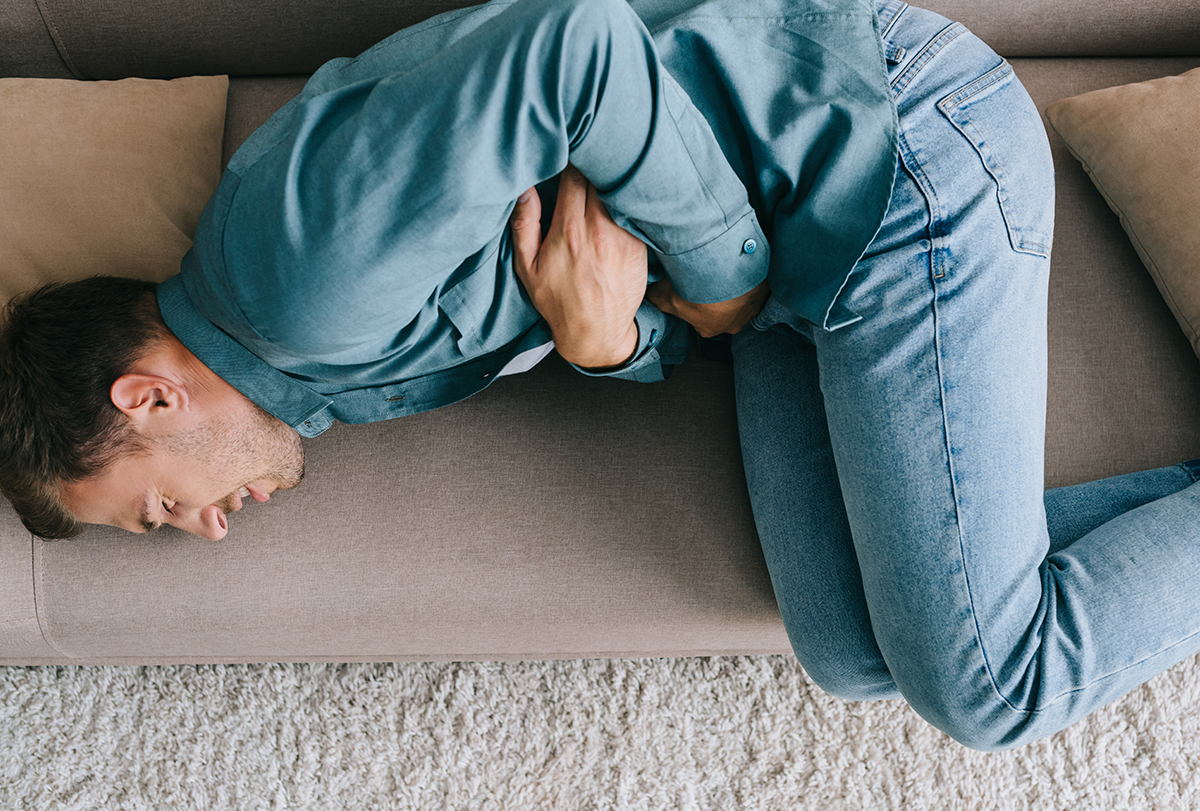 However, a partial or complete blockage in the appendix can cause inflammation, swelling, or infection, which triggers unbearable pain that may come and go. (1) This condition is referred to as appendicitis and generally warrants antibiotic treatment as well as surgery, preferably within 24 hours of diagnosis.
If left untreated, the appendix will continue to expand and eventually rupture, resulting in abscess formation or sepsis (systemic infection), which can prove fatal. The pain will continue to get worse as the inflammation increases, and the only way to stop it is to get the appendix removed.
A 2000 study published in the International Journal of Food Sciences and Nutrition stated that a low-fiber diet can contribute to the development of appendicitis. (2)
Signs and Symptoms of Appendicitis
The main symptom of appendicitis is pain in the abdomen, but it can be accompanied by the following:
Fever (low-grade fever (rectal temperature 37.7–38.3°C [100–101° F]) is common.)
Nausea and vomiting
Constipation or diarrhea
Feeling unwell
Diminished appetite
Home Remedies for Appendicitis
The standard treatment for appendicitis is surgical removal of the appendix. But here are a few remedies that can help you manage the pain and symptomatic discomfort associated with this condition until you undergo surgery.
Note that it is equally important to consult your doctor before taking these home remedies for appendicitis pain since there is a possibility of these interfering with the action of prescription medicines.
1. Use ginger
The chief bioactive compounds found in ginger exhibit strong antioxidant and anti-inflammatory properties that may help ease appendicitis pain for a brief period. (3) It may even help relieve the nausea, vomiting, and bloating associated with this condition.
How to use:
Chew fresh ginger slices.
Boil fresh ginger in water for a few minutes to prepare an herbal tea and drink it two to three times a day.
Use ginger oil to massage your lower abdomen.
2. Drink turmeric milk
Turmeric is credited with strong antimicrobial effects that can help curb infection in the appendix. (4) Plus, it works as a natural anti-inflammatory agent that may reduce the swelling and pain triggered by appendicitis.
How to use:
Drink warm turmeric milk once or twice daily.
3. Try fenugreek seeds
Fenugreek seeds may help in constipation and may also help in pain relief by excreting the waste products and mucus within the appendix, therefore decreasing the likelihood of the issue getting worse.
They additionally help diminish pain, but they must be consumed regularly. (5)
How to use:
Add 2 teaspoons of fenugreek seeds to 1 cup of water. Boil it for 10–15 minutes. Strain and drink the lukewarm water once daily.
You can also include fenugreek seeds in your cooking.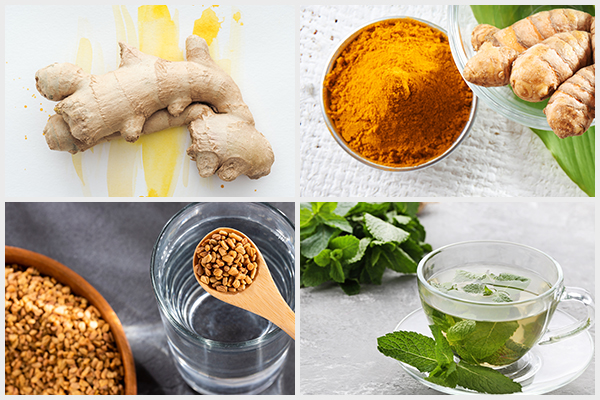 4. Drink mint tea
Mint can help soothe the pain caused by appendicitis while also reducing gas, vomiting, and nausea associated with it. (6)
How to use:
Steep a tablespoon of fresh mint leaves in some boiling water for 5–10 minutes. Strain the liquid in a cup.
Mix in some honey.
Drink this tea 2–3 times daily for 2 weeks. 
5. Consume garlic cloves
The potent anti-inflammatory activity of garlic can help mitigate the pain and other symptomatic discomforts such as abdominal pain, loss of appetite, and accumulation of gas brought on by appendicitis. (7)
How to use:
Consume 3–4 garlic cloves on an empty stomach every morning.
6. Massage with castor oil
Castor oil has significant anti-inflammatory properties that can help relieve appendicitis pain. Castor oil is also a laxative, so it can help with the constipation problem associated with appendicitis. (8)
Massaging the abdomen with this therapeutic oil may relax the underlying muscles to help open up the blockage in the abdomen. This will bring down the inflammation and discomfort caused by appendicitis.
How to use:
Gently massage the affected area with castor oil thrice a week.
Pour 2 tablespoons of castor oil on a large folded flannel cloth and place it on your abdomen. Do this thrice a week for 3 months.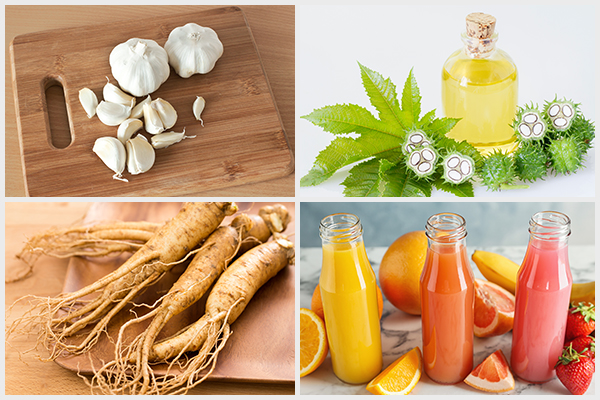 7. Drink ginseng tea
Ginseng is a medicinal herb that works as a natural anti-inflammatory agent. It can prove useful in managing the pain and inflammation caused by appendicitis. (9)
How to use:
Put 6–8 ginseng slices in three cups of water and boil it for 15 minutes.
Strain the liquid and let it cool down.
Mix in some honey.
Drink this tea two times a day for a few months.
8. Consume more fluids
Increase your daily water intake to facilitate proper bowel movement and reduce the risk of constipation. (10) Increased water intake will also help detoxify the body to control infection and promote healing.
Moreover, drinking lukewarm water may have a soothing effect on the inflamed appendix.
Drink fresh fruit and vegetable juices to get an increased supply of nutrients and antioxidants that can help your body fight the infection and recover faster. Avoid alcohol and caffeinated beverages as they are diuretics that can dehydrate the body and aggravate your condition. (11)
Recovering From an Appendectomy
After you get your appendix removed, it can take a few weeks or longer for the body to heal completely and for your digestive system to go back to normal. Postsurgical care is very important to ensure swift and complete recovery.
Here are a few tips to achieve that:
Fix your diet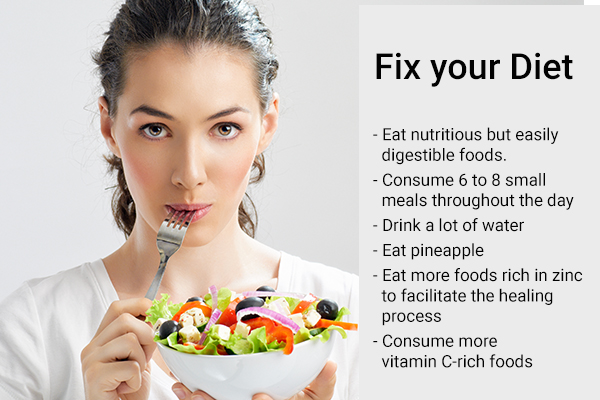 The appendix sits at the juncture of the large and small intestines, and getting it surgically removed will affect these surrounding organs too, which are a critical part of the digestive system.
Thus, you may have to adopt certain dietary changes post appendectomy to take it easy on the digestive system during the recovery period.
The body will slowly repair the internal wound that is left behind, and you can gradually make your way back to your presurgery diet.
Here are a few dietary recommendations during the recovery stage:
Eat nutritious but easily digestible foods.
Consume 6–8 small meals throughout the day rather than 3 large meals a day.
Drink a lot of water as well as noncaffeinated fluids such as fresh fruit and vegetable juices daily. This will help flush out toxins from the body and reduce the chances of constipation and bowel problems.
Consume pineapple because it contains bromelain, an enzyme that can make your internal wound hurt less and heal faster. (12)
Zinc plays a critical role in the body's healing process, (13) so make sure to get enough of it through your diet.
Vitamin C is a powerful antioxidant that can facilitate different aspects of wound repair such as elimination of neutrophils and scab formation. (14) Add foods that are rich in this vital nutrient to your daily diet, such as oranges, amla, kiwi, strawberries, lime, red capsicum, guava, grapefruit, and cauliflower.
Rest well and take it easy
Don't resume your normal level of activity right after surgery. Get plenty of rest to help your body recover properly.
It is natural to feel more drowsy and tired than usual after undergoing such a major surgery. You must heed your body's demand and sleep whenever you feel tired.
Once you feel up to it, start going for short walks and then slowly increase your activity level as your condition improves. Don't overexert yourself and gradually build up your strength.
Most-Asked Questions About Appendicitis
How is appendicitis diagnosed and treated?
Doctors generally diagnose appendicitis through the following steps:
Clinical evaluation
Abdominal CT if necessary
Ultrasound and/or a CT scan
Treatment involves:
Surgical removal
IV fluids and antibiotics
The standard treatment for appendicitis is the surgical removal of the appendix, called an appendectomy. The surgeon can usually remove the appendix even if perforated. 
Like any surgical procedure, appendectomy is associated with certain complications. In fact, negative appendectomy (surgical issues after appendix surgery) is still a major problem in the management of patients with acute right-lower abdominal pain. However, a negative appendectomy rate of 15% is considered acceptable. (15)
The patient is also administered IV fluids to improve hydration and healing along with antibiotics to prevent infections.
What medicine should never be taken if appendicitis is suspected?
Experts advise against taking painkillers for appendicitis as they only provide temporary relief while increasing the risk of perforation and other complications.
Final Word
Appendicitis is an extremely painful and serious condition that requires prompt medical attention. The only cure for appendicitis is surgical removal of the appendix. Your doctor will properly examine your condition and then determine how urgently you need the surgery.
You can try the above-listed remedies to manage the pain and discomfort caused by appendicitis but only after running it by your doctor. Early surgery for appendicitis is associated with a mortality rate of less than 1% and generally results in a quick and complete recovery.
However, if you delay treatment and develop complications before or after surgery, you may have to undergo repeat operations followed by a long convalescence period.
Was this article helpful?