Constipation is a condition that can make your bowel movements uncomfortable and infrequent. It refers to having small, hard, and dry stool fewer than three times a week. However, remember that a normal bowel movement can vary from person to person.
Constipation affects around 15% of the general population, with a higher prevalence in females and the elderly. About 4 million people in the United States experience frequent constipation. It's the most common gastrointestinal complaint, leading to 2.5 million doctor visits every year. (1)(2)(3)
Many people believe they need to have a bowel movement every day, but that's not necessarily true. If you have three bowel movements per week and feel well, you're healthy.
Constipation is more about excessive straining, passing small hard stools, or feeling like you haven't fully emptied your bowels. (2)(3)
Read further to know more about constipation in detail.
Causes and Risk Factors of Constipation
Constipation can stem from several causes. (2)(3)
Acute causes:
Acute abdomen conditions such as salpingitis, colic, and appendicitis
General conditions such as sepsis
Intestinal obstruction caused by conditions such as intussusception, hernia, and volvulus
Chronic causes:
Painful anal conditions such as hemorrhoids and fissures
Unhealthy habits include laxative abuse, prolonged and regular long-distance travel, insufficient dietary roughage, and excessive coffee consumption
Certain medications such as those from the opium group, tricyclic antidepressants, and atropine group
Neuromuscular conditions such as Parkinson's disease, spinal cord injury, muscle disorders, and multiple sclerosis
Metabolic conditions such as hypothyroidism
Lack of water intake, which can result in dry and hard stools
Decreased physical activity, which can slow down the digestive system
Excessive reliance on laxatives, which can worsen constipation over time (1)
Symptoms of Constipation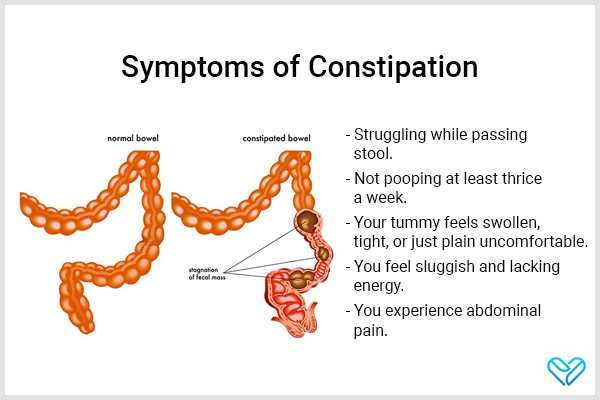 The common symptoms of constipation are: (1)
Struggling while passing stool
Not pooping at least thrice a week
A tummy that feels swollen, tight, or simply uncomfortable
Feeling sluggish and lacking energy
Treatment for Constipation
A few drugs are generally used to treat constipation.
1. Laxatives
If lifestyle changes alone are not effective, laxatives may be needed:
Bulk laxatives (fiber) and polyethylene glycol 3350 (PEG; e.g., Miralax) are often best for chronic use.
Stimulant laxatives like senna and bisacodyl should be used sparingly to avoid excessive cramping.
Emollient stool softeners such as docusate (e.g., Colace) are best used for short-term prophylaxis, for example, in the postoperative setting. (2)
2. Osmotic agents
Osmotic agents such as polyethylene glycol (PEG)-based solutions, magnesium citrate–based products, sodium phosphate–based products (e.g., Fleets), and nonabsorbable carbohydrates (e.g., sorbitol) work by the osmotic effect, retaining water in the colon. (2)
Note: If traditional laxatives are not effective, newer medications such as lubiprostone, linaclotide, plecanatide, and tegaserod may be considered. These agents work by stimulating chloride channels, increasing fluid secretion, and enhancing motor activity. (2)
3. Treatment for opioid-induced constipation
If you are taking opioids and experiencing constipation, first-line treatment typically involves a combination of pharmacological and nonpharmacological interventions such as laxatives and increased dietary fiber. If refractory, peripherally acting μ-opioid receptor antagonists (PAMORAs) may be considered. (2)
Testing for and Diagnosing Constipation
To diagnose constipation, doctors primarily rely on the patient's history and physical examination. They may perform the following examinations and tests to determine the underlying cause and confirm the diagnosis: (1)(2)(3)
Medical history: The doctor will ask questions about the duration of symptoms, frequency of bowel movements, and other relevant information to understand the cause of constipation.
Physical examination: This may include a digital rectal examination (DRE), where the doctor inserts a lubricated finger into the rectum to detect tenderness, obstruction, and blood, assess muscle tone, and evaluate the amount and caliber of stool.
Abdominal X-ray: This imaging test can reveal evidence of bowel obstruction or provide clues to other potential causes of constipation.
Lower GI series (barium enema): This is a procedure that uses a liquid called barium to coat the inside of the organs, enabling X-rays to identify strictures, obstructions, or other abnormalities in the rectum, large intestine, and lower small intestine.
Colonoscopy: This procedure involves the use of a long, flexible tube called a colonoscope, which allows doctors to examine the entire large intestine. It helps identify abnormal growths, inflamed tissue, ulcers, and bleeding. Tissue samples can also be taken for further examination.
Sigmoidoscopy: Similar to a colonoscopy, this diagnostic procedure uses a flexible tube called a sigmoidoscope to examine a portion of the large intestine. It can help identify the causes of constipation, abdominal pain, abnormal growth, and bleeding.
Colorectal transit study: By swallowing capsules containing small markers visible on X-ray, this test monitors how food moves through the colon. X-rays are taken over several days to track the movement of the markers and assess colon function.
Anorectal function tests: These tests evaluate the anus and rectum's coordination and functioning to diagnose constipation caused by abnormalities in these areas.
Complications of Constipation
Constipation can lead to several complications if not managed properly: (1)
Hemorrhoids: Straining too hard during bowel movements can cause swollen blood vessels in the anus, called hemorrhoids. They can be itchy, painful, and sometimes even bleed.
Anal fissures: When hard stool stretches the muscle around your anus, it can result in tiny tears called anal fissures. This can lead to discomfort and rectal bleeding.
Rectal prolapse: Straining too much can cause the lining of your intestine to push out from the anal opening, which can be quite uncomfortable.
Fecal impaction: This complication mostly affects children and older adults. Stool that gets too hard and packed in the intestine and rectum can create a jam. The normal pushing action of your colon isn't enough to get it out, causing a blockage.
When to See a Doctor
Chronic constipation happens when you're constipated for a long time, and it just won't go away. If that's the case, you might need some help to get things going. Your doctor can recommend physical therapy or some low-dose laxatives.
It's essential to talk to a professional who can guide you to the right kind of therapy. This is especially important if you notice any warning signs of disease, such as weight loss, bleeding or pain, and persistent pencil-thin stools. These are red flags that something else might be going on. (4)
Final Word
Constipation is a common condition that can have various causes. It can often be managed through simple lifestyle changes and over-the-counter treatments. It's important to listen to your body, maintain a healthy diet, and stay hydrated to prevent and relieve constipation.
If symptoms persist or become severe, it's best to consult a healthcare provider for further evaluation and treatment.

Continue Reading12 Home Remedies for Constipation and Preventive Tips
Was this article helpful?