A lot of kids give their parents a hard time when it comes to trying new healthy foods or just eating in general.
Many things can contribute to such fussy eating behavior. Some children do it because they are born with a heightened sense of flavor, texture, and smell, which easily puts them off various foods, some throw mealtime tantrums to gain attention, and yet others pick up these habits from their parents.
Moreover, it has been observed that parents who force or bribe their children to eat or try new foods often end up reinforcing these habits. In other words, the more you push your child to give up these habits, the more strongly they will cling on to it. At the same time, undermining children's nutrition can stunt their physical, mental, and emotional growth and give rise to long-lasting disabilities.
You may think that your little one will grow out of his/her picky eating habits, but these can cause quite a lot of developmental damage while they last. The best way to deal with picky eaters is to gradually introduce them to a variety of foods rather than force-feeding them whatever you deem fit.
Give children time to warm up to new foods, and don't get angry if they reject it at first. Be gentle but persuasive, and keep trying until your child finally accepts it of his/her own volition.
Change in behavior brought on by a fear of punishment or promise of a reward is usually short-lived, and your child will sooner or later go back to his/her old ways. The goal of feeding a picky eater should be to try new foods and to keep food from starting a battle.
Tips to Help Your Child Give Up Picky Eating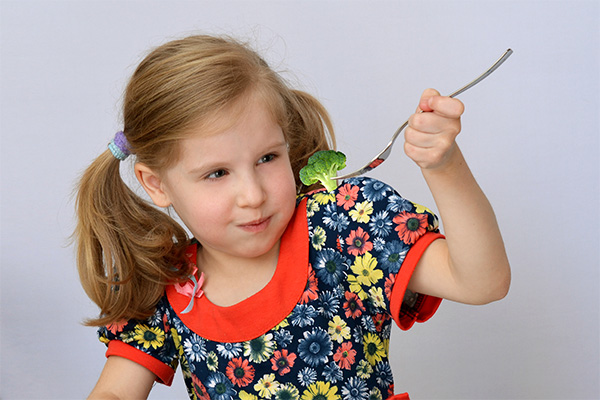 There are many ways to deal with picky eaters, (1) and it's not a one-size-fits-all approach. I typically give parents the same general advice.
First, continue to offer all foods. Even if they don't take a bite, it's important to continue to offer. The more exposures kids have to food, the more likely they are to try it.
Second, don't force them to take a bite. Don't bribe with dessert. This gives certain foods a "bad" connotation – "if my mom is forcing me to take just one bite, the food must be bad." If they choose to leave the food on the plate, do your best not to comment about it!
Third, serve a "safe" food. A "safe" food is a food item you know your child loves and will eat. It makes you feel better to know there's something for them to eat, and it makes them feel excited and happy about their meal.
Lastly, worry less! It's so difficult to wonder if your kids are getting the right nutrients or not. Typically, they are able to work it out themselves and you are doing a great job just for offering. Of course, if you are very concerned, call your pediatrician or registered dietitian.
How Many Times Should a Child Be Given Meals?
Children should be given three meals a day – breakfast, lunch, and dinner. They should also be served at least two snacks, one between breakfast and lunch and one between lunch and dinner.
By feeding children predictable meals and snacks at consistent times, (2) they are able to learn trust in you and trust in their body. (3)
Monitoring Your Child's Fluid Intake
Hydration status should be measured by looking at wet diapers or the number of times your child uses the bathroom. Their urine should look pale yellow, or they should have 5–6 wet diapers each day.
Water can be offered in unlimited amounts once a toddler turns 1 year of age!
Importance of Breakfast for Increasing Your Child's Overall Appetite
Breakfast, along with every meal, is important for a child. It is the first meal you have after a long fast, hence the name breakfast. Thus, people tend to be hungrier in the morning when they wake up with an empty stomach rather than later during the day when they have had a meal before.
You can use this to your advantage, and make your child try new foods as part of their breakfast when they are willing to eat anything out of hunger. Starting the day with a nutritious breakfast helps keep children energized throughout the day. Thus, your child needs to eat energy-boosting foods in the morning to shake off the lull of sleep and become active. 
Healthy carbohydrates in the form of whole-grain bread, oatmeal, and fruit are some of the best options for giving your child an instant shot of energy, but you should serve them a balanced, well-rounded breakfast that includes a protein, fat, carbohydrate, and produce.
Mornings can get very busy for parents and breakfast does not need to be fancy. One example of an easy, well-rounded breakfast could be a whole-grain frozen waffle (carbohydrate) topped with peanut butter (fat), a scrambled egg (protein), and berries on the side (produce).
A healthy breakfast sets the tone for the entire day and helps your child make better food choices throughout the day. It is essential for maintaining a proper eating schedule or else your child will remain hungry and eat mindlessly at odd hours. In fact, children who skip breakfasts are more prone to overeating or snacking during the day and tend to be less active.
How Can Unhealthy Items Be Substituted for Healthy Ones to Keep the Appetite of Children Up?
If you are concerned about the intake of your child, you can help them get more "bang for their buck" by serving nutrient-dense foods!
Nutrient-dense foods are foods that pack a lot of nutrients, fat, and calories into small amounts. Some easy ways to include nutrient-dense foods into your child's meals include using full-fat dairy (yogurt, cheese), adding butter or oil, using nut butters, and serving avocado.
Psychological Factors Responsible for Reduced Appetite in Children
According to one interesting theory, some children genetically inherit a more acute bitter taste sensitivity than others, and they are the ones who are more averse to eating vegetables as compared with those with low taste sensitivity.
Other major factors that influence children's eating habits include their basic temperament and family dynamics, particularly their relationship with their parents. (4)
Moreover, many children suffer from food neophobia, which means they are inherently scared or reluctant to taste new or unfamiliar foods. (3) Meanwhile, some children show hostility toward food as a way to gain attention and affirmation from parents or adults.
Your child's appetite can vary considerably between different mealtimes. Children go through periods of hunger and fullness just like adults do.
When children are going through a period of growth or heavy activity, they tend to be hungrier. This is not always the case, though. Learn to trust your child. They are great at listening to their bodies and knowing just what they need.
Essential Nutrients to Be Included in a Child's Diet
In baby and toddler meals, the most important components of a meal are an iron-rich food, (5)(6) a high-fat food, and a fruit or a vegetable. In older kids, the focus should be on a protein, a fat, and a fruit or vegetable with the addition of a grain.
Many iron-rich foods, such as meat, beans, or tofu, are also high in protein. This is beneficial because you are able to serve the same meal to your whole family.
Final Word
Don't be hard on yourself! Let your children trust their bodies. Toddlers are very good at knowing how much food their body needs.
Keep serving a variety of meals that include a protein, a fat, a fruit or vegetable, and a starch or grain. Set mealtimes and snack times consistently each day. By following these simple rules, you are setting your family up for success!
Was this article helpful?