Diaper rash, medically known as diaper dermatitis, is a common skin discomfort that affects babies and children due to constant diaper use. Babies between 9 and 12 months are most commonly affected by diaper rash.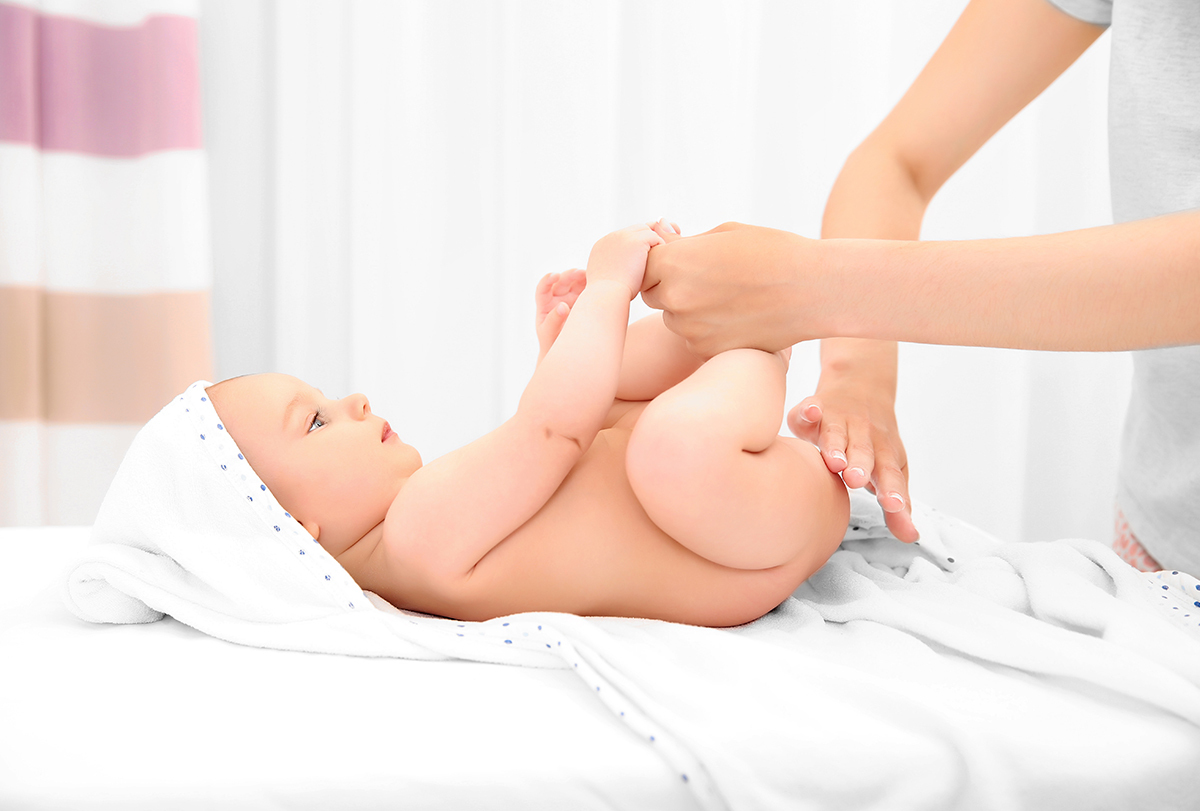 Diaper rash can be seen as redness on the baby's genital area and buttocks. While it is generally a mild rash that can be managed with topical creams, some diaper rashes may require medical attention, such as those caused by bacterial and fungal infections. (1)
This article discusses the various causes of diaper rash, treatments, and preventive tips.
Causes of Diaper Rash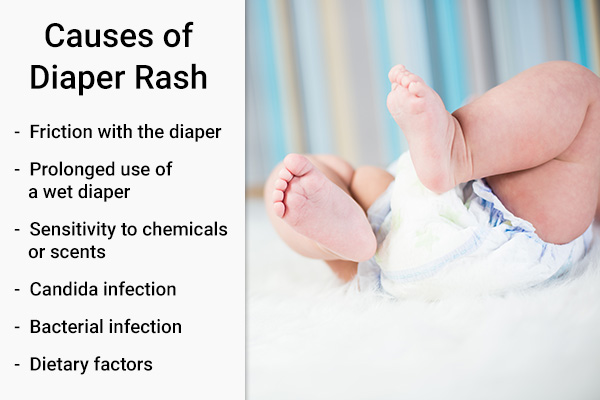 The different factors that contribute to the development of a diaper rash include:
Friction with the diaper. It is common for a baby's sensitive skin to develop a rash from chafing or rubbing against the diaper.
Prolonged use of a wet diaper. The risk of developing a diaper rash increases if the diaper is not changed timely. A wet diaper, when used for a long time, can increase friction on the skin and cause inflammation. It also increases the chances of a bacterial or yeast infection.
Sensitivity to chemicals or scents. Diaper rashes can also develop due to skin sensitivity against chemicals and artificial scents present in diapers or laundry detergents.
Candida infection. Fungal infections such as those caused by candida flourish in moist, damp environments. Therefore, your baby's bottoms are prone to be infected by fungal infections due to repetitive diaper use.
Bacterial infection. Similar to fungal infections, bacterial infections are common on diaper-covered skin due to the warm and moist environment suitable for bacterial growth. When not treated timely, a bacterial infection can cause severe rash and can spread.
Dietary factors. The chances of developing a diaper rash also depend on the child's stool frequency and pH. Thus, any dietary changes that affect the child's stool can indirectly cause a diaper rash. In addition, a breastfed baby may develop a rash as a reaction to something the mother has consumed.
Symptoms of Diaper Rash
The different signs and symptoms of diaper rash include:
Skin redness in the buttocks, genital area, and thighs
Itchiness
Tenderness
Tiny pimples or bumps on the affected area
Treatment for Diaper Rash
Most diaper rashes can be managed with over-the-counter products, while some may require prescription medications. Fortunately, most treatments for diaper rash are available in the form of topical creams or products, including:
Diaper rash barrier creams: These formulations soothe the skin and improve rashes. They also prevent rashes or irritation by forming a barrier between the skin and the diaper and therefore keeping the skin dry.
Powders: Applying powder to the affected area, especially before putting on a diaper, helps absorb excess moisture. It also aids in reducing friction on the skin, preventing further irritation.
Zinc oxide or petroleum creams: It is recommended to rub in zinc oxide or petrolatum-based creams on the baby's clean, dry bottom before putting on a diaper to help treat rashes. (2)
Antibacterial creams: These may be prescribed to control and even prevent bacterial infections in the affected area and to treat the existing rash.
Antifungal creams: Antifungal formulations may be prescribed by the doctor if a candida infection is detected.
Mild steroids: Mild steroids may need to be applied to treat severe diaper rashes. These should not be used for more than 2 weeks. (3)
Lifestyle Changes to Manage Diaper Rash
There are several lifestyle habits that you can implement or change to manage diaper rashes better and prevent them from exacerbating. These include:
1. Maintain personal hygiene
Make sure to wash your hands before and after touching the baby's bottom, especially when they have a rash, to prevent infection or spread of infection.
2. Keep a close check on the diaper
Check the diaper regularly, every hour if possible. Replace the diaper every few hours and once they are wet to prevent constant moisture on the skin. Also, change a soiled diaper immediately to prevent friction from the baby's stools.
3. Change diaper brands
Your baby's skin may be sensitive to chemicals or scents present in the diaper that cause persistent or recurring rashes. In such a case, switching the diaper brand, preferably selecting something free of chemicals, dyes, and fragrances, can help treat and prevent diaper rashes.
4. Do not use diapers continuously
It is also vital to allow the baby's skin to breathe. Leave them without a diaper at least once a day.
5. Bathe the baby daily
It is suggested to give a bath to the baby once every day until the rash disappears. Use warm water for the bath and wash the area with a mild soap free of artificial fragrances.
6. Keep the baby's bottom dry
Wash the baby's diaper area after removing a diaper and pat it dry with a soft towel before putting on another diaper. Applying baby powder may also help absorb the excess moisture.
7. Switch your laundry detergent if required
It is best to use mild, chemical-free detergents for washing your child's clothes. When using cloth diapers, it is best to wash them using hot water and dry them under the sun. You can also give them a rinse in 1:1 vinegar and water solution and then a couple of rinses in plain water before drying.
How to Prevent Diaper Rash
While diaper rashes are common, they often develop due to negligence and improper care. The following tips can help take better care of your baby's skin and aid in preventing diaper rashes:
1. Avoid fragrance-containing wipes
Make sure to use wipes that are gentle on your baby's skin. Wet wipes containing alcohol or parabens (artificial fragrances) are often irritating to the skin and increase the chances of developing a rash and therefore should be avoided. You can also use a soft washcloth to clean your baby's skin.
2. Use breathable fabrics
Keeping the skin dry is an important factor when treating a diaper rash. When using non-absorbing pants over the diaper, the moisture gets trapped and aggravates the rash. So, use moisture-wicking fabrics and put loose-fitting clothes on your kid to allow the skin to breathe.
3. Use the correct diaper size
It is important that you use the correct size of diaper as a larger diaper can cause friction on your baby's bottom while a smaller size traps moisture and stools with contact to the skin.
4. Manage your infant's diet
Feeding your child with something they can't digest can affect their stools. A hard stool increases the chances of rashes by causing friction.
Possible Complications
While diaper rashes are a mild discomforting problem, they can cause severe problems if not taken care of, such as: 
Peeling of skin
Severe infections
When to See a Doctor
Most cases of diaper rash can be treated with proper care or over-the-counter creams. However, it is recommended to consult a doctor if:
The rash worsens.
The rash doesn't improve despite treatment.
You notice signs of infections such as lesions, pus, inflammation, or hardness.
There are open sores, bruises, or bleeding in the affected area.
Rashes develop in other areas such as the face, arms, and scalp.
Can an Infectious Diaper Rash Spread to Other Parts of the Body?
A diaper rash caused by a bacterial or fungal infection can spread to other parts of the body, and even to other people, through direct or indirect contact. Therefore, it is recommended to maintain proper hygiene when dealing with a child's rash.
Final Word
A large number of infants and toddlers are affected by diaper rash, often more than once. However, diaper rashes can be easily prevented by keeping the baby's skin clean and dry at all times.
Several over-the-counter creams and ointments are available to treat a diaper rash, be it mild or severe. It is also recommended to consult a doctor if the rash doesn't improve after 2 weeks of treatment.
Was this article helpful?