Migraine is a disorder primarily characterized by throbbing pain on one side of the head. This may be accompanied by sensitivity to light and sound.
While migraines are more common in adults, children can also suffer from intense migraines.
How Common Is Migraine in Children?
The incidence of migraine ranges from 3% in children to 20% in adolescents. (1) Therefore, migraines are said to be a common problem for which treatment is necessary.
Types of Migraine in Children
Migraines can be divided into the following two categories:
Migraine with aura: The feeling of an imminent headache is known as an aura. This may be in the form of visual symptoms such as seeing spots, flashing lights, or distorted images or smelling unusual scents.
Migraine without aura: In migraine without aura, headaches may be the only symptom.
Some other types of migraines in children include:
Abdominal migraine: It manifests as pain in the abdomen and vomiting.
Confusional migraine: It is characterized by a sudden feeling of confusion, disorientation, and dizziness along with a headache.
Ophthalmoplegic migraine: It presents as an intense pain behind the eyes, often causing double vision and paralysis of the eye muscles.
Migraine Triggers in Children
Some common causes of migraine in children are:
1. Underlying sleep problems
A lack of sleep due to any disorder can increase the chances of migraine.
2. Stress
Stress can trigger migraines, and a severe headache can cause further stress. People with chronic and episodic migraine are more likely to have post-traumatic stress disorder (PTSD) than the general population. (2)
3. Anxiety
An anxiety disorder is one of the highest risk factors for developing migraine problems. (3)
4. Food triggers
Caffeine, cultured dairy products, chocolate, broad beans, nuts, and additives such as artificial sweeteners, preservatives, and flavor enhancers are seen to trigger migraine headaches in some people.
5. Genetic factors
Certain genetic components that affect the sodium and potassium channels in the brain can be the cause of migraines.
6. Hereditary
Migraine may run in families.
Symptoms of Migraine in Children
The symptoms of migraine in children include:
Headaches that usually last for several minutes
Nausea
Vomiting
Abdominal pain
Irritability
Holding the head
Confusion
First-Line of Treatment for Migraine in Children
The first-line treatment for migraines in children involves the use of OTC drugs. This includes ordinary pain killers such as acetaminophen and ibuprofen. Most children do not need anything else.
Moreover, triptans, such as Imitrex (sumatriptan) and rizatriptan, are now approved for use in children over 6 years. (4) These are valuable in the form of nasal sprays, disintegrating tablets, injections, and suppositories.
Duration of a Migraine Attack in Children
A migraine headache can last from a few hours to a few days. The latter case is known as status migrainosus.
Do Children Outgrow Migraine?
Migraines generally become less intense and less frequent with age. However, one may still experience migraine attacks in the presence of severe triggers.
Preventing Migraine Attacks in Children
The following self-care measures may help reduce the frequency and severity of migraines:
Reducing stress, including psychological problems
Eliminating food triggers
Taking prophylactic medications such as propranolol
Can Hormonal Changes Cause Migraine Headaches?
Hormonal changes have been known to trigger migraines in girls. Some teenage girls may experience migraines only during periods, known as catamenial migraine.
Effect of Migraine on the Child's Development
Since migraines can interfere with a child's studies and other social activities, they can hamper the child's emotional well-being.
Migraine Symptoms That Require Medical Attention
You must get your child immediate medical attention if the headache is accompanied by: (5)
Persistent vomiting
Changes in the level of consciousness
Confusion
Blurred vision
Trouble walking
Stiff neck
Rash
Migraine and Related Medical Conditions
Rarely, atypical headaches may be due to underlying structural problems such as brain tumors. Sometimes headaches can also be due to infection or alterations in CSF pressure. (6)
When Should a Headache Be a Cause for Concern in Children?
Migraines tend to be localized and follow a repetitive pattern in intensity and duration. Therefore, if you observe changes in intensity or duration of the headaches, you should see a neurologist and, in my opinion, get an MRI scan.
Any abnormal neurological finding or weakness, seizures, etc., would also call for more intense investigations.
Dietary Changes for Migraine Management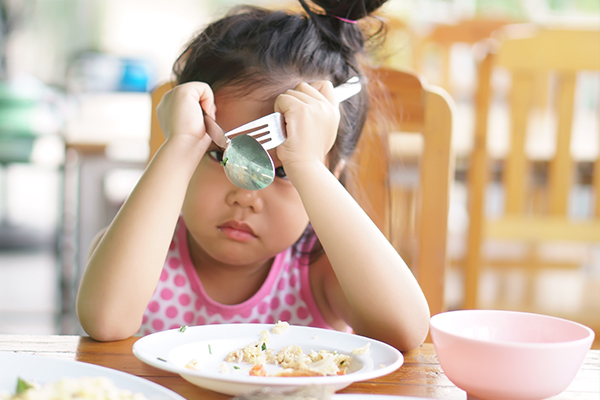 It is recommended to avoid cheese, chocolates, citrus, monosodium glutamate, and other food triggers. However, this has to be individualized since different foods act as triggers for different people.
It is best to seek advice from a nutritionist and physician experienced in pediatric migraine.
Interesting Observations About Migraines in Children
Children sometimes complain of hallucinations and confusion. This used to be called "Alice in wonderland syndrome" and can cause a lot of diagnostic difficulties. Sometimes, the same child may have both migraine and epilepsy.
I have also seen children presenting with symptoms of severe headache who had increased cell count in the cerebrospinal fluid. This can be mistaken for encephalitis or other brain infection.
Confusional migraine and perceptual problems, such as seeing objects bigger or smaller than what they are, are also common. These children, however, recover quickly even without any treatment.
Final Word
Migraines are common in children, and the younger the child, the lower the threshold for investigation.
Therefore, acute headaches should always be taken seriously, and a proper diagnosis should be made by a competent physician. Various treatments available for migraine can be used to help manage the condition.
Was this article helpful?