Measles or rubeola is an extremely contagious viral infection that progresses in a fixed pattern. It causes a great deal of discomfort in the form of flu symptoms, rash, and fever, but rarely any serious health concerns.
Like all other viral infections, this condition is also self-resolving but can be managed through proper self-care and certain over-the-counter medication.
A severe case of measles, if managed poorly, can lead to serious complications, such as pneumonia, devastating neurological disease, brain swelling that may lead to seizures, and heart problems.
The Importance of Vaccination
The primary protection against measles is vaccination. Despite the availability of a safe and inexpensive vaccine, a breakout occurred in 2018, killing more than 140,000 people, mostly children under 5 years of age.
Thus, getting a measles shot before traveling to areas where it is prevalent is crucial, especially for those who have not been previously infected.
Self-Care Tips to Aid Relief From Measles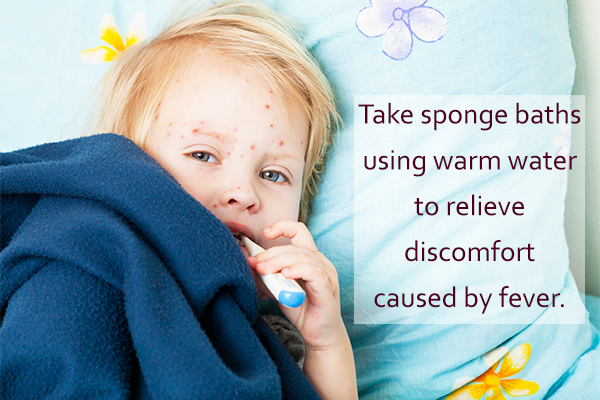 You can take the following measures to help relieve your symptoms:
Take sponge baths using warm water to relieve the discomfort caused by fever.
Consume lots of fluids to avoid dehydration.
Get adequate sleep and rest.
Consume healthy foods and increase the intake of nutrients to gain energy. Doing so helps in fighting the infection and boosting recovery.
Vitamins to Strengthen Immunity Against Measles
Consuming the following vitamins through food sources and supplements can help reduce the duration and intensity of the measles infection when coupled with other standard treatments.
1. Vitamin A
Vitamin A supports the production of immune cells in the body, helps maintain endothelial cells, plays a role in bone remodeling, and regulates cell growth and division. Vitamin A, along with a measles vaccine, has been found to be effective in preventing measles mortality in children. (1)(2)
How to use: Include vitamin A-rich foods, such as juices, breakfast cereals, fish oil, dairy products, tomatoes, beef liver, and carrots, in your diet. You may also take vitamin A supplements upon consulting your doctor.
2. Vitamin C
Vitamin C possesses immune-boosting, antimicrobial, and antioxidant properties. It also helps prevent systemic or respiratory infections and speeds up recovery. (3)
How to use: Consume citrus fruits as they have high vitamin C content. Alternatively, you may take vitamin C supplements after consulting your doctor about the proper dosage.
Home Remedies for Dry Cough in Measles
A dry cough is the most common symptom associated with measles. The following remedies are popularly used anecdotal treatments that help alleviate dry cough.
1. Try herbal teas
Medicinal herbs such as licorice, ginger, garlic, and chamomile can help relieve a cough and soothe your throat when consumed in the form of warm tea. You may want to mix a bit of honey in the herbal tea for added flavor and health benefits.
2. Consume warm soups and broths
When you have measles, the irritation in your throat can make it difficult to swallow hard foods. In such a case, you may want to add warm broths to your daily diet.
The heat from the liquid can help relieve the throat discomfort while its nutritious goodness can help your body fight the infection better. Besides, the water content of the soup can provide some much-needed hydration.
3. Gargle with salt water
Gargling with warm salt water helps reduce the pain associated with a sore throat. Add a teaspoon of salt in a cup of warm water, and gargle this solution two to three times a day.
4. Use a humidifier
Indoor heating or cooling systems can greatly dry out the air you breathe and thereby worsen your measles-induced discomfort. The air in arid locations is also naturally devoid of moisture. Thus, it is recommended that you install a humidifier in your home to impart moisture to your living environment.
5. Suck on medicated or herbal lozenges
You can buy medicated or herbal lozenges from any general store or pharmacy. They are like hard candy that melts into your mouth, and their medicinal juices mix with saliva and wash all over your throat during swallowing.
Prevention From Measles
It is important to take preventive measures against measles since no definitive treatment is available. The following tips can help in reducing the risk of measles:
Avoid crowded places, especially when during a measles outbreak.
Maintain proper hygiene. Wash your hands properly after coming in contact with an infected individual.
Avoid physical contact with any individual suffering from measles. Avoid sharing eatables, drinks, and utensils with them.
Do not touch your nose, eyes, or mouth before sanitizing your hands.
Disinfect the surroundings of an infected individual regularly. This step helps in preventing the spread of the infection since the virus cannot survive outside the host body for more than 2 hours.
Most-Asked Questions About Measles
What measures should be taken after coming in contact with an infected person?
After coming in contact with an infected person, seek advice from your doctor. You may need to undergo treatment if you have never had a measles infection before or have not been vaccinated. The available treatments include:
Vaccination within 72 hours of exposure (4)
Passive immunization if the exposure was 3–7 days ago, which involves the administration of immunoglobulins, followed by vaccination after 5 months
How long is an infected person contagious?
Measles can be contracted from an infected individual from 4 days before up to 4 days after the appearance of the rash. (5)
Can you contract measles post-vaccination?
The chances of contracting measles after being vaccinated are low. The occurrence rate is around 3 in 100 people, according to the CDC. If an infection does occur, it is usually mild. (6)
Consult your doctor if you feel that you were not properly immunized. He may suggest a blood test to check the presence of immunoglobulins developed from the previous vaccination. (7)
What is the difference between rubeola and rubella?
Rubeola or measles is caused by the rubeola virus, whereas rubella or German measles is caused by the rubella virus. German measles is a mild infection characterized by skin rashes, raised body temperature, and inflammation in the lymph nodes.
Rubella produces severe symptoms only when it infects a pregnant woman in the first trimester. Vaccines are available against both kinds of viruses.
What is the difference between chickenpox and measles?
Chickenpox and measles are both viral infections caused by different microbes. The varicella-zoster virus causes chickenpox, which produces red spots on the body as symptoms. These spots may develop into blisters that induce pain.
Measles, on the other hand, is caused by the rubeola virus and produce rashes. You can get vaccinated against both of these diseases.
Final Word
People with measles remain asymptomatic for a week or so after contracting the virus, but they can infect others during this period. Thus, you can easily get exposed to a silent carrier of the disease without even realizing it.
Since there are no means for early detection nor any definite cure for the infection, the best way to keep yourself and others protected from this contagious virus is through timely vaccination.
It's never too late to get a measles shot, but you must adhere to the proper immunization schedule for the vaccine to work. If you do contract the infection, follow the above-mentioned tips and therapies to make a quick recovery.
If the symptoms are too severe for home treatment, ask your doctor to prescribe appropriate medication to manage the infection, and avoid potential complications.

Continue ReadingMeasles: Types, Symptoms, Treatment, and Vaccinations
Was this article helpful?