Childhood asthma is defined as episodic and reversible airway constriction and inflammation in response to a variety of triggers, which include, but are not limited to, various physical, chemical, or emotional irritants, household or environmental allergens, and viral and bacterial infections/illnesses.
Childhood asthma is an extremely heterogeneous disease with a lot of different presentations among different asthmatic patients. Each one of them has different triggers.
A child with asthma can present a wide range of symptoms from mild once-in-a-while night cough to severe airway closure with bronchospasm that requires intensive care unit admission. (1)
Childhood Asthma Versus Adult Asthma
The underlying etiologies of child and adult asthma are similar in nature, in that both are reversible airway constriction and inflammation.
However, there is a common misconception that a child tends to grow out of their asthma. In most cases, the inflammation and reversible airway constriction process generally does get better, but, as the child grows, their airway grows in proportion as well.
With the same amount of inflammation and constriction to the airway, the end effect is much smaller in the larger airway. This results in fewer respiratory symptoms from the exacerbation.
Resistance is inversely proportional to the diameter of the airway (to the 4th power), so the larger the airway, the less the resistance. (2)
Causes of Asthma in Children
Asthma is an extremely heterogeneous disease with causes ranging from dysregulations of the immune system to nonspecific inflammatory responses.
All of the dysregulations result in chronic inflammation, which eventually leads to remodeling or destruction of the lung cell structure. This can lead to a more permanent injury to a child's respiratory system.
Common Signs and Symptoms of Asthma in Children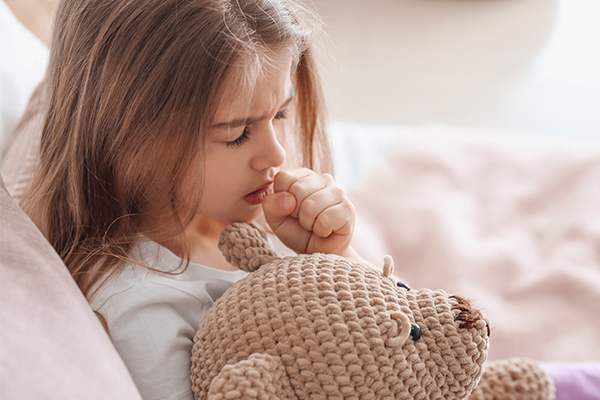 Symptoms of asthma in children include:
Coughing (tends to take place at nighttime)
Persistent wheezing (high-pitched noise from the lung)
Shortness of breath or labored breathing (dyspnea) – Due to the labored breathing, the child may speak in short sentences or is unable to make any sound. (3)
Fast respiratory rate – This is age dependent: under 3 months, 60 bpm (breath per minute); under 1 year, 40 bpm; 1–3 years, 30 bpm; 3–4 years, 25 bpm; and 4 years and older, 20 bpm.
Use of accessory muscles during respiration – In many children, the rib cage may be seen during resting breathing and neck tugging.
Medical Treatment for Asthma in Children
Unfortunately, there is no cure for asthma. In the extreme case where a child has very severe asthma, sometimes the pulmonologist may resort to bronchial thermoplasty (burn and permanently dilate the airway) or immunomodulation as a more permanent method to control the symptoms.
For most cases, the physician will prescribe therapy generally with inhaled corticosteroids. (4)(5) The effectiveness of corticosteroids for chronic asthma control has been demonstrated both clinically and by multiple trials such as the START study. (6)(7)
Alternative Treatments for Asthma
In general, the main method of asthma control is to adhere to the physician's prescribed treatments, although some alternative modalities may help to alleviate the symptoms.
For example, honey helps to reduce the incidence of coughing spells. (8) However, honey consumption is not safe for children under the age of 1 due to the risk of botulism.
In a small study, agave syrup has shown similar efficacy to honey. (9) So, for younger patients, agave syrup may be a better alternative to honey for cough relief.
Diagnosing Asthma in Children
The gold standard test for asthma is a pulmonary function test (PFT). Since asthma is a reversible illness, a normal PFT does not rule out asthma diagnosis.
In addition, the patient needs to be able to follow directions in order to perform a proper PFT. A child generally has to be 5 or older for the test to be conducted correctly. There are also other more advanced techniques such as the measurement of FeNO. This method can track the disease progression, but it is not widely used in general pediatric offices.
Otherwise, for younger patients or for a patient with normal PFT with the inability to trigger symptoms in the clinic, the physician would diagnose asthma clinically. The physician would take into account the child's medical history and assess their overall clinical symptoms.
Depending on the clinical symptoms, history, and results of the clinical examination, the physician can determine the severity of asthma and accordingly prescribe the proper medications to manage it. (4)
Tips to Manage Asthma in Children
Here are some useful guidelines to keep your child's asthma under control:
Adhere to your physician's prescribed treatments and for the most part the steroid inhaler or steroid plus beta agonist.
Use the proper techniques and spacer before using any inhalation medication.
Adhere to your trigger control medications such as nasal steroids and allergy medications.
Have a comprehensive asthma action plan. Formulate it with your physician and follow them closely.
Obtain the annual flu shot and practice good hand hygiene to reduce the transmission of respiratory illness.
Adhere to trigger prevention (see the asthma triggers below).
Asthma Triggers
Asthma triggers vary from patient to patient. While some triggers are easily avoidable, others can be everywhere. What you can do as parents is to decrease the level of exposure. For any child with asthma and associated allergies, the advice is to ask the parent to help the child avoid the triggers.
For easily preventable triggers such as exercise or emotional triggers, you can pretreat the child with short-acting beta agonist inhaling agents to prevent the attack. Things such as dust mites, animal dendrites, and pollen can be hard to avoid, but there are always steps that you can take to decrease the exposure.
In my clinic, I generally advise parents to:
Vacuum and clean out the house often.
Wash the child's bedsheet, clothes, and dolls in 140°F water at least every 2 weeks.
Close the window as much you can to prevent the inflow of outdoor pollen.
Replace your central air conditioning filter with an HEPA-grade filter.
Replace all bedsheets, pillowcases, and blankets with a hypoallergenic material if the child can tolerate it.
If you decide to have pets in your household, all pets' movement should be restricted to non-carpeted regions only. Pets should not be allowed in the child's room.
Lifestyle Changes Recommended for Children With Asthma
The following measures can help curb the intensity and frequency of asthma flare-ups in children:
1. Vitamin D intake
Vitamin D is known to have anti-inflammatory properties. One of the underlying causes of childhood asthma is airway edema and inflammation, so it is natural to assume that increasing vitamin D intake can improve a child's asthma. A lot of studies have been done on the effectiveness of vitamin D in both adults and children, and they yielded similar results.
A 2016 Cochrane review article indicated that the effectiveness of vitamin D on asthma management is still unclear, and more studies are required before more concrete conclusions can be obtained. (10) While this Cochrane review is inconclusive, another more recent systemic review study showed some improvement in asthma with increased vitamin D intake. (11)
In practice, since vitamin D is a relatively benign supplement (as long as you are getting it from reputable sources) and an increasingly sedentary lifestyle with decreased sunlight exposure makes many children vitamin D deficient, regular supplementation vitamin D with the recommended dose of 400 IU for younger children and 600 IU for older children via a multivitamin is considered part of well-rounded nutrition.
If a child has a more poorly controlled asthma with a comorbidity of vitamin D deficiency, it would be a good idea to treat the deficiency and asthma concurrently.
2. Regular exercise, balanced diet, and relaxation techniques
Regular exercise increases lung capacity and reduces obesity, both of which will help asthmatic children to grow bigger, healthier respiratory systems. In addition, a balanced diet is essential to help a child to develop a healthy lung, and nutrients like vitamin D may be playing a role in regulating inflammation.
So, a well-balanced diet and regular exercise will help a child to have a more robust lung growth and in return will decrease the likelihood of disease progression. Relaxation techniques can be very helpful with emotion-induced or anxiety-induced triggers for asthma.
3. Air quality
It is very important that air quality be checked for children with environmentally induced allergies. Many of these patients have routine allergy shots for allergy symptoms control.
As a parent of these children, it is vital that you monitor the air quality index and pollen index on AirNow (airnow.gov) and other local agents to check whether allergens are high or not. If the allergens are in excess, it would be best for the child to stay home to prevent another attack.
Emergency Care for Children
Every child who is diagnosed with asthma should always have an asthma action plan, and all the child's controlled medication should be spelled out all as emergency medication in the action plan.
The action plan will also guide parents and other caretakers regarding the amount of short-acting beta agonist that should be provided during the attack outside of the hospital setting. If the child is not responding to the initial rescue using the inhaler beta agonist, it would be time to take the child to the emergency room for further evaluation.
It is paramount for the child's caretaker to continue the treatment with a rescue inhaler on the way to the emergency room. Sometimes, rescue inhalers can be lifesaving during a severe attack. Depriving the child of the necessary inhaler treatments can be detrimental to their life.
Major Risk Factors Associated With Asthma in Children
These factors can make your child more prone to asthma:
Family history of asthma
Personal history of atopic disease (e.g., eczema, allergic rhinitis)
Secondhand smoking
Small for gestational age at birth
Living in an environment with poor air quality
Growing up in the lower socioeconomic strata
Final Word
Avoiding triggers is the best way to prevent asthma attacks. So, the first step is to identify all the triggers that flare up your child's asthma and then do your best to keep your child away from them.
Things such as getting rid of pets, scheduling outdoor activity depending on air quality, and many more may be very cumbersome for both the child and the rest of the family, but these sacrifices help improve the child's quality of life and sometimes even save it by preventing frequent or severe asthma attacks.
Was this article helpful?